Kukla's Korner Hockey
Category: NHL-Talk
by Paul on 11/26/17 at 07:43 AM ET
Comments (0)

NHL CELEBRATES 100TH ANNIVERSARY OF ITS FOUNDING
Today marks 100 years since the NHL was founded at the Windsor Hotel in Montreal, following three days of meetings involving owners from the National Hockey Association – which suspended operations after one of its six teams, the Toronto 228th Battalion, had been called to fight in World War I during the 1916-17 season. As noted in the meeting minutes, the owners decided "that the Canadiens, Wanderers, Ottawa and Quebec Hockey Clubs unite to comprise the National Hockey League."

* Quebec's entry into the NHL was delayed until 1919-20, but Toronto was granted a franchise and the League began with four clubs – the Montreal Canadiens, Montreal Wanderers, Ottawa Senators and Toronto Arenas.

* Frank Calder was elected president of the NHL, which set forth with a 24-game schedule, with the first contests slated for Dec. 19, 1917. The League champion would earn the right to play the winner of the Pacific Coast Hockey Association for the Stanley Cup.

* The Wanderers played only four games before a fire destroyed their arena, causing them to forfeit two contests and eventually withdraw from play, leaving the Canadiens, Senators and Arenas to compete for the League's inaugural title. The Arenas emerged and defeated the PCHA's Vancouver Millionaires to become the first NHL team to win the Stanley Cup.
Filed in: NHL Teams, NHL Talk, | KK Hockey | Permalink

by Paul on 11/24/17 at 06:01 AM ET
Comments (1)
from Kevin McGran of the Toronto Star,
"Nobody says bad things any more," says Komarov.

"Everyone is a little more aware that the walls have ears," adds teammate Nazem Kadri. "Sometimes, in the heat of the moment, guys get passionate, it's going to happen. But not as much as it used to."

NHL senior vice-president Colin Campbell confirmed to the Star that the league is trying to clean up the language "across the board."

"And, giving the players credit, they are much more in touch with what they can and can't say today. They know that they are being monitored in every possible way today," said Campbell....

Greg Millen, the former goalie and now TV analyst who sits between the benches on telecasts, says he's noticed a decline in trash talk.

"It seems like it's down," said Millen. "I haven't heard as much bantering going on."

Players receive sensitivity training as part of the NHL Players' Association's rookie orientation program and the league is using its on-ice officials to remind players about language.

"There are microphones everywhere," says former player Steve Yzerman, now general manager of the Tampa Bay Lightning. "We see it every day, whether it's hockey or around the world. What was said 20 years ago isn't acceptable. Not that it was acceptable then, it was tolerated.

"You have to watch what you say. That's probably a good thing."
Filed in: NHL Teams, NHL Talk, NHL Officiating, | KK Hockey | Permalink

by Paul on 11/23/17 at 08:34 AM ET
Comments (0)
from Michael Traikos of the National Post,
Wayne Gretzky doesn't think he would have been as great of a hockey player in the 1950s.

He's not being humble. More like fearful.

Yes, the greatest goal scorer who ever played the game would no doubt have had an easier time putting the puck past goalies who didn't wear masks and rarely left their feet to make a save. But that's assuming he could make it up the ice in one piece.

"The (Gordie) Howes and (Maurice) Richards typically had to fight for themselves," Gretzky said in a phone interview. "That was the game back then. When you're 150 pounds, that would have been more difficult for me. I'm always the first guy to sit here and say I came around at the right time. It was a different game."

The topic of the sport's so-called good old days has come up because on Thursday the NHL is releasing a feature-length documentary on the rich and storied history of the league.
Information on the documentary is below...
Filed in: NHL Teams, NHL Talk, | KK Hockey | Permalink
Tags: wayne+gretzky
by Paul on 11/22/17 at 12:16 PM ET
Comments (0)
NEW YORK / TORONTO (November 22, 2017) – Following five rounds of voting, fans have selected the two moments that will go head-to-head in the final of the Greatest NHL® Moments Presented by Coors Light and Pepsi Zero Sugar. The bracket-style, interactive, digital and mobile program started with 64 of the NHL's most memorable events, milestones and achievements -- spanning from the League's inaugural season in 1917-18 to present day.
Filed in: NHL Teams, NHL Talk, | KK Hockey | Permalink

by Paul on 11/19/17 at 06:16 AM ET
Comments (0)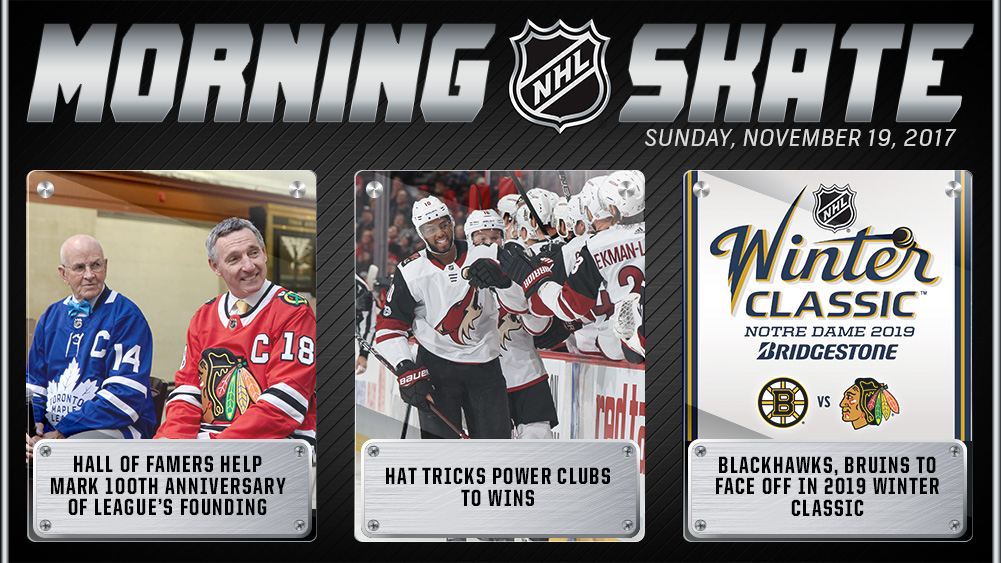 HALL OF FAMERS HELP MARK 100TH ANNIVERSARY OF LEAGUE'S FOUNDING
Hall of Famers Dave Keon, Ray Bourque, Denis Savard, Yvan Cournoyer, Frank Mahovlich and Rod Gilbert participated in a pre-game ceremony in Montreal to commemorate the 100th anniversary of the League's founding.

* MUST SEE: Savard and Mahovlich, who each won at least one Stanley Cup with the Canadiens, changed into Montreal jerseys mid-ceremony, at the urging of Cournoyer, who won 10 championships with the club.
Filed in: NHL Teams, NHL Talk, | KK Hockey | Permalink

by Paul on 11/18/17 at 09:25 PM ET
Comments (0)
The guys at Sportsnet talked about penalties and changes to them as discussed by the GMs at the recent meeting, GMs without contracts for next season, topic became all Lou Lamoriello, the Montreal Canadiens and a few more items.
Filed in: NHL Teams, NHL Talk, | KK Hockey | Permalink

by Paul on 11/18/17 at 07:56 PM ET
Comments (0)
from Larry Brooks of the New York Post,
The city of Houston and the Olympics both serve the same purpose for the NHL. Both exist as points of leverage for commissioner Gary Bettman, who is never hesitant to accumulate chips to play when it comes to advising tax-paying citizens what they must do in order that their respective cities keep their teams and negotiating against the players.

In the wake of the estimable Katie Strang's reporting for The Athletic, we know that Houston is the current city of prominence the NHL has to leverage against cities such as Ottawa and Calgary, whose club owners are seeking new arenas....

Houston makes sense as a U.S. port if accompanied by a viable hockey infrastructure. The Hurricanes are in trouble. The Panthers have been a sinkhole since their move out of Miami to Sunrise. The Islanders are going to become fair game if the bid for Belmont is rejected.

Culturally, of course, Quebec has always made more sense, just as has a second franchise in Toronto.
more and other hockey topics like...
If George Parros wants to make his mark as the new sheriff in town, the first-year head of the Department or Player Safety will ignore whatever excuses Radko Gudas offers for using his stick like a guillotine against Mathieu Perreault and suspend the serial predator for no fewer than eight games.
Filed in: NHL Talk, | KK Hockey | Permalink

by Paul on 11/18/17 at 08:54 AM ET
Comments (4)
from Chris Johnston of Sportsnet,
Amid growing talk about Houston's desire to land a hockey team, and with Seattle pushing towards finally getting an NHL-ready building, Gary Bettman gently pointed out that his league has some budding dance partners. Lest anyone forget in the only two cities where teams are known to be lobbying for a new facility.

"We believe in all of the places that we have franchises now," Bettman said Friday after a luncheon with Montreal's chamber of commerce. "We think all of our markets are capable of supporting our clubs. We're not looking to threaten markets, but there is a certain inevitability if a club needs a new arena to stay competitive, to stay viable and have stability, that if it can't for whatever reason get a new facility then at some point ownership has to look at what options it may have.

"It's great to know that there are lots of places that are interested in having a franchise that don't, but we're not running around actively soliciting interest. We listen to whoever wants to come and talk to us, and we're aware of the interest, but our preference is to have our franchises right where they are."
Filed in: NHL Teams, Calgary Flames, Ottawa Senators, NHL Talk, | KK Hockey | Permalink
Tags: gary+bettman
by Paul on 11/18/17 at 06:20 AM ET
Comments (0)
FRIDAY'S RESULTS
Home Team in Caps
COLUMBUS 2, NY Rangers 0
DETROIT 3, Buffalo 1
Filed in: NHL Teams, NHL Talk, | KK Hockey | Permalink

by Paul on 11/17/17 at 03:50 PM ET
Comments (2)
from Darren Dreger of TSN,
So, if 10 games is the standard based on a rule introduced years ago – perhaps in response to an era when brawls were commonplace – its time the National Hockey League considered either standardizing automatic suspensions for other malicious acts or removing automatic suspensions altogether.

Witkowski's actions didn't warrant a 10-game suspension and it's likely his punishment will be introduced as evidence at a future competition committee meeting or during CBA discussions that the rule needs to be revisited.

One suggestion is to lift the term "automatic" or allow the Department of Player Safety to overrule when applicable.
Filed in: NHL Teams, NHL Talk, | KK Hockey | Permalink

« Previous < 1 2 3 4 5 > Last › Next »
About Kukla's Korner Hockey
Paul Kukla founded Kukla's Korner in 2005 and the site has since become the must-read site on the 'net for all the latest happenings around the NHL.
From breaking news to in-depth stories around the league, KK Hockey is updated with fresh stories all day long and will bring you the latest news as quickly as possible.
Email Paul anytime at pk@kuklaskorner.com
Recommended Sportsbook
MyBookie.ag
Tweets by @kuklaskorner
Most Recent Blog Posts