Kukla's Korner Hockey
Category: NHL-Talk
by Paul on 01/26/20 at 01:17 AM ET
Comments (0)
HERTL, DRAISAITL LEAD PACIFIC DIVISION TO ALL-STAR WIN
After each netting a hat trick in their semifinal game against the Central Division, Leon Draisaitl (4-2—6 in 2 GP) and Tomas Hertl (5-0—5 in 2 GP) both scored again in the final to propel the Pacific Division to its third All-Star Game title under the 3-on-3 format – the most of any division.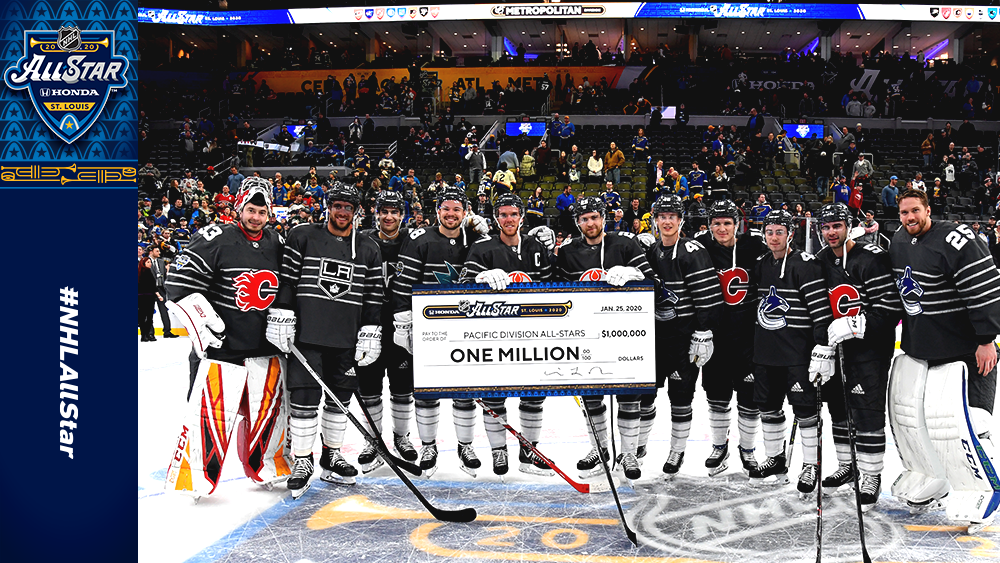 Filed in: NHL Teams, NHL Talk, | KK Hockey | Permalink

by Paul on 01/25/20 at 07:45 PM ET
Comments (3)
Watch on NBC, Sportsnet, CBC or TVA at 8:00pm ET.
via the NHL PR department,
The brightest stars from around the League will hit the ice for the 2020 Honda NHL All-Star Game on Saturday which will see a return of the 3-on-3 tournament format, the same used for each of the past four seasons.
* Each game during Saturday's All-Star tournament will be 20 minutes in length with teams changing ends at the 10-minute mark of each contest. Games that are tied after 20 minutes will be decided in a shootout.
* The winners of each semifinal game will meet in the final to determine the overall tournament champion with a prize pool of $1 million to be paid in its entirety to the tournament's winning team.
* The first semifinal is an Eastern Conference showdown pitting the Atlantic Division, who have more goals in 2019-20 than any of the four teams participating on Saturday led by Boston's David Pastrnak (37 goals) and Buffalo's Jack Eichel (28 goals), against a Metropolitan Division squad that features Washington's John Carlson, who leads all defensemen and ranks 10th overall in League scoring with 13-47—60 this season. Carlson's teammate and St. Louis fan-favorite T.J. Oshie will also represent the Metropolitan Division.
Below, feel free to comment on tonight's action.
Also, NBCSports.com & the NBC Sports app will have a digital-only broadcast with new puck & player tracking technology.
Filed in: NHL Teams, NHL Talk, | KK Hockey | Permalink

by Paul on 01/25/20 at 05:58 PM ET
Comments (0)
from Steve Simmons of the Toronto Sun,
- It's not easy figuring out Matthews. He loves to play the part of celebrity. He thrives to be noticed with his moustache and his distinguished all-star clothing. And yet too often, he treats his daily interview sessions with a somewhat sense of disdain. He's trying to be a personality, but he's just not smooth enough to stay on brand every day.
- Gary Bettman is very comfortable, in his words, not going to the Olympics. Never mind what the fans and his players want. Why would the commissioner care about that?
- If the Leafs miss the playoffs, there will be plenty of blame to pass around, starting with general manager Kyle Dubas, who waited too long before firing Mike Babcock and has yet to provide his team with reasonable backup goaltending. If the Leafs are three to five points out at the end, which isn't impossible, that's points they missed out because of stubbornness re: goaltending and salary-cap mismanagement.
a few more
Filed in: NHL Teams, NHL Talk, | KK Hockey | Permalink

by Paul on 01/25/20 at 12:26 PM ET
Comments (1)
from Kevin Paul Dupont of the Boston Globe,
Katie Guay and Kelly Cooke, a couple of Massachusetts women with their hockey dreams still evolving, both were on the job Friday night, partnering as referees in the 3-on-3 elite women's tournament that was newly incorporated into the NHL's All-Star Weekend in St. Louis.

Guay, 37, and Cooke, 29, also wore the league's shield in September when they were among the first four women ever chosen to officiate at NHL rookie camps. It was a significant step for all of the women, and especially progressive for a league that has yet to follow the lead of the NBA and NFL in handing women a whistle and making them true in-game stakeholders in their sport.

"I think they're definitely looking for the right person to break that barrier," said Cooke, who grew up in Andover and recently became a corporate attorney in Boston. "There's people out there who are coming up and one could be the right person."

Perhaps that woman is Guay, who Cooke considers a friend and mentor. Paul Stewart thinks Guay is the most obvious current candidate. Stewart, 66, was an NHL referee for more than 20 years, and later hired Guay and Cooke to officiate men's Division 1 games during his years assigning ECAC officials....

Stephen Walkom, director of NHL officiating, told nhl.com last fall that women working NHL games "is definitely a possibility."

According to Bill Daly, the NHL's deputy commissioner, Walkom's efforts to make the officiating combine "as inclusive as possible" will pay dividends, making it likely that women will be included in the NHL's officiating ranks.
read on plus more hockey topics...
Filed in: NHL Talk, NHL Officiating, | KK Hockey | Permalink

by Paul on 01/25/20 at 10:59 AM ET
Comments (1)
from Chris Johnston of Sportsnet,
Here are a list of five things we learned from Bettman's media availability:

A decision on the NHL's participation in the 2022 Olympics will be made on a timetable established by the NHL and the NHL alone

Bettman was asked about recent comments from IIHF president Rene Fasel about needing an answer from the NHL by August. The commissioner didn't mince words.

"He also said last summer that he wanted an answer by December, and he didn't get one," said Bettman. "So we're going to have to see. I actually think that the deadline is really more one that we would have to impose in terms of logistics. My guess is if at a point in time we said we wanted to go and we could handle the timing of it, my guess is the IIHF could as well.

"That doesn't mean that I don't take Rene seriously, but he already gave us one deadline that came and went."

So when is the NHL's deadline?

"I don't know. I'll know it when I see it, when we get there," Bettman said....

Puck and player tracking is nearly a reality

The puck and player tracking that you're seeing on Sportsnet and NBC broadcasts from all-star weekend will be up and running by the playoffs, according to Bettman.

The league then intends to have it fully operational for the entire 2020-21 season — giving fans access to a whole treasure trove of information about the sport with the help of chips planted in each player's sweater and the puck.

"It'll be, as a fan and a viewer, what you want it to be," said Bettman. "You'll be able to watch the game as you've always watched it traditionally if that's what you want. There'll be broadcast enhancements that the broadcasters can use either on the primary screen or on secondary screens....
a bit more on each of the above plust three other topics...
Filed in: NHL Talk, | KK Hockey | Permalink
Tags: gary+bettman
by Paul on 01/25/20 at 08:47 AM ET
Comments (0)
via the YouTube page of the NHL,
Watch the best moments from 2020 NHL All Star Skills competition including Jordan Binnington, Team Canada's win, the return of Blues legends and many more memorable moments.
Filed in: NHL Teams, NHL Talk, | KK Hockey | Permalink

by Paul on 01/24/20 at 08:23 PM ET
Comments (0)
Some of the topics include puck technology (expected for the playoffs), Olympics, CBA talks and more.
via Sportsnet's YouTube page,
Filed in: NHL Talk, | KK Hockey | Permalink
Tags: gary+bettman
by Paul on 01/24/20 at 12:00 PM ET
Comments (7)
Once upon a time, the All-Star Game, when it was still just one game, was a much bigger and anticipated event. Now, it almost feels like little more than an interruption in the schedule.
-Seth Rorabaugh of the Pittsburgh Tribune-Review where you can read more on this topic.
Filed in: NHL Teams, NHL Talk, | KK Hockey | Permalink

by Paul on 01/24/20 at 04:02 AM ET
Comments (0)
NHL'S BEST ARRIVE IN ST. LOUIS FOR ALL-STAR FESTIVITIES
Forty-five All-Stars descended on St. Louis – home of the 2019 Stanley Cup champion Blues – for 2020 NHL All-Star Media Day presented by adidas. The Blues are the first team in more than 30 years to host the NHL All-Star Game as defending Stanley Cup champion – the last team to do so was the Oilers (Stanley Cup in 1988; All-Star host in 1989).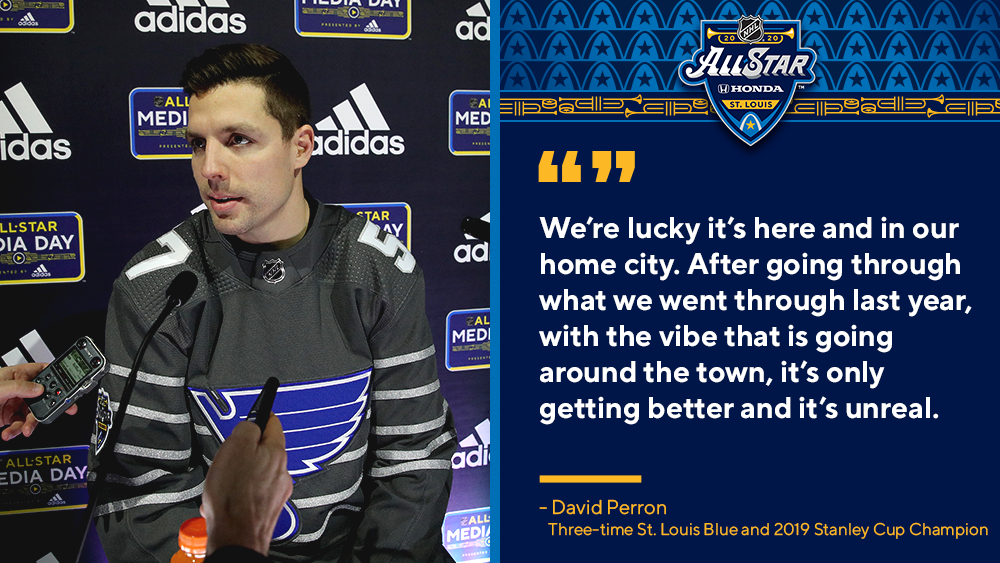 Filed in: NHL Teams, NHL Talk, | KK Hockey | Permalink

by Paul on 01/23/20 at 08:26 PM ET
Comments (0)
ST. LOUIS (Jan. 23, 2020) – The National Hockey League (NHL®) today announced the participants of the 2020 NHL All-Star Skills™ presented by New Amsterdam Vodka that will showcase hockey's top talent on Friday, Jan. 24 at 7 p.m. CT at Enterprise Center in St. Louis, Mo., home of the 2019 Stanley Cup® champion St. Louis Blues.
Highlighting the 2020 NHL All-Star Skills™ presented by New Amsterdam Vodka are two new events: the Gatorade NHL Shooting Stars™ and the Elite Women's 3-on-3 presented by adidas™. Four events return for this year's edition of the NHL All-Star Skills™: the Bridgestone NHL Fastest Skater™, the Bud Light NHL Save Streak™, Honda NHL Accuracy Shooting™, and the Enterprise NHL Hardest Shot™.
Filed in: NHL Teams, NHL Talk, | KK Hockey | Permalink

About Kukla's Korner Hockey
Paul Kukla founded Kukla's Korner in 2005 and the site has since become the must-read site on the 'net for all the latest happenings around the NHL.
From breaking news to in-depth stories around the league, KK Hockey is updated with fresh stories all day long and will bring you the latest news as quickly as possible.
Email Paul anytime at pk@kuklaskorner.com
Tweets by @kuklaskorner
Most Recent Blog Posts