Kukla's Korner Hockey
Category: Minor-League
by Alanah McGinley on 08/03/11 at 07:03 PM ET
Comments (1)
From Adam Kimelman at NHL.com:
Former Ottawa Senators coach Cory Clouston has been hired as coach of the Western Hockey League's Brandon Wheat Kings.

He's replacing Kelly McCrimmon, who resigned after seven seasons to focus solely on his role as general manager.

Clouston had spent the previous three seasons coaching the Senators, but was fired at the end of the 2010-11 season.
Filed in: NHL Teams, Ottawa Senators, Non-NHL Hockey, Minor League, | KK Hockey | Permalink
Tags: brandon+wheat+kings, cory+clouston, whl
by Doug Miller on 07/23/11 at 03:23 PM ET
Comments (5)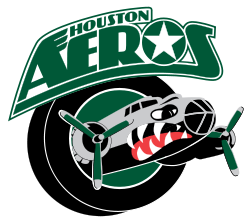 Better known to most NHL fans simply as "Minnesota's Farm Team". The Aeros actually have a rather deep and rich history in the hockey world. They were originally founded in 1994 as an expansion team in the now defunct International Hockey League (IHL). However, some could argue that this franchise has really existed since 1972, when they were one of the World Hockey Association's (WHA) original teams, after the "Dayton Aeros" franchise folded, before they ever played a single game (due to lack of an arena and little interest from the community) and moved to Houston.
Filed in: Non-NHL Hockey, Minor League, Doug Miller, | KK Hockey | Permalink
Tags: houston+aeros
by Alanah McGinley on 07/12/11 at 04:06 PM ET
Comments (0)
From Justin Bourne at Puck Daddy:
After July 1, there's a slow and steady trickledown effect in pro hockey, and it's not as simple as "sign the best available player, then the next best available player, then the…."

"Next best available player" gets a little blurry when one guy is 26 and played for El Mira and the other is 23 and skated with Victoria. Sometimes you need to get them on the same ice to compare.

NHL teams are set in stone (well, 97 percent anyway) before a single player shows up to camp, but at the AHL and ECHL levels, it can work a little differently.

Lower down in the system, you have a better chance of actually taking someone's spot, especially if they aren't some prized prospect.
more about job hunting for the "free-agent stragglers"
*I accidentally credited this story to "Jason Bourne" when this first went online. Apologies. The blame belongs fully to Robert Ludlum…
Filed in: Non-NHL Hockey, Minor League, | KK Hockey | Permalink
Tags: ahl, contracts, echl
by Paul on 07/05/11 at 02:12 PM ET
Comments (11)
SPRINGFIELD, Mass. … American Hockey League President and CEO David Andrews announced that the league's Board of Governors, convening this week for its Annual Meeting in Hilton Head Island, S.C., has approved the following division alignment for the 2011-12 AHL season (NHL affiliates in parentheses):
Filed in: Non-NHL Hockey, Minor League, | KK Hockey | Permalink
Tags: ahl
by Paul on 04/27/11 at 09:38 AM ET
Comments (0)
from Tom Reed of the Columbus Dispatch,
Bob Boughner has spent the past eight months moving between parallel hockey universes.

In theory, his commute requires the occasional four-hour drive, a valid passport and the patience to endure the whimsy of customs agents on either side of the Ambassador Bridge. But the separate worlds competing for Boughner's attention are vastly contrasting and equally challenging.

On any given day, he is helping to rebuild one of the NHL's most anonymous franchises and maintain one of North America's most successful junior programs. His dual jobs require him make do with a modest talent pool in Columbus, while overseeing an operation in Windsor that churns out NHL lottery picks such as Taylor Hall and Cam Fowler.

Such is the double life of Boughner, the Blue Jackets assistant coach and Windsor Spitfires co-owner and president. It is a life of long hours, endless meetings and a marriage to twin devotions with a wife and four kids tossed into the mix.
Filed in: NHL Teams, Columbus Blue Jackets, Non-NHL Hockey, Minor League, | KK Hockey | Permalink
Tags: bob+boughner, windsor+spitfires
by Alanah McGinley on 04/20/11 at 06:54 PM ET
Comments (3)
From the CP via the Globe & Mail:
Patrick Roy has been fined by the Quebec Major Junior Hockey League for being overly critical of a rival GM.

The league slapped Quebec Remparts head coach and GM with a $2,000 fine Wednesday for making "inappropriate remarks." Roy told reporters in Quebec City on Saturday that Shawinigan Cataractes GM Martin Mondou "has a brain the size of a pea."

The remarks were made after Mondou called for tighter security at the Pepsi Colisee after his players were showered with beer and other debris by fans when leaving the ice at the end of a game. Mondou said the Remparts' home rink was dangerous.
Filed in: Non-NHL Hockey, Minor League, | KK Hockey | Permalink
Tags: patrick+roy, qmjhl
by Paul on 03/19/11 at 06:01 PM ET
Comments (1)
from Jeff Dinunzio of the New York Times,
Cutting through the offensive zone, Jonathan Cheechoo, who once scored 56 goals in a season for the San Jose Sharks, appeared ready to score again. But this was not the N.H.L., and when Cheechoo deftly drew the goalie out only to slide the puck to a teammate, the teammate was not ready for it.

"He just has a lot of poise when he gets the puck," said Roy Sommer, who coaches Cheechoo with the Worcester Sharks of the American Hockey League.

The A.H.L. is not where Cheechoo, a right wing, was supposed to be. But meeting the high expectations that came with winning the Maurice Richard Trophy as the N.H.L.'s top goal scorer in 2005-6 proved daunting. He led San Jose in goals the next season, but his production sank the next two seasons. Injuries mounted, including a double sports hernia, and his streak of 140 games played ended.

"I lost a little confidence in myself," Cheechoo, 30, said. "One or two stop going in, you start trying to get a little closer to the net, you're easier to check and you take less shots. I think I tried to get too fine."
Filed in: Non-NHL Hockey, Minor League, | KK Hockey | Permalink
Tags: jonathan+cheechoo
by Alanah McGinley on 03/15/11 at 07:25 PM ET
Comments (1)
From CBC News:
Minor league hockey players were 10 times as likely to suffer a brain injury since bodychecking was first allowed for nine and 10-year-olds, a Canadian study finds.

Dr. Michael Cusimano of St. Michael's Hospital in Toronto and his co-authors reviewed records of more than 8,500 boys aged six to 17 who went to one of five hospital emergency departments in Ontario for hockey-related injuries from 1994 to 2004.

More than half of the hockey-related injuries reported, 4,460 or 52 per cent, were the result of bodychecking, the researchers said in Tuesday's issue of the journal Open Medicine.
Filed in: Non-NHL Hockey, Minor League, | KK Hockey | Permalink
Tags: head+injuries, minor+league+hockey
by Paul on 02/25/11 at 12:29 PM ET
Comments (0)
from Kevin Clark of the Wall Street Journal,
Last spring, goaltender Michael Leighton led the Philadelphia Flyers to the Stanley Cup Finals. One month later, he cashed in with a two-year, $3.1 million contract.

On a recent night in January, however, Leighton was minding the net for the Adirondack Phantoms of the American Hockey League at the Glens Falls Civic Center in upstate New York. The crowd of 3,889 was a little bigger than normal, but not on his account. It was Girl Scout night. "It's tough just to think about it," Leighton says.

There's nothing unusual about a millionaire baseball player doing a stint in the minors to retool his game or come back from an injury. But hockey's minor leagues are a different animal: They exist mostly as a holding pen for journeymen and fringe prospects. Future stars like Sidney Crosby and Alexander Ovechkin never set foot in them and the facilities and accommodations tend to be considerably more spartan.

This season, thanks to a little-known loophole in the league's labor deal and a growing pileup of phenomenally bad contracts, the AHL has seen something new: an influx of millionaires making as much as double the NHL's average salary.
thanks to a KK member for the pointer
Filed in: NHL Teams, Non-NHL Hockey, Minor League, | KK Hockey | Permalink

by Jon Jordan on 02/23/11 at 01:11 PM ET
Comments (0)
With the trade deadline approaching, might a Southeast team or two peddle one or more of their AHL prospects for some immediate help? We'll know in five short days. For now, let's take our latest look (a belated one this week – apologies…) at results and stats for the Southeast Division's AHL affiliates from the week gone by:
GAME RESULTS
Click for individual box scores
Tuesday, 2/15/11: Albany Devils 3, Charlotte Checkers 0
Charlotte goal-scorers: none
Charlotte goaltenders (saves/shots): Justin Pogge (25/28)
Three stars of the game: 1 – Dave Caruso, ALB; 2 – Adam Henrique, ALB; 3 – Brad Mills, ALB
Filed in: NHL Teams, Atlanta Thrashers, Carolina Hurricanes, Florida Panthers, Tampa Bay Lightning, Washington Capitals, Non-NHL Hockey, Minor League, | KK Hockey | Permalink

« Previous ‹ First < 7 8 9 10 11 > Last › Next »
About Kukla's Korner Hockey
Paul Kukla founded Kukla's Korner in 2005 and the site has since become the must-read site on the 'net for all the latest happenings around the NHL.
From breaking news to in-depth stories around the league, KK Hockey is updated with fresh stories all day long and will bring you the latest news as quickly as possible.
Email Paul anytime at pk@kuklaskorner.com
Tweets by @kuklaskorner
Most Recent Blog Posts