Kukla's Korner Hockey
Category: Dallas-Stars
by Paul on 09/24/20 at 08:18 AM ET
Comments (1)
from Mark Spector of Sportsnet,
You find a style that works for you, and you ply that trade all the way to the Stanley Cup Final. You play the first two games against the powerhouse Tampa Bay Lightning and do pretty well, earning a split and giving the Bolts all they could handle in the loss.

Then Game 3 comes along, and there's… nothing.

None of the responsible, stifling defensive play the Dallas Stars have trademarked, with their best players making some of the biggest gaffes.

After being that good for this long, where on earth does it go? Rick Bowness could only chuckle.

"That's exactly what we were just talking about with the players," the Dallas head coach said post-game, his Stars stinging from a 5-2 shellacking that leaves them in arrears in this Stanley Cup Final, two games to one....

Speaking of not happening, while each member of the Bolts top line had a goal and an assist Wednesday, Dallas' top unit of Jamie Benn, Tyler Seguin and Alex Radulov went pointless. Benn and Seguin have yet to collect a point in this Final, and Bowness was asked what he's going to do to squeeze some offence out of his No. 1 line.

"That's a good question," he offered. "We're giving them the ice time, getting them out there as much as we can. They've got to figure it out. It's as simple as that.
Filed in: NHL Teams, Dallas Stars, | KK Hockey | Permalink

by Paul on 09/23/20 at 07:45 PM ET
Comments (15)
The Dallas Stars are the designated home team for the next two games which means they will have the last line change.
The Tampa Bay Lightning looked much better in game 2, will it carry over to game 3 tonight?
Comments are always welcomed.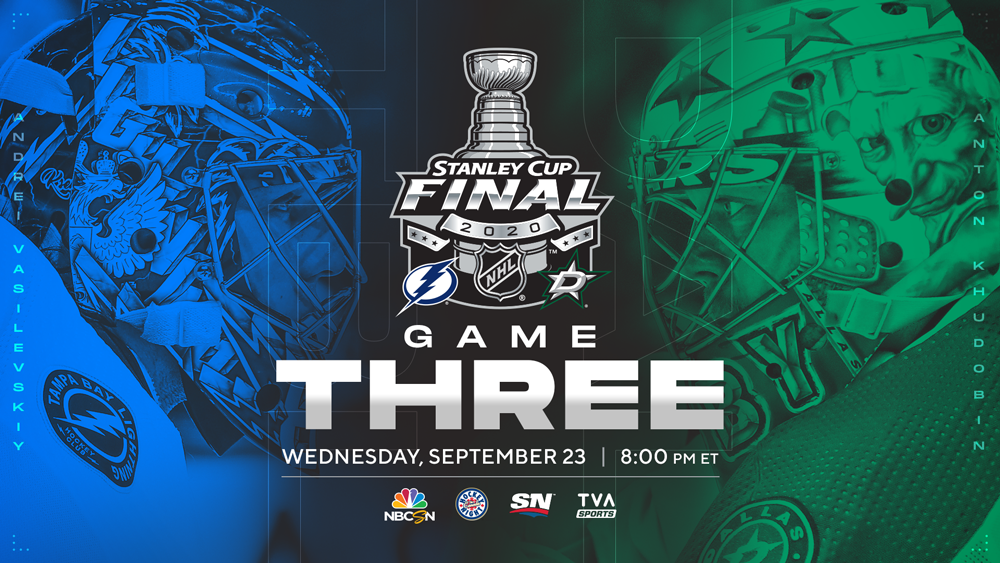 Filed in: NHL Teams, Dallas Stars, Tampa Bay Lightning, | KK Hockey | Permalink

by Paul on 09/22/20 at 08:17 PM ET
Comments (1)
from Michael Traikos of the National Post,
Technically, Tyler Seguin has been healthy for this entire post-season. You just wouldn't know it by watching the games.

Seguin has two goals and eight points in 22 games. He has one assist in the past 12 games. The last time he scored was in Game 3 in the second round. That was almost a month ago.

Fifty-eight players in this year's post-season have more points. Ninety-nine have more goals.

That includes Connor McDavid, whose team was eliminated in the qualification round after playing just four games. Including the round robin, Seguin has played four rounds.

Sure, Dallas will gladly take Seguin's output over McDavid's if it ends up leading to a Stanley Cup. But it's hard to imagine the Stars winning three more games against the Lighting unless their leading scorer in the regular season can find a way to contribute more than he has already.
Filed in: NHL Teams, Dallas Stars, | KK Hockey | Permalink

by Paul on 09/20/20 at 05:50 AM ET
Comments (0)
from Matthew DeFranks of the Dallas Morning News,
The sport's biggest stage — with the world's most famous trophy hovering behind the benches as an untouchable temptation and the ultimate motivation — has the unique ability to make heroes out of anyone, to enshrine them into hockey and franchise lore for contributions on the elusive platform the Stanley Cup Final provides.

For decades before the Stars' 4-1 victory over Tampa Bay in Game 1 of the Stanley Cup Final on Saturday night, timely goals led to fabled status. Enter the unlikely trio of heroes on Saturday night: Joel Hanley, Jamie Oleksiak and Joel Kiviranta.

Each of them scored goals in Game 1, puncturing Lightning goaltender Andrei Vasilevskiy thrice for just the second time in his last 10 games. Their goals made sure Anton Khudobin's 35-save effort stood up, and gave the Stars a 1-0 lead in the Stanley Cup Final. Jason Dickinson added an empty-net goal in the waning minutes of the third period.

Stars interim coach Rick Bowness said "that's what you need to win in the playoffs."
Filed in: NHL Teams, Dallas Stars, | KK Hockey | Permalink

by Paul on 09/19/20 at 11:03 PM ET
Comments (0)
from Mark Spector of Sportsnet,
Too many Joels, and not enough juice from the Tampa Bay Lightning.

The Lightning looked like a team still tired from closing out their conference final just two days earlier, and the Dallas Stars took advantage with a 4-1 victory to take Game 1 of the Stanley Cup Final.

It was two Stars named Joel — Kiviranta and Hanley — who did the damage, sandwiching goals around one by Jamie Oleksiak in the win. Yanni Gourde had the only tally for Tampa.

While Kiviranta continued his playoff emergence with his fifth goal, it was the little-known fill-in Hanley with not just his first playoff goal to open the scoring, but his first NHL goal — period.
Game highlights are below.
Filed in: NHL Teams, Dallas Stars, | KK Hockey | Permalink

by Paul on 09/19/20 at 11:48 AM ET
Comments (0)
via the NHL PR department,
Series Scenarios
* Since the Final went to the best-of-seven format in 1939, the team that has won Game 1 has gone on to capture the Stanley Cup 76.3% of the time (61 of 80 series). Each of the last two champions have rebounded from a Game 1 loss before winning the Cup – Washington in 2018 and St. Louis in 2019.

* Teams that take a 1-0 lead in any best-of-seven series have an all-time series record of 490-221 (.689), including a 12-2 mark in 2020.

* Tampa Bay is 11-16 (.407) in Game 1 of best-of-seven series all time; Dallas is 31-25 (.554).
Filed in: NHL Teams, Dallas Stars, Tampa Bay Lightning, | KK Hockey | Permalink

by Paul on 09/18/20 at 03:30 PM ET
Comments (3)
from Justin Bourne of Sportnset,
In theory, the Tampa Bay Lightning are head and shoulders above the Dallas Stars. In theory.

Some other theories that I, and many other analysts, have had:

• The Colorado Avalanche are head and shoulders above the Dallas Stars.

• The Vegas Golden Knights are head and shoulders above the Dallas Stars.

And let's be real, a number of people thought the Flames would get the better of the Stars, too. I wasn't among them there, but I'm guilty of the first two. So, I'll try to keep that in mind when going through just how lopsided this series looks, because it seems most of us are missing something about that group there under Rick Bowness. They certainly compete at a high level....

In the end, the Stars are a team that makes you beat them. They defend hard, and make you go through them. If you're not at your best, the Stars just find ways to persevere. They seem motivated, with a number of veteran players who are just dying to break through and win the big one here. They aren't the more talented team, but they are 18 skaters deep with a goalie playing well, so nothing comes easy against them. That's a dangerous combination in hockey.
Filed in: NHL Teams, Dallas Stars, | KK Hockey | Permalink

by Paul on 09/17/20 at 11:20 PM ET
Comments (0)
NEW YORK (Sept. 17, 2020) – The National Hockey League today announced dates, starting times and national television coverage for the 2020 Stanley Cup Final, featuring the Eastern Conference champion Tampa Bay Lightning against the Western Conference champion Dallas Stars. Game 1 is scheduled for Saturday, Sept. 19 at 7:30 p.m. ET, and will be televised on NBC in the U.S. and Sportsnet, CBC and TVA Sports in Canada.
Filed in: NHL Teams, Dallas Stars, Tampa Bay Lightning, | KK Hockey | Permalink

by Paul on 09/16/20 at 10:00 AM ET
Comments (0)
from Terry Jones of the Edmonton Sun,
The wonderful thing about the story the Dallas Stars are writing during this depressing time, making it to the Stanley Cup Final against all odds, is the number of people they appear to be making happy.

And that's really remarkable here in Hub City, considering the number of occasions the Stars eliminated Edmonton in those sensational playoff series a couple of decades ago.

Whether it's individually or collectively, the Dallas Stars are an easy team to embrace and a fun team to follow.

Everybody loves an underdog and they are the ultimate underdog, picked by most to lose every series they've played — as will quite probably be the case with the next one, too.

For one thing, there are few teams to ever bring hockey statisticians such joy.

Monday after the Stars sealed the deal to force the Vegas Golden Knights to check out of the bubble, the fun facts were flying about this Dallas team that was receiving the Rodney Dangerfield get-no-respect treatment since they showed up.
Filed in: NHL Teams, Dallas Stars, | KK Hockey | Permalink

by Paul on 09/14/20 at 10:59 PM ET
Comments (1)
The Dallas Stars will stay in the Edmonton bubble and will face the winner of the TBL/NYI series after defeating the Vegas Golden Knights 3-2 in OT.
'Below, watch the series clinching goal.
added 11:15pm, Handshakes below.
added 11:23pm, Highlights and Clarence Campbell Trophy presentation
Filed in: NHL Teams, Dallas Stars, | KK Hockey | Permalink

« Previous ‹ First < 3 4 5 6 7 > Last › Next »
About Kukla's Korner Hockey
Paul Kukla founded Kukla's Korner in 2005 and the site has since become the must-read site on the 'net for all the latest happenings around the NHL.
From breaking news to in-depth stories around the league, KK Hockey is updated with fresh stories all day long and will bring you the latest news as quickly as possible.
Email Paul anytime at pk@kuklaskorner.com
Tweets by @kuklaskorner
Most Recent Blog Posts