Kukla's Korner Hockey
by Paul on 01/18/18 at 07:31 AM ET
Comments (0)
The Boston Bruins welcomed Claude Julien back to Boston.
The Canadiens lost 4-1 to the Bruins, game recap and highlights are below...
Filed in: NHL Teams, Boston Bruins, Montreal Canadiens, | KK Hockey | Permalink
Tags: claude+julien
by Paul on 01/18/18 at 07:23 AM ET
Comments (0)
WEDNESDAY'S RESULTS
Home Team in Caps
BOSTON 4, Montreal 1
ANAHEIM 5, Pittsburgh 3

BRUINS WIN TO PUSH NHL-BEST POINT STREAK TO 14 GAMES
Brad Marchand (1-1—2) and Patrice Bergeron (0-2—2) each collected two points as the Bruins (25-10-8, 58 points) scored four unanswered goals to defeat the Canadiens (18-21-6, 42 points) for the second time this week and extend their point streak to 14 contests (10-0-4), the longest such run in the NHL this season. Prior to the streak, the Bruins ranked 20th in the League but have since leapfrogged 14 teams into sixth in the overall standings.

* The Bruins, who are on their best run since a 16-game point streak from Mar. 2-30, 2014 (15-0-1), are responsible for two of six point streaks of 14+ games since the start of 2013-14. The others: Columbus (17-0-1), Anaheim (11-0-3), Washington (12-0-2) all in 2016-17; and Nashville (10-0-4) in 2015-16.

* In fact, this marks the 10th time in the 94-year history of the franchise that the Bruins have recorded a point streak of at least 14 games. Eight of those instances have occurred in the NHL's modern era (since 1943-44):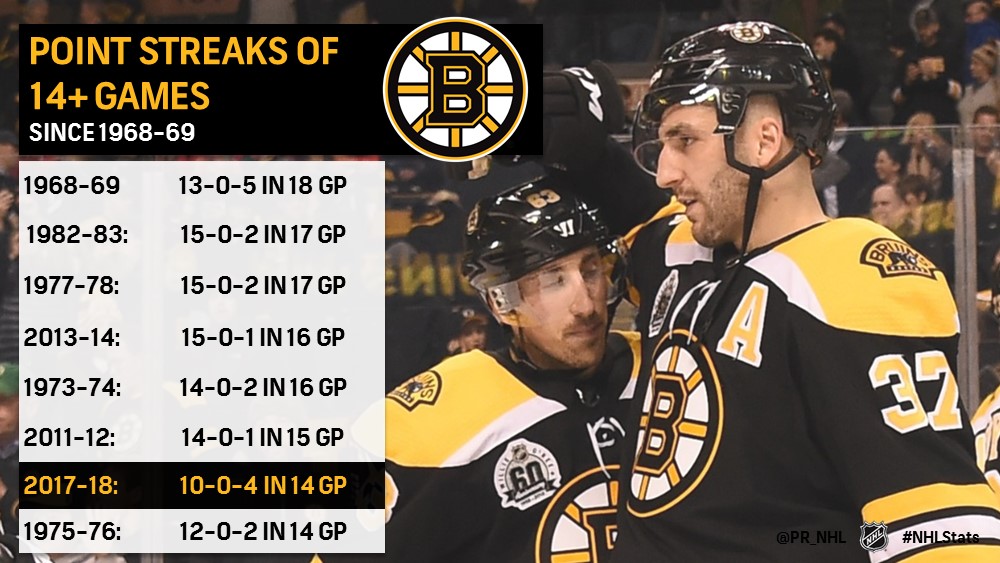 * Tuukka Rask (21 saves) improved to 13-0-2 in his last 15 decisions dating to Nov. 29, besting Andrei Vasilevskiy (13-0-1 from Oct. 9 – Nov. 16) for the longest such run by a goaltender this season.

* Rask's run is the 10th instance in Bruins history of a goaltender recording at least a point in 15+ consecutive decisions and the first since 1982-83 when Pete Peeters went 26-0-5 across 31 decisions (32 GP). The only such run in NHL history longer than Peeters' was also achieved by aBruins goaltender – Gerry Cheevers went 24-0-8 in 32 consecutive decisions in 1971-72 (33 GP).
Filed in: NHL Teams, | KK Hockey | Permalink

by Paul on 01/18/18 at 07:20 AM ET
Comments (4)
I haven't been feeling well the last few days, took some time off to rest up a bit and now feeling I can at least get back at it but slowly.
I will try to do some catch up posts which caught my eye while I was out.
Thanks for the understanding.
Filed in: KK Website Business, | KK Hockey | Permalink

by George Malik on 01/17/18 at 09:08 PM ET
Comments (0)
As Sportsnet illustrates, the Boston Bruins honored Willie O'Ree prior to the Bruins-Canadiens game on Wednesday...
And, per the Associated Press:
Hockey pioneer Willie O'Ree was honored in Boston on Wednesday, the eve of the 60th anniversary of the Bruins forward breaking the NHL's color barrier.

At a news conference at the TD Garden before the Bruins game against the Montreal Canadiens, Mayor Marty Walsh declared Jan. 18, 2018, to be "Willie O'Ree Day". O'Ree made his debut in 1958 during a 3-0 victory against the Canadiens at the Forum in Montreal.
Filed in: | KK Hockey | Permalink
Tags: boston+bruins, willie+o'ree
by George Malik on 01/17/18 at 07:53 PM ET
Comments (0)
From Sportsnet:
Chicago Blackhawks goaltender Corey Crawford is likely suffering from post-concussion syndrome, not vertigo, according to Scotty Bowman, a senior adviser with the club.

On Tuesday multiple reports claimed that the 33-year-old Crawford could miss the remainder of the season with vertigo-like symptoms.

"It's not what they're reporting," Bowman said Wednesday evening during Prime Time Sports on Sportsnet 590 The FAN. "Now, apparently what he really has is post-concussion syndrome."

Crawford was placed on injured reserve Dec. 27 with what the team dubbed an upper-body injury. The goalie suffered a blow to the head during a game in late November when Pittsburgh Penguins forward Evgeni Malkin collided with him. Crawford was assessed before returning in the same game and it's unknown if that incident is related to his current injury.
Filed in: | KK Hockey | Permalink
Tags: chicago+blackhawks, corey+crawford, scotty+bowman
by George Malik on 01/17/18 at 07:45 PM ET
Comments (0)
From NHL.com's Mike Zeisberger:
Toronto Maple Leafs coach Mike Babcock on Wednesday responded to the second guessing of his recent roster and lineup tactics.

"This is how I look at it: They hired me to decide," Babcock sternly told reporters after practice. "You get to decide what you react to. If you let the noise get in the way … can you imagine if every time someone in your life told you that you couldn't do it, you listened to them? Where would you be?"

The Maple Leafs (25-17-4) are third in the Atlantic, 11 points ahead of the fourth-place Detroit Red Wings, who have two games in hand, for the final guaranteed Stanley Cup Playoff berth from the division. But Toronto hasn't won in regulation since defeating the Arizona Coyotes 7-4 on Dec. 28.

Toronto is 2-3-3 since then, with the two wins each in a shootout. After a 2-1 overtime loss to the St. Louis Blues on Tuesday ended a six-game homestand 2-2-2, fans and media voiced concerns.
Filed in: | KK Hockey | Permalink
Tags: mike+babcock, toronto+maple+leafs
by George Malik on 01/17/18 at 06:41 PM ET
Comments (0)
The Washington Post's Curtis Rush and Isabelle Khurshudyan wrote an excellent article about the NHL's inconsistent injury disclosure policy:
Ken Hitchcock was tired of the dance. In his 22nd year behind an NHL bench, the Dallas Stars head coach decided he would break from the prevalent, league-wide trend of referring publicly to player injuries only as "upper body" or "lower body" ailments.

"It's an injury and within two hours after we tell you [the media] it's upper body, you know exactly what it is, so why not just tell you?" Hitchcock said earlier this season.

The practice of vague, binary injury designations was adopted decades earlier by coaches who believed they were protecting their players by being vague. They theorized that opponents aware of injury specifics would target the ailing body parts or otherwise exploit the injured players. But Hitchcock does not buy that logic.

"The players don't go out and say, 'He has a broken left pinkie, and we're going to go after that pinkie,'" Hitchcock says. "Nobody thinks like that."

The "upper body"/"lower body" convention has been allowed to persist because, unlike the NFL, the NHL does not have a policy requiring teams to release injury information publicly. But the practice is under increased scrutiny in an age of distrust for corporate communication and of increased concern around the treatment of concussions - an injury commonly lumped into the "upper body" category.
Filed in: | KK Hockey | Permalink
Tags: dallas+stars, ken+hitchcock
by George Malik on 01/17/18 at 06:38 PM ET
Comments (0)
Filed in: | KK Hockey | Permalink
Tags: matt+murray, pittsburgh+penguins
by George Malik on 01/17/18 at 06:28 PM ET
Comments (0)
From the Associated Press:
Rene Rancourt, the tuxedoed troubadour who has sung the national anthem before Boston Bruins games for more than 40 years, announced on Wednesday that he will retire at the end of the season.

The 78-year-old trained opera singer began singing the "Star-Spangled Banner" at Red Sox games and took over the U.S. and Canadian anthems at Bruins games during the 1975-76 season. He ends his performance with a signature fist pump he modeled after Bruins forward Randy Burridge.

Rancourt performed the anthem on April 17, 2013, for the first sporting event in the city after the Boston Marathon bombing. He sang the first few words and then allowed the crowd to take over.
Filed in: | KK Hockey | Permalink
Tags: boston+bruins
by George Malik on 01/17/18 at 09:53 AM ET
Comments (2)
From the Chicago Tribune's Steve Rosenbloom:
If Corey Crawford's "upper-body" injury keeps him out the rest of the season, which was a possibility indicated by Sportsnet's Elliotte Friedman, then the Blackhawks will have a "lower-standings" issue.

No, wait. They already do. They're already three points out of the playoffs, and while they continue their five-day break that ends this weekend, they'll continue to lose ground.

Just guessing that "One Goal" was not about finishing last in the division and missing the playoffs, but hey, that's one way to avoid getting swept by the Predators, eh?

When Crawford was placed on the injured list on Dec. 27, the Hawks were two points behind the Wild for the second wild-card spot, but held two games in hand.

Without Crawford, the Hawks have gone 5-4-1 and find themselves three points behind the eighth-seeded Kings, who also have a game in hand.
Filed in: | KK Hockey | Permalink
Tags: chicago+blackhawks, corey+crawford
« Previous ‹ First < 2 3 4 5 6 > Last › Next »
About Kukla's Korner Hockey
Paul Kukla founded Kukla's Korner in 2005 and the site has since become the must-read site on the 'net for all the latest happenings around the NHL.
From breaking news to in-depth stories around the league, KK Hockey is updated with fresh stories all day long and will bring you the latest news as quickly as possible.
Email Paul anytime at pk@kuklaskorner.com
Recommended Sportsbook
MyBookie.ag
Tweets by @kuklaskorner
Most Recent Blog Posts