Kukla's Korner Hockey
by Paul on 01/16/18 at 10:25 AM ET
Comments (1)
from TSN,
As he was talking about the asking price for big scorers like van Riemsdyk to Montreal's TSN Radio 690 on Tuesday, TSN Hockey Insider Darren Dreger revised what he reported last Friday regarding Buffalo's asking price for winger Evander Kane.

"If Buffalo gets a first (round pick), a prospect, a roster player and a conditional pick - which I was corrected on, frankly after I wrote that on Friday, they want a roster player in addition to the other three assets - for Evander Kane, a pending unrestricted free agent. If they get all that, or there's a belief they get all that, imagine what the Leafs might get for JVR, Bozak, Komarov or all three..." he said. "...but the 'own rental' philosophy is probably more likely given the Toronto Maple Leafs' position in the standings."
more trade talk..
Filed in: NHL Teams, Buffalo Sabres, | KK Hockey | Permalink
Tags: evander+kane
by Paul on 01/16/18 at 10:16 AM ET
Comments (1)
TORONTO (January 16, 2018) Sportsnet is heading to the west coast of Newfoundland and Labrador this Saturday to celebrate the 18thannual Scotiabank Hockey Day in Canada – Canada's biggest single-day hockey celebration. Hosted live from Corner Brook, NL, the 12.5-hour marathon broadcast features four must-see matchups with all seven of Canada's NHL teams in action, beginning at 1 p.m. ET / 10 a.m. PT on Sportsnet, CBC, Rogers NHL LIVE and Sportsnet NOW.
Filed in: NHL Media, Hockey Broadcasting, CBC HNIC, d, | KK Hockey | Permalink

by Paul on 01/16/18 at 07:12 AM ET
Comments (1)
from Mark Kiszla of the Denver Post,
Avalanche star Nathan MacKinnon moves pretty fast. If you don't stop and look around once in a while, you could miss how Colorado went from the worst NHL team of the 21st century to the most fun bunch in town.

The transformation was as quick as that sonic booming shot Kid MacK fired past stunned Ducks goalie Ryan Miller for a score that blew the roof off the Pepsi Center, where there were 16,090 hipsters ahead of the local sports curve. The crowd shouted "Dilly, dilly!" whenever a Anaheim player got sent to the penalty box and raucously celebrated Monday's 3-1 victory by a Colorado team rapidly being carried back to respectability on the back of MacKinnon.

"He should be up for the Hart Trophy," Avs defenseman Erik Johnson said, beginning the campaign for MacKinnon as the league's most valuable player.

Colorado has won seven times in a row. After losing 60 of 82 games last season, the Avs are undefeated thus far in 2018....

When did pro hockey become fun again in Colorado? Maybe it's impossible to precisely pinpoint the exact moment.
Game highlights are below...
Filed in: NHL Teams, Anaheim Ducks, Colorado Avalanche, | KK Hockey | Permalink

by Paul on 01/16/18 at 07:02 AM ET
Comments (0)
from Alex Prewitt of Sports Illustrated,
And who is Wes McCauley, exactly? One of the league's most respected officials, for starters, an annual fixture in player polls who has worked five straight Stanley Cup Finals and should reach 900 career regular-season games next month. He is also a former Division I defenseman with several minor-league stops on his resume; a workout freak joins ex-pros around Portland for 6:30 a.m. skates; a father who literally takes planes, trains and automobiles on off-days for his kids.

His trademark zest is no secret, either; fellow officials often rib him about how loudly he yells into their wireless mics. But at the essence of every viral call are traits explaining how McCauley reached the peak of his profession: command, prudence, empathy, humility and, yes, humor. "He might be the only guy who can do that stuff," linesman Steve Barton says, "because of all the success he's had as an official."

Who is Wes McCauley? Maybe there is an even shorter answer. It's just like folks around hockey tell him at every turn: You remind me so much of your dad.
Filed in: NHL Talk, NHL Officiating, | KK Hockey | Permalink
Tags: wes+mccauley
by Paul on 01/16/18 at 06:48 AM ET
Comments (10)
A lot of chatter on Twitter last night, saying time to change the rule.
One example...
Watch the reversed call below...
Filed in: NHL Teams, Montreal Canadiens, New York Islanders, | KK Hockey | Permalink

by Paul on 01/16/18 at 06:09 AM ET
Comments (0)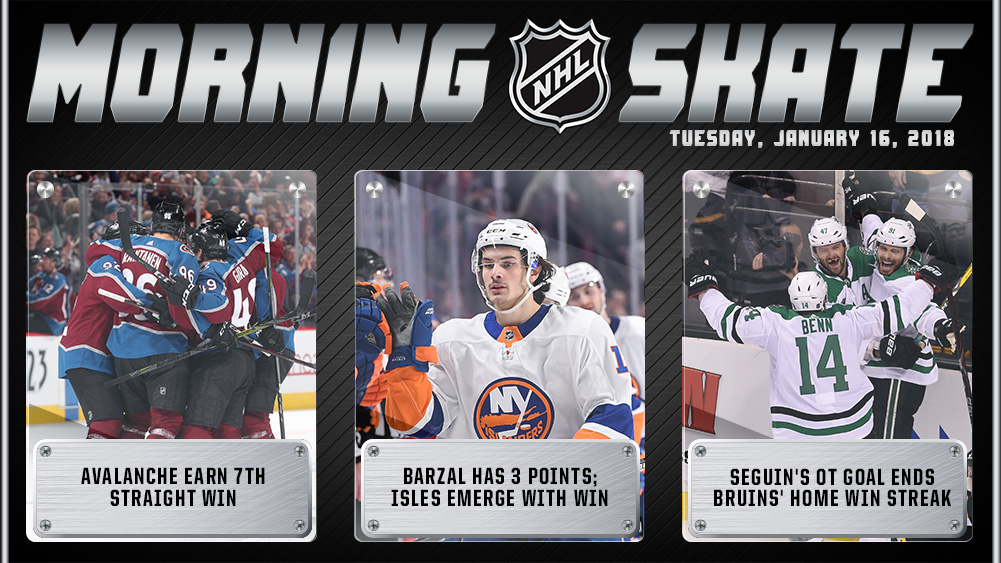 MONDAY'S RESULTS
Home Team in Caps
Dallas 3, BOSTON 2 (OT)
COLORADO 3, Anaheim 1
San Jose 4, LOS ANGELES 1
NY Islanders 5, MONTREAL 4 (OT)
Filed in: NHL Teams, | KK Hockey | Permalink

by Paul on 01/15/18 at 06:46 PM ET
Comments (2)
Also, Mark Giordano will not receive any additional discipline after receiving a match penalty on the hit.
If you missed the hit, watch it below...
Filed in: NHL Teams, Carolina Hurricanes, | KK Hockey | Permalink
Tags: sebastian+aho
by Paul on 01/15/18 at 04:18 PM ET
Comments (0)
VEGAS (January 15, 2018) — Vegas Golden Knights General Manager George McPhee announced today, January 15, that the team has signed defenseman Deryk Engelland to a one-year contract extension through the 2018-19 season worth $1.5 million.
Engelland has tallied 13 points (3 G, 13 A) to go with 16 penalty minutes in 41 games this season for the Golden Knights. He has also blocked 83 shots this season, which ranks as the second most on the team and tied for 28th in the league. Over the course of his nine seasons in the NHL, he has recorded 99 points (25 G, 74 A) to go with 516 penalty minutes in 510 games with the Golden Knights, Calgary Flames and Pittsburgh Penguins.
The Edmonton, AB native, who has been a longtime Las Vegas resident, was selected by the Vegas Golden Knights during the 2017 Expansion Draft on June 21 from the Flames.
Filed in: NHL Teams, | KK Hockey | Permalink
Tags: deryk+engelland, vegas+golden+knights
by Paul on 01/15/18 at 04:16 PM ET
Comments (5)
via Sportsnet,
Anaheim Ducks forward Andrew Cogliano comes to tears when discussing how his 830-game ironman streak will come to an end, as he'll miss his first ever NHL game due to suspension.
Filed in: NHL Teams, Anaheim Ducks, | KK Hockey | Permalink
Tags: andrew+cogliano
by Paul on 01/15/18 at 12:43 PM ET
Comments (0)
from Steve Simmons of the Toronto Sun,
They are close. They have the coach. They have the centre in Auston Matthews. They have the goaltender in Frederik Andersen. They even have a defence, without a definitive No. 1, comparable to the Pittsburgh defence of a year ago that was good enough for the Penguins.

What they don't know right now: Who is their No. 2 forward?

And are the players they believed were on their way to stardom — Mitch Marner and William Nylander — really heading in that direction?

That has to be of great concern to Maple Leafs management. So much of the building of this hockey club was based on three young stars growing together, the way Sidney Crosby and Evgeni Malkin, as two young stars, grew together in Pittsburgh. The way Datsyuk and Zetterberg grew together in Detroit. The way Kane and Toews grew together in Chicago.

The Leafs have one definitive star in Matthews up front. The question now: Do they have another one?
Filed in: NHL Teams, Toronto Maple Leafs, | KK Hockey | Permalink

About Kukla's Korner Hockey
Paul Kukla founded Kukla's Korner in 2005 and the site has since become the must-read site on the 'net for all the latest happenings around the NHL.
From breaking news to in-depth stories around the league, KK Hockey is updated with fresh stories all day long and will bring you the latest news as quickly as possible.
Email Paul anytime at pk@kuklaskorner.com
Recommended Sportsbook
MyBookie.ag
Tweets by @kuklaskorner
Most Recent Blog Posts