Kukla's Korner Hockey
Category: Anaheim-Ducks
by Paul on 10/09/20 at 02:09 PM ET
Comments (1)
Filed in: NHL Teams, Anaheim Ducks, | KK Hockey | Permalink

by Paul on 10/08/20 at 03:46 PM ET
Comments (0)
OTTAWA - The Ottawa Senators announced today that the team has acquired defenceman Erik Gudbranson from the Anaheim Ducks in exchange for a Senators' (previously acquired from Edmonton) fifth-round selection in the 2021 NHL Draft.
An Ottawa native, Gudbranson registered nine points (four goals, five assists) and 91 penalty minutes over 44 games in his lone season with the Ducks in 2019-20. He began the campaign with the Pittsburgh Penguins where he was held scoreless while recording four penalty minutes.
"Erik Gudbranson provides another sizable presence to our defence corps," said Senators general manager Pierre Dorion. "He's a reliable veteran who plays an intimidating style of game and someone who will add a combination of grit, energy and, most importantly, leadership to our lineup."
Filed in: NHL Teams, Anaheim Ducks, Ottawa Senators, | KK Hockey | Permalink

by Paul on 06/04/20 at 07:58 AM ET
Comments (0)
from Elliott Teaford of the OC Register,
General manager Bob Murray made it clear Wednesday he was fed up with the Ducks' inconsistent play, their underachieving special teams and a lack of production from the many veterans who made up the core of their lineup during the 2019-20 season.

Murray also second-guessed himself for staying out of the dressing room in an attempt to give Dallas Eakins some space in his first season as the Ducks' coach, a move that backfired when some of their youngest and least experienced players were given too much freedom.

"Accountability in this group is going to change," Murray said during a 40-minute conference call with reporters that featured a review of last season and a preview of the next one, whenever it might begin. "I've had enough of 'Well …, well …, well … .'"
Filed in: NHL Teams, Anaheim Ducks, | KK Hockey | Permalink

by Paul on 02/21/20 at 12:51 PM ET
Comments (5)
added 1:03pm, Boston release is below.
Filed in: NHL Teams, Anaheim Ducks, Boston Bruins, | KK Hockey | Permalink
Tags: ondrej+kase
by Paul on 02/10/20 at 04:29 AM ET
Comments (0)
THREE HARD LAPS

* Kyle Connor collected at least three points for the second time in as many days and the Jets scored five goals for the second time in as many days to improve to 4-0-1 in their last five games.

* Igor Shesterkin turned aside 42 shots and became the fourth goaltender since 1955-56 (since shots on goal officially began being tracked) to register multiple 40-save wins through his first six career contests.

* Nathan MacKinnon, Gabriel Landeskog and Cale Makar helped the Avalanche outlast the Wild in a five-goal second period and move within three points of the Blues for first in the Western Conference.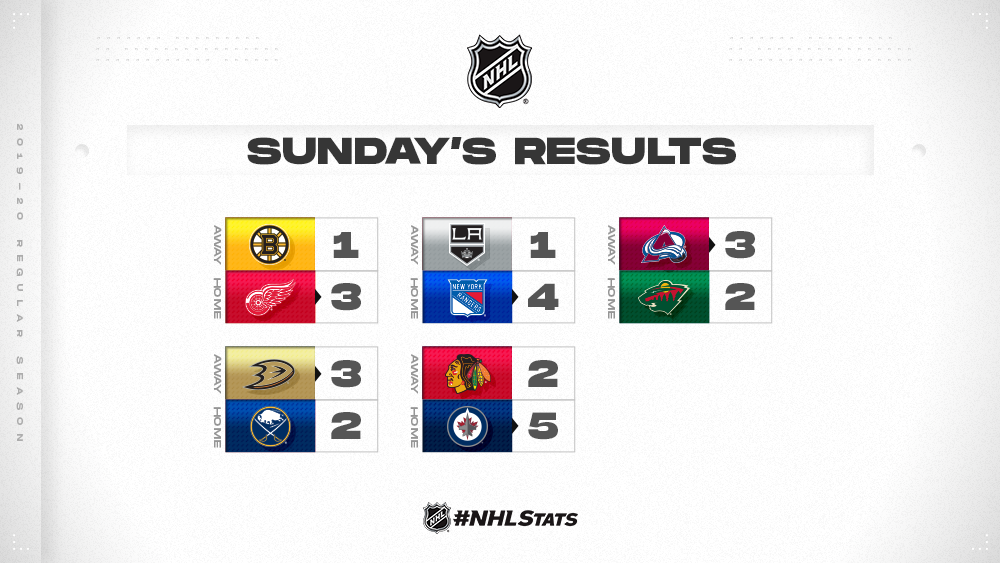 Filed in: NHL Teams, Anaheim Ducks, | KK Hockey | Permalink

by Paul on 01/12/20 at 09:03 AM ET
Comments (0)
from Helene Elliott of the LA Times,
Ducks executives approached this season believing they didn't have to completely rebuild their roster because they had collected enough young talent to make a strong start toward being a playoff team again and, eventually, a Stanley Cup contender.

There wasn't a franchise player among those kids but projections were they'd gradually begin to contribute and they'd invigorate a team that had become slow and stale.

No one expected this to be easy. But no one expected the Ducks to be sitting last in the Western Conference through Friday's games.

"To be honest, I'm not sure where we were going to be," coach Dallas Eakins said last week. "I think when I look at our record right now I do believe it should be better. I'm not going to say that we should be sitting in a playoff spot but I certainly think we should have five or six more wins."
Filed in: NHL Teams, Anaheim Ducks, | KK Hockey | Permalink

by Paul on 01/10/20 at 04:11 AM ET
Comments (1)
Corey Perry is serving a suspension making him ineligible to play Thursday tonight.
The first video is the salute to Perry, the video below is more forcused on him plus Perry on the night.
Filed in: NHL Teams, Anaheim Ducks, Dallas Stars, | KK Hockey | Permalink
Tags: corey+perry
by Paul on 11/19/19 at 04:10 PM ET
Comments (0)
via the NHL,
Garnet Hathaway will have a hearing with the NHL Department of Hockey Operations on Wednesday.
The Washington Capitals forward is facing discipline for spitting on Anaheim Ducks defenseman Erik Gudbranson with 34 seconds left in the second period of Washington's 5-2 win at Capital One Arena on Monday.
Hathaway received a match penalty. Gudbranson received a roughing minor and a 10-minute misconduct penalty.
Following the incident, the following penalties also were assessed: Hathaway and Anaheim forward Derek Grant each received a fighting major; Capitals forward Brendan Leipsic and Ducks defenseman Brendan Guhle each received a double minor for roughing; and Anaheim forward Nick Ritchie received a game misconduct for being the third man into the fight between Hathaway and Grant.
If you missed it last night, you can watch it here.
Filed in: NHL Teams, Anaheim Ducks, Washington Capitals, | KK Hockey | Permalink
Tags: garnet+hathaway
by Paul on 11/18/19 at 08:56 PM ET
Comments (0)
Brawl starts, puck goes in the net, good goal.
Recap of the penalties can be found below the video.
added 8:59pm, Longer version of all the action is below.
Filed in: NHL Teams, Anaheim Ducks, Washington Capitals, | KK Hockey | Permalink

by Paul on 11/11/19 at 08:54 AM ET
Comments (0)
from Robert Tychkowski of the Edmonton Journal,
Dallas Eakins said before Monday's (Sunday's) game that the unpleasant memories he has of his brief stint with the Edmonton Oilers are so long ago he barely remembers them.

Unfortunately for Eakins, the Oilers gave him a fresh batch of misery to digest.

In Eakins' first game against Edmonton since he returned to the NHL coaching ranks in Anaheim, he ran into a buzz-saw of an Oilers team that turned his evening into a 60-minute nightmare, dominating all three facets of the game in a 6-2 beating.

"I thought we were solid all over," said Oilers captain Connor McDavid, who lead the way with a hat-trick. "Our PK was great, the power play scores two, goaltending (Mikko Koskinen) was really good when we needed him. It was a good effort by everyone."


The convincing rout of an Anaheim team that was 6-2-1 at home this year comes on the heels of Friday's 4-0 victory over New Jersey as the Oilers improve to 12-5-2 and appear to have regained the stride that lifted them to a 5-0 start.
Watch the 3 goals from McDavid below.
Filed in: NHL Teams, Anaheim Ducks, Edmonton Oilers, | KK Hockey | Permalink

About Kukla's Korner Hockey
Paul Kukla founded Kukla's Korner in 2005 and the site has since become the must-read site on the 'net for all the latest happenings around the NHL.
From breaking news to in-depth stories around the league, KK Hockey is updated with fresh stories all day long and will bring you the latest news as quickly as possible.
Email Paul anytime at pk@kuklaskorner.com
Tweets by @kuklaskorner
Most Recent Blog Posts