Kukla's Korner Hockey
by Paul on 03/10/18 at 02:22 PM ET
Comments (0)
from Fluto Shinzawa of the Boston Globe,
On March 3, as Paul Byron carried the puck through the neutral zone during a Montreal power play, Sean Kuraly almost paid the Canadien no mind. Kuraly practically skated behind Byron without even so much as a hint at attacking the puck carrier and denying him entry into the Bruins' zone. This was by design.

Like many teams, Montreal runs the delay on its power play. Its intention is to drop the puck back to one of its two trailers — the wizardly Jonathan Drouin being the No. 1 option — and disrupt the penalty killers' gaps. Because of this approach, they want the opposing forward to close on the puck carrier. Once that happens, the Canadiens will drop the puck back to Drouin and force F1 to re-gap. ...

For teams that like the delay, the first setup is to use two trailers. That way, if the first trailer runs into a roadblock once accepting the drop pass, he always has the second trailer as an option. The Bruins utilized the delay earlier this season. Torey Krug would carry the puck up the ice. David Pastrnak and Ryan Spooner were the trailers. Krug would usually drop the puck to Pastrnak. If Pastrnak couldn't gain the zone cleanly, he could dish to Spooner on the left.

The wrinkle that power plays introduce is when they only use one trailer. In those cases, F1 has to adjust his route and be more aggressive on his approach in the neutral zone.
more plus other topics including a look at Colin Larkin, Dylan's older brother...
Filed in: NHL Teams, | KK Hockey | Permalink

by Paul on 03/10/18 at 12:29 PM ET
Comments (5)
from Kevin Allen of USA TODAY,
An oddity of the 2017-18 NHL regular season is that not a single coach has been fired. Five coaches were fired in-season in 2016-17.

It may mean that several coaching changes will occur in the offseason.

Here are six vulnerable coaches:

Jeff Blashill, Detroit Red Wings: The Red Wings have a personnel problem, not a coaching problem. The Red Wings have a new arena and selling tickets isn't as easy as it once was. Firing a coach is viewed as a team embracing a new direction. No one is sure what is going to happen with general manager Ken Holland, whose contract expires at the end of the season.

If Blashill is fired, it will be under the banner that the team's younger players need to listen to a different voice.

Joel Quenneville, Chicago Blackhawks: Quenneville has won three Stanley Cups since 2010. How could you consider firing him? You could if you believe the organization has grown stale and a fresh approach is needed. It isn't fair, but it is the way teams conduct business. Wouldn't he be a good fit as Connor McDavid's coach in Edmonton? It would guarantee improved team defense.
Filed in: NHL Teams, Chicago Blackhawks, Detroit Red Wings, | KK Hockey | Permalink

by Paul on 03/10/18 at 09:34 AM ET
Comments (31)
from Damien Cox of the Toronto Star,
At a time when diversity matters, and when the #MeToo movement is bringing more attention to the treatment of women, specifically women in the workplace, the hall of fame was handed a golden opportunity this week to demonstrate it has its ear to the ground and understands the changing culture around it....

Scotty Bowman, one of the greatest coaches in NHL history, ended his 15-year tenure on the hall's 19-member selection committee on Dec. 31. This was a tremendous chance for the hall, led by chairman Lanny McDonald, to change the mix of the committee, to add a new and different kind of voice.

A woman. A person of colour. Someone to reflect the changing demographics of this great sport, to broaden the hall's appeal and send a strong message that the game welcomes everyone, and includes everyone at the highest levels....

So what did the hall do with its opportunity to make a powerful statement on diversity with the opening made available by Bowman's departure? It announced on Tuesday that high-profile broadcaster Pierre McGuire, 56, would take the legendary coach's place on the selection committee.

Another older, white male.

Let's be clear. This is not McGuire's fault.
Filed in: Hockey Related Stories, | KK Hockey | Permalink

by Paul on 03/10/18 at 08:27 AM ET
Comments (0)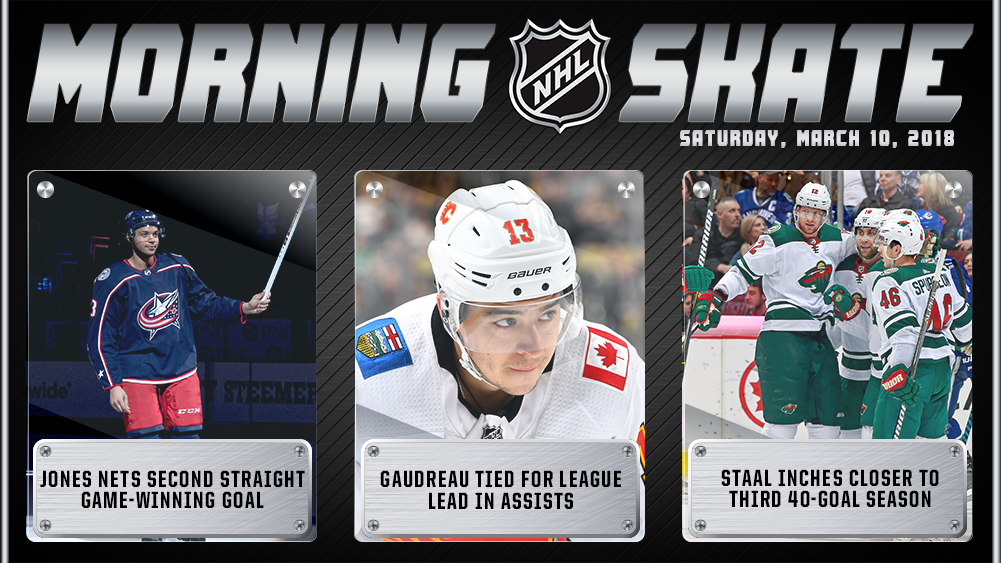 FRIDAY'S RESULTS
Home Team in Caps
COLUMBUS 3, Detroit 2
Calgary 2, OTTAWA 1
DALLAS 2, Anaheim 1
Minnesota 5, VANCOUVER 2
Filed in: NHL Teams, | KK Hockey | Permalink

by Paul on 03/09/18 at 05:55 PM ET
Comments (0)
note original date for this post was 3/8/18 at 1:04pm.
Last week I introduced you to a fantastic fishing excursion with former NHL players.
This week, lets take a deeper look a this opportunity.
This video shows you just how world class this trip is.
It can be you spending 4 days fishing at Lodge at Englefield Bay located at the edge of Haida Gwaii, BC. Plus you get to hang out with Charlie Simmer, Greg Adams, Jamie Huscroft, and Chuck Kobasew.
Filed in: | KK Hockey | Permalink

by Paul on 03/09/18 at 01:18 PM ET
Comments (4)
NEW YORK (March 9, 2018) -- Boston Bruins forward Brad Marchand has been fined $2,000 as supplementary discipline under NHL Rule 64 (Diving/Embellishment), the National Hockey League announced today.
Marchand was issued a Warning following an incident flagged by NHL Hockey Operations during NHL Game No. 377 against the Tampa Bay Lightning on Nov. 29. His second Citation, which triggered the $2,000 fine, was issued for an incident at 5:38 of the second period during NHL Game No. 983 against the Pittsburgh Penguins on March 1. Marchand (embellishment) and Penguins defenseman Olli Maatta (tripping) received offsetting minor penalties on the play.
Below, Nick Cousins got caught too. $2000 for (Diving/Embellishment).
Filed in: NHL Teams, d, Boston Bruins, | KK Hockey | Permalink
Tags: brad+marchand;+brian+burke;+rats, nick+cousins
by Paul on 03/09/18 at 10:01 AM ET
Comments (11)
from Kevin McGran of the Toronto Star,
Three of the top six teams in the NHL -- based on points to date -- are in the same division.

They are Tampa, Boston and Toronto.

Think about that come playoff time and the way the playoffs work. They're based on division. That means, only one of those teams has a chance to survive past the second round....

Meanwhile over the Metropolitan, the eighth-, ninth-, 14th- and 17th-best teams in the NHL would fight it out....

The NHL put these divisional playoffs in place to spur rivalries. Yes, Montreal hates Boston. Toronto might learn to hate Boston as much. And Washington really hates Pittsburgh.

Dunno, really. I think I'd rather 1-vs-16 league-wide, or 1-vs-8 in two division-less conferences.
a bit more on this plus a Q & A, mostly Leafs releated...
Filed in: NHL Teams, NHL Talk, | KK Hockey | Permalink

by Paul on 03/09/18 at 09:52 AM ET
Comments (0)
from Neil Best of Newsday,
Doug Weight was asked if he had any words left to describe what has befallen his team. He came up empty.

"No, I don't. I don't," the Islanders' coach said Thursday night. "Nothing. I can't."

It was difficult to blame him after the latest flop in a cliff dive out of playoff contention. This time it was a 2-1 shootout loss to the Oilers in a game the Islanders were 110 seconds away from winning in regulation time.

So make that eight games in a row without a victory. The fact that four came in overtime or shootouts illustrates the Islanders often have played well enough to win, only to lose anyway.

"It's extremely hard to believe," said Thomas Hickey, who scored the Islanders' only goal 1:54 into the third period.
Game highlights are below...
Filed in: NHL Teams, Edmonton Oilers, New York Islanders, | KK Hockey | Permalink

by Paul on 03/09/18 at 05:10 AM ET
Comments (0)
5 1/2 minutes of the best action from the NHL on Thursday night.
Filed in: NHL Teams, | KK Hockey | Permalink

by Paul on 03/09/18 at 05:05 AM ET
Comments (1)
via the NHL PR department,
225 Coach's Challenges | 139 upheld | 86 overturned
· 142 for goalie interference | 96 upheld | 46 overturned (40 to "no goal" / 6 to "goal")
· 19 initiated by Situation Room for goalie interference | 15 upheld | 4 overturned
· 50 for offside | 16 upheld | 34 overturned (all to "no goal")
· 14 initiated by Situation Room for offside | 12 upheld | 2 overturned (all to "no goal")
Filed in: NHL Teams, | KK Hockey | Permalink

« Previous ‹ First < 7 8 9 10 11 > Last › Next »
About Kukla's Korner Hockey
Paul Kukla founded Kukla's Korner in 2005 and the site has since become the must-read site on the 'net for all the latest happenings around the NHL.
From breaking news to in-depth stories around the league, KK Hockey is updated with fresh stories all day long and will bring you the latest news as quickly as possible.
Email Paul anytime at pk@kuklaskorner.com
Recommended Sportsbook
MyBookie.ag
Tweets by @kuklaskorner
Most Recent Blog Posts