Kukla's Korner Hockey
by Paul on 12/08/17 at 08:24 AM ET
Comments (1)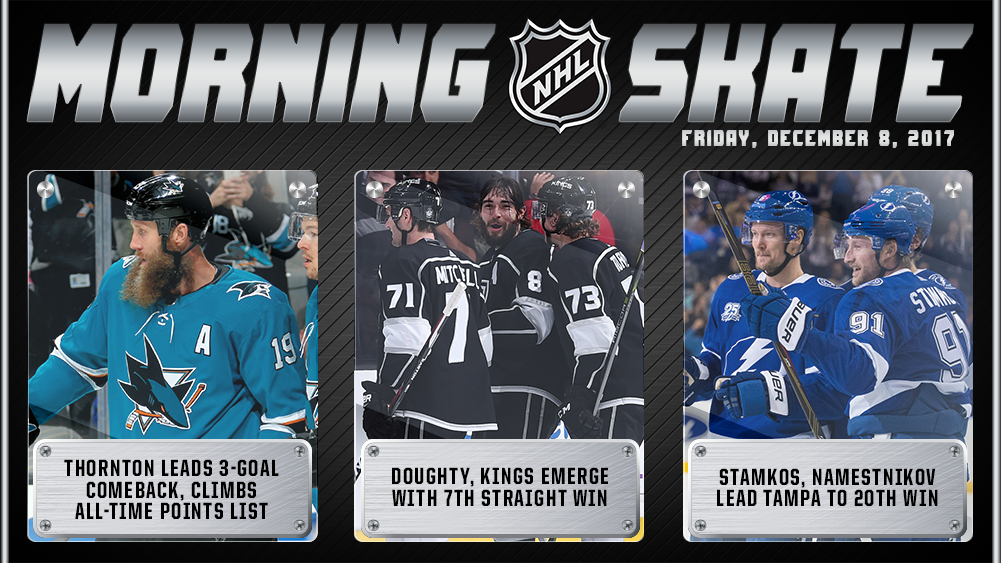 THURSDAY'S RESULTS
Home Team in Caps
BOSTON 6, Arizona 1
PITTSBURGH 4, NY Islanders 3 (OT)
Calgary 3, MONTREAL 2 (OT)
TAMPA BAY 5, Colorado 2
FLORIDA 6, Winnipeg 4
ST. LOUIS 3, Dallas 0
Philadelphia 4, VANCOUVER 1
LOS ANGELES 4, Ottawa 3 (OT)
SAN JOSE 5, Carolina 4 (OT)
Filed in: NHL Teams, | KK Hockey | Permalink

by Paul on 12/07/17 at 09:04 PM ET
Comments (3)
Looks like an unfortunate collision. Crosby remained in the game.
Filed in: NHL Teams, New York Islanders, Pittsburgh Penguins, | KK Hockey | Permalink
Tags: jordan+eberle, sidney+crosby
by Paul on 12/07/17 at 07:50 PM ET
Comments (0)
Filed in: NHL Talk, | KK Hockey | Permalink
Tags: allan+walsh
by Paul on 12/07/17 at 06:31 PM ET
Comments (0)
RALEIGH, NC – Don Waddell, President of Gale Force Sports & Entertainment, today announced that Dallas entrepreneur and philanthropist Tom Dundon has signed an agreement to purchase a majority stake in the National Hockey League's Carolina Hurricanes. Pending league approval and the finalization of the sale, Dundon will take control of all team operations.
"I am thrilled to continue to build upon what Peter Karmanos started in Raleigh," said Dundon. "The Hurricanes are a team on the rise, and I believe we have an opportunity to take the franchise to the next level. I'm ready to get to work."
Filed in: | KK Hockey | Permalink
Tags: tom+dundon
by Paul on 12/07/17 at 06:07 PM ET
Comments (8)
Filed in: NHL Teams, NHL Talk, | KK Hockey | Permalink

by Paul on 12/07/17 at 05:20 PM ET
Comments (0)
from Michael Traikos of the National Post,
Alexander Wennberg or William Karlsson?

If the Columbus Blue Jackets could do it all over again, which player do you think they would protect?...

The Blue Jackets protected Wennberg, who is 23, rather than Karlsson, who is one year older. After 22 games, Wennberg has a goal and 10 points. Karlsson, who has 14 goals and 25 points in 27 games, would be far and away Columbus' leader in goals and points.

Then again, it was only after joining the expansion team that he was given the chance to showcase his previously dormant talents.

"I was an offensive guy in Sweden," Karlsson, who had 25 points in 81 games last season and has already exceeded his previous high of six goals, told NHL.com this week. "I kind of knew I always had it in me. I knew I had a chance here and I really wanted to take it."
more players mentioned plus other hockey topics...
Filed in: NHL Teams, | KK Hockey | Permalink

by Paul on 12/07/17 at 03:34 PM ET
Comments (0)
via Sportsnet's YouTube page,
For the 37th anniversary of Tiger Williams' "stick ride" celly we throw back to some of the most memorable goal-scoring reactions. From Hejduk's belly flop and swim to Kovalev's moon walk to Selanne's shotgun, check out the best NHL celebrators.
Filed in: NHL Teams, | KK Hockey | Permalink

by Paul on 12/07/17 at 03:25 PM ET
Comments (5)
The unsportsmanlike conduct explanation.
Filed in: NHL Teams, Calgary Flames, | KK Hockey | Permalink
Tags: matthew+tkachuk
by Paul on 12/07/17 at 03:07 PM ET
Comments (0)
note: original post was on 12/6/17 at 12:30pm ET.
'Tis the season to surprise someone with a very special piece of memorabilia or perhaps buy it for yourself. Whatever the reason, I am here to tell you all about The Fan Auction's (scroll down to view some of the recent lost sold).
I am going to go out on a limb here and assume most if not all of you are hockey fans and The Fan Auction's will have that special, authentic piece you just may be looking for. Jerseys, sticks, helmets, masks, gloves and photographs make up some of he items available to bid on. They also have memorabilia from the other sports too so get at it and take a look around.
They have shown great faith in Kukla's Korner in reaching the hockey/sports fan and their goal is to have you look at the auction and place your bid.
Regarding bidding: Every auction runs nine days and each bidder will be notified via email if they are outbid on a lot and you can always check there 'watch' list to keep updated on your bid.
The auction is now live so take a look around and let the bidding begin.
You will be bidding on-
- authentic sports and entertainment memorabilia
- they have the best vendor partners in the business. AJ's Sports World, Steiner, JAG Sports Marketing, Frozen Pond, Sport Authentix, Frameworth Sports Marketing, Original Six, PHG Sports and more
- no buyers fees
- 700 to 1000 lots per auction with a minimum of 100 starting at a dollar
- all bidding in Canadian funds. which means great savings for US customers
- certificate of authenticity from all vendor partners or PSA DNA, JSA, Beckett, REAL and Frank Caizzo
- auction run 9 days starting every Tuesday at 9PM ET
-The Fan Auctions offers a 100% money back lifetime guarantee of authenticity for every item sold. If any item sold is found not authentic by an agreed expert The Fan will refund the purchase price to the buyer
Check our their Facebook page too.
Filed in: Hockey Related Stories, | KK Hockey | Permalink

by Paul on 12/07/17 at 01:48 PM ET
Comments (0)
Horvat has 10 goals and 20 points for the Canucks this season.
Filed in: NHL Teams, Vancouver Canucks, | KK Hockey | Permalink
Tags: bo+horvat
« Previous ‹ First < 5 6 7 8 9 > Last › Next »
About Kukla's Korner Hockey
Paul Kukla founded Kukla's Korner in 2005 and the site has since become the must-read site on the 'net for all the latest happenings around the NHL.
From breaking news to in-depth stories around the league, KK Hockey is updated with fresh stories all day long and will bring you the latest news as quickly as possible.
Email Paul anytime at pk@kuklaskorner.com
Recommended Sportsbook
MyBookie.ag
Tweets by @kuklaskorner
Most Recent Blog Posts