Kukla's Korner Hockey
by Paul on 02/17/18 at 07:52 AM ET
Comments (0)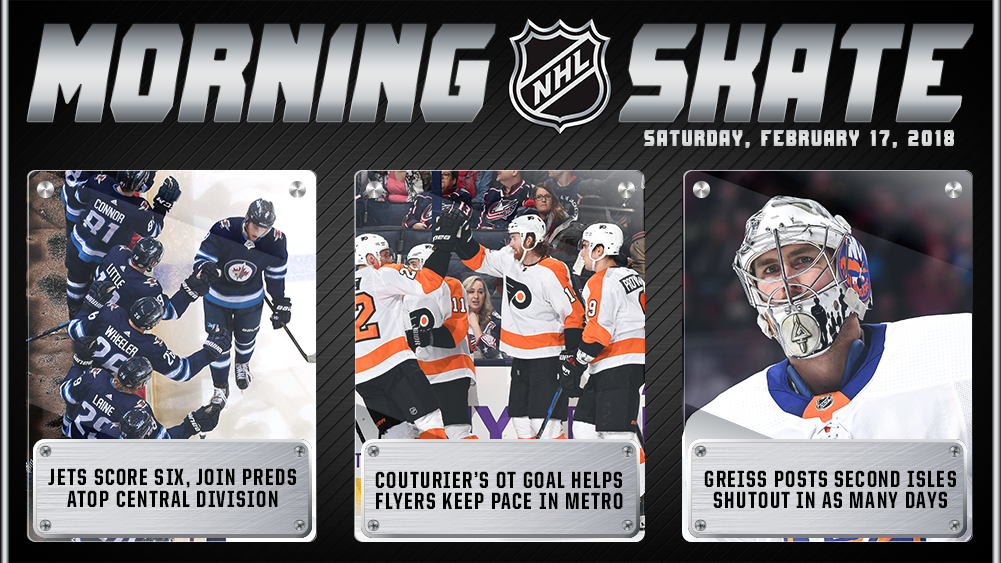 FRIDAY'S RESULTS
Home Team in Caps
Philadelphia 2, COLUMBUS 1 (OT)
NY Islanders 3, CAROLINA 0
WINNIPEG 6, Colorado 1
DALLAS 2, St. Louis 1
Filed in: NHL Teams, | KK Hockey | Permalink

by Paul on 02/16/18 at 08:42 PM ET
Comments (1)
from Don Brennan of the Ottawa Sun,
Rather than hiring a replacement for recently departed president and chief executive officer Tom Anselmi, the Senators owner will leave his cozy nest in Barbados, set up an office in the nation's capital and assume the CEO duties of his own team, a well-placed source inside the organization says...

Melnyk came to town earlier this week and held a staff meeting, at which point he presented his new plan. The boss would become hands-on, directing the staff and running the business.

It is not known whether Melnyk will hold a news conference to share what strategy he has devised, if any, to increase the number of ticket-buying customers. But the odds of that happening appear to be slim, if his most recent means of communicating with the fans are any indication.
Filed in: NHL Teams, Ottawa Senators, | KK Hockey | Permalink

by Paul on 02/16/18 at 07:59 PM ET
Comments (0)
Calgary, AB – The Calgary Flames announced today that they have signed center Mikael Backlund to a six year contract.
Backlund, a native of Vasteras, Sweden, was drafted in the first round – 24thoverall by the Flames in the 2007 NHL Entry Draft. Backlund made his Flames debut on January 9, 2009. Since then, Mikael has skated in 519 games for the Flames notching 104 goals and 158 assists for 262 points. Backlund had a breakout year in 2016/17 notching career highs in goals with 22, assists with 31, and points with 53. Recently, on November 25th, Backlund scored his 100th career NHL goal and on December 31st he played in his 500th career NHL game.
Term: 6 Years
AAV: $5.350M
Filed in: NHL Teams, Calgary Flames, | KK Hockey | Permalink
Tags: mikael+backlund
by Paul on 02/16/18 at 06:42 PM ET
Comments (4)
If in the eastern time zone, subtract 14 hours to get the ET puck drop.
Rachel G. Bowers on the USA/OAR game..
If the US beats Russia, in regulation or overtime, it will win the group and receive a bye into the quarterfinals. If Russia beats the US in regulation, it could have a shot at winning the group, pending the outcome of Slovakia-Slovenia. If Russia wins in overtime, it will tie the US in points with 5. If two teams are tied in points after group play concludes, the winner of the head-to-head matchup wins the group. If there is a three-way tie, however, this five-step tiebreaker is applied until there is no longer a tie.
Filed in: | KK Hockey | Permalink

by Paul on 02/16/18 at 01:51 PM ET
Comments (2)
"I think we're closer to doing nothing than to do something."
-David Poile, GM of the Nashville Predators. Adam Vingan of The Tennessean has more.
Filed in: | KK Hockey | Permalink
Tags: david+poile
by Paul on 02/16/18 at 01:45 PM ET
Comments (2)
from Sportsnet,
Back in December, St. Louis Blues GM Doug Armstrong said that he didn't think his team would be in the market for a rental player around this year's NHL trade deadline. In fact, more than a few NHL GMs have downplayed their potential involvement in the rental market.

Armstrong returned to Hockey Central at Noon on Friday and again suggested he could be active around the deadline without getting into the rental game. It's no secret the Blues, with 19 goals in their past seven games and the 17th best offence overall, could use some more scoring punch up front. They've been linked in rumours to the likes of Max Pacioretty or Mike Hoffman, players with term left on their deals.

"I think we're going to be active on hockey trades more than rental trades," Armstrong said. "The reality is if you're trading an unrestricted free agent at that time you're going to get what you can get and sometimes that won't come until the last second."
Filed in: NHL Teams, St. Louis Blues, | KK Hockey | Permalink
Tags: doug+armstrong
by Paul on 02/16/18 at 01:36 PM ET
Comments (1)
By Eric,
After missing 7 (soon to be 8) games with what's believed to be a shoulder injury, Nathan MacKinnon is eyeing a return to the Avalanche's lineup on Sunday against the Oilers.
A Hart Trophy favorite before succumbing to injury, one wonders if Jared Bednar will reunite the electric trio of Rantanen-MacKinnon-Landeskog, one of the league's best lines pre-injury.
Filed in: NHL Teams, Colorado Avalanche, | KK Hockey | Permalink
Tags: nathan+mackinnon
by Paul on 02/16/18 at 11:33 AM ET
Comments (6)
Now, here's another thought that just occurred to me on the McDonagh front: If you're the Rangers, and while it makes sense that perhaps your best offer will come in the off-season when more teams get involved, what if suddenly one of Erik Karlsson, Oliver Ekman-Larsson or Drew Doughty goes on the trade market? Like McDonagh, they are all UFAs in 2019, so this summer is a big window for one-year-out decisions. Right now, it doesn't appear that any of those three players are available pre-trade deadline. The Coyotes are focused on signing OEL this summer, so they've made him an untouchable for this deadline; the Senators also are all about trying to sign Karlsson this summer, just as the Kings are with Doughty.

Therefore, the Rangers right now have the top defenceman on the trade market with McDonagh. If one or two of those other three stud blueliners arrives on the trade market this summer, how much does that limit your market and/or return if you're New York?
-Pierre LeBrun of The Athlletic where can read all the latest trade talk (paid subscription).
Filed in: NHL Teams, | KK Hockey | Permalink

by Paul on 02/16/18 at 07:44 AM ET
Comments (0)
5 1/2 minutes long.
Filed in: NHL Teams, | KK Hockey | Permalink

by Paul on 02/16/18 at 07:38 AM ET
Comments (0)
THURSDAY'S RESULTS
Home Team in Caps
NEW JERSEY 5, Carolina 2
NY ISLANDERS 3, NY Rangers 0
PITTSBURGH 3, Los Angeles 1
OTTAWA 3, Buffalo 2 (OT)
TAMPA BAY 4, Detroit 1
Calgary 4, NASHVILLE 3
Washington 5, MINNESOTA 2
Anaheim 3, CHICAGO 2
ARIZONA 5, Montreal 2
VEGAS 4, Edmonton 1
SAN JOSE 4, Vancouver 1
LEAGUE LEADERS KUCHEROV, OVECHKIN POST FOUR POINTS APIECE
Nikita Kucherov and Alex Ovechkin each collected 1-3—4 to power the League-leading Lightning (39-16-3, 81 points) and Metropolitan Division-leading Capitals (33-17-7, 73 points) to wins, respectively.

* Kucherov extended his point streak to five games (4-6—10) and boosted his totals to 31-45—76 in 58 games this season, opening an eight-point lead over Johnny Gaudreau (19-49—68) in the race for the Art Ross Trophy.
* Ovechkin scored his 34th goal of the season, tops in the NHL, and became the first player in Capitals history to record 1,100 career points (592-508—1,100 in 978 GP). In pursuit of his seventh Maurice Richard Trophy, Ovechkin moved within eight tallies of becoming the 20th player in NHL history to score 600 goals.
Filed in: NHL Teams, | KK Hockey | Permalink

« Previous ‹ First < 4 5 6 7 8 > Last › Next »
About Kukla's Korner Hockey
Paul Kukla founded Kukla's Korner in 2005 and the site has since become the must-read site on the 'net for all the latest happenings around the NHL.
From breaking news to in-depth stories around the league, KK Hockey is updated with fresh stories all day long and will bring you the latest news as quickly as possible.
Email Paul anytime at pk@kuklaskorner.com
Recommended Sportsbook
MyBookie.ag
Tweets by @kuklaskorner
Most Recent Blog Posts