Kukla's Korner Hockey
by Paul on 05/19/18 at 01:07 PM ET
Comments (1)
from Larry Brooks of the New York Post,
- ...If a team of almost entirely perceived third-liners and fourth and fifth defensemen advanced to the conference finals (with a 3-1 lead, no less), would everyone be raving about the general manager (and scouting department) who constructed the club, or the coach instead?

Because honestly, has there ever — ever — been a better coaching job in the NHL than the one Gerard Gallant has turned in this year for the Golden Knights?

Fred Shero with the Flyers in 1973-74, maybe?...

- Either the use of video review is limited by the rule book, or it isn't. Except not in the NHL, where the league makes up rules on the fly.

If they "wanted to get it right" in Game 4 of Washington-Tampa Bay when Yanni Gourde rather than Victor Hedman was mistakenly sent to the box for tripping T.J. Oshie before the officials corrected their mistake upon checking video, will everyone be on board with getting it wrong in the final?

Or will we find out, much like with Brett Hull's in-the-crease 1999 Cup winning goal, that a memo had been sent out weeks earlier?
more on the Vegas Golden Knights plus a good chance David Quinn is the next cooach of the New York Rangers....
Filed in: NHL Teams, | KK Hockey | Permalink

by Paul on 05/19/18 at 12:01 PM ET
Comments (14)
Filed in: | KK Hockey | Permalink
Tags: vegas+golden+knights
by Paul on 05/19/18 at 09:01 AM ET
Comments (0)
from Michael Traikos of the National Post,
There are two ways of looking at how the Eastern Conference final came to be tied heading into Game 5: either the Tampa Bay Lightning stole back two games on the road or the Washington Capitals gave away an opportunity to close out a series.

For most onlookers, it's the latter.

And so, here we are talking about choking again. Will this be another post-season where the Capitals failed to finish off an opponent on the ropes, failed to come up with the key play at the key time, and failed to advance despite being the better team? Will it be another missed opportunity for Alex Ovechkin?

From here, it's starting to look that way. Whatever momentum the Capitals gained from winning Games 1 and 2 on the road has now swung back to the Lightning after winning Games 3 and 4. Now, it's Washington with its backs against the ropes and once again having to face the ghosts of the franchise's past.
Filed in: NHL Teams, Tampa Bay Lightning, Washington Capitals, | KK Hockey | Permalink

by Paul on 05/19/18 at 08:55 AM ET
Comments (0)
"It's so hard to win in this league, it so hard to get where we are. You try to say that. You try to preach that stay-in-the-moment. Just with everything that's gone on the whole year, we have to continue to focus on our next task. When we're a little bit older and we have a summer to dissect it and look back on it, that's when you can sit back and relax. But right now, we're fully engaged and involved in a huge playoff series – and we'll continue to battle here."
James Neal of the Vegas Golden Knights. Eric Duhatschek of The Athletic has more (paid subscription) from last night's game.
Filed in: NHL Teams, Winnipeg Jets, | KK Hockey | Permalink
Tags: james+neal, vegas+golden+knights
by Paul on 05/19/18 at 08:41 AM ET
Comments (2)
from Ed Graney of the Las Vegas Review-Journal,
I'm not a big fate guy when it comes to sports. Save the supernatural power nonsense for movies and books and television shows about vampires.

But the idea of controlling one's destiny — you always have the opportunity to turn one way or the other — is at times a more reasonable basis for why the unthinkable occurs.

Hence, the Vegas Golden Knights.

The season no one predicted (at least sober), the NHL expansion team nobody thought would still be playing anywhere near this deep into May, or in May at all, the 500-1 longshot back in October, the story of a town and a franchise connected through the tragedy of a mass shooting and then blended into an alliance of loyalty and endearment, has come to this:

Vegas is one win from reaching a Stanley Cup Final.

Welcome to Impossible?
Below, watch the best action from last night's game and Reilly Smith and Marc-Andre Fleury post-game.
Filed in: NHL Teams, Winnipeg Jets, | KK Hockey | Permalink
Tags: vegas+golden+knights
by Paul on 05/19/18 at 08:30 AM ET
Comments (0)
Filed in: Non-NHL Hockey, International Hockey, | KK Hockey | Permalink
Tags: team+usa
by Paul on 05/19/18 at 08:23 AM ET
Comments (1)
from Mark Spector of Sportsnet,
Hockey can be a harsh, unforgiving place — even more so at this time of year — and not just for the players and coaches.

Here in the back end of May, a young man can open up to a hockey writer with the utmost honesty, as Connor Hellebuyck did for this piece we wrote on Thursday. We are thankful to him for that, and frankly came to like the young man the more we understand and get to know him.

Then, a day later, that same writer can take a cold look at this series, and why the Winnipeg Jets are trailing 3-1, and come to this awkward conclusion:

Connor Hellebuyck.

The reason the Jets aren't going home at 2-2 is their goalie. He hasn't been good enough. Not only is that something we did not expect to write, it is (full disclosure) something we would rather not conclude.
Watch the game highlights below.
Filed in: NHL Teams, Winnipeg Jets, | KK Hockey | Permalink
Tags: vegas+golden+knights
by Paul on 05/19/18 at 08:10 AM ET
Comments (0)
The Golden Knights defeated the Jets to win Game 4 and take a 3-1 series lead in the Western Conference Final. Teams that take a 3-1 lead in the Conference Finals/Semifinals (since 1974-75) own an all-time series record of 41-1 (97.6%).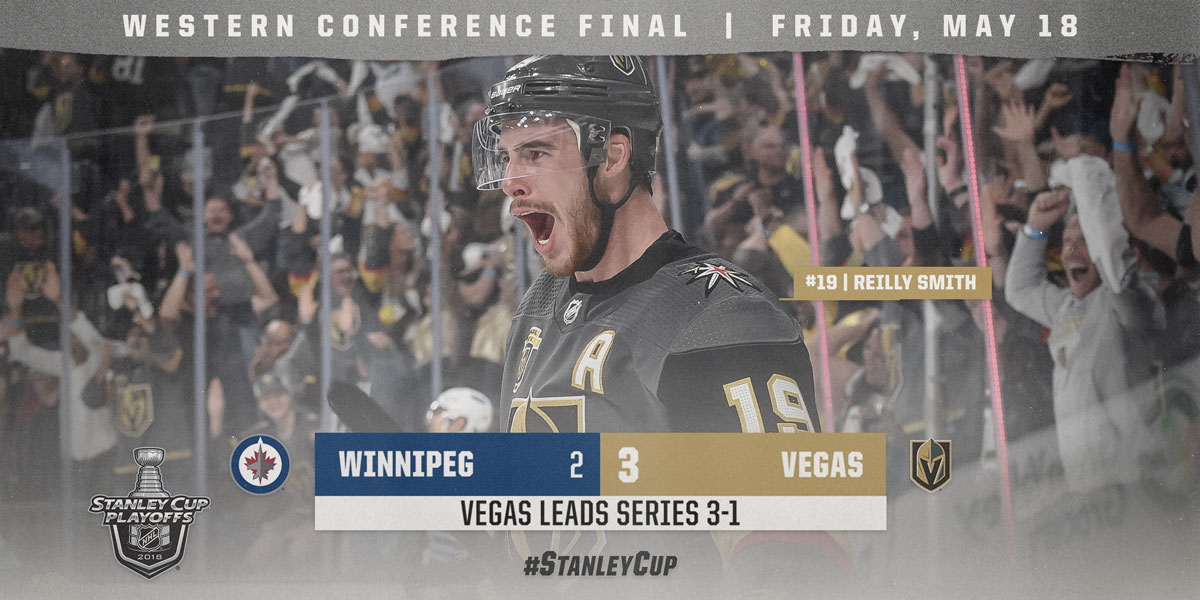 Filed in: | KK Hockey | Permalink

by Paul on 05/18/18 at 09:28 PM ET
Comments (2)
via Sportsnet's YouTube page,
Don Cherry and Ron MacLean talk about playing on the road vs. playing at home, why James Neal should be captain of the Golden Knights, and uncalled penalties in the playoffs.
Plus Don Cherry made some great observations of tonight's first period.
Filed in: NHL Teams, NHL Media, Hockey Broadcasting, CBC HNIC, | KK Hockey | Permalink
Tags: don+cherry, ron+maclean
by Paul on 05/18/18 at 08:01 PM ET
Comments (0)
via Sportsnet,
Even though he was born in Edmonton, Deryk Engelland has found a home in Las Vegas and has helped rally the city after tragedy struck on October 1st 2017.
Filed in: | KK Hockey | Permalink
Tags: deryk+engelland
« Previous ‹ First < 4 5 6 7 8 > Last › Next »
About Kukla's Korner Hockey
Paul Kukla founded Kukla's Korner in 2005 and the site has since become the must-read site on the 'net for all the latest happenings around the NHL.
From breaking news to in-depth stories around the league, KK Hockey is updated with fresh stories all day long and will bring you the latest news as quickly as possible.
Email Paul anytime at pk@kuklaskorner.com
Tweets by @kuklaskorner
Most Recent Blog Posts