Kukla's Korner Hockey
by Paul on 01/13/18 at 09:53 AM ET
Comments (0)
As you get older, you never want your identity to be caught up in hockey – especially for me, it's all I'd ever done. There is so much more to life than that. When it all ends, you try to figure out, 'Well, what am I going to do; what's your purpose.
-Mike Fisher, retired NHL player. Roy Lang III of the Shreveport Times has more from Fisher. He was in Shreveport for the Shreveport Mudbugs' "Pucks and Prayers" event.
Filed in: Hockey Related Stories, | KK Hockey | Permalink
Tags: mike+fisher
by Paul on 01/13/18 at 09:43 AM ET
Comments (2)
from Damien Cox of Sportsnet,
With the 26-year-old winger and his expiring contract almost certain to be moved as a rental by the Sabres before next month's deadline, it's unlikely he will fetch as much as some, particularly traditionalists who embrace the concept of a power forward, would imagine.

A first round pick? Maybe, but not in the top 10. A top prospect? Perhaps, but no more. a package something like Pittsburgh gave up for Phil Kessel (basically prospect Kasperi Kapanen, a late first rounder and a third rounder)? That sounds about right, although it doesn't take into account the enormous cap savings the Maple Leafs got out of that deal, which is really what they were after....

Some teams, given Kane's baggage, history of scrapes with the law and troubles with teammates, wouldn't touch him in a deal. The latest controversy came Wednesday when he had a rather unpleasant exchange with teammate Justin Falk during practice. An upset Falk could be heard yelling things like "selfish" after the two were separated.
Filed in: NHL Teams, Buffalo Sabres, | KK Hockey | Permalink
Tags: evander+kane
by Paul on 01/13/18 at 09:33 AM ET
Comments (0)
from Curtis Pashelka of the Mercury News,
Entering Saturday's game against Arizona, the Sharks have 48 points, two behind the second wild card spot and four back of the Calgary Flames for third place in the Pacific Division. They have games in hand over every team in the west, but those only matter if you win.

"I'm not looking at the day-to-day whether we're in, we're out, above the line. With the games in hand, it's not a real number," Sharks coach Pete DeBoer said. "But what is real is we're in the middle of things and it's going to take a big second half from us to get in the playoffs."

The Sharks play 42 times over the next 85 days. including eight times over the next 13 before the start of the NHL All-Star break starts Jan. 26.

"We're going to pay the bill for the schedule we had in the first half," DeBoer said.
Filed in: NHL Teams, San Jose Sharks, | KK Hockey | Permalink

by Paul on 01/13/18 at 09:09 AM ET
Comments (0)
from Damien Cox of the Toronto Star,
The Maple Leafs, as currently constituted, aren't going to win the Stanley Cup this season. Sorry to be the one to break it to you.

The intriguing question is whether that should be the objective.

It is eventually, of course. But a team that started last season with subterranean expectations has evolved into a squad that has, after an exciting 6-1 start, settled into the middle of the pack in the NHL and created a new debate about the pace of the team's improvement....

It's about evolution, right? You build a team of young players and then stand back as they are coached to be better at their jobs and work at their profession until they're better.
Filed in: NHL Teams, Toronto Maple Leafs, | KK Hockey | Permalink

by Paul on 01/13/18 at 08:51 AM ET
Comments (0)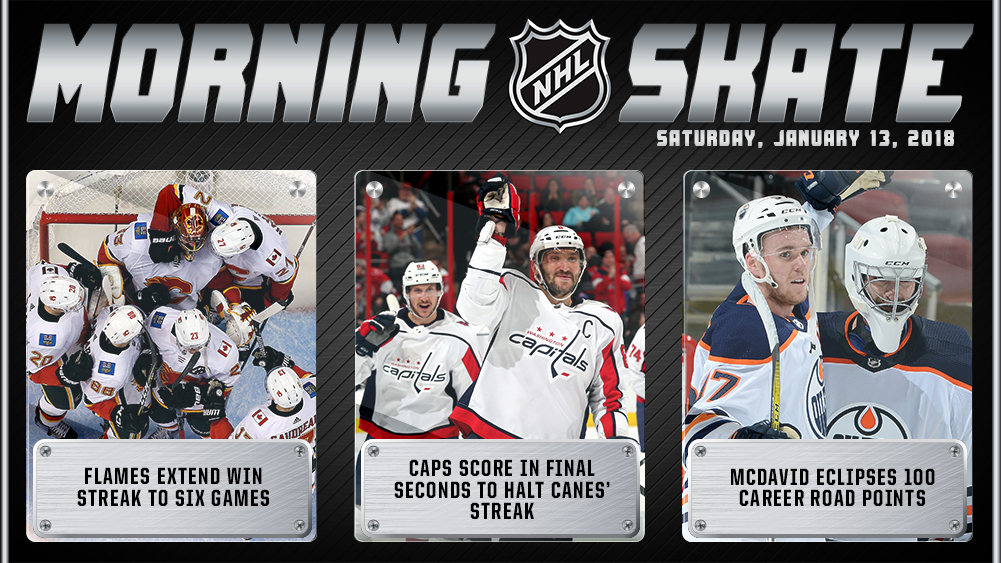 FRIDAY'S RESULTS
Home Team in Caps
Vancouver 5, COLUMBUS 2
Calgary 4, FLORIDA 2
Washington 4, CAROLINA 3
CHICAGO 2, Winnipeg 1
Edmonton 4, ARIZONA 2
Filed in: NHL Teams, | KK Hockey | Permalink

by Paul on 01/12/18 at 03:55 PM ET
Comments (1)
If you missed the injury last night, you can watch it here.
Filed in: NHL Teams, Tampa Bay Lightning, | KK Hockey | Permalink
Tags: victor+hedman
by Paul on 01/12/18 at 02:21 PM ET
Comments (1)
added 3:27pm, Anaheim release is below...
Filed in: NHL Teams, Anaheim Ducks, | KK Hockey | Permalink
Tags: andrew+cogliano
by Paul on 01/12/18 at 10:48 AM ET
Comments (1)
from Aaron Portzline of The Athletic,
The NHL trade deadline is Feb. 26, and Johnson is an unrestricted free agent. That always sets off alarms, but there are other strong indicators.

Contract talks between Johnson's agent, Pat Brisson, and the Blue Jackets have not made any progress toward an extension, sources told The Athletic.

"There have been talks," Johnson said. "I'm just going to leave it at that. There has been dialogue, yes."
more (paid subscription)...
added 10:52am,
Filed in: NHL Teams, Columbus Blue Jackets, | KK Hockey | Permalink
Tags: jack+johnson
by Paul on 01/12/18 at 08:56 AM ET
Comments (6)
from Greg Joyce of the New York Post,
Josh Ho-Sang was one of the last five players on the ice Wednesday for AHL Bridgeport's morning skate at Webster Bank Arena.

He was firing slap shots from the blue line in between sprints as he put in extra work long after most of his teammates had skated off to the locker room to prepare for that night's game against Hartford.

There was no game for Ho-Sang to save his legs for.

For the first time this AHL season — not including the day off he got on Dec. 17 that would have been his fifth game in five days — the mercurial winger was scratched.

"When you start the year in the NHL and then get scratched in the AHL in the same year, it's kind of … it's kind of mentally tough," Ho-Sang told The Post after coming off the ice.
Filed in: NHL Teams, New York Islanders, | KK Hockey | Permalink
Tags: josh+ho-sang
by Paul on 01/12/18 at 08:51 AM ET
Comments (0)
"I've watched hockey for a long time and I enjoy it, but I think the part that's most enjoyable is there are a lot of moving pieces and you get to figure out, hopefully, how to find a way to win or help people be successful. There's everything from how you treat the players and giving them an advantage, and the resources you do with the coaches, and how you market the team and how you generate entertainment in the building that brings energy, that hopefully helps you win."
-Thomas Dundon, the new majority owner of the Carolina Hurricanes. Luke DeCock and Chip Alexander of the News & Observer have more.
Filed in: NHL Teams, Carolina Hurricanes, | KK Hockey | Permalink
Tags: thomas+dundon
« Previous ‹ First < 3 4 5 6 7 > Last › Next »
About Kukla's Korner Hockey
Paul Kukla founded Kukla's Korner in 2005 and the site has since become the must-read site on the 'net for all the latest happenings around the NHL.
From breaking news to in-depth stories around the league, KK Hockey is updated with fresh stories all day long and will bring you the latest news as quickly as possible.
Email Paul anytime at pk@kuklaskorner.com
Recommended Sportsbook
MyBookie.ag
Tweets by @kuklaskorner
Most Recent Blog Posts