Kukla's Korner Hockey
by Paul on 01/14/18 at 08:07 AM ET
Comments (0)
The Avs really did not need it, they defeated the Dallas Stars 4-1.
Filed in: NHL Teams, Colorado Avalanche, Dallas Stars, | KK Hockey | Permalink

by Paul on 01/14/18 at 07:59 AM ET
Comments (0)
To be exact, 6:44 minutes of action from Saturday's NHL games.
Filed in: NHL Teams, | KK Hockey | Permalink

by Paul on 01/14/18 at 07:55 AM ET
Comments (0)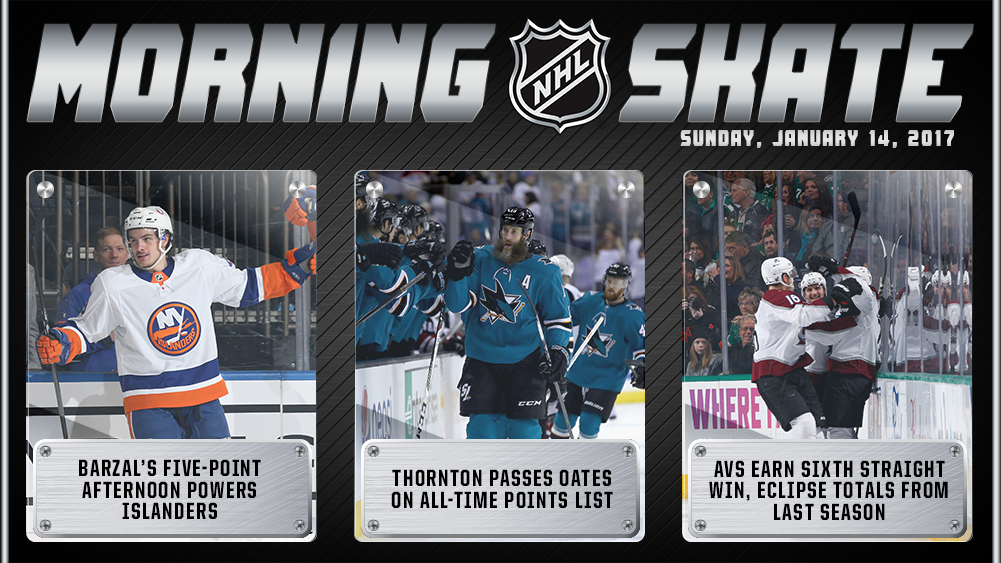 SATURDAY'S RESULTS
Home Team in Caps
NY Islanders 7, NY RANGERS 2
PITTSBURGH 4, Detroit 1
MINNESOTA 4, Winnipeg 1
Boston 4, MONTREAL 3 (SO)
Philadelphia 5, NEW JERSEY 3
Colorado 4, DALLAS 1
Edmonton 3, VEGAS 2 (OT)
Anaheim 4, LOS ANGELES 2
SAN JOSE 6, Arizona 5 (OT)
Filed in: NHL Teams, | KK Hockey | Permalink

by Paul on 01/13/18 at 09:38 PM ET
Comments (0)
A lot of trade talk tonight from the Headlines crew including- Jack Johnson and Montreal may be a fit, the Ottawa Senators, the Tampa Bay Lightning but with Hedman out a trade is doubtful. Also the Rangers are looking at trade options and the Sharks may move Paul Martin.
Filed in: NHL Teams, | KK Hockey | Permalink

by Paul on 01/13/18 at 09:04 PM ET
Comments (4)
Taken off the ice on a stretcher.
Filed in: | KK Hockey | Permalink
Tags: phillip+danault
by Paul on 01/13/18 at 08:33 PM ET
Comments (0)
Topics discussed by Don Cherry and Ron MacLean included: Matt Barzal, Sidney Crosby, Jeff Glass, Mike Smith, Steven Stamkos and a few more items.
Filed in: NHL Teams, NHL Media, Hockey Broadcasting, CBC HNIC, | KK Hockey | Permalink
Tags: don+cherry, ron+maclean
by Paul on 01/13/18 at 08:16 PM ET
Comments (0)
from Jason Botchford of the Vancouver Province,
Given the choice, Thomas Vanek would be just fine staying home.

And home this season for the soon-to-be 34-year-old winger is with the Vancouver Canucks....

"Any time you start with a team, you want to finish the year with the same team."

Vanek changes cities like he's a 20-something au pair, juggling work and world travel.

He's been on seven different teams since 2013. It hasn't been by design....

Unfortunately for Vanek, the Canucks are now 10 points out of the playoffs and getting back in the race looks implausible — if not impossible.

If there's no long, unexpected winning streak on the near-horizon, it backs the Canucks into a corner. They'll have to trade him.
Filed in: NHL Teams, Vancouver Canucks, | KK Hockey | Permalink
Tags: thomas+vanek
by Paul on 01/13/18 at 07:27 PM ET
Comments (0)
from Bruce Garrioch of the Ottawa Sun,
- While the Coyotes could hang onto Ekman-Larsson for the rest of this season and make a deal in the summer, when teams may be more willing to offer want general manager John Chayka wants in return, some teams are going to want the blueliner for two playoff runs, so Arizona will receive calls.

It's believed the Toronto Maple Leafs are among the teams that have shown more than a passing interest in Ekman-Larsson. You can put the New Jersey Devils and Philadelphia Flyers in that group, too, but league sources said Saturday the asking price was extremely high.

Not only do the Coyotes want two high-end players off a club's roster, but they're also asking for a first-round pick. ...

- Columbus Blue Jackets defenceman Jack Johnson will move close to the top of TSN's Trade Bait list after a report Friday by The Athletic indicated he had asked to be dealt. An unrestricted free agent on July 1, Johnson, 31, has a cap hit of $4.375 million, but there's talk the Jackets offered a long-term deal earlier this year worth less than $4 million per season. Since Johnson is looking for bigger money with that kind of term, he'd like to be dealt somewhere that's willing to keep him on a new deal, but, at this point, he'll likely be a rental....
more on each of the above plus additional talk...
Filed in: NHL Teams, | KK Hockey | Permalink

by Paul on 01/13/18 at 07:06 PM ET
Comments (0)
via Sportsnet's YouTube page,
Former NHLer Kevin Stevens was once on top of the world, but a horrific injury in the '93 playoffs sent his life spiralling downwards for two full decades, even contemplating suicide. Friends and family have helped rebuild his life piece by piece.
watch the 23 minute video below...
Filed in: NHL Teams, Pittsburgh Penguins, | KK Hockey | Permalink
Tags: kevin+stevens
by Paul on 01/13/18 at 06:52 PM ET
Comments (0)
from Larry Brooks of the New York Post,
The feel-good narrative about Vegas' success on the ice in their first year has another side to it, of course, though you'll not read much about it.

And that is, that the Golden Knights (who may have to change their name if they lose the trademark lawsuit brought against them this week by the Department of the Army) have benefited at the expense of the NHL's other 30 teams, all of whom were weakened by the exceedingly generous rules attached to the expansion draft.

So even as remarkably talented teenagers enter the NHL on an annual basis, the product already harmed by the hard cap is further diluted. And just wait until Seattle, which will pay $650 million to enter the league as opposed to Vegas' $500 million ante and is thus likely to benefit from even more liberal expansion draft regulations, gets its hooks into everyone else's roster.

Gary Bettman and the folks on Sixth Avenue love the fact the NHL's 31 teams are largely indistinguishable. That's been the objective since the 2004-05 Owners' Lockout II proposal that the league office be a central clearing house to disperse players to the then-30 clubs. They forever confuse parity with mediocrity, forever conflate close games with good games and tight standings with exciting races.
continued with more topics...
Filed in: NHL Teams, NHL Talk, | KK Hockey | Permalink

« Previous ‹ First < 2 3 4 5 6 > Last › Next »
About Kukla's Korner Hockey
Paul Kukla founded Kukla's Korner in 2005 and the site has since become the must-read site on the 'net for all the latest happenings around the NHL.
From breaking news to in-depth stories around the league, KK Hockey is updated with fresh stories all day long and will bring you the latest news as quickly as possible.
Email Paul anytime at pk@kuklaskorner.com
Recommended Sportsbook
MyBookie.ag
Tweets by @kuklaskorner
Most Recent Blog Posts