Kukla's Korner Hockey
by Paul on 11/22/21 at 01:03 PM ET
Comments (0)
NEW YORK (Nov. 22, 2021) – Calgary Flames left wing Johnny Gaudreau, Washington Capitals goaltender Ilya Samsonov and Colorado Avalanche defenseman Cale Makar have been named the NHL's "Three Stars" for the week ending Nov. 21.
Filed in: NHL Teams, | KK Hockey | Permalink

by Paul on 11/22/21 at 11:50 AM ET
Comments (1)
from Travis Yost of TSN,
Before the regular season started, the National Hockey League announced officiating changes for the enforcement of Rule 59, signalling a tightened standard for how cross-checking would be called.

It was an interesting action for several reasons. Chief among them: I think there was growing fatigue about the number of uncalled cross-checks in games, particularly during postseason hockey. The league is always trying to counterbalance entertainment value and free-flowing play against the threshold of what they consider to be a penalty, and for years it was skewing too aggressively in one direction. Off-puck players could get away with hammering forwards in the interior with no regard for any sort of penalty call (or the other player's safety, for that matter).

It was also interesting because of the dialogue that has followed this season. One of the leading topics has been about the broader standard for officiating, with Edmonton Oilers forward Connor McDavid in the centre of the debate.

McDavid, who can more or less carve up any defence at will, has drawn just nine minor penalties this season. It puts him in the top 10 league-wide, but anyone who watches these Oilers games knows that number could be 20 (or 30). Defences are doing whatever they can, most of which is illegal, to try and slow down the supernova talent.

So, the debate goes: Does the NHL need to call more penalties to improve the value of the product on the ice, not dissimilar to attempts made coming out of the 2004-05 lockout?
Filed in: NHL Teams, NHL Talk, NHL Officiating, | KK Hockey | Permalink

by Paul on 11/22/21 at 11:37 AM ET
Comments (11)
from Kevin Allen of Detroit Hockey Now,
Former Detroit Red Wing Igor Larionov's son, Igor II, said on social media this week what many NHL fans are feeling.

"Blackout restrictions are the stupidest things in the sports world," the young Larionov said. "The fact I can't stream local teams is embarrassing."

"Plus," Igor II said. "I don't know a single person under 40 that has cable. Everyone is streaming and the league is so far behind on this."

Igor II is not alone in his complaint

With the start of TV contract, the NHL's blackout rules are a bit more restrictive. Many fans have sat down to watch a game only to discover it is blacked out. Others have also used social media to complain.
continue for more hockey topics...
Filed in: NHL Media, Hockey Broadcasting, | KK Hockey | Permalink

by Paul on 11/22/21 at 11:11 AM ET
Comments (0)
NEW YORK (Nov. 22, 2021) – Minnesota Wild forward Ryan Hartman has been fined $4,250, the maximum allowable under the Collective Bargaining Agreement, for slew-footing Tampa Bay Lightning forward Ross Colton during NHL Game No. 275 in Tampa on Sunday, Nov. 21, the National Hockey League's Department of Player Safety announced today.
The incident occurred at 16:28 of the first period. Hartman was assessed a minor penalty for tripping.
---
Video is below.
Filed in: NHL Teams, Minnesota Wild, | KK Hockey | Permalink

by Paul on 11/22/21 at 10:05 AM ET
Comments (0)
In less than 2 minutes.
Filed in: NHL Teams, | KK Hockey | Permalink

by Paul on 11/22/21 at 08:49 AM ET
Comments (0)
from Larry Brooks of the New York Post,
So the Rangers could high-step out of the Garden on Sunday night after finding yet another way to win in a season chock full of rather confounding victories. This time it was Ryan Lindgren — well of course it was — with the last second buzzer-beater with .07 remaining on the clock to lift the Blueshirts to a chaotic 5-4 triumph over the Sabres.

But even in elevating the record to a fancy 11-4-3, the Rangers have a serious issue that probably needs to be addressed in one form or another before too long.

Because though the Blueshirts persevered in this one while getting goals from Chris Kreider (yep, another one), Kaapo Kakko (yep, another one), Jacob Trouba, K'Andre Miller and Lindgren, this also represented yet another game in which Alex Georgiev provided subpar netminding until he was replaced by Igor Shesterkin after allowing four goals on 18 shots through two periods.

"Coach's decision," Gerard Gallant, who is the coach, said when asked why he made the switch in nets.

That call was obvious. Georgiev was fighting the puck and the moment just as he has been pretty much from the start not only of this season, but last year. Much less obvious were the reasons behind Gallant's decision to give No. 40 the start in the midst of a stretch in which this represented the club's only game in five days.
Filed in: NHL Teams, Detroit Red Wings, | KK Hockey | Permalink

by Paul on 11/22/21 at 04:22 AM ET
Comments (0)
* Ryan Lindgren scored the game-winning goal with less than a second remaining in regulation to lift the Rangers to their fifth straight win at Madison Square Garden.
* Dan Vladar blanked his former club as the Flames became the first team in the NHL's modern era to post seven shutouts prior to their 20th game of the season.
* The Hurricanes and Avalanche aim for their fifth straight victory Monday, with Carolina looking to reclaim top spot in the NHL standings.

Filed in: NHL Teams, | KK Hockey | Permalink

by Paul on 11/21/21 at 03:04 PM ET
Comments (0)
from Avry Lewis-McDougell of The Hockey News,
Many things have changed about the game of hockey, but five prominent parts of it are either on the way out or that we'll never see again in the game.

Players endorsing tobacco

Tobacco money used to be a major thing in all sports. Players used to smoke in dressing rooms and during intermissions, so endorsing such products was commonplace. Heck, New York Rangers star Cal Gardner prominently was in an advertisement for Camel back in the 1940s.

With cigarette ads being less and less prominent in mainstream media and the world population knowing even more about the dangers of smoking, this is something that we can safely say we'll never see happen again.

Canadian-only rosters

The game of hockey continues to grow globally, with more and more countries being represented on the big stage every season. On average, each team has 7.4 players from outside of North America. The sport still may be most popular in Canada, but the makeup of who is on the roster of each team is continuing to evolve.
Filed in: NHL Talk, | KK Hockey | Permalink

by Paul on 11/21/21 at 08:43 AM ET
Comments (1)
from Neil Best of Newsday,
Islanders fans finally got their turn on Saturday night.

For a decade and a half, they had watched new or rebuilt sports palaces rise across the region, from Newark to Queens to the Bronx to East Rutherford to Brooklyn to, yes, midtown Manhattan.

But it never, ever was about them, fans of a team that has been looking for a modern home to call its own for as long as many of those fans have been alive.

Now they not only can say they have one but can argue — and probably will — that they have the best one of all:

UBS Arena, the $1.1 billion facility that opened with the Islanders hosting the Flames before a crowd that spent much of the night oohing-and-aahing its way through wide concourses and architectural flourishes.

"I've been waiting for this since the early '80s; it's unbelievable," Mike Galligan of Deer Park said as he watched the third period from his seat in front of the Tailgate Bar. "I can't believe I'm here tonight."
KK member Kaszycki and his Krew was at the game and gave his views in the comment section of this post.
Filed in: NHL Teams, New York Islanders, | KK Hockey | Permalink

by Paul on 11/21/21 at 04:12 AM ET
Comments (1)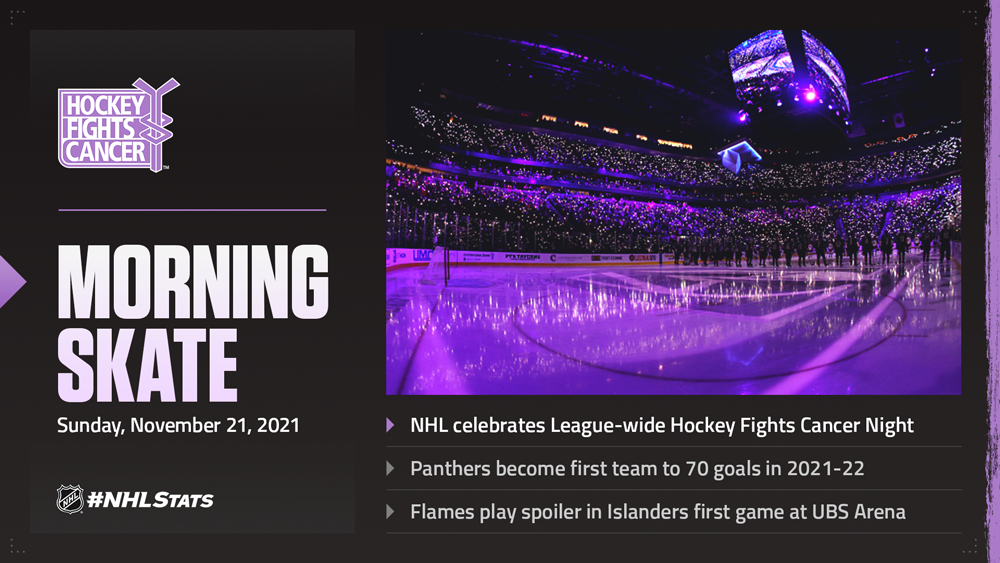 NHL CELEBRATES LEAGUE-WIDE HOCKEY FIGHTS CANCER AWARENESS NIGHT
On the night the NHL celebrated its League-wide Hockey Fights Cancer Awareness Night, seven teams in seven cities draped their arenas in lavender – reminding us that no one has to go through this fight on their own.
Filed in: | KK Hockey | Permalink

« Previous ‹ First < 2 3 4 5 6 > Last › Next »
About Kukla's Korner Hockey
Paul Kukla founded Kukla's Korner in 2005 and the site has since become the must-read site on the 'net for all the latest happenings around the NHL.
From breaking news to in-depth stories around the league, KK Hockey is updated with fresh stories all day long and will bring you the latest news as quickly as possible.
Email Paul anytime at pk@kuklaskorner.com
Tweets by @kuklaskorner
Most Recent Blog Posts