Kukla's Korner Hockey
by Paul on 02/16/20 at 03:57 PM ET
Comments (0)
via NJD press release,
The New Jersey Devils today traded defenseman Andy Greene to the New York Islanders, in exchange for New York's second-round pick in the 2021 NHL Draft and defenseman David Quenneville. New Jersey now has seven picks in the 2021 NHL Draft: the club's own selections in rounds one, three, four, five and six; in addition to New York's second-round pick and Arizona's third-round selection (conditional).
Quenneville, 21, will report to New Jersey's AHL affiliate in Binghamton.
Greene, 37, was signed as a free agent by New Jersey out of Miami University (Ohio). In 14 seasons with New Jersey, he has appeared in 923 games scoring 49 goals and 197 assists for 246 points while registering 259 penalty minutes. Greene's games-played total ranks seventh in franchise history. He was named the team's eleventh captain on October 8, 2015. Greene is due to be an unrestricted free agent at the end of the season.
"Andy has been a bedrock for the Devils franchise for the past 14 years and an exceptional leader in my time here," said Devils Executive Vice President/Interim General Manager Tom Fitzgerald. "I constantly communicated with Andy throughout this process to make sure he was comfortable with the decision, as it was not one I took lightly. We thank him for all that he's done on and off the ice for the organization, and wish him, his wife, Rachel, and sons, Colton and Maddox all the best."
Filed in: NHL Teams, New Jersey Devils, New York Islanders, | KK Hockey | Permalink
Tags: andy+greene
by Paul on 02/16/20 at 01:35 PM ET
Comments (1)
from Chris Johnston of Sportsnet,
- Eight teams have turned to a different voice behind the bench this season after the Minnesota Wild replaced Bruce Boudreau with Dean Evason on Friday.

There's no reason to forecast a quiet off-season, either.

Not only are decisions pending on four interim head coaches — Evason, Rick Bowness (Dallas), Geoff Ward (Calgary) and Alain Nasreddine (New Jersey) — but there's also the usual performance-related changes to anticipate.

Add in a crop of free-agent replacements that includes Boudreau, Peter Laviolette and Mike Babcock, and, well, here's guessing there's much more to come.

- By the end of next season, the NHL will have staged 32 outdoor games — enough for each team to have hosted one.

Of course, there are still plenty of clubs clamouring for their chance, which is what made Saturday's announcement of a 2020-21 Stadium Series game at Carter-Finley Stadium in Raleigh, N.C., stand out.

The Carolina Hurricanes were chosen as hosts for three main reasons: Tom Dundon has been persistent in his pursuit of one since becoming owner; the tremendous reaction to the team locally in the last year-plus, particularly during last spring's playoff run; and the overriding belief that it's time to reward different markets coming off the success of the Winter Classic at the Cotton Bowl in Dallas.
more topics including the cap room the Leafs have and the comments from Evander Kane...
Filed in: NHL Teams, NHL Talk, | KK Hockey | Permalink

by Paul on 02/16/20 at 12:37 PM ET
Comments (0)
from Shawn P. Roarke of NHL.com,
To celebrate Hockey Day in America on Sunday and the start of Hockey Week in America, 12 U.S.-based staffers were asked to rank their top 12 forwards, six defenseman and two goalies. Forwards were given 12 points for a first-place vote, 11 for a second-place vote and so on down to 1; defenseman got six points for first place, five for second, down to one; goalies got two points for first place and one point for second.

Kane finished first among forwards with 142 points and 10 of the 12 first-place votes. That was nine more points than Matthews, who received the two remaining first-place votes.

Kane is tied for eighth in the NHL this season with 72 points (26 goals, 46 assists) in 58 games, one season after the 31-year-old finished third in the League with an NHL career-best 110 points (44 goals, 66 assists). Matthews has 71 points in 59 games and is tied for the NHL lead in goals with 42. The 22-year-old has scored 153 goals in his first 271 NHL games.

John Carlson of Washington Capitals, who leads all NHL defensemen with 69 points (15 goals, 54 assists) was a unanimous choice as the best United States-born defenseman, earning 72 voting points and all 12 first-place nominations.
read on, includes many more players...
Filed in: NHL Teams, | KK Hockey | Permalink

by Paul on 02/16/20 at 05:43 AM ET
Comments (0)
THREE HARD LAPS

* Tyler Toffoli became the first player in NHL history to score a hat trick outdoors as the Kings triumphed over the host Avalanche at the 2020 Navy Federal Credit Union NHL Stadium Series.

* The Bruins and Lightning extended a multitude of team and player streaks as the latter continues its unrelenting pursuit of the former in the NHL standings.

* Happy Hockey Day in America! Sunday's nine-game slate is highlighted by a doubleheader on NBC as well as the Predators and Blues squaring off on NBCSN.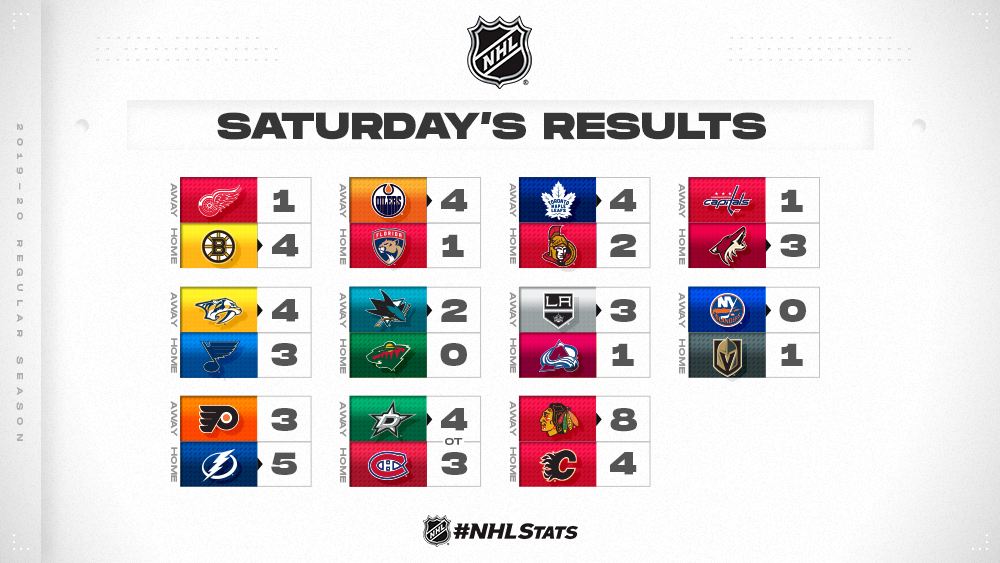 Filed in: NHL Teams, | KK Hockey | Permalink

by Paul on 02/16/20 at 12:42 AM ET
Comments (9)
via the YouTube page of the NHL,
Relive the excitement of the 2020 Stadium Series between the Los Angeles Kings and the Colorado Avalanche at the Air Force Academy.
Filed in: NHL Teams, Colorado Avalanche, Los Angeles Kings, | KK Hockey | Permalink

by Paul on 02/15/20 at 11:34 PM ET
Comments (2)
Brian Burke on the suspensions to Kassian and Kane, plus the fine to Chara.
Burke also had some words for Kane regarding his tweet today and his thoughts on the firing of Bruce Boudreau.
via Sportsnet,
Filed in: NHL Teams, NHL Talk, | KK Hockey | Permalink

by Paul on 02/15/20 at 10:25 PM ET
Comments (0)
Game highlights are below. Montreal lost 4-3 to Dallas in OT.
added 12:31am on 2/16/20, Watch Julien below.
Filed in: NHL Teams, Dallas Stars, Montreal Canadiens, | KK Hockey | Permalink
Tags: claude+julien
by Paul on 02/15/20 at 09:51 PM ET
Comments (0)
Topics discussed by the panel include- the Shea Weber injury timeline, Jake Muzin contract with the Leafs is close. Vincent Trocheck's name is in trade talks and what's next for Bogosian.
Also a few more topics including the Evander Kane suspension.
via Sportsnet,
Filed in: | KK Hockey | Permalink

by Paul on 02/15/20 at 09:05 PM ET
Comments (0)
NEW YORK (Feb. 15, 2020) The National Hockey League (NHL®) announced today that the Carolina Hurricanes will host the 2021 Navy Federal Credit Union NHL Stadium Series™ on Feb. 20, 2021, outdoors at Carter-Finley Stadium in Raleigh, North Carolina.
The 2021 Navy Federal Credit Union NHL Stadium Series™ will be the 12th NHL Stadium Series game and the 32nd NHL regular-season outdoor game overall. For a complete history of NHL regular-season outdoor games, click here.
Additional details related to the 2021 Navy Federal Credit Union NHL Stadium Series™, including ticketing, broadcast information, as well as, Carolina's opponent and other events surrounding the game will be released at a later date. NHL Social™ will have exclusive coverage on all social platforms using the hashtag NHL #StadiumSeries.
Filed in: NHL Teams, Carolina Hurricanes, | KK Hockey | Permalink

by Paul on 02/15/20 at 06:24 PM ET
Comments (0)
from Steve Simmons of the Toronto Sun,
- The 2008 NHL draft was supposed to have four elite defenceman in it. Drew Doughty and Alex Pietrangelo have turned out rather brilliantly. Zach Bogosian and Luke Schenn, the third and fifth pick of that draft, not so much. Schenn has been reduced to a spare part in and around Tampa Bay. Bogosian has cleared waivers in Buffalo. Schenn is just 30. Bogosian turns 30 in the summer. Both were rushed to the NHL as teenagers on terrible teams.

- Weird part about the Bruce Boudreau firing: The rather ordinary Minnesota Wild were 6-3-1 in the last 10 games under Boudreau. That should be reason to celebrate in the Twin Cities. If I'm Ron Francis in Seattle, I'd hire Boudreau tomorrow as my first coach. His folksy, funny, honest charm would fit an expansion team in a non-traditional hockey market perfectly.

- This is not, in any way, a defence of Jeremy Roenick. But the cautionary tale from his NBC firing is this: You have to be careful on podcasts. I know. I've been on them. It's very easy to get conversation flowing and then say something you'll later regret. Maybe it's relating a story. Maybe it's going just a touch too far. The more comfortable the environment, the more you can easily lose your way.
more hockey topics...
Filed in: NHL Teams, | KK Hockey | Permalink

« Previous ‹ First < 2 3 4 5 6 > Last › Next »
About Kukla's Korner Hockey
Paul Kukla founded Kukla's Korner in 2005 and the site has since become the must-read site on the 'net for all the latest happenings around the NHL.
From breaking news to in-depth stories around the league, KK Hockey is updated with fresh stories all day long and will bring you the latest news as quickly as possible.
Email Paul anytime at pk@kuklaskorner.com
Tweets by @kuklaskorner
Most Recent Blog Posts