Kukla's Korner Hockey
by Paul on 09/19/20 at 11:03 PM ET
Comments (0)
from Mark Spector of Sportsnet,
Too many Joels, and not enough juice from the Tampa Bay Lightning.

The Lightning looked like a team still tired from closing out their conference final just two days earlier, and the Dallas Stars took advantage with a 4-1 victory to take Game 1 of the Stanley Cup Final.

It was two Stars named Joel — Kiviranta and Hanley — who did the damage, sandwiching goals around one by Jamie Oleksiak in the win. Yanni Gourde had the only tally for Tampa.

While Kiviranta continued his playoff emergence with his fifth goal, it was the little-known fill-in Hanley with not just his first playoff goal to open the scoring, but his first NHL goal — period.
Game highlights are below.
Filed in: NHL Teams, Dallas Stars, | KK Hockey | Permalink

by Paul on 09/19/20 at 09:33 PM ET
Comments (1)
Topics of discussion include- Alex Pietrangelo contract status, when will next season start and expanding the playoffs and no delay for the Seattle Kraken start up.
via Sportsnet,
Filed in: NHL Teams, NHL Talk, | KK Hockey | Permalink

by Paul on 09/19/20 at 07:00 PM ET
Comments (4)
Hopefully we are in for a competitive series. Give us a show boys, that's all we ask for.
via NBC Sports release, Eight-time Emmy Award-winner Mike 'Doc' Emrick will handle play-by-play duties alongside U.S. Hockey Hall of Fame member Eddie Olczyk (analyst) and Brian Boucher ('Inside-the-Glass' analyst). Emmy Award winner Pierre McGuire will provide commentary throughout the game and contribute to intermission reports.
via Sportsnet,
From the Booth: Hockey Hall of Fame media honouree Jim Hughson and veteran analyst Craig Simpson have the call for the Stanley Cup Final.
From the Hockey Central Studio: Hosts Ron MacLean and David Amber are joined by Sportsnet's NHL Insiders and analysts Elliotte Friedman, Kelly Hrudey, Brian Burke, Cassie Campbell-Pascall, Kevin Bieksa and Anthony Stewart.
From Rinkside: Reporters Kyle Bukauskas and Scott Oake deliver the latest updates from Edmonton.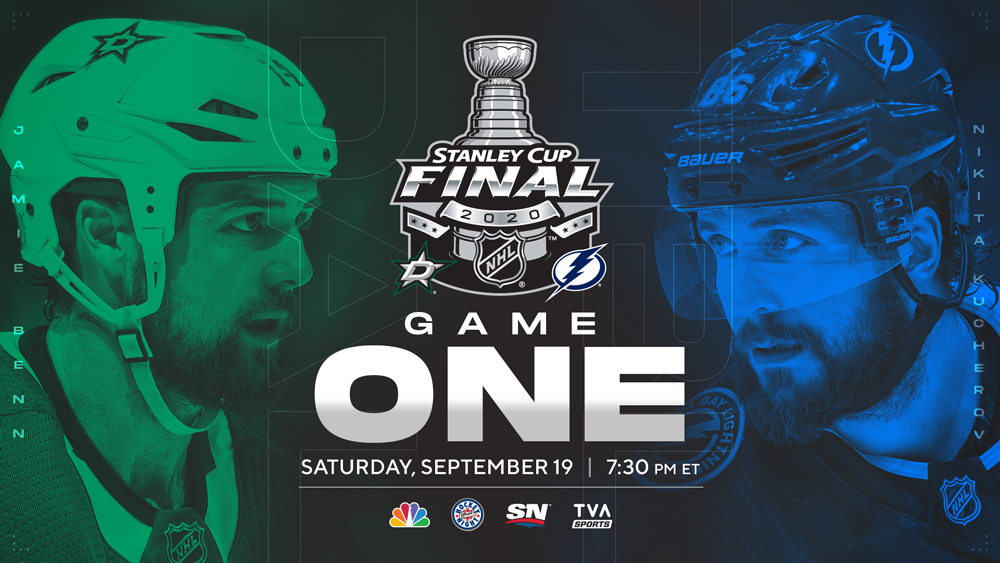 Filed in: | KK Hockey | Permalink

by Paul on 09/19/20 at 05:59 PM ET
Comments (0)
from Sportsnet,
No defenceman will demand quite as much attention when NHL free agency opens on Oct. 9 as Alex Pietrangelo, the St. Louis Blues captain who has spent his entire career with the franchise and helped lead it to its first-ever Stanley Cup last season.

Pietrangelo's seven-year contract, that carried a cap hit of $6.5 million per year, is set to expire this off-season and — valuable to St. Louis as he may be — securing him to a new deal has proven challenging.

"There was a discussion today, and I guess the best way to sum it up, we haven't really made much progress," Pietrangelo told Jeremy Rutherford of The Athletic."We just think right now, with where things are at, that maybe it's best for both sides to see what's going on in free agency, what the team can explore, what I can explore and if there are better fits for each side.

"We're a little disappointed that we're in this situation. We weren't able to hammer out the details what we wanted in a deal. There was some work that we tried to get done that we couldn't get done, so both sides agreed that maybe it's in the best interest. We're two weeks away. Not saying anything can't change, but as of right now, that's kind of our plan, and we'll see where things go."
Filed in: NHL Teams, St. Louis Blues, | KK Hockey | Permalink
Tags: alex+pietrangelo
by Paul on 09/19/20 at 05:11 PM ET
Comments (1)
via Pierre LeBrun tweets,
Gary Bettman, at his traditional Cup final media conference, says he wouldn't be surprised if next season's Dec. 1 start ``slips'' into later December, maybe into January. But no definitive decisions and/or plans yet.

Bettman reiterates what Daly told me and @OvertimeScottB last week: that the NHL still intends to try and play 82 games next season whenever they start...

Some rare Bettman speculation: it's ``conceivable'' that next season starts without fans in the building but then transitions to some fans in the rinks as the season goes on... he stressed that was speculation.

Bettman says emphatically that Seattle's entry into the league will NOT be delayed under any circumstance. They will begin play in 2021-22.
added 5:31pm, Chris Johnston at the same media conference, via tweets...
added 8:27pm, watch the full media conference below...
Filed in: NHL Talk, | KK Hockey | Permalink

by Paul on 09/19/20 at 11:48 AM ET
Comments (0)
via the NHL PR department,
Series Scenarios
* Since the Final went to the best-of-seven format in 1939, the team that has won Game 1 has gone on to capture the Stanley Cup 76.3% of the time (61 of 80 series). Each of the last two champions have rebounded from a Game 1 loss before winning the Cup – Washington in 2018 and St. Louis in 2019.

* Teams that take a 1-0 lead in any best-of-seven series have an all-time series record of 490-221 (.689), including a 12-2 mark in 2020.

* Tampa Bay is 11-16 (.407) in Game 1 of best-of-seven series all time; Dallas is 31-25 (.554).
Filed in: NHL Teams, Dallas Stars, Tampa Bay Lightning, | KK Hockey | Permalink

by Paul on 09/19/20 at 10:07 AM ET
Comments (0)
from Damien Cox at the Toronto Star,
The projected Dec. 1 startup date for next season now seems like a pipe dream. Pro leagues unable to fill the stands with paying customers are taking punishing losses, and probably not enough is being said or written about this.

That's not even taking into account the seven clubs that weren't invited to the expanded playoffs and could end up going eight months or more without playing a single game.

It seems likely NHL owners will want to have at least the possibility of paying fans some time during the next season before starting up again. How long will owners want to keep paying players when their revenues are so damaged? Would players accept pay cuts to keep the games going?

To be sure, the NHL has done a marvellous job in staging these playoffs, with the total absence of positive COVID tests while putting together the best possible television product in empty arenas. It's unlikely, however, that this bubble concept can be used again when the league starts up. You can't ask players to separate themselves from their families for an entire season.

Like the Toronto Blue Jays, it's going to be difficult for the seven Canadian NHL teams to be involved in any process that involves crossing the U.S. border back and forth, or permits U.S. teams to enter Canada without quarantines. What the NHL really needs is for the border to reopen and, more important, a coronavirus vaccine that's widely available. Neither of those issues fit very well at the moment with the hopes that there will be a 2020-21 season.
more to read SCF talk...
Filed in: NHL Talk, | KK Hockey | Permalink

by Paul on 09/19/20 at 09:45 AM ET
Comments (12)
Tampa Bay Lightning against the Dallas Stars, who do you have and how many games?
If interested, howyou did in the conference finals.
added, moving this up on the KK homepage so all can see. Original post was 9/19/20 at 12:47pm.
Filed in: | KK Hockey | Permalink

by Paul on 09/19/20 at 09:39 AM ET
Comments (4)
Without fans there will be no one to uphold the tradition of booing Commissioner Gary Bettman when he hands off the Cup. If he has a sense of humor he'd allow a recording of jeers to be played as he comes out to the ice.
-Helene Elliott of the LA Times. Read more on the NHL and the SCF.
Filed in: NHL Talk, | KK Hockey | Permalink

by Paul on 09/19/20 at 09:34 AM ET
Comments (0)
from Michael Traikos of the National Post,
Whoever ends up winning the Stanley Cup, which begins on Saturday between the Tampa Bay Lightning and the Dallas Stars, will not have an asterisk attached to their name. Although maybe they should, based on everything they went through and how hard it was to get to this point.

Of course the hardest part is still to come: Convincing Canadians to care about a final played between two southern U.S. teams that don't have a pre-packaged star player to build a marketing campaign around.

Whether you live in Canada or the U.S., this series won't be an easy sell.

Hard-core hockey fans will no doubt love this series, which will pit Russia's Andrei Vasilevskiy against Anton Khudobin, four-time Norris Trophy finalist Victor Hedman against future Norris winner Miro Heiskanen, and the likeable Jon Cooper against the even-more-likeable Rick Bowness. But hard-core hockey fans also probably sat glued to their TV sets watching the six-hour, five-OT marathon between Tampa Bay and Columbus early in the first round.

It's the casual sports fan whose wandering eyes the NHL should be worried about.

The sporting landscape has never been this crowded, this competitive. The Toronto Blue Jays are in the midst of a playoff run. Unlike last year, the Toronto Raptors are out of the playoffs. But the NBA western final still has Canada's Jamal Murray up against LeBron James.
Filed in: NHL Talk, | KK Hockey | Permalink

« Previous < 1 2 3 4 5 > Last › Next »
About Kukla's Korner Hockey
Paul Kukla founded Kukla's Korner in 2005 and the site has since become the must-read site on the 'net for all the latest happenings around the NHL.
From breaking news to in-depth stories around the league, KK Hockey is updated with fresh stories all day long and will bring you the latest news as quickly as possible.
Email Paul anytime at pk@kuklaskorner.com
Tweets by @kuklaskorner
Most Recent Blog Posts