Kukla's Korner Hockey
by Paul on 02/15/19 at 06:26 PM ET
Comments (0)
via the New York Islanders,
Following consultation with Governor Andrew Cuomo's office, the New York Islanders and BSE Global have announced that should the Islanders qualify for the Stanley Cup Playoffs, any first round home playoff games will take place at NYCB LIVE, home of the Nassau Veterans Memorial Coliseum.
Should the team qualify for further rounds of the playoffs, any home Islanders games will take place at Barclays Center, reflecting that the Nassau Coliseum does not qualify as an NHL major league facility.
This agreement has been approved by the NHL, with the understanding that the scheduling of games will be in accordance with usual League practices.
Filed in: NHL Teams, New York Islanders, | KK Hockey | Permalink

by Paul on 02/15/19 at 04:29 PM ET
Comments (0)
fro Sam Carchide of the Philadelphia Daily News,
The Flyers appear to have found their long-sought-after goaltender of the future, a year ahead of schedule.

In the process, have they also (surprise, surprise) found their future coach?

Goalie Carter Hart, a one-time sensation on the junior level, is only 20 but has been on the Flyers' radar for a while.

Scott Gordon?

He was looking like a career minor-league coach. That is, until he replaced the fired Dave Hakstol on Dec. 17. Promoted from the AHL's Lehigh Valley Phantoms, he has steadied the Flyers and improved the line of communication as their interim coach.

Gordon, a former New York Islanders head coach and Toronto Maple Leafs assistant, is opening the eyes of the Flyers' front office.

General manager Chuck Fletcher recently danced around a question about whether Gordon's "interim" label might be removed, but the analytical coach has greatly enhanced his stock.

Entering Saturday's matinee against Detroit, the Flyers are 14-9-3 under Gordon and, most impressively, their young players, including Hart, Travis Sanheim, Oskar Lindblom, Nolan Patrick, and Anthony Stolarz, have made noticeable strides. Hart is comfortable playing under Gordon, an ex-goalie who can share his good and bad experiences with him.
Filed in: | KK Hockey | Permalink

by Paul on 02/15/19 at 03:22 PM ET
Comments (0)
from Eric Duhatschek of The Athletic,
As the 2019 trade deadline draws ever close, that may be the most overlooked part of the entire free-for-all – how prices can vary from year to year, depending upon the supply and demand of rentals. In years when the supply exceeds the demand, prices tend to drop. In years when the demand exceeds the supply, teams usually need to pay a premium to get the players they target.

What's complicating matters this year is that teams are still trying to sort out the marketplace, which at the moment remains dense, murky and wildly intriguing.

Rarely has there been a season in which three A-level position players – Artemi Panarin of the Columbus Blue Jackets; along with Mark Stone and Matt Duchene of the Ottawa Senators – are all on expiring contracts and thus could be on the move. Panarin's availability most closely resembles that of Marian Hossa's 11 years ago, when Hossa was with Atlanta and the Thrashers were shopping him around the league, demanding a pile of futures in return.
much more, well worth the read and/or an Athletic subscription...
Filed in: NHL Teams, | KK Hockey | Permalink

by Paul on 02/15/19 at 08:49 AM ET
Comments (0)
from Chris Johnston of Sportsnet,
In the midst of a 10-day stretch most mortals could only dream of, Auston Matthews says he feels fortunate.

It is not by chance that he's already cleared 100 goals as an NHL player, not with his size and smarts and a deceptive release that keeps goalies guessing. Matthews scored twice in Thursday's back-and-forth 6-3 victory over the Vegas Golden Knights, reaching triple digits faster than any other member of the Toronto Maple Leafs in the modern era.

They have been a memorable 187 games in blue and white for Matthews, who potted four goals in his NHL debut and has been filling the net ever since.

"He's one of the best players in the world," said teammate Morgan Rielly. "He's my favourite player right now, the way he can shoot the puck. You want to say you're proud of him, but it's just what you expect."

His description of the milestone goal offers a window into his unique mind. It came on a power play with Matthews stationed in his familiar spot in the left circle — a spot where Marc-Andre Fleury had denied him earlier in the evening.
Watch the game highlights below.
Filed in: NHL Teams, Toronto Maple Leafs, | KK Hockey | Permalink

by Paul on 02/15/19 at 08:40 AM ET
Comments (0)
from Jim Thomas of the St. Louis Post-Dispatch,
The beat goes on for the Blues. Another night, another victory — eight in a row — which is their longest winning streak in 16 years.

More goals for Vladimir Tarasenko. He had two goals in Thursday's 4-0 victory over Arizona, giving him 12 in his last 17 games and 24 for the season. But who's counting? He isn't.

"I got away a little this season from counting the goals and things, because of the start, and I just try to enjoy the game," Tarasenko said. "Obviously, I'm not gonna lie. It feels nice it's going in, and it feels more nice helping the team win."

More winning by Binnington. Jordan Binnington made history with his seventh consecutive victory, matching the franchise record for a rookie goalie set by Brent Johnson during the 2000-01 season.

"That's a nice thing to hear, I guess," Binnington said. "I'm more excited about the direction the team's heading, how disciplined we're being and selfless. It's fun to be a part of the team right now."
Game highlights are below.
Filed in: NHL Teams, St. Louis Blues, | KK Hockey | Permalink

by Paul on 02/15/19 at 08:20 AM ET
Comments (1)
THURSDAY'S RESULTS
Home Team in Caps
FLORIDA 3, Calgary 2 (SO)
NY Islanders 3, COLUMBUS 0
DETROIT 3, Ottawa 2
TAMPA BAY 6, Dallas 0
NASHVILLE 3, Montreal 1
Colorado 4, WINNIPEG 1
CHICAGO 5, New Jersey 2
St. Louis 4, ARIZONA 0
Toronto 6, VEGAS 3
Vancouver 4, LOS ANGELES 3 (SO)
Washington 5, SAN JOSE 1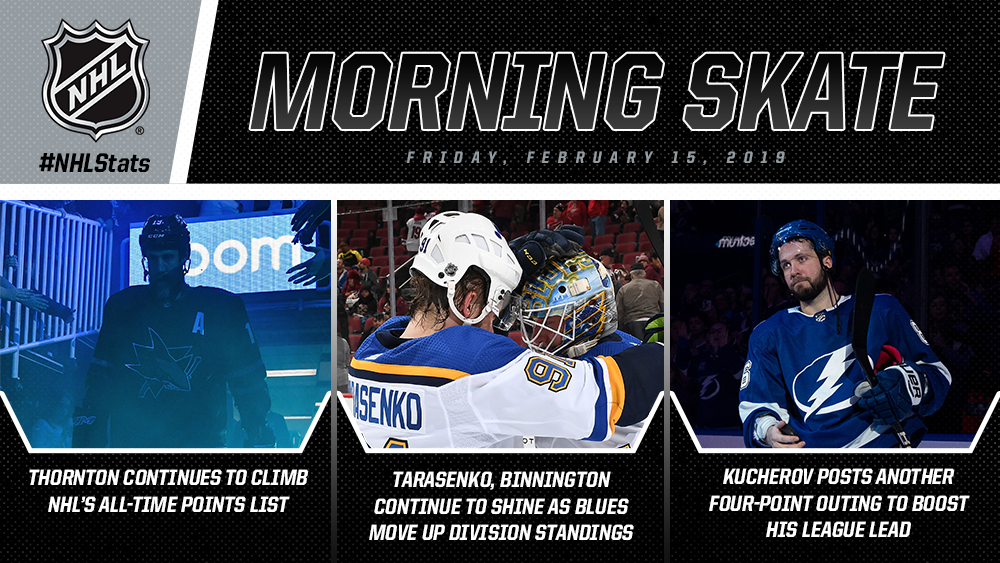 Filed in: NHL Teams, | KK Hockey | Permalink

by Paul on 02/14/19 at 06:35 PM ET
Comments (0)
With no certainty as to the future of Matt Duchene and Mark Stone yet, Pierre Dorion and his staff are taking in the Jets game. Could the Sens and Jets be natural trading partners in the event neither Sens UFA re-signs with the club? As well, all the latest on Cam Talbot, Wayne Simmonds, and the situation in Minnesota.
Watch at TSN.
added 8:30pm, Or watch it below.
Filed in: NHL Teams, | KK Hockey | Permalink

by Paul on 02/14/19 at 01:43 PM ET
Comments (1)
Besides Calgary, which Frank Seravalli of TSN discusses in the article ...
Which other teams could potentially be looking for help? The market is not huge.

Philadelphia: Finally, the Flyers seem to have a long-term answer in 20-year-old wunderkind Carter Hart. They will need to find a veteran presence to support him, and summer training partner Cam Talbot from the Oilers could fit the bill. The Flyers have reportedly held preliminary discussions with Edmonton about the possibility.

Columbus: The Blue Jackets will have a need if they trade two-time Vezina Trophy winner Sergei Bobrovsky.

Colorado: The Avalanche's season has cratered around goaltending. Since Dec. 4, pending UFA Semyon Varlamov has an .875 save percentage and his heir, Philipp Grubauer, has been equally as bad at .878.

Carolina: The Hurricanes haven't made the playoffs since 2009 and they're just one point out now. They've hung in the race despite below-average numbers from two netminders in 2019 – Curtis McElhinney (.902) and Petr Mrazek (.892) – both of whom do not have a contract for next season.

Florida: The Panthers appear to have their sights set on Bobrovsky – if not now, then in free agency.

The Trade Bait:

Jimmy Howard, Detroit (No. 9 on the latest Trade Bait board): Howard has been excellent this season with a .914 mark for the 29th-place Wings. Detroit has flirted with the idea of re-signing Howard, 34, but GM Ken Holland is expected to move Howard for the right price. Holland is believed to be seeking a first-round pick, but without a big market as explained above, the final sale price could well be a second-rounder.
Filed in: NHL Teams, | KK Hockey | Permalink

by Paul on 02/14/19 at 11:59 AM ET
Comments (0)
It's a long one, 20 minutes to watch.
Filed in: NHL Teams, | KK Hockey | Permalink

by Paul on 02/14/19 at 10:22 AM ET
Comments (0)
The Wild are in the 2nd wild card slot today, two points in front of Vancouver and the Wild have a game in hand.
Filed in: NHL Teams, Minnesota Wild, | KK Hockey | Permalink
Tags: bruce+boudreau
« Previous < 1 2 3 4 5 > Last › Next »
About Kukla's Korner Hockey
Paul Kukla founded Kukla's Korner in 2005 and the site has since become the must-read site on the 'net for all the latest happenings around the NHL.
From breaking news to in-depth stories around the league, KK Hockey is updated with fresh stories all day long and will bring you the latest news as quickly as possible.
Email Paul anytime at pk@kuklaskorner.com
Tweets by @kuklaskorner
Most Recent Blog Posts