Kukla's Korner Hockey
by Paul on 11/15/18 at 08:35 AM ET
Comments (0)
from Joe Starkey of the Pittsburgh Post-Gazette,
Jim Rutherford looks around and sees a team in a slump. I look around and see Jim Rutherford in a slump.

If indeed team chemistry is whacked, as Rutherford suggested Wednesday, then I have to look at the master chemist first. If it's simply a bad assemblage, I have to look at the guy who bought the parts.

It's Rutherford's team, and if he were a goal scorer, he's finding the net about as often as his bottom six these days — although history tells us his touch could return at any moment. One of his great strengths as Penguins general manager has been the ability to identify his mistakes and correct them, often to astonishing results. Exhibit A: replacing Mike Johnston with Mike Sullivan....

This is a fragile situation, and in Rutherford's words "a fragile team."...

What is their identity now?

These Penguins are among the oldest teams in the league, and any team with Johnson and Olli Maatta representing a third of its defense is not going to win many sprinting contests.
Filed in: NHL Teams, Pittsburgh Penguins, | KK Hockey | Permalink

by Paul on 11/15/18 at 08:29 AM ET
Comments (0)
...the next message will be loud and clear and it will involve trades of core players and a full rebuild. Desjardins said he thinks the Kings "still have it in them" to be the commanding team they were during their Cup years. If that's true, now is the time to prove it. They've been warned. Twice.
-Helene Elliott of the LA Times where you can read more on the Kings.
Filed in: NHL Teams, Los Angeles Kings, | KK Hockey | Permalink

by Paul on 11/15/18 at 08:23 AM ET
Comments (0)
from Matt Porter of the Boston Globe,
No Zdeno Chara.

And no points.

That's how the Bruins left here. After losing their captain for the final two periods on Wednesday, they squandered a two-goal lead and opened their four-game, nine-day road swing with a 6-3 defeat to the Avalanche....

But Chara, key to Boston's strategy of of defending the opposing No. 1 line of Gabriel Landeskog, Nathan MacKinnon and Mikko Rantanen, departed after nine shifts and 5:24 with an apparent left knee issue. The defenseman's leg buckled as he hit former teammate Carl Soderberg with 1:07 left in the first period. He finished his shift, appearing to favor his leg for 27 seconds until DeBrusk took a Colorado turnover in for a goal that made it 2-1.

The Bruins called it a lower-body injury. A team spokesman said they would issue an update Thursday on Chara if appropriate. A scheduled practice and media availability in Dallas was canceled.

Coach Bruce Cassidy was unsure whether Chara. who walked out of the Pepsi Center with a slight limp, would be assessed before the Bruins' date with the Stars on Friday, or be sent back home to Boston.
Game highlights below.
Filed in: NHL Teams, Boston Bruins, Colorado Avalanche, | KK Hockey | Permalink
Tags: zdeno+chara
by Paul on 11/15/18 at 07:38 AM ET
Comments (9)
from Isabelle Khurshudyan of the Washington Post,
The Washington Capitals could be significantly shorthanded after a bruising 3-1 loss to the Winnipeg Jets on Wednesday night. In addition to being without top goaltender Braden Holtby, who suffered an undisclosed "upper-body" injury Wednesday morning, center Evgeny Kuznetsov and T.J. Oshie both suffered possible concussions during the game....

Kuznetsov was clipped in the head by Brandon Tanev's elbow in the first period, and though he played on the ensuing power play for an illegal check to the head, he then went back to the locker room for an evaluation and didn't return. With six goals and 15 assists, Kuznetsov is Washington's leading scorer. Without him, Lars Eller centered the top line with captain Alex Ovechkin and Tom Wilson....

The Department of Player Safety is also examining Winnipeg's Josh Morrissey's play on Oshie in the last minute of the game, when Washington had goaltender Pheonix Copley on the bench for an extra attacker. After both players skated into the corner, Morrissey slammed Oshie down to the ice, and Oshie's head hit the surface. He came up woozy, especially concerning because Oshie has four reported concussions in his career, including one last season.
Watch both incidents below.
Filed in: NHL Teams, Washington Capitals, | KK Hockey | Permalink
Tags: t.j.+oshie
by Paul on 11/15/18 at 07:21 AM ET
Comments (1)
via Sportsnet,
Ed Olczyk sits down with Scott Morrison to reflect on his battle with colon cancer both physically & emotionally, as the NHL & NHLPA promotes their Hockey Fights Cancer campaign.
Filed in: NHL Media, Hockey Broadcasting, | KK Hockey | Permalink
Tags: ed+olczyk
by Paul on 11/15/18 at 07:09 AM ET
Comments (0)
WEDNESDAY'S RESULTS
Home Team in Caps
CHICAGO 1, St. Louis 0
WINNIPEG 3, Washington 1
COLORADO 6, Boston 3
VEGAS 5, Anaheim 0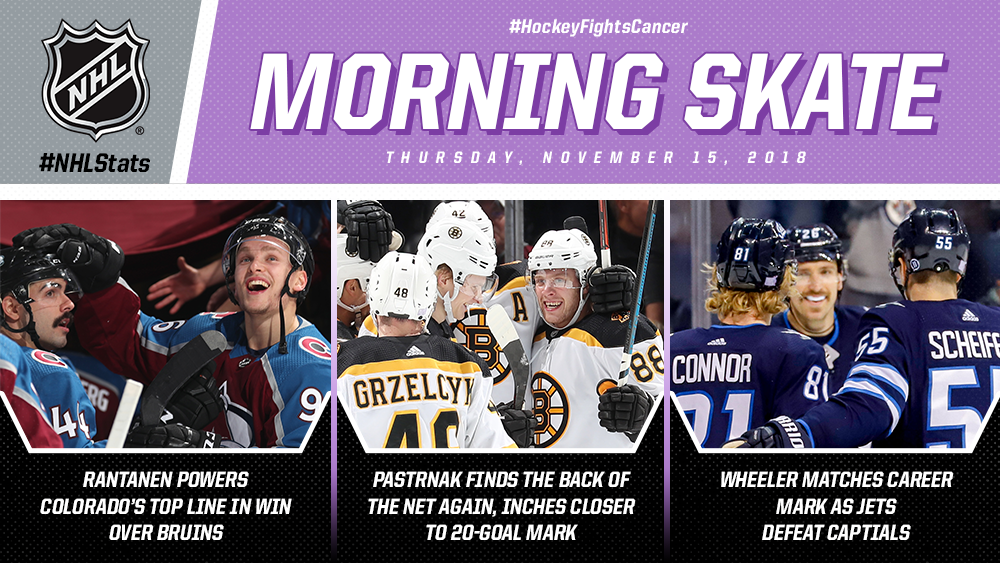 Filed in: NHL Teams, | KK Hockey | Permalink

by Paul on 11/14/18 at 03:32 PM ET
Comments (2)
from Elliotte Friedman of Sportsnet,
- Something to watch: Ice time for Colorado's Nikita Zadorov (15:40 per game) is down almost four minutes from 2017–18. It is by far the lowest of his career. Zadorov came a long way last season after being a healthy scratch on opening night. He'll be 24 in April, and is a restricted free agent. Have not heard his name in any trade rumours, and there aren't too many like him. Let's see where this goes.

- Quietly, teams are trying to find out if Joel Quenneville wants to coach this season, and what situation(s) he prefers.

- Two years ago, Bettman phoned everyone (or a representative for those who have passed) on the NHL's list of the top 100 players. He was supposed to do it over 10 days, but finished in a couple. He said one player didn't recognize the number and ignored his calls. But the commissioner kept trying and eventually connected.

"Will you stop calling me? Why are you calling me? I'm not buying what you're selling," was the answer.

(Bettman didn't say who it was.)
Filed in: NHL Teams, | KK Hockey | Permalink

by Paul on 11/14/18 at 03:18 PM ET
Comments (0)
from Justin Emerson of the Las Vegas Sun,
It appears the Golden Knights are preparing for the worst when it comes to the health of center Erik Haula.

Haula was placed on injured reserve Tuesday night, according to the team's website, and coach Gerard Gallant confirmed today that Haula he will be out "month-to-month."

Gallant also said center Paul Stastny, who played in three games this year before going on IR, is "not close" to returning.

"Injuries are part of the game. Every team goes through them, so we can't use them as an excuse," Gallant said. "If we're going to win, everybody has to step up. That's the way it is. When guys go down, people have to step up and take a bigger role."

Gallant said he wasn't sure if either player would require surgery.
Filed in: NHL Teams, | KK Hockey | Permalink
Tags: erik+haula, paul+stastny, vegas+golden+knights
by Paul on 11/14/18 at 02:35 PM ET
Comments (0)
from Wes Crosby at NHL.com,
Sidney Crosby could be sidelined with an upper-body injury when the Pittsburgh Penguins host the Tampa Bay Lightning at PPG Paints Arena on Thursday (7 p.m. ET; TVAS, ATTSN-PT, SUN, NHL.TV).

The 31-year-old center missed practice Wednesday when he was being evaluated for the injury, coach Mike Sullivan said. When asked if Crosby could miss the game against the Lightning, Sullivan repeated the Pittsburgh captain was being evaluated for an upper-body injury.

Sullivan did not disclose when Crosby sustained the injury. Crosby had two assists in 21:32 of ice time in a 4-2 loss to the New Jersey Devils on Tuesday.
Filed in: NHL Teams, Pittsburgh Penguins, | KK Hockey | Permalink
Tags: sidney+crosby
by Paul on 11/14/18 at 12:40 PM ET
Comments (0)
Just over 5 minutes to watch.
Filed in: NHL Teams, | KK Hockey | Permalink

« Previous < 1 2 3 4 5 > Last › Next »
About Kukla's Korner Hockey
Paul Kukla founded Kukla's Korner in 2005 and the site has since become the must-read site on the 'net for all the latest happenings around the NHL.
From breaking news to in-depth stories around the league, KK Hockey is updated with fresh stories all day long and will bring you the latest news as quickly as possible.
Email Paul anytime at pk@kuklaskorner.com
Tweets by @kuklaskorner
Most Recent Blog Posts