Kukla's Korner Hockey
by Paul on 01/23/20 at 10:00 AM ET
Comments (0)
Sensible hockey fans will know that, with so much of the season left to play out, it is hard to make accurate predictions about which players will have enjoyed the most success by the time the playoffs arrive. But being sensible is never that fun, and this year it seems like there could already be a few clear cut frontrunners who will be unlikely to fall from grace over the course of the remaining games.
Here are 4 contenders that are currently in the best position to take home the Hart Trophy this year, as well as what makes them worthy of recognition.
Filed in: | KK Hockey | Permalink

by Paul on 01/23/20 at 12:50 AM ET
Comments (0)
* Oliver Bjorkstrand lifted the Blue Jackets to their sixth straight win after he became the first player in franchise history to record a multi-goal performance in three consecutive appearances.

* Ahead of making his sixth NHL All-Star game appearance, Eric Staal factored on two of Minnesota's three third-period goals to lift the Wild to their 13th comeback win of 2019-20.

* Starting today, the 2019-20 season will take a four-day break from regular-season games for 2020 Honda NHL All-Star Weekend, which will be hosted by the reigning Stanley Cup champion Blues at Enterprise Center in St. Louis.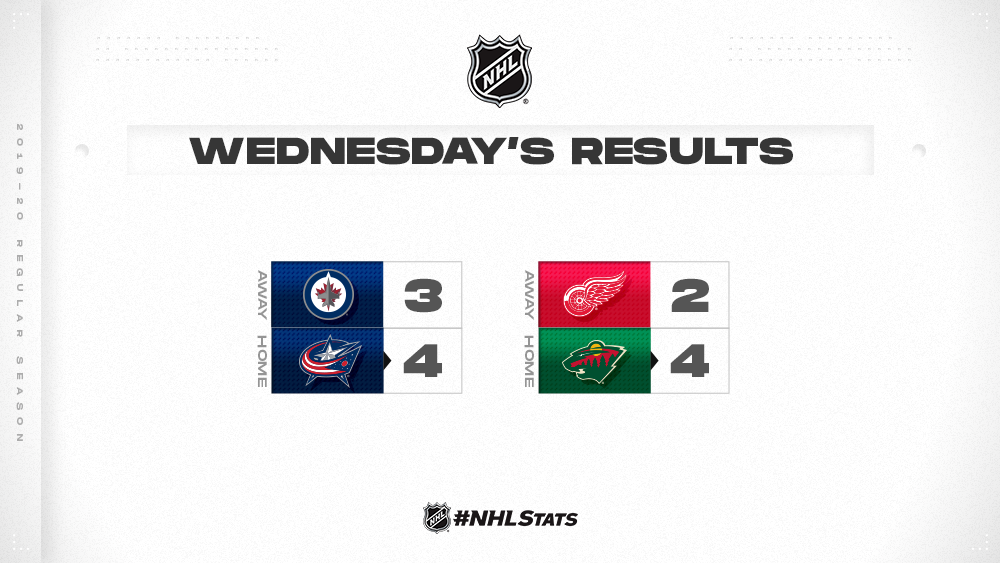 Filed in: NHL Teams, | KK Hockey | Permalink

by Paul on 01/22/20 at 09:23 PM ET
Comments (0)
via Sportsnet's YouTube channel,
Elliotte Friedman joined Tim and Sid to discuss teams that are on the bubble when it comes to adding talent at the trade deadline, and what he thinks of the Jets and Paul Maurice's standing with the team.
Filed in: NHL Teams, | KK Hockey | Permalink

by Paul on 01/22/20 at 03:57 PM ET
Comments (10)
from Christian Hetrick of the Philadelphia Inquirer,
Chris Greenwell brought his boy Brandon to the Wells Fargo Center one night in November to meet the most famous person on the Philadelphia Flyers payroll: Gritty.

The Flyers had invited Greenwell and his 13-year-old son to get a photo and some face time with the fuzzy, googly-eyed mascot, all part of an exclusive event for season ticket holders. But after waiting in line for about an hour behind dozens of fans to get to Gritty, something shocking happened, according to Greenwell.

In Greenwell's telling, Brandon playfully patted the mascot on the head after the photo was taken. As Brandon walked away, Gritty got out of his chair, "took a running start," and "punched my son as hard as he could," Greenwell said Wednesday.

Officials at Comcast Spectacor, the company that owns the Flyers, told Greenwell there is no video footage of the incident because the "cameras in that area of the center are focused on other locations," according to emails between Greenwell and officials. The company claimed it conducted an investigation that included interviews with Gritty, and "Gritty's handler," but couldn't verify Greenwell's account.
Filed in: NHL Teams, Philadelphia Flyers, | KK Hockey | Permalink

by Paul on 01/22/20 at 03:26 PM ET
Comments (0)
SPRINGFIELD, Mass. … The 2020 AHL All-Star Classic presented by Ontario International Airport is just days away, and the two-day event will reach millions of hockey fans worldwide through extensive television, internet streaming and social media coverage.
Filed in: Non-NHL Hockey, | KK Hockey | Permalink
Tags: ahl
by Paul on 01/22/20 at 01:14 PM ET
Comments (11)
Heck, I can't even remembers goals from the games last night, so turning it over to you.
from Tracey Myers of NHL.com,
In the runup to the unveiling of the NHL First and Second All-Decade Teams on Jan. 24 (6:30 p.m. ET; NBCSN), the NHL will be announcing its best plays, moments, events, coaches and team of the 2010s.

One selection, chosen by NHL.com and NHL.com International staff members, will be unveiled each day in the runup to the release of the all-decade teams. Today is Goal of the Decade, which was scored by Patrick Kane in Game 6 of the 2010 Stanley Cup Final against the Philadelphia Flyers.

Patrick Kane has scored a lot of memorable goals in his NHL career.

But the Chicago Blackhawks forward's goal 4:06 into overtime against the Philadelphia Flyers in Game 6 of the 2010 Stanley Cup Final, the one that ended the Blackhawks' championship drought after 49 years with a 4-3 victory, is one he'll never forget.

"I mean, obviously it was a great run throughout the [Stanley Cup] Playoffs and you think you're sitting pretty at 3-2 and they tie it up," Kane said of the 4-3 win. "It seems like they have a lot of the momentum going into overtime. We had a couple of chances early, I think [Kris] Versteeg had a chance in the slot."
Watch the goal below.
Filed in: | KK Hockey | Permalink

by Paul on 01/22/20 at 01:03 PM ET
Comments (2)
from Elliotte Friedman of Sportnset,
- As the all-star break begins and teams go through their scouting meetings, a few teams with interesting possibilities are waiting on upcoming performance to decide their path. Included in that group are Chicago, Minnesota, Montreal and the Rangers (back-to-back with Detroit when they return). Those teams will test the value of their players, but hold off on final decisions until closer to the deadline — unless they become convinced they're out. Pittsburgh continues its pursuit of Jason Zucker, but the Wild aren't yet ready to concede anything. Nothing is happening with the Blackhawks as long as they're still in the race, but if they fall out, would Joel Quenneville ask to pitch ageless physical specimen Duncan Keith on the virtues of southeast Florida?

- The NHL tried to make the Justin Bieber/Jordan Binnington showdown part of All-Star Weekend. Just didn't work at this time. Apparently, it is going to happen, though.

- The league sent a memo to its officials about the "Michigan"/"Svechnikov" lacrosse-style goal reminding officials that any goal scorer must have his stick below shoulder level when possessing the puck and below the crossbar when putting it home. Otherwise, the stick is in an illegal position.
many more Thoughts...
Filed in: NHL Teams, | KK Hockey | Permalink

by Paul on 01/22/20 at 12:46 PM ET
Comments (0)
from Lisa Dillman of The Athletic,
Drew Doughty knew there would be pain. He realized that last season.

But Doughty certainly didn't anticipate the Kings' struggles would last this long and run quite this deep. What looks to be their continuing membership in the Lottery Club is difficult to accept for someone with Doughty's winning pedigree — a two-time Stanley Cup champion, two-time Olympic gold medalist and Norris Trophy winner in 2016.

"It's frustrating. Being one of the top guys, I never expected to be (in this position). I always expected that I would be able to help push my team to a playoff spot every single year," Doughty said. "But now back-to-back years, being in last place, it's been stressful and depressing a little bit.

"Sometimes you've got to sit back and realize you don't have the team you once had."
continued (paid)
Doughty's AAV is $11M through the 2026-27 season.
Filed in: NHL Teams, Los Angeles Kings, | KK Hockey | Permalink
Tags: drew+doughty
by Paul on 01/22/20 at 11:49 AM ET
Comments (1)
from Frank Seravalli of TSN,
Five of seven Canadian clubs are represented in the mid-season Top 50. Ottawa and Calgary don't have any players on the list.

The Flames had four on the pre-season list: Gaudreau, , and .

Norris Trophy frontrunner is the highest-ranked defenceman at No. 7.

Carlson's teammate fell from No. 7 on the pre-season list to No. 10, staring up at players like Pastrnak - whom he will attempt to chase down in the Rocket Richard race in the second half.

Let the debate begin. Here is TSN Hockey's mid-season Top 50 ranking for 2019-20:
the top 3 on the list are McDavid, MacKinnon and Pastrnak...
Filed in: NHL Teams, | KK Hockey | Permalink

by Paul on 01/22/20 at 11:31 AM ET
Comments (0)
"There was no f—ng slow start. We played as good in the first as we did in the second as we did in the third. That team played its asses off tonight.

"Listen, I haven't liked some of the games we played but that team played as hard as it could. I got no beef on the effort, the other team played well too."
-Paul Maurice, head coach of the Winnipeg Jets after a 4-1 loss to Carolina. Ted Wyman of the Winnipeg Sun has more on the Jets, who have lost 5 of their last 6 games.
Filed in: NHL Teams, Winnipeg Jets, | KK Hockey | Permalink
Tags: paul+maurice
« Previous < 1 2 3 4 5 > Last › Next »
About Kukla's Korner Hockey
Paul Kukla founded Kukla's Korner in 2005 and the site has since become the must-read site on the 'net for all the latest happenings around the NHL.
From breaking news to in-depth stories around the league, KK Hockey is updated with fresh stories all day long and will bring you the latest news as quickly as possible.
Email Paul anytime at pk@kuklaskorner.com
Tweets by @kuklaskorner
Most Recent Blog Posts