Kukla's Korner Hockey
by Paul on 12/04/19 at 02:32 AM ET
Comments (9)
update 2:32am on 12/4/19, Thanks to all for the donations, the KK Donation Drive was a success. Original post was on 12/2/19 at 10:4am. The sticky on this post has been removed.
Last Friday, I started a KK Donation Drive and it is going okay ($525) as of this morning.
Another $500 would be great and allow me to carry on for the next 3-4 months.
As I mentioned in the original post, a huge, anonymous donation has been made over the last 2 years which basically covers my hosting fee for the hockey season.
You can get donation information in the link above or get it below.
Any little bit helps and is much appreciated.
For the 28K+ followers on Twitter, again any amount helps, just imagine if just 10% of those followers donated $5.
You would not see a KK Donation Drive for at least 2 years.
Filed in: | KK Hockey | Permalink

by Paul on 12/04/19 at 02:26 AM ET
Comments (0)
THREE HARD LAPS
* John Carlson became the sixth player (and first defenseman) to reach the 40-point mark in 2019-20. Only one other season since 1990s ended featured as many 40-point scorers through the first 433 games, which was 2005-06 (Jaromir Jagr, Jason Spezza, Daniel Alfredsson, Peter Forsberg, Dany Heatley, Eric Staal and Joe Thornton).
* The League-leading Bruins extended a plethora of streaks to maintain their edge over the Capitals for first place in the NHL standings.
* Chris Driedger became the ninth goaltender in League history to post a shutout streak of at least 89 minutes from the first start of his NHL career – a feat last achieved by Jordan Binnington before backstopping St. Louis to a Stanley Cup.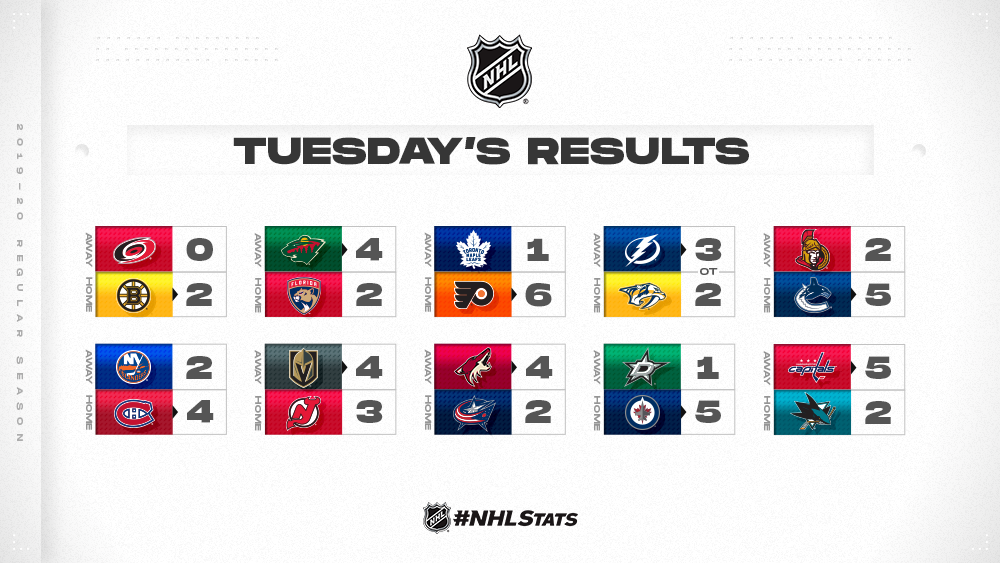 Filed in: NHL Teams, | KK Hockey | Permalink

by Paul on 12/04/19 at 02:10 AM ET
Comments (2)
two minutes for elbowing and a game misconduct.
Filed in: NHL Teams, San Jose Sharks, Washington Capitals, | KK Hockey | Permalink
Tags: evander+kane, radko+gudas
by Paul on 12/03/19 at 07:29 PM ET
Comments (1)
Filed in: NHL Teams, NHL Talk, | KK Hockey | Permalink

by Paul on 12/03/19 at 05:08 PM ET
Comments (2)
Like it or not, the days of the iron-fisted coach have more or less run their course.

No one wants to be yelled at. They certainly don't want to be punched, kicked or choked. What worked in the past simply does not work anymore.

The Sutters and Babcocks of the coaching world are now as antiquated as sticks with aluminum shafts.
-Michael Traikos of the National Post where you can read more on the changes coming.
Filed in: NHL Teams, NHL Talk, | KK Hockey | Permalink

by Paul on 12/03/19 at 04:20 PM ET
Comments (1)
from the New Jersey Devils,
The New Jersey Devils today announced that they have relieved John Hynes of his head coaching duties. Alain Nasreddine will become Interim Head Coach and Peter Horachek, currently a pro scout for the team, will join the coaching staff as an assistant under Nasreddine. The announcements were made by Devils' Executive Vice President/General Manager Ray Shero.

Alain Nasreddine will start in his role for tonight's game versus Vegas. He heads up the staff of Horachek and existing assistants Rick Kowalsky, Mike Grier and goaltending coach, Roland Melanson.

"John played an integral role in the development of this team in establishing a foundation for our future and we are grateful for his commitment, passion and unmatched work ethic," said Shero. "John is a respected leader, developer of talent and friend which makes this decision difficult. We are a team that values and takes pride in accountability to the results we produce. We are collectively disappointed in our performance on the ice and believe changes were needed, starting with our head coach. I have been consistent in my desire to build something here in New Jersey that earns the respect of teams throughout the league and pride in our fans. That is not where we were heading and for me to tolerate anything less was not acceptable."
Filed in: NHL Teams, New Jersey Devils, | KK Hockey | Permalink
Tags: alain+nasreddine, john+hynes
by Paul on 12/03/19 at 03:56 PM ET
Comments (0)
added 4:46pm, NHL Statement below.
Filed in: NHL Talk, | KK Hockey | Permalink
Tags: akim+aliu
by Paul on 12/03/19 at 01:44 PM ET
Comments (3)
from Luke Fox of Sportsnet,
Rikard Gronborg believes it's only a matter of time.

And with the disturbing crackling of the old boys coaching network in recent days, the most qualified coaching candidate outside of North America might be on to something.

Nineteen years have passed since the last European coach was hired to stand behind a National Hockey League bench — Finland's Alpo Suhonen (Blackhawks) and the Czech Republic's Ivan Hlinka (Penguins) landed gigs in 2000-01. Perhaps the National Hockey League is getting ripe for a broader worldview when it comes to its coach hiring policy.

Thirty per cent of the league's players are European, and 55 per cent of 2019-20's rookie class is European.

"That tells you where the trend is going. So, I think it's just a matter of time that NHL teams in the U.S. and Canada look over here at some of the excellent European coaches," Gronborg says.

"Hockey is hockey. The challenge is for the NHL to open up a new chapter. Hiring coaches with some new backgrounds is only healthy."
Filed in: NHL Teams, Non-NHL Hockey, European Hockey, | KK Hockey | Permalink

by Paul on 12/03/19 at 01:07 PM ET
Comments (0)
TORONTO (Dec. 3, 2019) – Matt Stajan has announced his retirement from professional hockey today following 14 seasons playing in the National Hockey League (NHL).
Born in Mississauga, Ontario, Stajan tallied 413 career points (146 goals, 267 assists) in 1,003 NHL games. After he was drafted by the Toronto Maple Leafs in the second round (57th overall) of the 2002 NHL Draft, Stajan played five-plus seasons in Toronto prior to being traded to the Calgary Flames, where he played over eight seasons.
Filed in: NHL Teams, Calgary Flames, | KK Hockey | Permalink
Tags: matt+stajan
by Paul on 12/03/19 at 10:36 AM ET
Comments (0)
Just over 13 minutes to watch.
Filed in: NHL Teams, | KK Hockey | Permalink

« Previous < 1 2 3 4 5 > Last › Next »
About Kukla's Korner Hockey
Paul Kukla founded Kukla's Korner in 2005 and the site has since become the must-read site on the 'net for all the latest happenings around the NHL.
From breaking news to in-depth stories around the league, KK Hockey is updated with fresh stories all day long and will bring you the latest news as quickly as possible.
Email Paul anytime at pk@kuklaskorner.com
Tweets by @kuklaskorner
Most Recent Blog Posts