Kukla's Korner Hockey
by Paul on 02/20/19 at 03:48 PM ET
Comments (5)
High-sticking.
Filed in: NHL Teams, Philadelphia Flyers, | KK Hockey | Permalink
Tags: radko+gudas
by Paul on 02/20/19 at 02:31 PM ET
Comments (0)
from Mike Harrington of the Buffalo News,
With his team rapidly free-falling out of the playoff race, Buffalo Sabres general manager Jason Botterill said today he is not considering a coaching change and his focus remains on developing players on his roster to perform more consistently.

In a 10-minute chat with reporters from The Buffalo News, the Athletic and WGR Radio during practice in Amalie Arena, Botterill flatly said "no" when asked if replacing coach Phil Housley is on his agenda.

"We've made progress as an organization compared to last year. We've been in a position where we've been in games," Botterill said. "I see the results on the ice. I see the communication we're going through here. There's not going to be a coaching change."
coninue for much more on the Sabres...
Filed in: NHL Teams, Buffalo Sabres, | KK Hockey | Permalink
Tags: jason+botterill
by Paul on 02/20/19 at 12:58 PM ET
Comments (0)
5 1/2 minutes of your time.
Filed in: NHL Teams, | KK Hockey | Permalink

by Paul on 02/20/19 at 12:44 PM ET
Comments (0)
from Frank Seravalli of TSN,
Seven first-round picks were swapped last year during the deadline period, the most in a decade. Paul Stastny, Evander Kane, Rick Nash, Derick Brassard, Ryan McDonagh/J.T. Miller, Tomas Tatar and Ryan Hartman each netted a first.

Which players could fetch a first-round pick this year?

To start, the Big Three are a given: Stone, Duchene and Artemi Panarin, who still remains more likely than not to be traded.

Then there is the next group, which likely includes rugged two-time 30-goal scorer Wayne Simmonds and rangy centre Kevin Hayes, who is already nearing his career-high of 49 points.

The wild cards are Ryan Dzingel, Mats Zuccarello and Jimmy Howard. Depending on the circumstances, any one of them could bring back a first-round pick.

The Red Wings have been holding out for one for Howard, who is a candidate to re-sign in Detroit even if he finishes this season as a rental elsewhere. The Calgary Flames and Carolina Hurricanes are believed to have kicked the tires on Howard recently.
more, inlcudes the Top 50 trade list...
Filed in: | KK Hockey | Permalink

by Paul on 02/20/19 at 10:11 AM ET
Comments (7)
added 10:14am, GIF below...
added 10:30am, additional angle GIF below...
Filed in: NHL Teams, Philadelphia Flyers, | KK Hockey | Permalink
Tags: radko+gudas
by Paul on 02/20/19 at 09:13 AM ET
Comments (0)
from Tim Cowlishaw of the Dallas News,
With three straight defeats, it's admittedly not a great time to be touting the Stars.

Playoffs? You kiddin' me, playoffs?

Momentum isn't exactly on the Stars' side these days, but the numbers certainly are. If you can't follow the money, at least follow the math. Even after a rather dismal 1-3-1 road stretch before Tuesday's home defeat, the Stars benefit by calling the Western Conference home. The Eastern Conference has 13 teams over .500. The West has seven, and Dallas -- 29-25-5 -- is one of them.

Barring the kind of skid that hasn't been seen around here since, well, OK, technically we saw one a year ago that cost Ken Hitchcock his job, but forget that. Put the collapse possibility out of your head, at least for now. Even with its scoring deficiencies, the club's standard of play and its record suggests the Stars will be playing games in late April. A wild-card invite might not be the ultimate goal around here, but for a franchise that has missed eight of the last 10 postseasons, it's a fresh start....

As things stand, Dallas would be the first wild card in the West, drawing Winnipeg in the opening round. That's not the worst thing, given the Stars' 2-1 record against the Jets, but I wouldn't exactly label Dallas as "the team no one wants to face" or anything of that nature.
Filed in: | KK Hockey | Permalink

by Paul on 02/20/19 at 07:37 AM ET
Comments (0)
from Tom Timmermann of the St. Louis Post-Dispatch,
It took the Blues 51 seasons and 4,023 games to be on the brink of something they had never done before.

So what's another 34 seconds?

History had to wait briefly Tuesday night as the Blues needed overtime to beat Toronto 3-2 and lift their winning streak to a franchise-record 11 games. The hero was Ryan O'Reilly, which was fitting since he was the only player on the team who played well in the team's horrendous start to the season. O'Reilly broke up a Toronto scoring opportunity in his own zone, took the puck the length of the ice and scored to give the Blues the win and unleash a level of ecstasty seldom seen at Enterprise Center.

Call it 11th heaven.

"Oh gosh, it's exciting is what it is," O'Reilly said. "It's fun hockey."

"It's pretty special," said defenseman Colton Parayko.
Game highlights are below.
Filed in: NHL Teams, St. Louis Blues, | KK Hockey | Permalink

by Paul on 02/20/19 at 07:32 AM ET
Comments (1)
from Terry Jones of the Edmonton Sun,
At this time of year, in the final week prior to the trade deadline, the first thing a hockey writer does is look to see what teams have sent scouts for a live look at the tradable talent on display.

Last night's list posted prior to the Arizona Coyotes' game against the Edmonton Oilers would give you the idea a lot of teams have little or no interest in anything the Oilers might have to offer.

There were only eight scouts in the building representing the Bruins, Lightning, Predators, Islanders, Canucks, Rangers, Devils and Maple Leafs.

At this time of year, the list can be more interesting than the game you are about to cover if you're there to chronicle a team like the currently chronic losers from Edmonton, where a 12th season of the last 13 out of the playoffs is all but a mathematical certainty.

You couldn't jump to the conclusion any of the scouts who were there were probably on hand to watch the Coyotes. Arizona came into the game only three points back of the final wildcard spot while the Oilers were seven back.
Filed in: NHL Teams, d, Edmonton Oilers, | KK Hockey | Permalink

by Paul on 02/20/19 at 06:44 AM ET
Comments (0)
TUESDAY'S RESULTS
Home Team in Caps
FLORIDA 4, Buffalo 2
Pittsburgh 4, NEW JERSEY 3
Tampa Bay 5, PHILADELPHIA 2
NY Rangers 2, CAROLINA 1
MONTREAL 3, Columbus 2
ST. LOUIS 3, Toronto 2 (OT)
Anaheim 4, MINNESOTA 0
Nashville 5, DALLAS
Arizona 3, EDMONTON 2 (SO)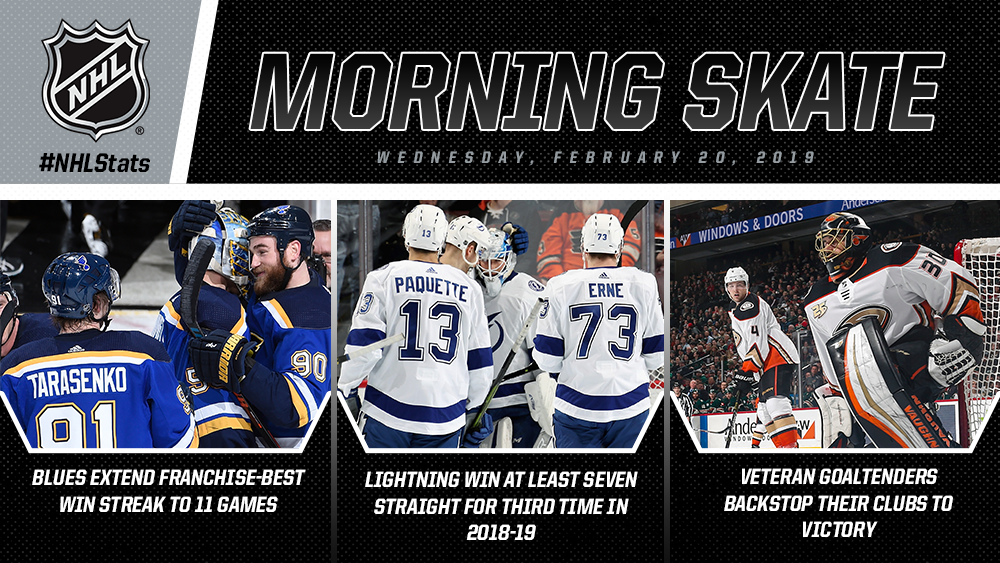 Filed in: NHL Teams, | KK Hockey | Permalink

by Paul on 02/19/19 at 10:08 PM ET
Comments (0)
via Sportsnet's YouTube page,
Nazem Kadri had to leave the game after taking hits from Vince Dunn and Brayden Schenn, leaving him with a concussion.
Filed in: NHL Teams, Columbus Blue Jackets, Toronto Maple Leafs, | KK Hockey | Permalink
Tags: nazem+kadri
« Previous < 1 2 3 4 > Last › Next »
About Kukla's Korner Hockey
Paul Kukla founded Kukla's Korner in 2005 and the site has since become the must-read site on the 'net for all the latest happenings around the NHL.
From breaking news to in-depth stories around the league, KK Hockey is updated with fresh stories all day long and will bring you the latest news as quickly as possible.
Email Paul anytime at pk@kuklaskorner.com
Tweets by @kuklaskorner
Most Recent Blog Posts