Kukla's Korner Hockey
by Paul on 10/22/19 at 05:11 PM ET
Comments (0)
4 1/2 minutes to watch.
Filed in: NHL Teams, | KK Hockey | Permalink

by Paul on 10/22/19 at 03:09 PM ET
Comments (0)
via the YouTube page of the NHL,
Listen in to some of the best international calls of the 2019-20 season so far, including Brandon Tanev's overtime goal in Manadarin and Kaapo Kakko's first NHL goal in Bulgarian.
Filed in: NHL Teams, | KK Hockey | Permalink

by Paul on 10/22/19 at 12:30 PM ET
Comments (0)
from Kevin Allen of USA TODAY,
Strong starts by the Buffalo Sabres and Edmonton Oilers, plus poor starts by the Dallas Stars, New Jersey Devils and San Jose Sharks have us scratching our heads. What's up with the Tampa Bay Lightning? Is John Carlson's scoring for real?

Let us help you sort out the fact and fiction:

Based on their start, the Colorado Avalanche are the NHL's team to beat

Fact: The Avalanche are a quality team. They are tied for the NHL lead in scoring (four goals per game) and rank in the top 10 defensively (2.67 goals per game). Phillip Grubauer is getting the job done in net, and with Nathan MacKinnon and Mikko Rantanen, who left Monday's game with an injury, this is a very dangerous offensive team. Rookie defenseman Cale Makar also has been an impact player with eight assists. The Avalanche have cap space to add a player or two.
Filed in: NHL Teams, | KK Hockey | Permalink

by Paul on 10/22/19 at 11:30 AM ET
Comments (0)
There's a good reason why the hashtag #DernièreForLafrenière is a thing in hockey's social media circles: The kid can really play.

Rimouski Oceanic left winger Alexis Lafreniere is off to a torrid start in the Quebec Major Junior Hockey League this season, racking up 34 points in his first 13 games. It's the type of offensive production that could put him in the running for a second consecutive CHL Player of the Year Award and lets the fans of lottery-bound NHL teams start to dream of better days.

Lafrenière is far from the only member of the 2020 draft class who is turning heads with a strong start. TSN Director of Scouting Craig Button takes a look at five prospects who are delivering on the hype and increasing their stock among scouts and NHL front offices:

Alexis Lafreniere, LW, Rimouski Oceanic (QMJHL)

2019-20 Stats: 13 GP, 10 G, 24 A, 34 PTS, 22 PIM
Filed in: Non-NHL Hockey, | KK Hockey | Permalink

by Paul on 10/22/19 at 10:13 AM ET
Comments (0)
NEW YORK/TORONTO (October 22, 2019) – The National Hockey League® (NHL) announced today NHL.com has launched a Spanish language website, making it the ninth native language NHL website available to hockey fans. The new site, NHL.com/es, is part of the League's ongoing efforts to reach new audiences and engage fans worldwide, sharing on- and off-ice stories of players, moments, and milestones in nine different languages.
Experienced, native Spanish-speaking hockey reporters will provide fans with original hockey stories and videos, offer a unique perspective on daily hockey news coverage, share player profile pieces, and report from behind-the-scenes at League events.
"We continue to see a strong appetite from NHL fans across North America and around the world for native-language hockey content," said Steve McArdle, NHL Executive Vice President of Digital Media & Strategic Planning. "Our Spanish-language website will provide original, authentic NHL content. Stories will not simply be translated from English to Spanish but will be covered by experienced reporters and told in their own voices based on their unique perspectives."
Filed in: NHL Teams, NHL Talk, | KK Hockey | Permalink

by Paul on 10/22/19 at 09:18 AM ET
Comments (3)
from Geoff Baker of the Seattle Times,
To say some local hockey fans gulped when initial NHL Seattle season-ticket prices were released last week would be inaccurate — it's tough to swallow while spitting out coffee or enduring other reflexive actions after learning 44-game packages will cost from $12,540 to $15,620 for the 2,600 priciest seats.

We've warned NHL prices aren't for the faint of heart, but seeing them in black and white seems to have some fans fainting while grasping for their hearts.

Sticker shock? Try toaster-in-your-bathtub shock.

That said, prices for "club level" seats here aren't out of whack with premium tickets in New York; Chicago; Washington, D.C.; Denver; Philadelphia; Las Vegas and elsewhere.

And for those citing prices in Detroit, Buffalo, or wherever else housing costs a fraction what it does here, take a breath. Our city's relative wealth obviously factored, as did NHL Seattle being a new team with zero on-ice baggage playing in a new arena (under the same roof).

Sure, NHL Seattle isn't exactly offering club-seat bargains. They even tried softening the blow by stating general season-ticket prices — to be released next year — will start as low as $50 per night. But that's still right on the league's mid- to upper-tier border for the priciest among lowest-cost seat options and not comparable to $13.50 in Anaheim, $14.70 in Colorado, $20 in San Jose and $24 in Columbus.
Filed in: NHL Teams, | KK Hockey | Permalink
Tags: seattle
by Paul on 10/22/19 at 09:15 AM ET
Comments (0)
Ever wondered how do bookies make odds or how do bookmakers set odds to be more accurate. If you are a punter who cares for his money then you should have, even if you don't have the ambition to become a future trader. The first thing you need to know is how to calculate odds and understand the math behind them. This will help you understand if the offered lines have value or not and whether your bookmaker is giving you a fair price or you should be searching for something better. Betting odds and how they work might not be the easiest thing to comprehend, however, it is also not one of the hardest. With the help of this guide, you will learn how to work out odds and view the mistakes in odds sets.
How do sports odds work?
Filed in: | KK Hockey | Permalink

by Paul on 10/22/19 at 07:47 AM ET
Comments (0)
Nyquist scores penalty-shot goal in overtime for Blue Jackets; Blues hand Avalanche first regulation loss of the season; MacKinnon extends season-opening point streak to join elite company.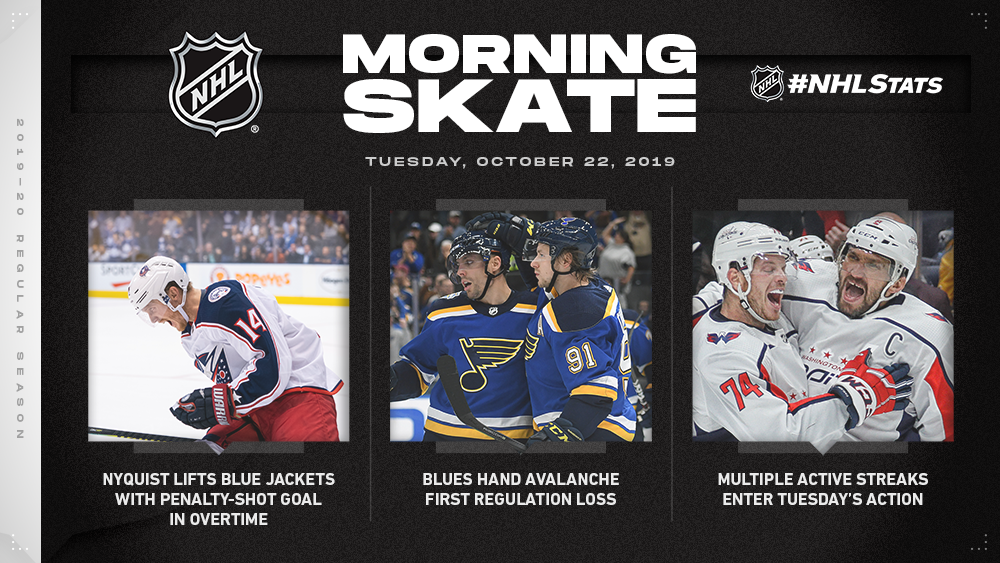 Filed in: NHL Teams, | KK Hockey | Permalink

by Paul on 10/21/19 at 08:17 PM ET
Comments (2)
from David Staples of the Edmonton Journal,
This in from Craig Button, the former NHL GM and now a TSN hockey commentator, his take on Edmonton Oilers two-way ace Leon Draisaitl being a better player than Auston Matthews of the Toronto Maple Leafs. Button was on TSN 1050 radio in Toronto with former NHLers Jamie McLennan and Jeff O'Neill.

"He's a Top 5 player," McLennan said of Draisaitl. "Other than him getting tired later in the game and extending his shifts and stuff — I think he extends his shifts, where he looks really tired — I think he's as good as anybody."

Then Button dropped the hammer: "I think the talk about Auston Matthews as being one of the best players in the league needs to stop. Because he's not as good as Draisaitl. He's not even close to Draisaitl right now. I know he's a scorer but in terms of a complete player, not even in that category. He should never be in the conversation until he shows that he's going to impact the game in the same way."
Filed in: NHL Teams, Edmonton Oilers, Toronto Maple Leafs, | KK Hockey | Permalink
Tags: auston+matthews, leon+draisaitl
by Paul on 10/21/19 at 02:23 PM ET
Comments (0)
from Kevin McGran of the Toronto Star,
Everyone seems to have an idea of how to make the game they love just a little bit better.

Even the players, who sounded off about coaches' challenges, offside reviews, icing and the shootout in interviews with the Star when they were asked what changes they would make if they had the power.

Blackhawks captain Jonathan Toews, for example, would like to get rid of the offside review.

"It drives me nuts," said Toews. "Let the refs do their job. If you miss a call by half an inch and you can still tell on a camera it's offside somehow, is that really what made the difference? To me, the blue line is there so no one can hang out at the circle while the play is in the other zone."

Vladimir Tarasenko of the St. Louis Blues would go even further, trying to find a way to wind back the clock and get rid of the idea that a coach can challenge the validity of a goal.

He'd rather live with a mistake than have the fun sucked out of the game.
Filed in: NHL Teams, | KK Hockey | Permalink

« Previous < 1 2 3 4 > Last › Next »
About Kukla's Korner Hockey
Paul Kukla founded Kukla's Korner in 2005 and the site has since become the must-read site on the 'net for all the latest happenings around the NHL.
From breaking news to in-depth stories around the league, KK Hockey is updated with fresh stories all day long and will bring you the latest news as quickly as possible.
Email Paul anytime at pk@kuklaskorner.com
Tweets by @kuklaskorner
Most Recent Blog Posts