Kukla's Korner Hockey
by Paul on 01/18/20 at 10:03 AM ET
Comments (0)
from Luke DeCock of the News & Observer,
There's no replacing Hamilton, who picked up where he left off last season as an offensive dynamo, not only creating chances for others but finishing them himself, and doing a far more credible job in his own end at the same time. Jaccob Slavin and Brett Pesce were already shouldering a heavy load as part of the defensive foundation with Hamilton; their nights aren't going to get any shorter. Slavin played 25:23, third-most this season, in Friday's 2-1 overtime loss to the Anaheim Ducks. Pesce played 25:34, second-most for him.

That's the new normal for both in the post-Hamilton reality. The Hurricanes are hoping the way they played isn't. Hamilton's absence alone doesn't excuse a dismal performance against a Western Conference bottom-feeder after Sebastian Aho staked the Hurricanes to the lead in the first four minutes.

"That's a huge part of our team missing," Hurricanes coach Rod Brind'Amour said. "But we have a lot of guys in there. I don't think we were sharp. That was clearly evident."

The Hurricanes were in the market for a top-four capable defenseman before Hamilton went down, but that quest was upgraded from "if possible" to "by all means necessary." Unfortunately for them, everyone else in the NHL knows it. Whatever the prices they saw before were, they just went up. Fortunately, they have the salary-cap space to do it, and maybe even add a veteran depth guy as well. Ideally sooner rather than later.
Filed in: NHL Teams, Carolina Hurricanes, | KK Hockey | Permalink

by Paul on 01/18/20 at 12:52 AM ET
Comments (0)
THREE HARD LAPS
* Andrei Vasilevskiy recorded his second double-digit win streak in as many seasons to join elite NHL company and help the Lightning (29-15-4, 62 points) strengthen their grip on second place in the Atlantic Division standings.
* Sidney Crosby scored the overtime winner and is averaging two points per game since returning the Pittsburgh lineup earlier this week.
* Sam Steel also tallied an overtime goal, with the Ducks and Penguins continuing the trend that 60 minutes is not enough in the NHL.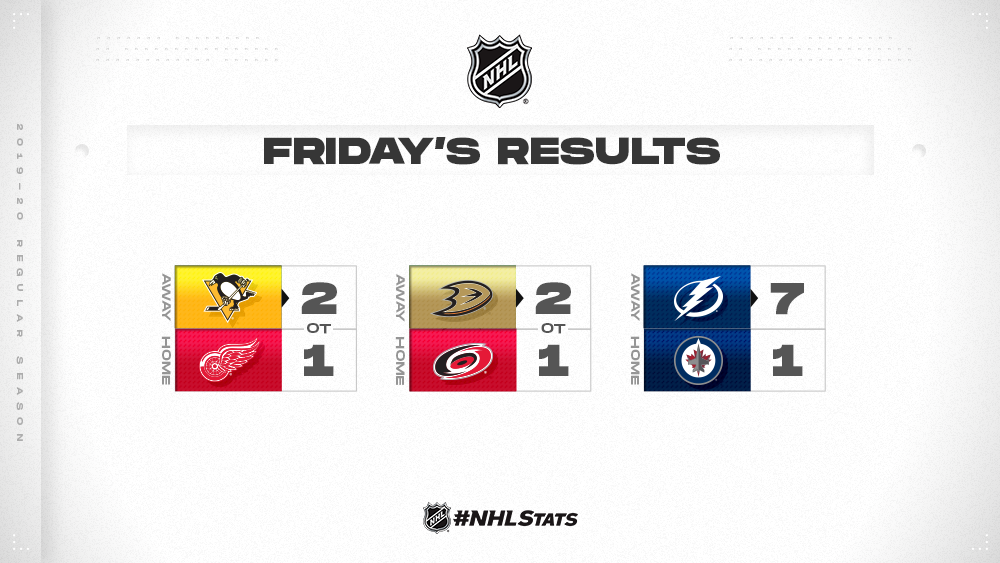 Filed in: | KK Hockey | Permalink

by Paul on 01/17/20 at 05:17 PM ET
Comments (1)
RALEIGH, NC - Don Waddell, President and General Manager of the National Hockey League's Carolina Hurricanes, today announced that Hurricanes defenseman Dougie Hamilton today underwent successful surgery to repair a fractured fibula in his left leg. The procedure was performed by Dr. Kevin Logel at Raleigh Orthopaedic, and Hamilton is out indefinitely.
Below watch how the injury occurred.
Filed in: NHL Teams, Carolina Hurricanes, | KK Hockey | Permalink
Tags: dougie+hamilton
by Paul on 01/17/20 at 04:51 PM ET
Comments (0)
from Eric Duhatschek of The Athletic,
All the bye weeks are scheduled around the 2020 All-Star break – which takes place Jan. 24-25 in St. Louis.

Seventeen teams will have their bye weeks going into the All-Star weekend and 14 teams will have their bye weeks coming out of it.

Tampa and Anaheim play their final games before the break this Friday (Jan. 17). Most teams have either seven or eight days off. Colorado has the longest stretch without games....

According to Edmonton Oilers general manager Ken Holland, it took the league time to get the bye-week scheduling correct, but he believes the new, revised schedule is "perfect" – because it maximizes the benefits to players and staff, but minimizes the disruption to the NHL regular season schedule.

"It's trial and error," said Holland. "When we went into those first manager meetings (to discuss how to implement bye weeks), I looked at those Olympic years, when everybody had 10 or 11 days off, and everyone seemed to enjoy a 10-day mid-winter vacation. If you were in the Olympics, you loved being part of the tournament. If you didn't play, you loved taking a break. But everyone was on a level playing field.

"To the credit of the schedule maker and the people at the league, they came up with this idea of, half the league shuts down pre-All Star and half the league shuts down after. So, you continue to have games – because it's important to have the league on TV on an every-night basis."
much more (paid) on this topic plus other, in-depth topics, take some time and read them all...
Filed in: NHL Teams, NHL Talk, | KK Hockey | Permalink

by Paul on 01/17/20 at 04:11 PM ET
Comments (4)
Watch the play below.
Filed in: | KK Hockey | Permalink
Tags: ryan+lindgren
by Paul on 01/17/20 at 02:35 PM ET
Comments (0)
NEW YORK (January 17, 2020) -- Nashville Predators forward Viktor Arvidsson has been fined $2,000 as supplementary discipline under NHL Rule 64 (Diving/Embellishment), the National Hockey League announced today.
Arvidsson was issued a Warning following an incident flagged by NHL Hockey Operations during NHL Game No. 586 against the Pittsburgh Penguins on Dec. 27. His second Citation, which triggered the $2,000 fine, was issued for an incident at 0:14 of the first period during NHL Game No. 671 against the Boston Bruins on Jan. 7. Arvidsson (embellishment) and Bruins forward Brad Marchand (cross-checking) received coincidental minor penalties on the play.
I believe the incident is in the video below.
Filed in: NHL Teams, Nashville Predators, | KK Hockey | Permalink
Tags: viktor+arvidsson
by Paul on 01/17/20 at 02:16 PM ET
Comments (0)
from Frank Seravalli of TSN,
Welcome back for another edition of the Friday Five, where we point out quirks, quips and questions that pop up throughout the week in the NHL season.

Should NHL veterans be given an All-Star waiver?

The NHL has a little bit of an attendance problem when it comes to All-Star weekend. opted for rest and bailed for a second year in a row. This time, goaltender and joined him.

NHL deputy commissioner Bill Daly admitted in a recent podcast with colleague Pierre LeBrun that their absences are "concerning."

So that got us thinking: Should the NHL have some sort of length of service waiver? For example: Ovechkin has attended seven previous All-Star weekends. How many should he have to attend before he is free and clear to take off without penalty?

It doesn't make sense to continue to penalize fans – let alone impact the competitiveness of a regular-season game – to have a star like Ovechkin sit out for one game before or after the All-Star break just because he'd like to rest when he's been a mostly faithful servant.

Before 2019, Ovechkin only missed twice in his career, once for injury (2016) and once because he was suspended (2012).

The idea of a waiver is at least up for consideration.

"I don't know what we will do yet, if anything," Daly said via email Friday. "No need to rush any decisions. We have time."
more plus 4 other topics...
Filed in: NHL Teams, NHL Talk, | KK Hockey | Permalink

by Paul on 01/17/20 at 01:03 PM ET
Comments (1)
Portland, Ore. / New York (January 17, 2020) — adidas, the NHL® and the Los Angeles Kings® today introduced the special-edition ADIZERO Authentic Pro NHL® jersey specifically designed for the 2020 Navy Federal Credit Union NHL Stadium Series™ outdoor game. adidas journeys ahead of time with a sleek, futuristic design, which pulls inspiration from the Air Force Academy's angular architecture and aircraft.
Filed in: NHL Teams, Los Angeles Kings, | KK Hockey | Permalink

by Paul on 01/17/20 at 12:09 PM ET
Comments (0)
Sportsnet style.
Filed in: NHL Teams, | KK Hockey | Permalink

by Paul on 01/17/20 at 09:11 AM ET
Comments (1)
from Terry Jones of the Edmonton Sun,
When it comes to the trade deadline, Ken Holland has a philosophy.

"When your team plays at a high level to put themselves in a position to get into the playoffs, as the general manager I want to help out.

"I like to make a move that sends a message to your team, a message that says 'You guys have played great to get us to this point, I'm going to try to help out.' "

In a one-on-one interview with your correspondent Thursday, Holland revealed his intent to be a player at the trade deadline if his hockey club keeps itself in position to warrant it.

Having taken over the job as Edmonton Oilers GM with the team in salary cap jail, all Holland could do was sign a bunch of low dollar one-year deals with veteran European and North American players, hoping a few of them would help build a bridge to next year.
Filed in: NHL Teams, Edmonton Oilers, | KK Hockey | Permalink

« Previous < 1 2 3 4 > Last › Next »
About Kukla's Korner Hockey
Paul Kukla founded Kukla's Korner in 2005 and the site has since become the must-read site on the 'net for all the latest happenings around the NHL.
From breaking news to in-depth stories around the league, KK Hockey is updated with fresh stories all day long and will bring you the latest news as quickly as possible.
Email Paul anytime at pk@kuklaskorner.com
Tweets by @kuklaskorner
Most Recent Blog Posts