Kukla's Korner Hockey
by Paul on 01/22/18 at 10:03 AM ET
Comments (0)
Just over 4 minutes long all in slow motion.
Filed in: NHL Teams, | KK Hockey | Permalink

by Paul on 01/22/18 at 09:39 AM ET
Comments (1)
NHL teams have played between 45-49 games this season and the playoff races are tight.
Below I have listed the playoff race including wild card teams that have a chance.
What do you think, any changes by the end of the regular season?
Note, some teams are not listed below, to see the full picture, visit the NHL standings at NHL.com.
Filed in: NHL Teams, | KK Hockey | Permalink

by Paul on 01/22/18 at 07:03 AM ET
Comments (0)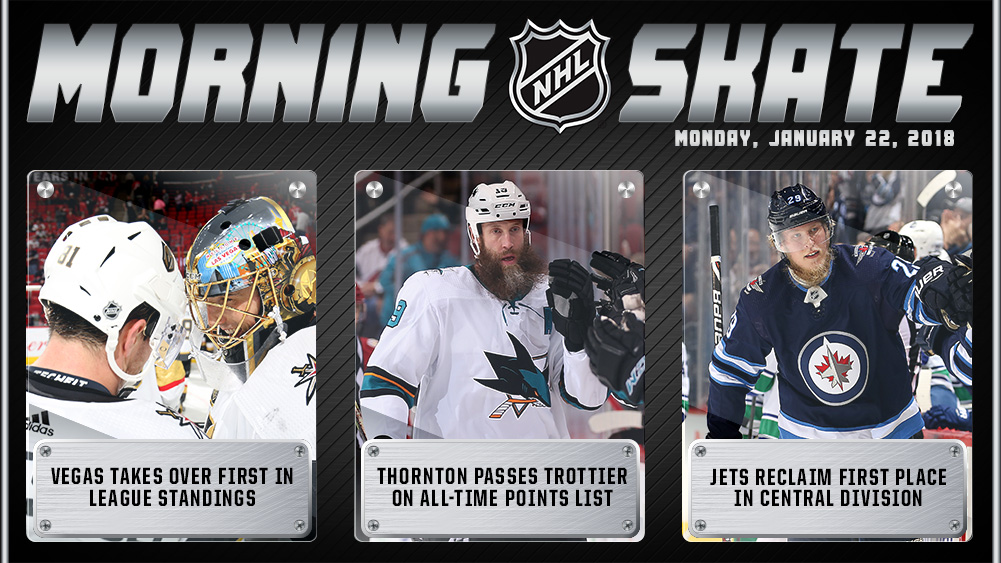 SUNDAY'S RESULTS
Home Team in Caps
Philadelphia 2, WASHINGTON 1 (OT)
Vegas 5, CAROLINA 1
WINNIPEG 1, Vancouver 0
San Jose 6, ANAHEIM 2
LOS ANGELES 4, NY Rangers 2
Filed in: NHL Teams, | KK Hockey | Permalink

by Paul on 01/21/18 at 04:45 PM ET
Comments (0)
from Bruce Garrioch of the Ottawa Sun,
Dealing Karlsson at this juncture doesn't make sense and there's a slim-to-none chance it's going to happen in February.

League executives told Postmedia they believe the only untouchables on the club's roster with the deadline looming for Dorion are alternate captain Mark Stone, Karlsson and possibly rookie blueliner Thomas Chabot.

Scheduled to become an unrestricted free agent on July 1, 2019, Dorion can hold talks with Karlsson this summer to see what the defenceman's salary demands are and where he envisions his future.

The Senators can offer him an eight-year extension while any team that signs him as a UFA can offer a seven-year term. Karlsson said Saturday night he wants to stay in Ottawa.

With a cap hit of $6.5 million through 2018-19, the belief is Karlsson's camp will be looking for a long-term deal in the $10-to-$12 million range It will then be up to the organization to decide if it wants to make that kind of commitment.
Filed in: NHL Teams, Ottawa Senators, | KK Hockey | Permalink
Tags: erik+karlsson
by Paul on 01/21/18 at 12:37 PM ET
Comments (0)
via a release from the Edmonton Oilers,
The Edmonton Oilers have hired former Oiler and Hockey Hall of Fame inductee Paul Coffey as a Skills Development Coach.
Coffey, who played over 21 seasons in the National Hockey League, appeared in 1409 regular season games, posting 1531 points (396G, 1135A), winning four Stanley Cups, including three with the Oilers.
The native of Weston, ON, ranks second all-time among NHL defencemen in career goals, assists and points. The 56 year-old won the Norris Trophy as the NHL's best defenceman three times, and was voted to eight All-Star Teams.
Coffey was one of seven Oilers alumni named as one of the 100 Greatest NHL Players in history, as part of the NHL Centennial celebrations in 2016-17.
He also represented Canada internationally five times, winning three Canada Cups (1984, 1987, 1991) while playing in one World Cup (1996) and one World Hockey Championship (1990).
Paul Coffey was inducted into the Hockey Hall of Fame in 2004.
Filed in: NHL Teams, Edmonton Oilers, | KK Hockey | Permalink
Tags: paul+coffey
by Paul on 01/21/18 at 11:43 AM ET
Comments (2)
Filed in: | KK Hockey | Permalink
Tags: jim+johannson
by Paul on 01/21/18 at 10:15 AM ET
Comments (2)
Carey Price..
Or Pekka Rinne?
Filed in: NHL Teams, Montreal Canadiens, Nashville Predators, | KK Hockey | Permalink

by Paul on 01/21/18 at 09:55 AM ET
Comments (5)
from Paul Roumeliotis of NBCChicago,
Probably not the way the Blackhawks wanted to start their second half of the season.

After a five-day break, the Blackhawks suffered a brutal 7-3 loss to the New York Islanders on Saturday night at the United Center. This coming after a 4-0 loss to the Detroit Red Wings on home ice last Sunday.

"It was a game we had to win," Quenneville said after Saturday's loss. "Disappointing in a lot of ways."

The Blackhawks needed both goaltenders to get through 60 minutes. Anton Forsberg and Jeff Glass combined for 39 saves on 46 shots.
Game highlights are below...
Filed in: NHL Teams, Chicago Blackhawks, New York Islanders, | KK Hockey | Permalink

by Paul on 01/21/18 at 09:48 AM ET
Comments (0)
via the San Jose Sharks,
15-year-old Make-a-Wish recipient Hayden Bradley joins the Sharks and takes the opening ceremonial faceoff against Sidney Crosby.
Filed in: NHL Teams, San Jose Sharks, | KK Hockey | Permalink
Tags: hayden+bradley
by Paul on 01/21/18 at 09:40 AM ET
Comments (0)
from Joe Smith of the Tampa Bay Times,
It didn't take the sound of a door slamming in the dressing room Saturday night to sense this Lightning team is frustrated.

Tampa Bay felt like it worked hard – at least, harder than Thursday's listless loss to Vegas – yet dropped another game. That makes five losses in the last seven. More telling, the team has lost its swag.

"We're out of sync," coach Jon Cooper put it. "The guys didn't forget how to play hockey in the last week and a half."

But they forgot how to play the right way.

Gone is that "mojo" Nikita Kucherov often talked about the Lightning having in the first half of the season, when it appeared to be running away with the Eastern Conference. Now Tampa Bay's division lead has shrunk to three points thanks to a surging Boston team that just might be the class of the conference right now.

It's not time to hit the panic button, but it's getting closer.

Here are some takeaways from Saturday's 5-2 loss in Minnesota:
Catch the game highlights below...
Filed in: NHL Teams, Minnesota Wild, Tampa Bay Lightning, | KK Hockey | Permalink

« Previous < 1 2 3 4 > Last › Next »
About Kukla's Korner Hockey
Paul Kukla founded Kukla's Korner in 2005 and the site has since become the must-read site on the 'net for all the latest happenings around the NHL.
From breaking news to in-depth stories around the league, KK Hockey is updated with fresh stories all day long and will bring you the latest news as quickly as possible.
Email Paul anytime at pk@kuklaskorner.com
Recommended Sportsbook
MyBookie.ag
Tweets by @kuklaskorner
Most Recent Blog Posts