Kukla's Korner Hockey
by Paul on 12/13/18 at 08:17 AM ET
Comments (0)
NASHVILLE, Tenn. — Five American hockey legends including Gordon "Red" Berenson, Natalie Darwitz, the late Leland "Hago" Harrington, David Poile and Paul Stewart were formally enshrined into the United States Hockey Hall of Fame this evening during a sold-out induction ceremony at the JW Marriott Nashville.
In addition to the induction of the Class of 2018, the late Jim Johannson was awarded the Lester Patrick Trophy, presented for outstanding service to hockey in the U.S.
"Our sport is flourishing thanks to the extraordinary contributions of those we honored tonight," said Jim Smith, president of USA Hockey. "Their impact on the game is immeasurable and will be felt for generations to come."
For full background on the storied careers of each inductee, please click here.
Filed in: NHL Talk, Non-NHL Hockey, | KK Hockey | Permalink

by Paul on 12/13/18 at 08:12 AM ET
Comments (0)
WEDNESDAY'S RESULTS
Home Team in Caps
Vegas 3, NY ISLANDERS 2
CHICAGO 6, Pittsburgh 3
CALGARY 6, Philadelphia 5 (OT)
ANAHEIM 6, Dallas 3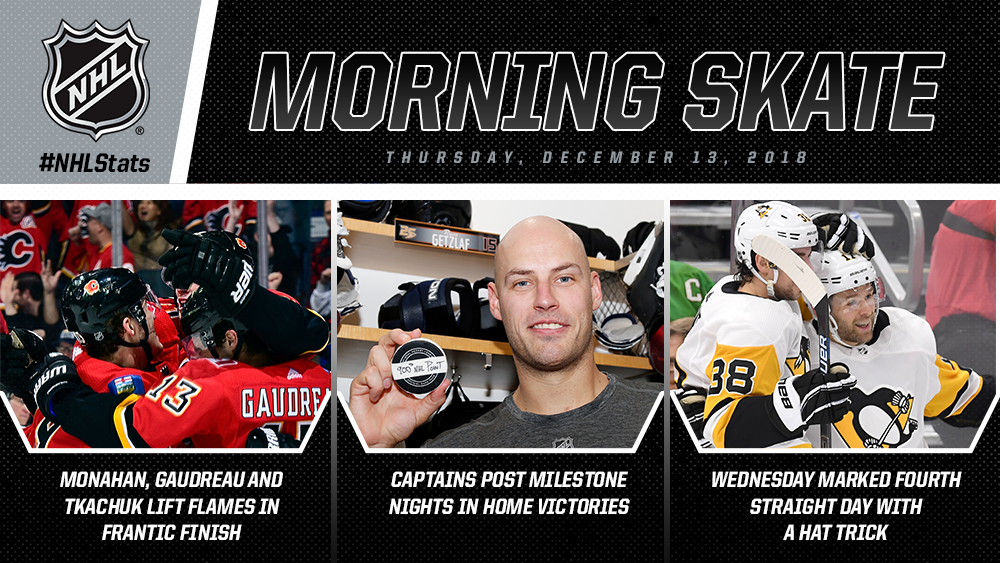 Filed in: NHL Teams, | KK Hockey | Permalink

by Paul on 12/12/18 at 08:20 PM ET
Comments (0)
via NBC Sports,
How active will 'Hawks, Blues be in trade market?

The Chicago Blackhawks and St. Louis Blues are off to disappointing starts, and could be sellers in the trade market.
Leafs and Flyers mentioned too.
Filed in: NHL Teams, Chicago Blackhawks, St. Louis Blues, | KK Hockey | Permalink

by Paul on 12/12/18 at 05:30 PM ET
Comments (0)
from Joshua Clipperton of the CP at the National Post,
With scoring up across the NHL, a group of elite defenceman are the owners of some impressive stat lines. No blue-liner has averaged a point a game in a season since Erik Karlsson in 2015-16, but Washington's John Carlson, Toronto's Morgan Rielly, Ottawa's Thomas Chabot and Calgary's Mark Giordano all currently sit at or above the threshold. The last time more than one defenceman averaged a point a game or better in a season was in 1995-96 when Brian Leetch, Sergei Zubov and Ray Bourque accomplished the feat. Karlsson, Nicklas Lidstrom (2005-06) and Mike Green (2008-09 and 2009-10) are the only other blue-liners to reach the mark since in a full season.
more topics....
Filed in: NHL Teams, | KK Hockey | Permalink

by Paul on 12/12/18 at 03:59 PM ET
Comments (2)
Make sure to read the other tweets regarding this topic.
Filed in: NHL Teams, Carolina Hurricanes, | KK Hockey | Permalink
Tags: tom+dundon
by Paul on 12/12/18 at 02:02 PM ET
Comments (1)
from Craig Button of TSN,
New Year's Eve at the World Juniors is set to feature a clash of the top two prospects on the December edition of Craig's List ahead of the 2019 NHL Draft.

Team USA and Jack Hughes will face Finland and Kaapo Kakko in Victoria that night, with the two talented forwards sure to be in the spotlight.

Hughes has continued his torrid pace for the U.S. National Development U18 Team this season, racking up 48 points (10 goals, 38 assists) in 25 games. He has been firmly entrenched atop these rankings since September and shows no signs of going anywhere but first overall next June in Vancouver.

Kakko, a winger, has impressed playing against men as a 17-year-old for TPS of the Finnish Liiga. Our No. 2 prospect has 17 points (seven goals, 10 assists) in 25 games this season.

Russian right wing Vasili Podkolzin has jumped three spots from our October ranking to land at No. 3 this month. Podkolzin, who is currently playing for his national team at the World Junior A Challenge in Bonnyville, Alta., is a complete player who can excel in all situations. His style of play and approach to the game reminds me of Pavel Datsyuk.

Two Western Hockey League forwards round out the top five. Lethbridge Hurricanes centre Dylan Cozens (16 goals, 25 assists in 30 games) and Saskatoon Blades centre Kirby Dach (14 goals, 28 assists in 33 games) both have the skating and skill necessary to thrive in today's NHL. There isn't a team in the league that doesn't covet their combination of size and talent.
continued with a Top 62 list...
Filed in: Non-NHL Hockey, | KK Hockey | Permalink

by Paul on 12/12/18 at 01:24 PM ET
Comments (0)
from NHL.com,
NHL Commissioner Gary Bettman was inducted into the Sports Broadcasting Hall of Fame on Tuesday to celebrate his more than a quarter-century of raising the game's profile on television and for the pioneering work the League has done under his leadership.

"This (honor) is a testament to progress and innovations our game has made and on my 26-year journey with and through the broadcast industry -- it is really about the people I've met along the way," Commissioner Bettman said in his induction speech.

Commissioner Bettman pointed to the 10-year broadcasting and media rights deal the NHL signed with NBC on April 19, 2011 as a big step for the League.
Filed in: NHL Talk, | KK Hockey | Permalink
Tags: gary+bettman
by Paul on 12/12/18 at 01:02 PM ET
Comments (0)
The Blackhawks' intention entering the campaign was never for this to be a lost season or a consecutive campaign outside the playoff picture. Results over the past month, though, have left Chicago in a position where that will almost certainly be their fate. Is there a way to save the season? Maybe, but it's likely a season that's beyond the point of no return. And that's OK, so long as the Blackhawks keep their sights set on ensuring this lost season sets them up for a better future.
-Jared Clinton of The Hockey News where you can read more on the Blackhawks.
Filed in: NHL Teams, Chicago Blackhawks, | KK Hockey | Permalink

by Paul on 12/12/18 at 12:27 PM ET
Comments (0)
from Elliotte Friedman of Sportsnet,
- The Flyers have made it clear they are looking for a goalie, but aren't the first team to survey the market and not be thrilled with the options. Anaheim, looking to replace the injured Ryan Miller, claimed Chad Johnson on waivers and traded for Jeff Glass from AHL Toronto. Detroit's made it clear it wants at least a first-round pick for Jimmy Howard. Craig Anderson's carried a huge load for Ottawa, facing a ton of rubber without much rest. At least one team indicated it was concerned about acquiring him for that reason. Not convinced Montreal is willing to move Charlie Lindgren. As both Chicago and Los Angeles look to the future, and Cal Petersen (in particular) shows potential, could they be tempted to discuss Corey Crawford and Jonathan Quick?...

- Ken Hitchcock said after Tuesday's 6–4 win over Colorado that Oscar Klefbom will be out weeks after an injury suffered during that game. That's brutal for a player who arguably was winning the unofficial Comeback Player of the Year Award, a horse on that blue line. There have been 14 30-minute games so far this season. Klefbom has three of them, more than anyone else. (Drew Doughty and Hampus Lindholm were next with two each.) In his absence, Darnell Nurse played 30:44 — fourth-most single-game TOI in the NHL in 2018–19. So it looks like a huge opportunity for him. (Most TOI in a single game this season is Jeff Petry, 33:51 on Nov. 19 vs. Washington.)
more Thoughts...
Filed in: NHL Teams, | KK Hockey | Permalink

by Paul on 12/12/18 at 11:02 AM ET
Comments (0)
NEW YORK, December 12, 2018 – New York Rangers General Manager Jeff Gorton announced today that defenseman Kevin Shattenkirk will be sidelined for two-to-four weeks with a shoulder separation suffered on Monday, Dec. 10 against Tampa Bay.
Filed in: NHL Teams, New York Rangers, | KK Hockey | Permalink
Tags: kevin+shattenkirk
About Kukla's Korner Hockey
Paul Kukla founded Kukla's Korner in 2005 and the site has since become the must-read site on the 'net for all the latest happenings around the NHL.
From breaking news to in-depth stories around the league, KK Hockey is updated with fresh stories all day long and will bring you the latest news as quickly as possible.
Email Paul anytime at pk@kuklaskorner.com
Tweets by @kuklaskorner
Recent Blog Posts (Page 2)