Kukla's Korner Hockey
by Paul on 11/16/19 at 06:41 PM ET
Comments (0)
from Steve Simmons of the Toronto Sun,
- John Chayka got a contract extension in Arizona. Imagine the kind of deal he'll get if the Coyotes ever make the playoffs or win a post-season round?

- Watching Connor McDavid grow into himself is a rather spectacular delight to witness. He plays hockey at a speed we've never seen before, a style all his own.

But that, by itself, is really nothing new.

This is what you get from the best centres who have ever played. They are brilliant but different. Different in size and shape and what they bring to the sport....
more, including Don Cherry and HHOF talk...
Filed in: NHL Teams, | KK Hockey | Permalink

by Paul on 11/16/19 at 11:11 AM ET
Comments (0)
The Columbus Blue Jackets get to watch.
Hockey starts at 2pm ET and ends around 1am on Sunday with a food break around 6:30pm.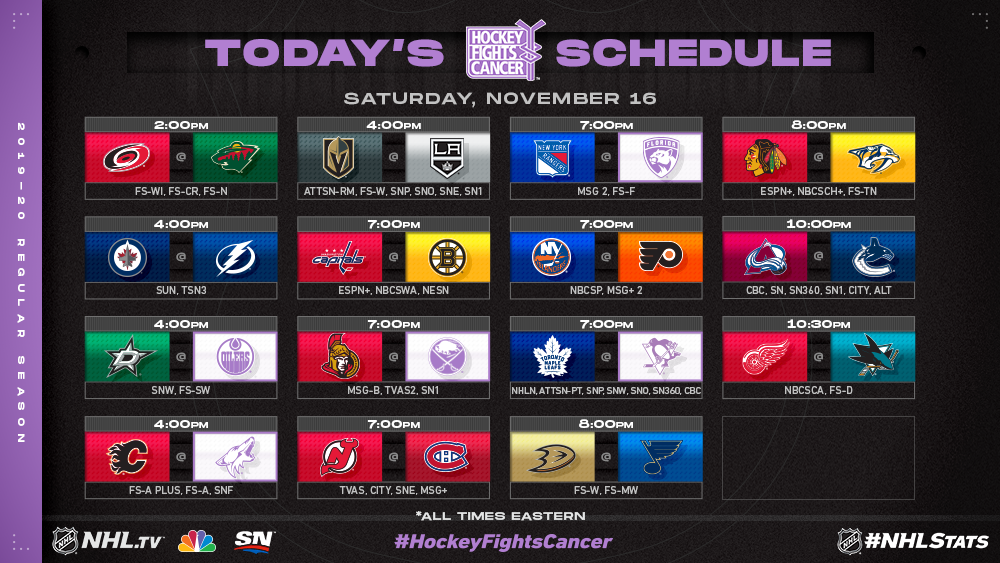 Filed in: NHL Teams, | KK Hockey | Permalink

by Paul on 11/16/19 at 10:02 AM ET
Comments (1)
from Mike Zeisberger of NHL.com,
Jim Hughson crouched in front of Foster Hewitt's plaque at the Hockey Hall of Fame earlier this month and asked a question many of his peers have pondered for decades.

How did Hewitt, the man who pioneered hockey play-by-play, come up with the famous phrase, 'He shoots, he scores?' It's a phrase Hughson, the lead announcer on 'Hockey Night in Canada' uses to this day.

Hewitt became a groundbreaker in hockey broadcasting when he called his first game on the radio in 1923. He would become the voice of the sport for the next half century, primarily on Toronto Maple Leafs games.

"I always wish I'd been at that rink with him the day that he did that first broadcast," Hughson said of Hewitt, who died in 1985. "Because I wonder if he was thinking beforehand: 'What am I going to say when the puck goes into the net?'

"How did he come up with that? Did he talk to his family and say, 'Should it be, He shoots, he scores? Or should it be, A shot and a goal?'

"I would have loved to have that conversation with him."

Hughson will never have that opportunity, yet he still pays homage to the broadcasting great every Saturday night during the NHL season by using those same four words.

It's yet another reason why Hughson is so deeply honored to be the recipient of the 2019 Foster Hewitt Memorial Award, presented by the Hockey Hall of Fame to members of the radio and television industry who make outstanding contributions to their profession and the game of hockey during their broadcasting career.
Filed in: NHL Media, Hockey Broadcasting, | KK Hockey | Permalink
Tags: jim+hughson
by Paul on 11/16/19 at 09:14 AM ET
Comments (0)
from Iain MacIntyre of Sportsnet,
Quinn Hughes is special.

Not special in a "you're-special-I'm-special-everyone's-special" kind of way. He is literally unique in Vancouver Canucks history. At least we think so.

The Canucks are celebrating their 50th year in the National Hockey League and Hughes, a 20-year rookie, is the first young defenceman the franchise has possessed who has the speed, agility, instincts and sheer talent to be a game-changer on the blue line. He is also five-foot-10.

In five decades, the franchise has had a bunch of excellent defencemen, but none with the speed and dynamic skill set that Hughes is still developing. He is an early Calder Trophy candidate, perhaps the biggest challenger to Colorado Avalanche rookie defenceman Cale Makar....

So Quinn Hughes is special. But don't just take our word for it. Listen to some of the Canucks' top defencemen from the last five decades.

"He really controls the game when he's moving," Ed Jovanoski (1999-2006 Canucks) says. "That's always a sign of a special player, when you can control the game with your legs and hockey IQ. It's almost, as Hughes is going, the team's going."
Filed in: | KK Hockey | Permalink
Tags: quinn+hughes
by Paul on 11/16/19 at 08:38 AM ET
Comments (0)
from Cathal Kelly of the Globe and Mail,
Hockey's organizing bodies tried pushing and pulling at the same time. They liked Cherry and all he'd done for the game, and were also against everything he stands for.

They put out official statements of such towering banality they ought be gathered together in a book and used to cure insomnia.

Hockey "brings our country together," Hockey Canada said.

"It unites us, not divides us," Rogers Sportsnet said.

"Hockey is at its best when it brings people together," the NHL said.

Did you feel brought together this week? Neither did I.

When that didn't work, people tried going the other way. A host on a CTV daytime show had some undercooked thoughts about the sort of people who play hockey – "white boys," "often bullies," rich. Those didn't go over so well.

In many other countries, a chanting mob would've burned down the studio. In Canada, thousands of people got the pleasure of saying to themselves, "Well, that is not very nice."
Filed in: Hockey Related Stories, | KK Hockey | Permalink

by Paul on 11/16/19 at 08:05 AM ET
Comments (0)
THREE HARD LAPS
* Brad Marchand lifted the Bruins in the annual Hockey Hall of Fame Game and became the first player in NHL history to score in the opening 15 seconds of a period on seven occasions.
* Tomas Tatar posted a career night, while Carey Price became the first goaltender to 10 wins this season as the Canadiens snapped the Capitals' 13-game point streak.
* Thirty of 31 teams will be in action Saturday for the first of two 15-game slates in 2019-20. The other will take place on the final day of the regular season (April 4, 2020).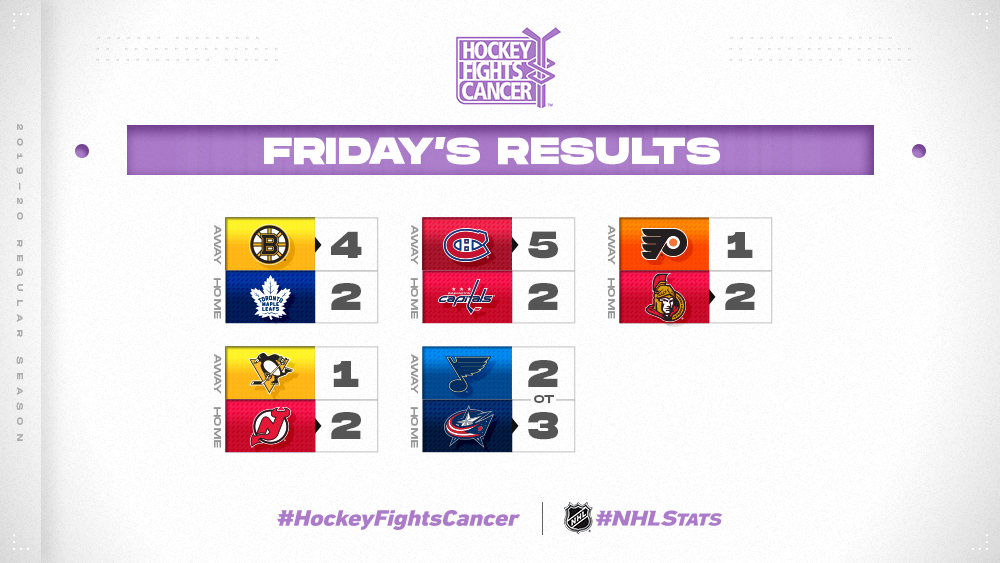 Filed in: NHL Teams, | KK Hockey | Permalink

by Paul on 11/15/19 at 08:31 PM ET
Comments (2)
Game was 0-0 at the time of the hit. Then boom, Montreal up 3-0.
Isn't it supposed to work the other way?
Filed in: NHL Teams, Montreal Canadiens, Washington Capitals, | KK Hockey | Permalink
Tags: alex+ovechkin, jonathan+drouin
by Paul on 11/15/19 at 07:23 PM ET
Comments (0)
Filed in: NHL Teams, Detroit Red Wings, | KK Hockey | Permalink
Tags: jimmy+devellano
by Paul on 11/15/19 at 02:49 PM ET
Comments (1)
Filed in: NHL Media, Hockey Broadcasting, d, | KK Hockey | Permalink

by Paul on 11/15/19 at 12:39 PM ET
Comments (1)
from the CP at Sportsnet,
A charge of disorderly conduct and disruptive behaviour against Toronto Maple Leafs centre Auston Matthews has been dismissed in his hometown of Scottsdale, Ariz.

Court records show the charge was dropped on Wednesday.

A spokesperson for the City of Scottsdale confirmed the parties reached a settlement.

"I just want to reiterate again just how sorry I am for my actions, my behaviour," Matthews said Friday.
Filed in: NHL Teams, Toronto Maple Leafs, | KK Hockey | Permalink
Tags: auston+matthews
About Kukla's Korner Hockey
Paul Kukla founded Kukla's Korner in 2005 and the site has since become the must-read site on the 'net for all the latest happenings around the NHL.
From breaking news to in-depth stories around the league, KK Hockey is updated with fresh stories all day long and will bring you the latest news as quickly as possible.
Email Paul anytime at pk@kuklaskorner.com
Tweets by @kuklaskorner
Recent Blog Posts (Page 2)