Kukla's Korner Hockey
by Paul on 01/19/20 at 09:35 PM ET
Comments (0)
Video below.
Filed in: NHL Teams, Chicago Blackhawks, | KK Hockey | Permalink
Tags: patrick+kane
by Paul on 01/19/20 at 10:42 AM ET
Comments (0)
from Iain MacIntyre of Sportsnet,
It has been a jaw-dropping news week in British Columbia.

Harry (the Royal formerly known as Prince) could move to the West Coast with his wife, rare snowfall ended rain's winning streak, the Vancouver Canucks moved atop the Pacific Division, and the Supreme Court ruled the provincial government can't restrict what flows here by pipeline from Alberta.

Shocking but true: the Canucks lead the Pacific Division heading into their National Hockey League bye week. The Canucks! And it's not fake news.

The Canucks, who have lost more games over the last four years than anyone other than the Buffalo Sabres, beat the San Jose Sharks 4-1 Saturday to move alone atop the tightest division in hockey.

Actually, they didn't just beat the Sharks but dominated them.

Shots were 27-7 after 40 minutes.
Catch the game highlights below.
Filed in: | KK Hockey | Permalink

by Paul on 01/19/20 at 10:34 AM ET
Comments (0)
from Jason Simmons of the Journal Pioneer,
Gerard (Turk) Gallant admits he never saw the Vegas Golden Knights' coaching change coming...

"I was quite surprised actually when it happened," Gallant told the Journal Pioneer on Saturday night. "You don't see something coming like that when you have 2 ½ years in.

"I was disappointed and surprised, but I understand the hockey business and things have to change sometimes. They made a tough decision and I'm sure it was tough on them, but that's the way hockey is."...

"I'm far from done," said Gallant, 56. "I enjoy coaching.

"If an opportunity comes up I will definitely look at it – myself and Mike. Mike is a big part of what I do too and sometimes people forget about the assistant coaches.
Filed in: NHL Talk, | KK Hockey | Permalink
Tags: gerard+gallant, vegas+golden+knights
by Paul on 01/19/20 at 10:28 AM ET
Comments (0)
from Ryan Dixon of Sportsnet,
Dan Hamhuis is seated on the baseline of a slightly busted semi-circle. The 16-year NHLer is one of seven Nashville Predators defencemen participating in a group chat about all aspects of the position they play. It's early December, post-practice, and backwards hats, hoodies and athleisure rule the day. The sweaty jerseys and socks have been whisked away, equipment staff are busy toiling in other areas of the team facility and the dressing room has pretty much cleared out apart from the blue-liners when Hamhuis, speaking to the idea that defencemen belong to their own little tribe, suggests that if he walked into a room full of hockey players he didn't know, he'd eventually be able to sort out who else is part of the brotherhood without having to ask. "I think there's a personality thing," Hamhuis says. "I don't want to blanket it, but I think you kind of can." He opens it up to the room: "What do you guys think?"

Ryan Ellis, plunked on a chair facing Hamhuis, senses his opportunity. "It's like we're more win-oriented," he says, igniting a round of chuckles.

That's not exactly how Hamhuis was framing things, but you can see why the joke plays well. Whether it's a bunch of blueliners skating in today's green-light game or retired guys from more staid eras past, you don't have to probe very hard to discover a common pride. "You're not out to get goals and points as much as forwards," says Hamhuis. "We're more under-the-radar kind of guys, doing things that maybe don't get the glory."
Filed in: NHL Teams, Nashville Predators, | KK Hockey | Permalink

by Paul on 01/19/20 at 06:50 AM ET
Comments (2)
from Jeff Svoboda of BlueJackets.com,
The Blue Jackets ran their hot streak to 14-2-4 in the last 20 games with a 5-0 win against New Jersey on Saturday night in Nationwide Arena....

Quote of the Game

Head coach John Tortorella: "That score at the end of the second period could have been lopsided the other way. We had one guy play. As a team, we played the first six minutes and then we watched Elvis play for the rest of the first period and the rest of the second period. We played better in the third ... but don't kid ourselves on how this team played. We were not good, and Elvis deserves a tremendous amount of credit as far as finding our way tonight."

CBJ Notables

- Merzlikins was superb yet again, finishing with a career-high 41 saves -- including 21 in the first period -- on the way to his fourth straight win and eighth in 10 games.

- Atkinson continued to be on fire, notching his second and third goals in two games since returning from injury while adding an assist. He has eight goals in his last 10 games, 40 career game-winning goals and 16 games of at least three points in his CBJ tenure.

- Wennberg had a goal and an assist to extend his point streak to four games (3-2-5). He has a 3-6-9 line in his last 10 contests.
Filed in: NHL Teams, Columbus Blue Jackets, | KK Hockey | Permalink

by Paul on 01/19/20 at 06:28 AM ET
Comments (0)
Paul Stastny picking at his chicklets.
Filed in: NHL Teams, | KK Hockey | Permalink
Tags: paul+stastny, vegas+golden+knights
by Paul on 01/19/20 at 06:08 AM ET
Comments (3)
Watch the play below in two versions, one edited for langiage, the other one raw.
Filed in: NHL Teams, Dallas Stars, Minnesota Wild, | KK Hockey | Permalink
Tags: corey+perry
by Paul on 01/19/20 at 05:49 AM ET
Comments (1)
HREE HARD LAPS
* Alex Ovechkin scored his second hat trick in as many games to move ahead of Mario Lemieux (690) and into a tie with Steve Yzerman (692) for ninth place on the NHL's all-time goals list.
* Elvis Merzlikins became the seventh rookie goaltender in the NHL's modern era (since 1943-44) to register three shutouts in a span of four starts.
* Blackhawks forward Dominik Kubalik became the first rookie to 20 goals in 2019-20, while his 14 tallies since Dec. 1 trail only Toronto's Auston Matthews (18) among all players in that span.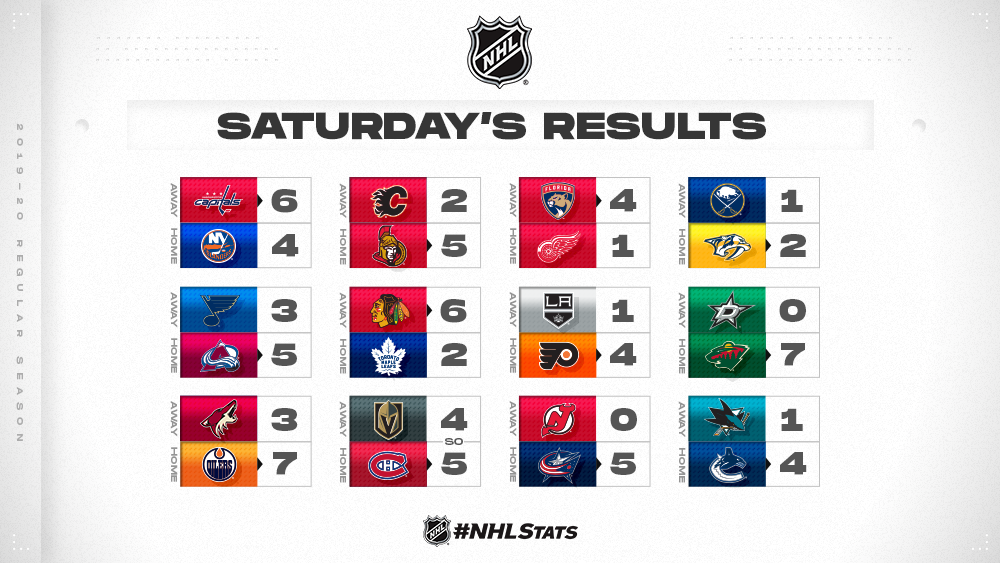 Filed in: NHL Teams, | KK Hockey | Permalink

by Paul on 01/18/20 at 11:40 PM ET
Comments (1)
Some good, flashback video cuts included.
via Sportsnet,
Brian Burke talks about the league stepping in to deal with the Tkachuk and Kassian feud and the process of hiring a coach with a remaining term.
Filed in: NHL Teams, | KK Hockey | Permalink

by Paul on 01/18/20 at 11:04 PM ET
Comments (0)
Filed in: NHL Teams, Columbus Blue Jackets, | KK Hockey | Permalink
Tags: elvis+merzlikins
About Kukla's Korner Hockey
Paul Kukla founded Kukla's Korner in 2005 and the site has since become the must-read site on the 'net for all the latest happenings around the NHL.
From breaking news to in-depth stories around the league, KK Hockey is updated with fresh stories all day long and will bring you the latest news as quickly as possible.
Email Paul anytime at pk@kuklaskorner.com
Tweets by @kuklaskorner
Recent Blog Posts (Page 2)