Kukla's Korner Hockey
by Paul on 12/10/19 at 05:29 PM ET
Comments (0)
via the NHL PR department,
December
12 U.S. Hockey Hall of Fame Induction (Inductees: Gary Bettman, Brian Gionta, Neal Henderson, Tim Thomas and Krissy Wendell) and Celebration of Lester Patrick (Recipient: Jack Blatherwick) (Washington, D.C.)
19 102nd anniversary of NHL's first games
19-27 Holiday roster freeze in effect: For all players on an NHL active roster, injured reserve, or with non-roster and injured non-roster status as of midnight (local time) Dec. 19, a roster freeze shall apply through midnight (local time) Dec. 27, with respect to waivers, trades and loans, subject to the exceptions provided for in CBA Article 16.5 (d).
24-26 Holiday break (no scheduled practices – dressing rooms closed)
26 – Jan. 5 IIHF World Junior Championship (Ostrava/Trinec, Czech Republic)
Filed in: NHL Teams, NHL Talk, | KK Hockey | Permalink

by Paul on 12/10/19 at 03:53 PM ET
Comments (0)
from Kevin Allen Of USA TODAY,
The Atlanta Thrashers moved to Winnipeg. The NHL introduced the Department of Player Safety.

Steve Yzerman returned to the Detroit Red Wings. John Tavares left the New York Islanders for the Toronto Maple Leafs. Mike Babcock received a $50 million coaching contract for the Leafs, then was fired in his fifth season. The NHL agreed to expand to 32 teams.

The NHL opted not to go to the 2018 Olympics after embracing the Winter Games since 1998. League revenues grew to almost $5 billion. The league locked out players in 2012-13, then both sides agreed last fall not to reopen the collective bargaining agreement early.

The NHL has had seven different Norris Trophy winners over the past seven seasons. Fighting has all but evaporated.

Clearly, plenty has happened in the NHL over the past decade. But here are 10 people, places and things that have altered the game in that time:
Filed in: NHL Teams, NHL Talk, | KK Hockey | Permalink

by Paul on 12/10/19 at 02:58 PM ET
Comments (4)
via Elliotte Friedman tweets,
World Cup for Feb 2021 is off...not enough time to get it done. Commissioner still wants one, but won't be then

Commissioner wouldn't be pinned down on a cap number -- said that will be negotiated with players (he's referring to their right to inflate the ceiling by up to 5 per cent). Current number is $81.5M, there is belief it could get to 84-85 depending on future conversations
added 3:02pm,
Filed in: NHL Talk, | KK Hockey | Permalink

by Paul on 12/10/19 at 11:30 AM ET
Comments (0)
he Edmonton Oilers are a name venerated in Alberta and are the biggest, most obsessively supported sports team in the city. Stanley Cup champions on five occasions but the last of those coming in 1990, there is a hunger within Edmonton to see their beloved team return to the pinnacle of the game.
Well, the fans may not have to wait too much longer. With a new state-of-the-art arena in place (Rogers Place to be exact) and a team with one of the best players in the league, the Oilers could be close to making a proper run for the Stanley Cup. There are still some question marks but let's assess why there is growing optimism that this team could be about to bring the good times back to Edmonton.
Filed in: | KK Hockey | Permalink

by Paul on 12/10/19 at 10:38 AM ET
Comments (10)
via the Dallas Stars,
Dallas Stars General Manager Jim Nill announced today that Jim Montgomery has been dismissed as the team's Head Coach. Effective immediately, Rick Bowness, who has served as Assistant Coach since June 22, 2018, will assume the role of Interim Head Coach for the team.
Additionally, Derek Laxdal, who was serving as the Head Coach of the Texas Stars, will be added to Bowness' staff as Assistant Coach. Neil Graham has been named Head Coach of the Texas Stars. He was serving as Texas' Assistant Coach.
Statement from Dallas Stars General Manager Jim Nill:
"The Dallas Stars expect all of our employees to act with integrity and exhibit professional behavior while working for and representing our organization. This decision was made due to unprofessional conduct inconsistent with the core values and beliefs of the Dallas Stars and the National Hockey League."
Filed in: NHL Teams, Dallas Stars, | KK Hockey | Permalink
Tags: jim+montgomery
by Paul on 12/10/19 at 08:18 AM ET
Comments (0)
THREE HARD LAPS

* Matthew Tkachuk eclipsed 200 career regular-season points and joined an elite list of U.S.-born players to reach the milestone before turning 22.

* The Islanders required the fewest games in their 47-year franchise history to reach the 20-win mark in a season.

* Jean-Gabriel Pageau, who is averaging 0.65 goals per game since the beginning of November, and Cam Atkinson, who has tallied at least 20 times in each of his last six seasons, continued to find their scoring touch.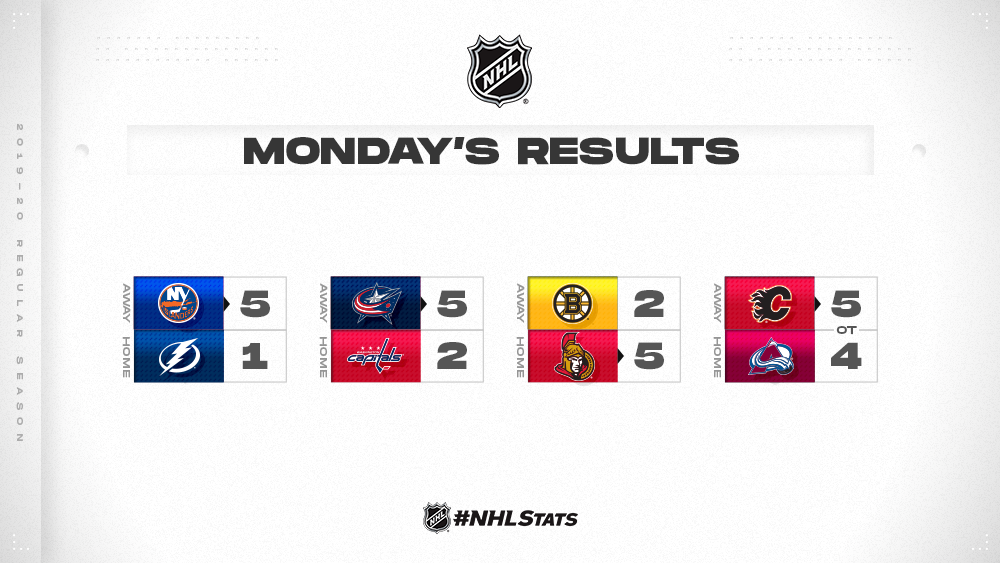 Filed in: NHL Teams, | KK Hockey | Permalink

by Paul on 12/09/19 at 08:51 PM ET
Comments (1)
via Frank Seravalli tweets,
Bettman: "The world is changing for the better. This is a moment for positive change."

commissioner Gary Bettman says "our message is unequivocal. We will not tolerate abuse of any kind."

Bettman says #NHL teams have been "put on notice. We don't like surprises." Says there will be "severe discipline" if either him or Bill Daly are not immediately notified immediately.

Bettman announces a new mandatory annual training program will be required for all head coaches, asst coaches, minor league coaches, GMs, assistant GMs on diversity and inclusion. It will be a program designed by an outside company.

Bettman says inappropriate conduct in the future will be disciplined by the team, league, or both.

Bettman says #NHL will be creating a "hotline" in which inappropriate conduct can be reported anonymously for players, teammates or #NHL team personnel. "I can guarantee we will take them seriously."
added 9:25pm, Gary Bettman statement below.
added 9:50pm, Video of Bettman speaking is below.
Filed in: NHL Teams, NHL Talk, | KK Hockey | Permalink

by Paul on 12/09/19 at 05:34 PM ET
Comments (0)
via Sportsnet's YouTube channel,
In this week's episode of Healthy Scratch, Danielle Michaud investigates the current conflicts in the NHL, interviews Hometown Hockey / Hockey Night in Canada host Ron MacLean, gives a stick tap to Laila Anderson's hero, and the 'Michplays of the Week'… all in just 9 minutes!
watch below...
Filed in: NHL Teams, NHL Talk, | KK Hockey | Permalink

by Paul on 12/09/19 at 02:05 PM ET
Comments (3)
NEW YORK (Dec. 9, 2019) – New York Rangers forward Brendan Lemieux has been fined $2,000.00 for elbowing Vegas Golden Knights forward Cody Glass during NHL Game No. 466 in Las Vegas on Sunday, Dec. 8, the National Hockey League's Department of Player Safety announced today.
The incident occurred at 16:40 of the second period.
Filed in: NHL Teams, New York Rangers, | KK Hockey | Permalink
Tags: brendan+lemieux
by Paul on 12/09/19 at 01:53 PM ET
Comments (0)
Sportsnet style, just over 4 minutes to watch.
Filed in: NHL Teams, | KK Hockey | Permalink

About Kukla's Korner Hockey
Paul Kukla founded Kukla's Korner in 2005 and the site has since become the must-read site on the 'net for all the latest happenings around the NHL.
From breaking news to in-depth stories around the league, KK Hockey is updated with fresh stories all day long and will bring you the latest news as quickly as possible.
Email Paul anytime at pk@kuklaskorner.com
Tweets by @kuklaskorner
Recent Blog Posts (Page 2)