Kukla's Korner Hockey
by Paul on 10/23/18 at 06:55 PM ET
Comments (0)
"We're good enough to win games; we are. Other people might want to let us off the hook because of the rebuild or the third period or whatever, but we are not allowing ourselves off the hook. We're here to win."
-Henrik Lundqvist of the New York Rangers. Larry Brooks of the New York Post has more.
Filed in: NHL Teams, New York Rangers, | KK Hockey | Permalink
Tags: henrik+lundqvist
by Paul on 10/23/18 at 06:30 PM ET
Comments (0)
With William Nylander still unsigned, contract talks are at a 'crucial juncture' as the two sides continue to negotiate both long-term and short-term options. The Leafs are optimistic a deal will get done and remain uninterested in trading their star winger. Jacob Trouba is also looking for a new big-money deal, could he potentially be dealt this year? The TSN Hockey Insiders discuss this and much more in Insider Trading.
View the discussion at TSN.
Filed in: NHL Teams, | KK Hockey | Permalink

by Paul on 10/23/18 at 04:56 PM ET
Comments (0)
"Everyone comes ready to play and has a gameplan to execute against us. We've just got to give each other more support and help each other out by working harder to get in those areas where you're available and can be open."

"Everybody comes to Toronto ready. t's kind of under the microscope, the hockey Mecca.

"I'm sure they're sick of hearing everything about the Leafs."
-Nazem Kadri of the Toronto Maple Leafs. Joshua Clipperton of the CP has more on the Leafs.
Filed in: NHL Teams, Toronto Maple Leafs, | KK Hockey | Permalink
Tags: nazem+kadri
by Paul on 10/23/18 at 10:53 AM ET
Comments (0)
from Sam Donnellon of Philly.com,
Stop me if you've heard this before. The Flyers are near the bottom in the NHL in penalty killing. They have a problem with slow starts to games. They have to "just clean up a few things'' to improve their ability to win those games.

On second thought, stop them. Someone. Stop them from living out the definition of insanity night after night, month after month, year after year, playing in the margins of mediocrity while claiming some sort of upward trek to the top.

"I'm not ducking it,'' Flyers coach Dave Hakstol said after a 4-1 loss Monday night to Colorado dropped his team to 4-5 this season. "We didn't have a great start there. We played a pretty good hockey game, when you look at the whole ball of wax here. But you have to get off to a better start to give yourself that opportunity. Especially to build that momentum in your own building. First thing we do is take a penalty and give up a [power-play] goal in our own building. … That puts you back on your heels.''
Filed in: NHL Teams, Philadelphia Flyers, | KK Hockey | Permalink

by Paul on 10/23/18 at 08:45 AM ET
Comments (0)
from EJ Smith of the Denver Post,
Before heading to New York last week to play the Rangers, the Avalanche players' message to one another was twofold.

They agreed they were a special team, and to prove it, they had to be better on the road.

After a 4-1 win against the Philadelphia Flyers on Monday night at the Wells Fargo Center, the Avalanche head home 3-0-1 on their first lengthy road trip this season and boast one of the NHL's most dominant lines....

"It's going to be important being better on the road," Landeskog said. "You have to be a dominant home team, but you have to be at least .500 on the road. It was a big road trip, and we talked about it before this trip. It's an exciting time to be a part of this team, and it's an exciting time to go on the road to start the season."...

Landeskog added to the line's dominant numbers in the third period, scoring on a breakaway for his eighth goal of the season. Rantanen capped things off with an empty-netter near the end of the third period. He and his linemates combined for 23 points (13 goals) on the trip.
Watch the game highlights below.
Filed in: NHL Teams, Colorado Avalanche, Philadelphia Flyers, | KK Hockey | Permalink

by Paul on 10/23/18 at 08:32 AM ET
Comments (0)
from Jim Thomas of the St. Louis Post-Dispatch,
After Saturday's 4-1 victory in Toronto, the Blues talked about finding their game. Re-discovering the hard-working, strong-checking, focused style of play. Blues hockey, that's what it was.

But what was found, is now lost. The Blues flew home late Monday only three points the richer from their six-day, three-city tour of Canada. A 5-4 defeat on Jacob Trouba's goal 2 minutes, 54 seconds into overtime left their record at 2-3-3 with a seven-game homestand awaiting at Enterprise Center in St. Louis....

St. Louis came out strong, led 3-1 after two periods, and then after Winnipeg tied things at 3-3 early in the third, took a 4-3 lead on David Perron's fifth goal of the season.

But it was not to be. For the fourth time this season, the Blues failed to hold a third period lead, and for the third time this season they lost in OT.

"I think we're scared to lose games right now," goalie Jake Allen said. "We're behind in the standings. We know that. We know that each point's crucial. We're playing in the third period like we're scared to lose the game.

"If you lose you lose, but we gotta go down swinging. I think we're just giving teams opportunities. Teams as good as Winnipeg, if you give them chances they're gonna bury them."
Game highlights are below.
Filed in: NHL Teams, St. Louis Blues, Winnipeg Jets, | KK Hockey | Permalink

by Paul on 10/23/18 at 07:54 AM ET
Comments (0)
MONDAY'S RESULTS
Home Team in Caps
Colorado 4, PHILADELPHIA 1
Carolina 3, DETROIT 1
WINNIPEG 5, St. Louis 4 (OT)
Washington 5, VANCOUVER 2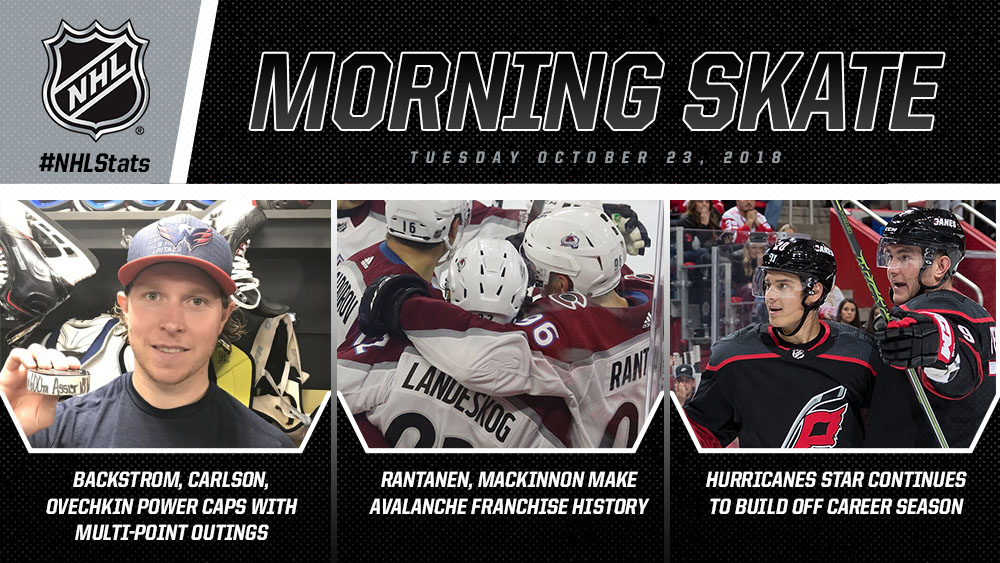 Filed in: NHL Teams, | KK Hockey | Permalink

by Paul on 10/22/18 at 01:56 PM ET
Comments (3)
from Jared Clinton of The Hockey News,
So, what is the way forward for the Kings? As it pertains to this season, there may not be one. That's not to say the Kings are destined to lose their remaining 74 games, but to suggest that Los Angeles simply isn't going to be much more than a mid-table outfit with some glaring holes. The Kings may very well recover from this and capture a wild-card berth. Los Angeles could instead fall a few points short and continue their pattern of being an on-again, off-again playoff team. This isn't a team so bereft of talent that it's going to wind up at the bottom of the Western Conference, however. Kovalchuk, Anze Kopitar, Drew Doughty, Jeff Carter and Dustin Brown all but ensure that won't be the case.

But that brings with it its own set of problems. By staying in the mix, by continuing to be a team in the mushy middle, the Kings have continued to give themselves false hope about where they stand in the NHL hierarchy. That leads to off-season moves like adding a high-priced veteran scorer, or in-season moves like acquiring the final three-plus seasons of Dion Phaneuf's contract, which would seem to indicate Los Angeles believes they're only a piece or two away from contention.

That's exactly the mentality the Kings need to do away with, though, because it hasn't done them a lick of good. First and foremost, continuing to chase veteran players has only added to the lack of team speed. Kovalchuk can still score, to be sure, but he's no longer the burner he once was. Phaneuf has never been confused with the most fleet of foot defensemen, either.
Filed in: NHL Teams, Los Angeles Kings, | KK Hockey | Permalink

by Paul on 10/22/18 at 12:53 PM ET
Comments (0)
from Justin Bourne of The Athletic,
So yes – with the game having changed so much, so fast, players have not only had to adjust on-ice, but also come to grips with the league's new culture off of it. It turns out that if you happen to run your mouth a little off the ice, for the most part, you no longer have to answer for it. Most players today are legitimately just trying to play hockey, so players are a little more free to say what they like. When the game starts, they can simply say "if you don't like what I said, stop me." And, if you're a good enough player that's easier said than done, meaning that verbal leash suddenly seems a lot longer....

The biggest takeaway for me here, is that not only is the fear of physical retribution from opponents diminished, players are getting smarter. I don't mean IQ-wise, there's just such a long list of players that have gotten screwed by trying to be loyal to organizations that they've come to recognize that they're all their own companies. Players understand better than ever that teammates have to do what's best for them, that the higher-ups can be ruthless and things are different from back in the day. It's acceptable for every player to try to get theirs at all costs....

While the concept of team-first is still a part of the fabric of hockey, at the highest levels, the acceptance that it's a business – which is a premise organizations have almost always operated under – seems to have been accepted by players too, which appears to have been somewhat freeing.

We're seeing young players right out of the gate say whatever the hell they want more and more, and god is it refreshing.
more (paid)
Filed in: NHL Teams, | KK Hockey | Permalink

by Paul on 10/22/18 at 12:06 PM ET
Comments (0)
NEW YORK (Oct. 22, 2018) – Colorado Avalanche left wing Gabriel Landeskog, Edmonton Oilers center Connor McDavid and Vegas Golden Knights goaltender Marc-Andre Fleury have been named the NHL's "Three Stars" for the week ending Oct. 21.
Filed in: NHL Teams, | KK Hockey | Permalink

About Kukla's Korner Hockey
Paul Kukla founded Kukla's Korner in 2005 and the site has since become the must-read site on the 'net for all the latest happenings around the NHL.
From breaking news to in-depth stories around the league, KK Hockey is updated with fresh stories all day long and will bring you the latest news as quickly as possible.
Email Paul anytime at pk@kuklaskorner.com
Tweets by @kuklaskorner
Recent Blog Posts (Page 2)