Kukla's Korner Hockey
by Paul on 03/18/19 at 12:01 PM ET
Comments (0)
NEW YORK (March 18, 2019) – New York Islanders goaltender Thomas Greiss, Chicago Blackhawks left wing Brendan Perlini and Edmonton Oilers center Connor McDavid have been named the NHL's "Three Stars" for the week ending March 17.
Filed in: NHL Teams, | KK Hockey | Permalink

by Paul on 03/18/19 at 10:36 AM ET
Comments (0)
from Luke Fox of Sportsnet,
So, after getting blown out by a very good Belleville squad on Hockey Night in Canada Saturday in prime time, their fourth consecutive soft effort before a partisan crowd, one could see how a spurt of raw Garret Sparks honesty could rankle those with more seniority.

"We need more emotion from everybody. We need people to get angry. We need people to step up and get mad and take it personally," said the backup goalie, after appearing in all three of the week's losses and giving up nine of the Leafs' 23 goals allowed during the span....

"It's been challenging. Me and Fred both have been trying to make saves for this team — that's all we ever try to do. We know we're missing some guys [Jake Gardiner, Travis Dermott, Kasperi Kapanen], but we also have some pretty good players in the lineup in their place, so we're not going to use that as an excuse."

The backup goalie's comments struck a nerve for a fan base beginning to panic and a franchise that insists it's not.

"A little adversity never hurt anyone" would be the organization's message of choice to the public.

Had, say, Auston Matthews or John Tavares or Morgan Rielly demanded more passion, the echo might ring a little differently.

Any reporter who tweeted Sparks' headline comments got ratio'd to Trumpian levels. A significant portion of Leafs Nation would rather the first-year full-timer stop the pucks than the presses.
Filed in: NHL Teams, Toronto Maple Leafs, | KK Hockey | Permalink
Tags: garret+sparks
by Paul on 03/18/19 at 10:31 AM ET
Comments (0)
from Josh Lile of the Dallas News,
Dallas Stars goaltender Ben Bishop is having arguably the best season of his solid career. His .933 save percentage and 2.05 goals against average are both high water marks in a career that has already made him a finalist for the Vezina Trophy (awarded to the league's top net minder) twice.

A third nomination this year, which seems like a forgone conclusion at this point, would put Bishop in some special company. He would become the 12th goalie since 1981 (when voting for the award became a thing) to be a finalist three times. Carey Price could also join this list with a nomination.

Every goalie since 1981 who has been nominated four times has won the trophy at least once. Only Miika Kipprusoff has picked up the trophy among the soon-to-be foursome who have three nominations. Roberto Luongo, Curtis Joseph, and potentially Ben Bishop have (or never will in the case of the other two) won the award.

Bishop and Andrei Vasilevskiy of the Tampa Bay Lightning are the two most likely to win the hardware at this point.
Filed in: NHL Teams, Dallas Stars, | KK Hockey | Permalink
Tags: ben+bishop
by Paul on 03/18/19 at 10:27 AM ET
Comments (0)
From the past week in the NHL.
Filed in: NHL Teams, | KK Hockey | Permalink

by Paul on 03/18/19 at 10:12 AM ET
Comments (0)
from Ron Cook of the Pittsburgh Post-Gazette,
I still like replay.

For many, it took another hit Sunday night during the Flyers-Penguins game. For the first time since it came to the NHL 28 years ago, there was a double coach's challenge on the same play. I found it fascinating....

The Penguins lost, 2-1, when the Flyers' Sean Couturier blew by Sidney Crosby and beat Matt Murray with a wrist shot with 3.4 seconds left in overtime. The Flyers had tied the score on a James van Riemsdyk goal with 18.8 seconds left in regulation....

But back to replay on its historic night.

It kept my interest, if only to see if it could save the game officials from themselves.

I am happy to report it did.

It worked the way replay is supposed to work — quickly and efficiently....

The play in question started early in the second period when the Flyers' Claude Giroux appeared to score a goal through Murray's legs. The officials huddled for a few seconds before ruling no goal, citing goaltender interference on Jakub Voracek. The big crowd at PPG Paints Arena loved it.

Flyers coach Scott Gordon immediately challenged the call.
Watch the sequence below and the game highlights too.
Filed in: NHL Teams, Philadelphia Flyers, Pittsburgh Penguins, | KK Hockey | Permalink

by Paul on 03/18/19 at 09:54 AM ET
Comments (1)
via WGN (just under 2 minutes to watch),
Inlcuded in the video is Quenneville on his future.
Filed in: NHL Teams, Chicago Blackhawks, | KK Hockey | Permalink
Tags: joel+quenneville
by Paul on 03/18/19 at 04:39 AM ET
Comments (0)
The Western Conference is below.
Filed in: NHL Teams, | KK Hockey | Permalink

by Paul on 03/18/19 at 04:18 AM ET
Comments (0)
SUNDAY'S RESULTS
Home Team in Caps
COLORADO 3, New Jersey 0
BUFFALO 4, St. Louis 3 (SO)
NY Islanders 3, MINNESOTA 2 (OT)
Vancouver 3, DALLAS 2 (SO)
Philadelphia 2, PITTSBURGH 1 (OT)
ANAHEIM 3, Florida 2
VEGAS 6, Edmonton 3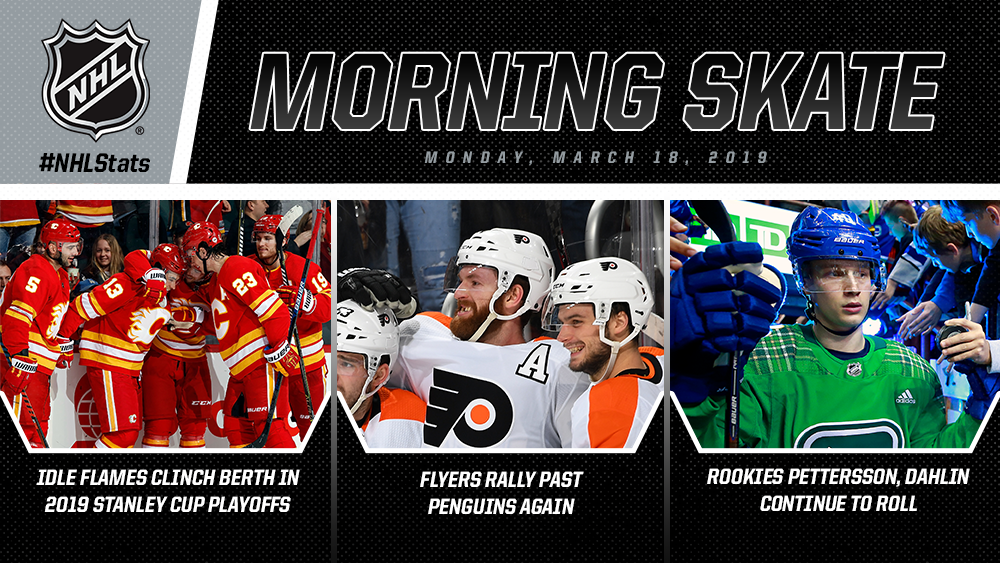 Filed in: NHL Teams, | KK Hockey | Permalink

by Paul on 03/17/19 at 08:25 PM ET
Comments (3)
Did Khodubin thorw his stick or did it slip out of his hand?
No matter, no goal.
Overhead view is below.
added 8:29pm, one more angle below.
added 8:57pm, full video below.
Filed in: | KK Hockey | Permalink
Tags: elias+pettersson
by Paul on 03/17/19 at 07:42 PM ET
Comments (0)
We have now entered the most critical and urgent juncture of the Babcock era. The head coach with the Hall of Fame bonafides must find a way to refocus his players, to bring his group together, to have his message heard and to keep this from turning into another 18-wheeler off the cliff with three weeks to go before the playoffs.
-Chris Johnston of Sportsnet where you can read more on the Leafs, plus other topics like more video review.
Filed in: NHL Teams, Toronto Maple Leafs, | KK Hockey | Permalink

About Kukla's Korner Hockey
Paul Kukla founded Kukla's Korner in 2005 and the site has since become the must-read site on the 'net for all the latest happenings around the NHL.
From breaking news to in-depth stories around the league, KK Hockey is updated with fresh stories all day long and will bring you the latest news as quickly as possible.
Email Paul anytime at pk@kuklaskorner.com
Tweets by @kuklaskorner
Recent Blog Posts (Page 2)