Kukla's Korner Hockey
by Paul on 02/21/20 at 09:18 AM ET
Comments (0)
from Mark Spector of Sportsnet,
We're betting he plays Sunday at the latest, and McDavid's imminent return coupled with Monday's trade deadline has veteran GM Ken Holland under the spotlight here in Edmonton — no different than in any hockey town on the map.

"The day I took the job (back in May) I told everybody at the press conference that I hoped on March 1 that we're playing important games, competing for a playoff spot," Holland said on Thursday. "We're probably a little bit above that, but just a little bit. You can say we're first place in the division, but we're also five points from being out.

"How has it affected my thinking? I was a seller in Detroit the last three years, and I was a buyer at the deadline for many years. Would I like to do something? Yeah, you like to do something to pitch in."...

And the owner of a team that has enjoyed one playoff run in the past 13 seasons likely wouldn't mind a playoff gate or two. All of that is running through the mind of Holland, who is also responsible for building something here that can past — which means not dealing away picks and prospects.

Especially a first-round pick.

"Certainly for a rental," he said. "I'm not going to spend a first-round pick on a rental."
Filed in: NHL Teams, Edmonton Oilers, | KK Hockey | Permalink

by Paul on 02/21/20 at 02:16 AM ET
Comments (0)
THREE HARD LAPS
* History is but one goal away for Alex Ovechkin, who scored career marker No. 699 on Thursday.
* The Golden Knights snapped the Lightning's franchise-record win streak and became the first team to hand Andrei Vasilevskiy a regulation loss since Dec. 14, 2019.
* Jordan Binnington recorded back-to-back shutouts for the second time in his NHL career – with the first instance occurring just over a year ago when the Blues were in the midst of their historic turnaround.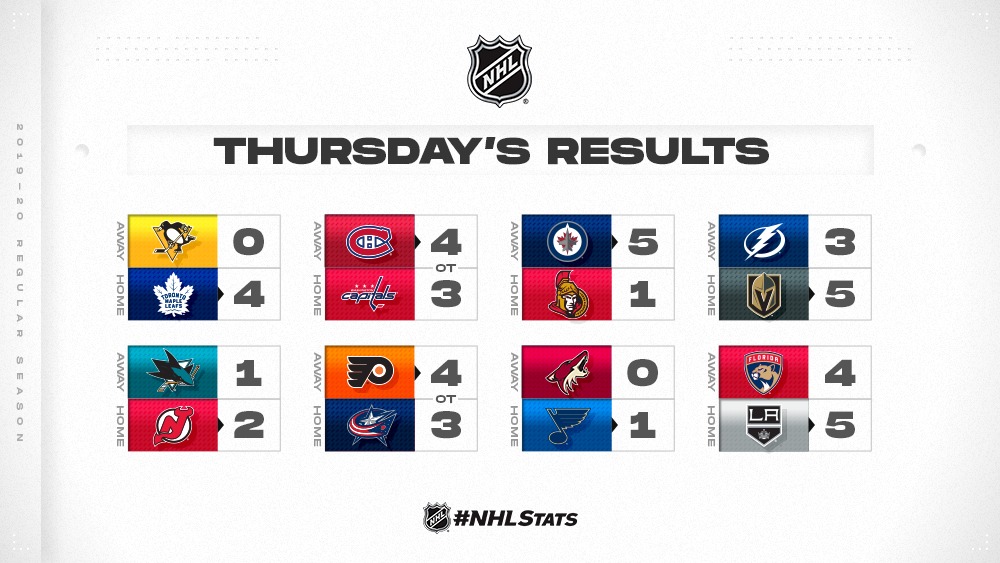 Filed in: NHL Teams, | KK Hockey | Permalink

by Paul on 02/20/20 at 11:21 PM ET
Comments (1)
No call on the play.
Filed in: NHL Teams, Columbus Blue Jackets, Philadelphia Flyers, | KK Hockey | Permalink

by Paul on 02/20/20 at 11:14 PM ET
Comments (4)
Scott Sabourin handed a game misconduct for squirting water at Mark Scheifele.
Filed in: NHL Teams, Ottawa Senators, Winnipeg Jets, | KK Hockey | Permalink

by Paul on 02/20/20 at 06:38 PM ET
Comments (0)
With a lot of the marquee defenceman already off the Trade Bait board, the Maple Leafs have been receiving calls for Tyson Barrie. The Insiders have the latest on what Toronto is looking for to move the defenceman, they also touch on Jean-Gabriel Pageau contract talks, Ilya Kovalchuk's future and much more.
Filed in: NHL Teams, | KK Hockey | Permalink

by Paul on 02/20/20 at 02:47 PM ET
Comments (0)
from Adam Kimelman of NHL.com,
- Tomas Tatar is trying to focus on helping the Montreal Canadiens win, and the forward and isn't worrying about trade rumors involving him....

The 29-year-old is signed through the 2020-21 season, but with the Canadiens eight points behind the Florida Panthers and Toronto Maple Leafs for third place in the Atlantic Division, they appear to be looking toward the future. Montreal traded defenseman Marco Scandella to the St. Louis Blues on Tuesday for a second-round pick in the 2020 NHL Draft and a conditional fourth-round pick in the 2021 NHL Draft.

Tatar leads the Canadiens with 54 points (21 goals, 33 assists) in 62 games and would be a valuable addition for a contender looking for more than a rental player.

"To be honest, I don't really want [Canadiens general manager Marc Bergevin] to come down and talk to me," Tatar said. "I'm trying to play my game and focus on my team, and if something happens, that's just the way the business works."

- General manager Joe Sakic said he's known for about a month what players the Avalanche would like to add to their roster and is taking a practical, open-minded approach to the deadline.

"We know the guys we think would be a good fit to our team," Sakic said Wednesday. "If it works out, great. There's obviously things we're not willing to move, but if there's a deal that makes sense for us we'd like to do it.

"I'd rather not [trade a first-round pick], but I won't rule anything out. It all depends on what packages are out there. To be honest with you, I prefer a hockey trade rather than going in the rental market. We're going to be open to the rental market as well. What's the cost going to be? I'm not here just looking short term; I'm paid to look after the big picture."
more on each of the above pluse talk surrounding the Devils and Flames...
Filed in: NHL Teams, | KK Hockey | Permalink

by Paul on 02/20/20 at 12:22 PM ET
Comments (0)
4 1/2 minutes to watch and below, weird plays in the NHL from the last few weeks.
Filed in: NHL Teams, | KK Hockey | Permalink

by Paul on 02/20/20 at 09:47 AM ET
Comments (0)
from Frank Seravalli of TSN,
Another day, another twist in the saga.

Turns out, the Winnipeg Jets have waited to pull the trigger on a mutual contract termination with because multiple sources say the Jets are attempting to exhaust all trade options for the hulking defenceman.

After being thrust into an uncomfortable position by Byfuglien at the start of the season, Jets GM Kevin Cheveldayoff is now seeking to salvage a return.

Sources say suitors have been in regular contact with Cheveldayoff over the last weeks about Byfuglien's future, but talks have only intensified in recent days leading up to the NHL's Feb. 24 trade deadline.

There is no guarantee that Byfuglien will be dealt – in part because of the fact that sources say he remains a long shot to return to the ice this season – but Big Buff's mere potential impact warrants his debut at No. 10 on the latest TSN Trade Bait board.

Why would a team be interested in Byfuglien now?

If a team believes they could successfully lure him back to the rink, Byfuglien's once massive $7.6 million salary cap hit has dwindled down to just a prorated $1.84 million now with only 45 days left in the regular season.
continued with the latest Trade Bait list...
Filed in: NHL Teams, Winnipeg Jets, | KK Hockey | Permalink
Tags: dustin+byfuglien
by Paul on 02/20/20 at 09:39 AM ET
Comments (0)
from Cathal Kelly of the Globe and Mail,
Maybe the Toronto Maple Leafs aren't poorly coached, under-motivated or not yet fully "processed."

Maybe the Leafs are just bad.

Because once you strip away the stats and expectations, they look bad. For short bursts – for instance, giving up a Keystone Kops goal immediately after blowing a 5-on-3 advantage – they look like they've pooled their money and bet against themselves.

If you didn't come into Leafs games knowing who is supposed to be good and who isn't, you might think 36-year-old journeyman Jason Spezza is the star of the roster. Because he's often the only one who looks like he is a) trying and b) also using his brain while doing so.
Filed in: NHL Teams, Toronto Maple Leafs, | KK Hockey | Permalink

by Paul on 02/20/20 at 05:18 AM ET
Comments (0)
THREE HARD LAPS
* David Pastrnak scored his fourth career overtime goal to move back into a tie for first place in the tightly-contested 2019-20 Maurice "Rocket" Richard Trophy race.

* The Panthers reclaimed third place in the Atlantic Division standings as they look to clinch a berth in the Stanley Cup Playoffs for the first time since 2016.

* Quinn Hughes maintained a two-point edge on fellow defenseman Cale Makar in the 2019-20 rookie points race, while Dominik Kubalik – who paces all rookies in goals – reached 25 on the season.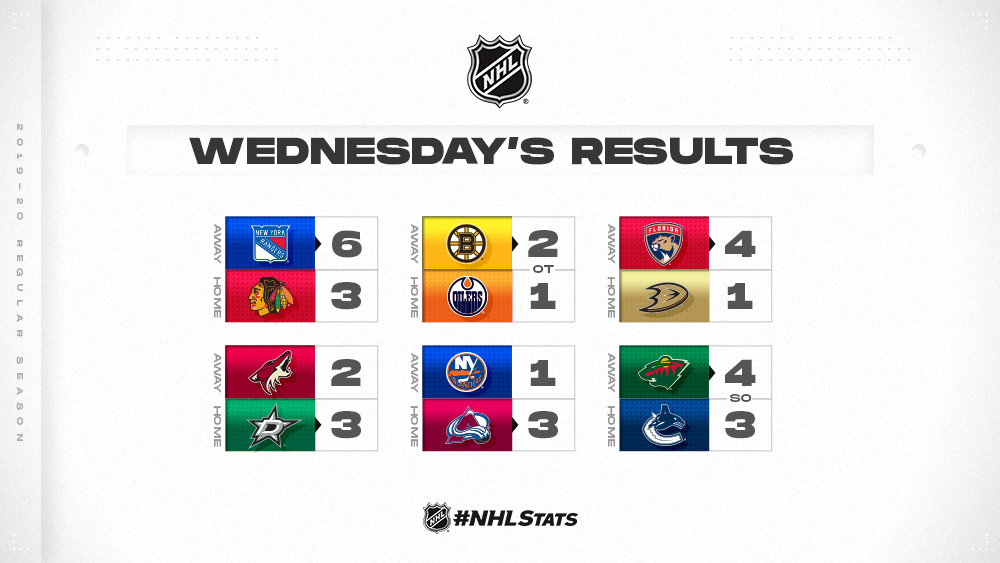 Filed in: NHL Teams, | KK Hockey | Permalink

About Kukla's Korner Hockey
Paul Kukla founded Kukla's Korner in 2005 and the site has since become the must-read site on the 'net for all the latest happenings around the NHL.
From breaking news to in-depth stories around the league, KK Hockey is updated with fresh stories all day long and will bring you the latest news as quickly as possible.
Email Paul anytime at pk@kuklaskorner.com
Tweets by @kuklaskorner
Recent Blog Posts (Page 2)