Kukla's Korner Hockey
by Paul on 12/14/18 at 10:20 PM ET
Comments (0)
3 goals last game, 3 goals tonight.
28 on the season.
Filed in: NHL Teams, Washington Capitals, | KK Hockey | Permalink
Tags: alex+ovechkin
by Paul on 12/14/18 at 07:59 PM ET
Comments (0)
Scheider was pulled after giving up 3 goals in the first period tonight.
Below, watch the third goal he gave up tonight.
Filed in: NHL Teams, New Jersey Devils, | KK Hockey | Permalink
Tags: cory+schneider
by Paul on 12/14/18 at 05:16 PM ET
Comments (0)
260 seconds to watch.
Filed in: NHL Teams, | KK Hockey | Permalink

by Paul on 12/14/18 at 05:00 PM ET
Comments (1)
from Eric Duhatschek of The Athletic,
Let's say, for the sake of argument, that the Arizona Coyotes believe the single most important move they can make as an organization is to bring Matthews home. Matthews is the only home-grown player in Arizona history and would be a marquee attraction like no other, not to mention a dominant scorer who still has an upside in his game. Strategically, how could a team manage it? Well, one possibility would be to begin by signing Marner to an offer sheet first and offer a max contract. The Leafs would almost certainly have to match.

If they did, then at that point, the Coyotes could turn around and sign Matthews to a max offer sheet as well. At that point, the Leafs could be boxed into a financial corner, after spending $11-million per season to sign John Tavares away from the New York Islanders and then recently, signing William Nylander to an extension for just under $7-million per season.

Similarly, a team could target Laine and Connor. Laine is showing signs of being a consistent 40-plus goal scorer in the NHL and he doesn't turn 21 until this coming April.
much more ($$$) plus other hockey topics...
Filed in: NHL Teams, | KK Hockey | Permalink

by Paul on 12/14/18 at 03:44 PM ET
Comments (0)
via Sportsnet's YouTube page,
Jeff Marek and Elliotte Friedman discuss the recent rumours surround Alex Pietrangelo and the Toronto Maple Leafs. Then, the guys try and figure out what's going on in St. Louis, why aren't they winning? Is Vladimir Tarasenko on the way out?
Filed in: NHL Teams, St. Louis Blues, | KK Hockey | Permalink

by Paul on 12/14/18 at 01:14 PM ET
Comments (1)
from Jonathan Bombulie of the Pittsburgh Tribune,
Evgeni Malkin has one goal, three assists and a minus-9 rating in his past nine games. He has scored one even-strength goal in his last 20 games. He was a minus-4 in Wednesday's 6-3 loss to the Chicago Blackhawks.

"Geno tends to be a streaky guy, and sometimes all it takes is one goal and then he's off to building momentum again," coach Mike Sullivan said optimistically. "I think part of it is just simplifying his whole overall game. If he does that, he's going to be fine."

What does Sullivan mean when he says Malkin needs to simplify his game?

"Slowing his skating down and supporting the breakout. Stopping on pucks. When he has an opportunity to shoot the puck, shoot the puck. Don't look for the next play," Sullivan said. "We think he'll come out of it."

Malkin's longtime teammates came to his defense after morning skate as well.
Filed in: NHL Teams, Pittsburgh Penguins, | KK Hockey | Permalink
Tags: evgeni+malkin
by Paul on 12/14/18 at 09:22 AM ET
Comments (9)
from Frank Seravalli of TSN,
The NHL's holiday roster freeze sets in on Dec. 19, prohibiting trades, waiver transactions and minor-league demotions through Dec. 27....

One team clearly open for business is the 28th-place St. Louis Blues, with GM Doug Armstrong reportedly saying he will listen to offers on any of his players with the exception of Jaden Schwartz and his recent top picks.

That's why Blues defenceman Colton Parayko has risen to the top of the latest TSN Trade Bait board.

A lot of the attention has been on the future of sniper Vladimir Tarasenko or (now injured) captain Alex Pietrangelo, but there are teams ready to line up to acquire a player like Parayko, who can bring back a significant return.

Parayko, 25, is no stranger to the Trade Bait board. He spent time on the board last season. He checks a lot of boxes for teams as a still young, right-shooting and minute-eating defenceman with a booming shot and cost certainty for years to come....

Another defenceman in Jake Muzzin follows behind Parayko at No. 2 as the 31st- place Kings try to find a way forward. Either Muzzin or the injured Alec Martinez (No. 16) are prime candidates to be part of the shakeup.

Ditto Kings centre Jeff Carter, who doesn't have a formal no-trade clause, but wields all the power to pick his next destination by way of a retirement hammer.
read on with more names plus 30 players on the trade list...
Filed in: NHL Teams, | KK Hockey | Permalink

by Paul on 12/14/18 at 08:27 AM ET
Comments (0)
from Paul Friesen of the Winnipeg Sun (written before the Winnipeg OT win over Edmonton last night),
The Jets have had the luxury of playing the Blues four times already, the Blackhawks twice – and have scored 30 goals in those six games alone.

Toss in two games against the Devils and one each against the Kings and Flyers, and Winnipeg has enjoyed 10 games against the NHL's bottom-feeding five.

Their record against them: a sparkling 9-1. Combined score, 48-25.

At the other end of the spectrum, the Jets have played just five games against their fellow top-six teams.

They have yet to play No. 1 Tampa Bay, but have squared off with No. 2 Toronto (twice), third-ranked Nashville, Calgary at No. 5 and sixth-ranked Buffalo.

Their record: 0-4-1. Combined score, 8-18.
Filed in: | KK Hockey | Permalink

by Paul on 12/14/18 at 07:04 AM ET
Comments (0)
THURSDAY'S RESULTS
Home Team in Caps
BUFFALO 3, Arizona 1
COLUMBUS 4, Los Angeles 1
MONTREAL 6, Carolina 4
TAMPA BAY 4, Toronto 1
NASHVILLE 4, Vancouver 3 (OT)
MINNESOTA 5, Florida 1
WINNIPEG 5, Edmonton 4 (OT)
SAN JOSE 3, Dallas 2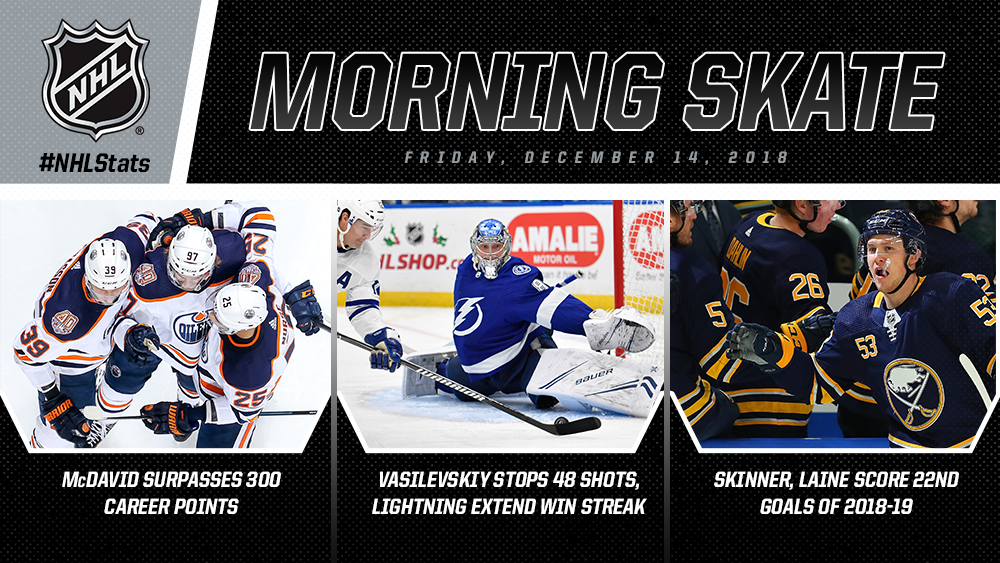 Filed in: NHL Teams, | KK Hockey | Permalink

by Paul on 12/13/18 at 10:03 PM ET
Comments (3)
Smothers the puck with his right leg before it crosses the goal line.
Filed in: NHL Teams, Tampa Bay Lightning, | KK Hockey | Permalink
Tags: andrei+vasilevskiy
About Kukla's Korner Hockey
Paul Kukla founded Kukla's Korner in 2005 and the site has since become the must-read site on the 'net for all the latest happenings around the NHL.
From breaking news to in-depth stories around the league, KK Hockey is updated with fresh stories all day long and will bring you the latest news as quickly as possible.
Email Paul anytime at pk@kuklaskorner.com
Tweets by @kuklaskorner
Recent Blog Posts (Page 2)