05/19/19 at 08:09 PM ET | Comments (0)
from Tracey Myers of NHL.com,
The Sharks also have injury concerns; forward Joe Pavelski was injured on his first shift of the third period after a hit along the boards from Blues defenseman Alex Pietrangelo. Forward Tomas Hertl, who took a high hit from Blues forward Ivan Barbashev in the first period, did not play in the third.

Defenseman Erik Karlsson, who did not play the final seven minutes of the second period, did not return for the third. Karlsson also looked to be struggling in the Sharks' 2-1 loss in Game 4 at St. Louis on Friday.

DeBoer did not have an update on any of the injured players.

"It's easy to sit here and say now, yeah, sure you have regrets," DeBoer said of playing Karlsson on Sunday. "I mean, hindsight's 20/20, you know? We make those decisions based on reports we get form the player and medical, and the report was he felt he could play and get through the game."
Filed in: NHL Teams, San Jose Sharks, | KK Hockey | Permalink

05/19/19 at 05:51 PM ET | Comments (0)
With a 5-0 win over the San Jose Sharks today, the St. Louis Blues can now wrap up the series on Tuesday night in St. Louis.
If not, game 7 is Thursday night in San Jose.
The Blues dominated the game today, San Jose will have a tough battle on Tuesday.
Watch the goals from today's game below.
added 6:47pm, Full game highlights below.
Filed in: NHL Teams, San Jose Sharks, St. Louis Blues, | KK Hockey | Permalink

05/19/19 at 04:50 PM ET | Comments (0)
via Sportsnet,
Brian Burke talks about the Ottawa Senators coaching candidates, their prospect pool and how teams should play when there is an empty net.
Filed in: NHL Teams, Ottawa Senators, | KK Hockey | Permalink

05/19/19 at 02:44 PM ET | Comments (7)
Series tied at 2-2, winnter today will have the opportunity to advance to the Stanley Cup Final with a win in game 6 on Tuesday.
Filed in: NHL Teams, San Jose Sharks, St. Louis Blues, | KK Hockey | Permalink

05/19/19 at 02:35 PM ET | Comments (1)
from Jack Todd at the Montreal Gazette,
When in doubt, blame the ref.

It's a system as old as the games we watch. Players, coaches, fans, media critics and even league officials get into the act and the only rule is that the referee is always wrong in the eyes of someone, somewhere.

And the number of eyes on the ref has multiplied exponentially in the age of replay review — reviews that are, in my humble opinion, wrecking the entire experience.

Even with the mind-numbing review delays, the NHL is enduring a post-season nightmare, a litany of gaffes. When league execs are taking pot-shots at their own referees, you have the very definition of a mess.

Key goals that should count are disallowed. Goals that should be waved off are allowed. Phantom penalties are called, real penalties are missed. Games are decided not by the players on the ice but by referees and anonymous war-room geeks.

What to do, what to do?

The solution may seem counter-intuitive but it's there: Give the referees the power they once had to officiate the game. There was a time, before the two-referee system and that utterly inept war room in Toronto, when a single referee ran the game he officiated.
Filed in: NHL Teams, NHL Talk, NHL Officiating, | KK Hockey | Permalink

Blog: Abel to Yzerman By Paul
05/19/19 at 01:39 PM ET | Comments (0)
KOSICE, Slovakia - Dylan Larkin (Waterford, Mich.) scored the game-winning goal in the third period off a highlight-reel feed from James van Riemsdyk (Middletown, N.J.), Alec Martinez (Rochester Hills, Mich.) tallied two assists, and Cory Schneider (Marblehead, Mass.) made 24 saves as the U.S. Men's National Team defeated Germany, 3-1, at the 2019 IIHF Men's World Championship to secure a place in the Thursday's (May 23) quarterfinal round.
"Germany played a hard game," said Jeff Blashill, head coach of the 2019 U.S. Men's National Team and also the bench boss of the NHL's Detroit Red Wings. "We had to really grind out a win and I give our guys credit. This is a hard tournament, harder than I think people realize. We got some real strong performances tonight from guys like Suter, Martinez, Larkin and van Riemsdyk, but I thought Jack Eichel really raised his game and played like he wasn't going to be denied."
The United States (4-1-0-1/W-OTW-OTL-L) will seek a sixth straight win to close Group A preliminary round play when it faces Canada on Tuesday (May 21). Puck drop at Steel Arena in Kosice, Slovakia, is set for 8:15 p.m. local time (2:15 p.m. ET) and will help decide final placement for the quarterfinal round. That game, and every U.S. game, will be broadcast live in the U.S. on NHL Network.
For the complete game recap, click here.
Watch the game highlights below.
Filed in: | Abel to Yzerman | Permalink

05/19/19 at 11:12 AM ET | Comments (0)
from Garrett Wroblewski/Guest Columnist at the Mercury News,
You'll have to forgive the national media and recent bandwagon-jumpers for considering the San Jose Sharks the NHL equivalent of a four-leaf clover or lucky rabbit's foot.

Yes, the Sharks have been the beneficiaries of a hat trick of controversial calls, non-calls, and coaches challenges in these playoffs. The latest was Erik Karlsson's OT winner in Game 3 of the Western Conference finals, initially set up by Timo Meier's illegal handpass to Gustav Nyquist. One Associated Press writer went so far as to call it "sketchy," as if he were discussing a backlot drug deal and not the zenith of a playoff hockey game.

Those currently accusing the referees of being partial to the Sharks seem to have a short memory, if any memory at all. (More on that later.)

Also in Game 3, what Joe Thornton (and a continent of viewers) believed to be an over-the-glass delay-of-game penalty by the Blues' David Perron was missed by officials. Minutes later, Perron scored to the game, then scored again to put St. Louis ahead 4-3.
Filed in: NHL Teams, San Jose Sharks, | KK Hockey | Permalink

05/19/19 at 09:54 AM ET | Comments (0)
from Tracey Myers of NHL.com,
The San Jose Sharks and St. Louis Blues will each try to take a 3-2 lead in the Western Conference Final when they play Game 5 at SAP Center on Sunday.

The Blues scored twice in the first period before holding off the Sharks for a 2-1 win in Game 4. It was the 10th victory of the Stanley Cup Playoffs for St. Louis, tying its record it set in 1986 and 2016.

When the conference final/semifinal is tied 2-2, the winner of Game 5 has a series record of 19-8 (70.4%).

Here are 5 Keys to Game 5:

1. Binnington stays strong
Blues rookie goalie Jordan Binnington continues to handle the playoff pressure well. He's 10-7 with a 2.58 goals-against average and .908 save percentage, the first goalie in Blues history to win at least 10 games in a single postseason and the 10th rookie to do so in NHL history.

St. Louis expects the same steadiness from him in Game 5.

"He's been dynamite for us back there all year," Blues defenseman Colton Parayko said. "He's just doing his thing and just a lot of confidence in him from the whole team. Every single game he's given us a chance to win, so yeah, there's not much more to say. He's been unbelievable for us and such a huge part of our success."

2. Home sweet home
The Sharks didn't get off to a great start in Game 4, but they're confident they can find their game immediately at home Sunday. San Jose is 7-3 at SAP Center this postseason and has outscored its opponents 39-29.

"The series is tied up now, best out of three, and we've got home-ice advantage," Sharks forward Gustav Nyquist said. "We have to make sure we take advantage of that. We've been good at home and we'll be ready to play tomorrow."
Filed in: | KK Hockey | Permalink

05/19/19 at 07:39 AM ET | Comments (0)
Sharks, Blues deadlocked heading into Game 5 of Conference Finals; Couture, Hertl look to continue home-ice success; Pietrangelo sets sights on franchise benchmark.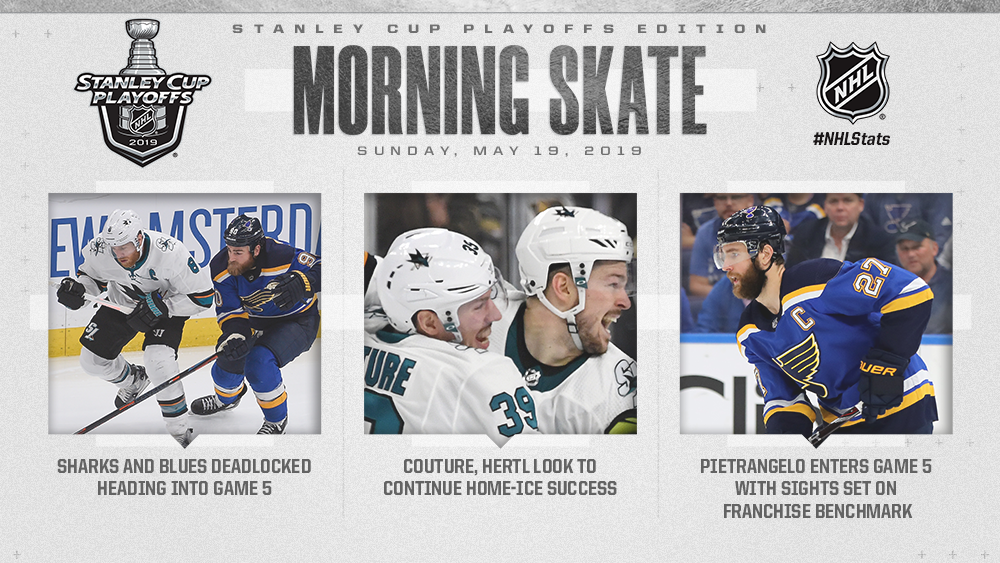 Filed in: NHL Teams, | KK Hockey | Permalink

05/18/19 at 07:07 PM ET | Comments (0)
from Steve Simmons of the Toronto Sun,
- The Bruins may be on to something with the way in which they managed Tuukka Rask's play during the regular season. Their version of Load Management. Rask started just 45 games, his lowest total in six years. And when you add the 17 playoff starts, that brings his total to 62 games. By comparison, Frederik Andersen started 60 games for the Leafs in the regular season and seven more playoff games. Anderson was brilliant in Game 6 against Boston and just average in Game 7. Rask is the leading contender for the Conn Smythe Trophy.

- If the Sens are interviewing Patrick Roy, what does that say for Marc Crawford, D.J. Smith, Rick Bowness and all the other candidates interviewed?

- It probably makes the Nashville Predators happy that Kyle Turris is captain of Team Canada. Preds want to move Turris, who has $30 million and five years left on a rare bad contract signed by David Poile. Maybe the captaincy ups his value.
a few more hockey topics...
Filed in: NHL Teams, | KK Hockey | Permalink

About Kukla's Korner
Kukla's Korner is updated around the clock with the work of our own talented bloggers, plus links to the best hockey writing around the internet. We strive to bring you all the breaking hockey news as it happens.
The home page allows you to see the latest postings from every blog on the site. Subscribe here. For general inquiries and more, please contact us anytime.
Most Recent Posts
Most Recent Comments