12/16/18 at 08:13 PM ET | Comments (0)
Blackhawks say his status will be updated after the game.
Filed in: NHL Teams, Chicago Blackhawks, | KK Hockey | Permalink
Tags: corey+crawford
12/16/18 at 06:10 PM ET | Comments (0)
via Jeremy Rutherford tweets,
Berube: "We were terrible in the first period. Every player. Terrible … I don't know how you're not ready to play. We won two games, we're feeling good, ready to roll, and we've got a team (Calgary) that played yesterday afternoon in Minnesota.

Berube cont'd: "A real good opportunity to make it three in a row and start feeling good. And we just lay and egg. No good. Couldn't make a play, couldn't check, no composure, no team play."
The Blues lost 7-2 at home to the Flames today.
added 6:38pm, Watch Berube post-game below.
Filed in: NHL Teams, Calgary Flames, St. Louis Blues, | KK Hockey | Permalink
Tags: craig+berube
12/16/18 at 04:41 PM ET | Comments (1)
Filed in: NHL Teams, Philadelphia Flyers, | KK Hockey | Permalink
Tags: joel+quenneville
Blog: Abel to Yzerman By Paul
12/16/18 at 03:25 PM ET | Comments (1)
from Ted Kulfan of the Detroit News,
Jonathan Bernier is used to it. At this point in his career, there aren't any surprises.

Being a backup goalie in the NHL, life isn't always fair. You wait for the coach to say you're going to play, though you never know exactly when that might be and, when you do play, it's usually not ideal situations.

Bernier has been through this situation often in his NHL career. He's been very good at it.

And though Bernier's statistics might not look all that inspiring currently, occasionally it's wise to examine them more closely, such as Saturday's 4-3 shootout loss to the New York Islanders.

The loss was disappointing, sure. But Bernier did all he could, and more.

Bernier made 45 saves against the Islanders, including a staggering 21 in the third period when the Wings appeared to be stuck in their zone the entire 20 minutes.
Filed in: | Abel to Yzerman | Permalink

12/16/18 at 12:29 PM ET | Comments (0)
from Zach Dooley of LAKingsInsider,
Jonathan Quick on the team battling back
We lost. [expletive] effort's not enough, you know? That's a given, effort should be there every [expletive] night. We lost, so that's how it works.

On if there are any positives to take from tonight's game
We got one. One point's better than zero.

On whether this is the most frustrating stretch he's had over a sustained period of time
It's a one day at a time job. We lost today, that sucks. Wake up tomorrow and now we're working on winning the next game, that's all it is. It doesn't matter if we won the last ten or lost the last ten, it doesn't matter. It's a one day at a time job. It sucks today, losing, tomorrow we'll wake up and get ready to try and win the next one.
continue for more post-game reaction from the Kings...
Game highlights below.
Filed in: NHL Teams, Los Angeles Kings, | KK Hockey | Permalink
Tags: jonathan+quick
12/16/18 at 09:17 AM ET | Comments (0)
from Dave Feschuk of the Toronto Star,
You know you're in a hopeless hockey market when the Maple Leafs roll into town and the Florida Panthers announce they're celebrating something known as "Legacy Saturday."

What's it matter that there are Taco Bell franchises with grander traditions and better in-seat ambience than an NHL team born in 1993? Marketing departments must market. So Saturday's "Legacy" honouree was Bryan McCabe, the former Maple Leafs defenceman, who dropped the ceremonial first puck. If you were fuzzy on McCabe's connection to the Panthers, he played a grand total of 199 games with the team — approximately 18% of his great NHL career. He played nearly three times as many games in Toronto, playoffs included....

And, yes, the Maple Leafs deployed both a penalty kill and a power play on Saturday night. But their "special" teams have been especially awful of late. The alleged penalty killers offered only token resistance to a Panthers power play that scored on two of its first three opportunities to take a 2-0 lead. That's four straight games the Maple Leafs have given up at least one goal while short-handed.

The slumping Maple Leafs power play, meanwhile, also continued its swoon. Even gifted a four-minute advantage in the second period, it couldn't bust loose, somehow finding itself outshot 3-2. Blanked on four opportunities all told, Toronto is now one for its last 22 attempts with the man advantage.
Highlights of Florida's 4-3 OT can be watched below.
Filed in: NHL Teams, Florida Panthers, Toronto Maple Leafs, | KK Hockey | Permalink

12/16/18 at 09:09 AM ET | Comments (0)
from Sam Donnellon of the PhillyNews,
"Hey I know everything that's out there,'' Flyers coach Dave Hakstol was saying before his Flyers lost 5-1 to the Vancouver Canucks Saturday night for their fourth consecutive loss on this road trip. "I know absolutely everything in terms of rumors and what's going on out there.

"You know me well enough by now. My only concern is what we do tonight. The rest I really have no comment on.''

Actually, it's what they did last night, and on all but one of the nights of this disastrous five-game road trip, that has raised calls for his ouster to a deafening level. There was the early surge that netted nil. There was the obligatory opponents' first goal. There was the lack of response, another goal, then another, a tepid power play before Scott Laughton broke through with a great individual effort against a Vancouver defense that entered the game with more goals allowed than the Flyers – albeit in four more games.
Game highlights are below.
Filed in: | KK Hockey | Permalink

Blog: Abel to Yzerman By Paul
12/16/18 at 08:43 AM ET | Comments (3)
from Ted Kulfan of the Detroit News,
Most hockey teams aren't going to win hockey games when they have to kill as many power plays — six — as the Red Wings did Saturday.

Sure enough, it was asking too much, as the Wings managed to get one point in a 4-3 shootout loss.

Thomas Vanek tied the game 3-3, after the Wings had pulled goaltender Jonathan Bernier, with 1:03 left in regulation.

But after a scoreless overtime, the Islanders netted the lone goal in the shootout, thanks to Mathew Barzal, and secured a victory.

The Wings (14-15-5) were frustrated with the penalty differential. While the Islanders were enjoying six power plays — they only converted one to a goal — the Wings had one power play, which Gustav Nyquist scored on.

"It was unfortunate for us," coach Jeff Blashill said. "There were calls that could have been made the other way. It was one of those nights where it certainly didn't go our way that way."
Below, watch post-game talk from Bernier, Vanek, Nyquist and Blashill.
Filed in: | Abel to Yzerman | Permalink

12/16/18 at 08:36 AM ET | Comments (0)
via Sportsnet's YouTube page,
Sportsnet went behind the scenes to take a look at Brock Boeser's journey to the NHL. Find out his story and what it's like to be an NHL Superstar in today's world. This is Building Brock.
Filed in: NHL Teams, Vancouver Canucks, | KK Hockey | Permalink
Tags: brock+boeser
12/16/18 at 08:23 AM ET | Comments (0)
ATURDAY'S RESULTS
Home Team in Caps
Calgary 2, MINNESOTA 1
MONTREAL 5, Ottawa 2
FLORIDA 4, Toronto 3 (OT)
NY ISLANDERS 4, Detroit 3 (SO)
PITTSBURGH 4, Los Angeles 3 (OT)
WASHINGTON 4, Buffalo 3 (SO)
Anaheim 2, COLUMBUS 1 (OT)
NASHVILLE 2, New Jersey 1 (SO)
COLORADO 6, Dallas 4
VANCOUVER 5, Philadelphia 1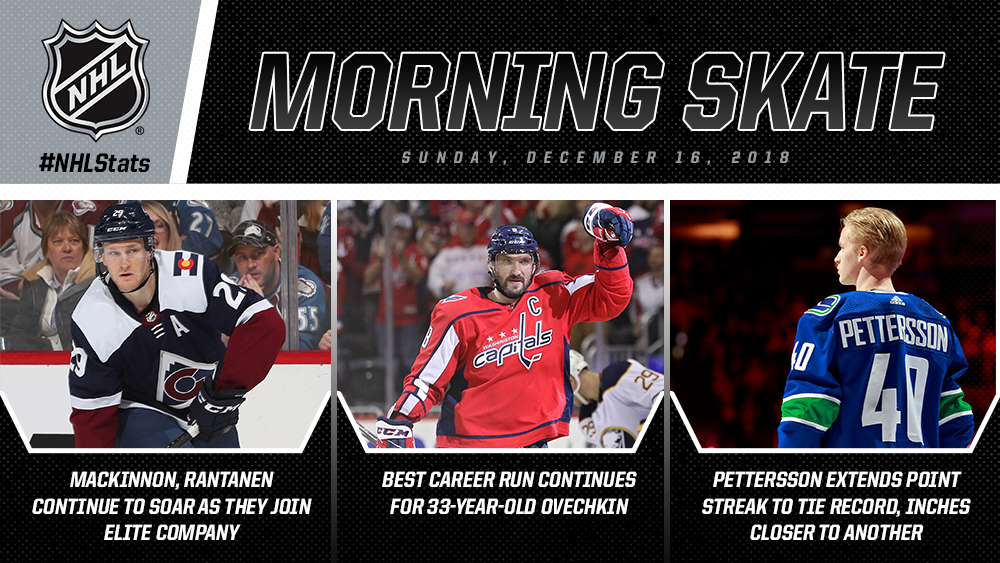 Filed in: NHL Teams, | KK Hockey | Permalink

About Kukla's Korner
Kukla's Korner is updated around the clock with the work of our own talented bloggers, plus links to the best hockey writing around the internet. We strive to bring you all the breaking hockey news as it happens.
The home page allows you to see the latest postings from every blog on the site. Subscribe here. For general inquiries and more, please contact us anytime.
Most Recent Posts
Most Recent Comments