03/16/18 at 08:46 AM ET | Comments (0)
from Jose de Jesus Ortiz of the St. Louis Post-Dispatch,
Just when their fans start believing in them again, the Blues find a way to let the boulder roll back down the hill against them.

Desperately in need of momentum, the Blues continue to sputter along on the road to an early vacation. They're just good enough to frustrate you because there's no doubt they can and should play better.

Playing the closest thing to a must-win at this time of the year, the Blues had more than enough chances to beat the Avalanche on Thursday night at Scottrade Center. They couldn't capitalize, though.

And when you don't capitalize you usually lose. The Avs beat the Blues 4-1 before a disappointed sellout crowd that saw the home team miss the net 22 times while outshooting Colorado 82-42.
Watch the game highlights below...
Filed in: NHL Teams, Colorado Avalanche, St. Louis Blues, | KK Hockey | Permalink

03/16/18 at 08:41 AM ET | Comments (3)
from Larry Brooks of the New York Post,
Of course and absolutely the Rangers should and will pursue Ilya Kovalchuk when the scoring machine hits the open market as a 35-year-old unrestricted free agent July 1.

He would have been the right guy this year for the intended retool had the Devils been more amenable to shipping his rights across the Hudson for less than a first-rounder, and he is the right guy for next year's rebuild/rebound season in which the Blueshirts should be able to compete for a playoff spot with some fortification.

You're delusional if you believe the Rangers are going to throw a bunch of young lambs onto the ice to be slaughtered in 2018-19. The Baby Blueshirts will need accomplished veterans to help show the way, and Kovalchuk — most certainly along with Rick Nash, no guarantee to return after experiencing life near the top of the league in Boston — is one of the guys management will attempt to enlist who can do that.
Filed in: NHL Teams, New York Rangers, | KK Hockey | Permalink
Tags: ilya+kovalchuk
03/16/18 at 08:30 AM ET | Comments (15)
from Sam Carchidi of Philly.com,
They overcame a 10-game winless streak and the loss of their top two goalies to injuries.

Now they have to overcome a March skid that has knocked them out of first place and made fans uneasy about whether they will even make the Stanley Cup playoffs.

The misery continued Thursday night at the Wells Cargo Center.

Columbus 5, Flyers 3.

The Flyers lost for the seventh time in eight March games, and they fell into a tie for third place with Columbus in the Metro....

The Flyers swarmed Bobrovsky over the next few shifts, but Atkinson made it 4-2 by beating Petr Mrazek with a right-circle blast with 16 minutes, 37 seconds left in the second.

Goodbye, momentum.

Goodbye, Mrazek, who allowed four goals on 10 shots and continued to come up small. Since winning his first three games with the Flyers, Mrazek has just one victory in his last seven starts.
Game highlights are below...
Filed in: NHL Teams, Columbus Blue Jackets, Philadelphia Flyers, | KK Hockey | Permalink

Blog: Abel to Yzerman By Paul
03/16/18 at 08:06 AM ET | Comments (12)
from Ted Kulfan of the Detroit News,
It's not March Madness around the Red Wings these days — more like March Sadness.

The march toward the bottom of the NHL — and better odds to land the first overall pick — continued in earnest Thursday with a 4-1 loss to the Los Angeles Kings.

The loss extended the Red Wings' winless streak to eight games (0-7-1), with difficult road games in Anaheim (Friday) and Colorado (Sunday) left to conclude the weekend.

How is this March going?...

"There wasn't a lot of offense out there, it was tough to come by," coach Jeff Blashill told FSD. "We competed real hard. Obviously it's not a 4-1 game, it was a one-goal game."
Helene St. James of the Detroit Free Press with this...
Coreau is unrestricted this summer. He does not appear to fit into the Wings' plans, but he may fit on the farm.

"I try not to think about that too much," Coreau said. "Just go out and play for the Detroit Red Wings and if it works out well, then maybe stay here. Who knows?"
more on the game...
Below, watch the game highlights and post-game interviews.
Filed in: | Abel to Yzerman | Permalink

03/16/18 at 07:53 AM ET | Comments (0)
A bit north of 4 minutes long.
Filed in: NHL Teams, | KK Hockey | Permalink

03/16/18 at 07:50 AM ET | Comments (0)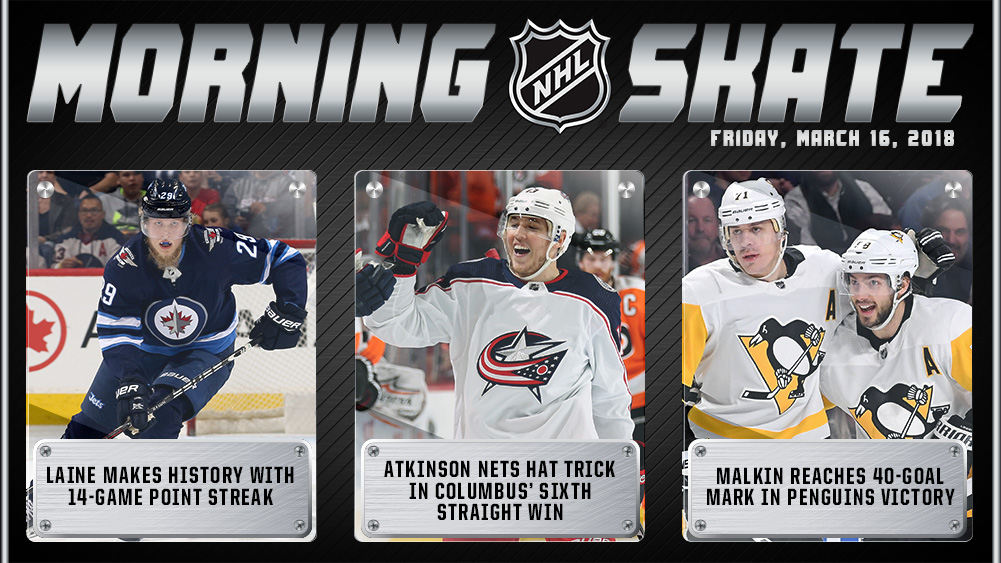 THURSDAY'S RESULTS
Home Team in Caps
Toronto 5, BUFFALO 2
Washington 7, NY ISLANDERS 3
Columbus 5, PHILADELPHIA 3
Pittsburgh 5, MONTREAL 3
FLORIDA 3, Boston 0
Colorado 4, ST. LOUIS 1
WINNIPEG 6, Chicago 2
Nashville 3, ARIZONA 2
LOS ANGELES 4, Detroit 1
Filed in: NHL Teams, | KK Hockey | Permalink

Blog: Abel to Yzerman By IwoCPO
03/15/18 at 09:32 PM ET | Comments (69)
Apparently, there's only one clear cut number 1 pick. He's Swedish. He's a defenseman. We had one of those.
Kenny kind of wasted the last few years of his career, almost like he wasted 13 and 40's.
Filed in: | Abel to Yzerman | Permalink

03/15/18 at 08:31 PM ET | Comments (14)
Match penalty for Backes.
Another view below...
added 9:00pm, video now below too...
Filed in: NHL Teams, Boston Bruins, Florida Panthers, | KK Hockey | Permalink
Tags: david+backes, vincent+trochek
03/15/18 at 06:25 PM ET | Comments (0)
With many wondering whether John Tavares will stay in Long Island or if he'll test the market, could a sign and trade work for the Islanders captain? How can the league get more consistent with goalie interference? Can the Maple Leafs fit James van Riemsdyk into their future? The Insiders discuss this and more.
View the segment at TSN.
Filed in: NHL Teams, NHL Talk, | KK Hockey | Permalink

Blog: Abel to Yzerman By Paul
03/15/18 at 04:35 PM ET | Comments (14)
from Ted Kulfan of the Detroit News,
Playing on a line with Henrik Zetterberg and Gustav Nyquist Monday in San Jose, Bertuzzi continued his recent hot streak with assists on all three goals in the Red Wings' 5-3 loss.

That gave Bertuzzi seven points in the last seven games – not counting Thursday's late game in Los Angeles – and was just the latest in a string of impressive games.

"Tyler was excellent," coach Jeff Blashill told reporters afterward. "He's a real bright spot for us. He's got a real bright future. He can be a heck of a player.

"He needs to become a little stronger and a little faster. That's going to happen this offseason. I believe he has the determination.

"He's been hurt the last couple of summers, but he's got poise, he's got hockey sense. He's real good with the puck. There's a real bright future there."
added 4:48pm, Dana Wakiji of the Wings' website with the game day notes below...
added 6:07pm, Game day preview added below too.
Filed in: | Abel to Yzerman | Permalink

« Previous ‹ First < 8 9 10 11 12 > Last › Next »
About Kukla's Korner
Kukla's Korner is updated around the clock with the work of our own talented bloggers, plus links to the best hockey writing around the internet. We strive to bring you all the breaking hockey news as it happens.
The home page allows you to see the latest postings from every blog on the site. Subscribe here. For general inquiries and more, please contact us anytime.
Most Recent Posts
Most Recent Comments