12/06/18 at 08:08 AM ET | Comments (1)
from Pierre LeBrun of The Athletic,
Some​ of​ the​ following​ ideas​ I've​​ suggested before, others are new. But in step with our wonderful set of stories this week at The Athletic tackling the future of hockey, here are changes I espouse for the next decade or two:

On ice

Different formations: Why is it for 100 years plus of the NHL the idea that one must have three forwards and two defencemen on the ice 5-on-5 has been the only way the game has been played? In the same way in which we've seen the evolution of power plays with four forwards and a D-man, why don't coaches tinker with their 5-on-5 approach? Depending on the score and the time of the game, why don't we see three defencemen on the ice and two forwards if you're protecting a lead? Or if you're down 2-3 goals to open the third period, why don't coaches go with four forwards and one D? There are no rules against it but it's been 3 F/2 D for the entire history of the NHL at 5-on-5. There's got to be a head coach out there with the guts to challenge this and be the first guy to mix it up, at least in preseason.
read on (paid subscription)
Filed in: NHL Teams, | KK Hockey | Permalink

12/06/18 at 07:48 AM ET | Comments (0)
from Emily Kaplan of ESPN,
For this week's power rankings -- voted, as always, by ESPN's panel of experts -- we considered which player might get plucked if Seattle got to choose this June, using the same rules as Vegas in 2017.

It's all imaginary, of course. But it's also an interesting peek into current roster constructions.

31. Los Angeles Kings
Previous ranking: 31

The Kings are a team hamstrung by bad contracts. Although they might try to expose someone such as Dustin Brown (34 years old and signed through 2021-22), Alec Martinez could be the one heading north.

30. St. Louis Blues
Previous ranking: 30

David Perron again? The forward doesn't get to finish his third stint with the Blues after the Seattle team remembers how well he fit in as a Golden Misfit (including a career-high 66 points).

29. Chicago Blackhawks
Previous ranking: 27

Artem Anisimov is a center who, increasingly, might benefit from a change of scenery. By exposing him in the expansion draft, Chicago could get his $4.55 million contract off the books as it continues to transition.
28 more teams...
Filed in: NHL Teams, | KK Hockey | Permalink

12/06/18 at 07:31 AM ET | Comments (0)
from Elliott Teaford of the OC Register,
The Ducks continued to win the battles they lost as recently as a few weeks ago. They continued to generate the sort of sustained pressure that was missing earlier in the season. They continued to move the puck into the attacking zone with a crispness that was absent last month.

Have they finally found the pace at which they'd like to play?

Well, not quite, but they approached it at times during their 4-2 victory over the Chicago Blackhawks on Wednesday night at Honda Center, their fifth consecutive win and their seventh in their past eight games. Above all, they played under control at a higher tempo and they produced results.

There was still room for improvement, as Coach Randy Carlyle reminded reporters at game's end, but he acknowledged the Ducks' game was in a better place than it was earlier in the season. They've learned to play their new speed game better. They're faster, but not frantic, as they once were.
Game highlights below.
Filed in: NHL Teams, Anaheim Ducks, Chicago Blackhawks, | KK Hockey | Permalink

12/06/18 at 07:06 AM ET | Comments (0)
WEDNESDAY'S RESULTS
Home Team in Caps
Edmonton 3, ST. LOUIS 2 (SO)
ANAHEIM 4, Chicago 2
SAN JOSE 5, Carolina 1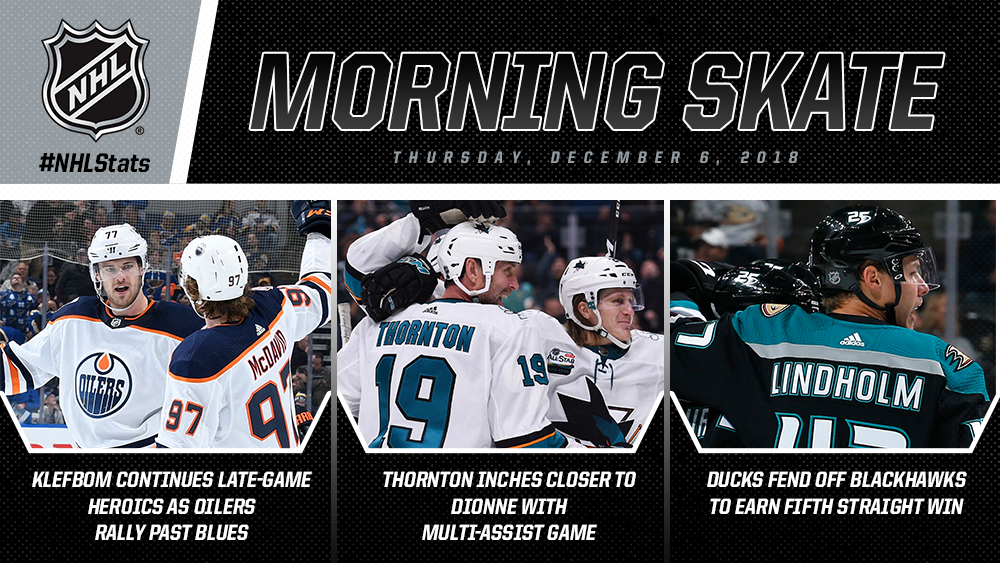 Filed in: NHL Teams, | KK Hockey | Permalink

12/06/18 at 07:00 AM ET | Comments (0)
The gambling industry is touted as a very lucrative industry. In countries where there are progressive laws, gambling is credited as a great means of generating revenue for the public good. Indeed, gambling is deemed to be a positive contributor to the welfare of the nation. There are nevertheless many places where the perception of gambling is not particularly good. Some quarters have cited social concerns as the key issue against gambling. But this is quickly changing in modern times as information becomes accessible to more people. So how exactly does gambling influence the economy?
Filed in: | KK Hockey | Permalink

12/05/18 at 09:03 PM ET | Comments (1)
As Bob McKenzie said on NBCSN tonight, there is no rush to name a GM for the new Seattle team but two names keep getting mentioned, Ken Holland and Kelly McCrimmon.
Watch below.
Filed in: NHL Teams, | KK Hockey | Permalink

Blog: Abel to Yzerman By Paul
12/05/18 at 08:49 PM ET | Comments (5)
Lance Hornby of the Toronto Sun takes a look at tomorrow's game...
KEEP WILLY IN CHECK

This goes for both teams. While William Nylander will have an urge to show fans just what they're getting for $41 million US, he can't be caught trying to do too much freelancing in his first game. Regardless, he'll be a handful for Detroit.

SHORT TEMPERS

Detroit's next penalty killing situation will be its 100th of the year, one of the highest totals in the circuit. Toronto, with a potent power play, has had to kill a league-low 69.

KEEP PUCKS ON A STRING

At last, the Leafs meet a team more prone to giveaways than themselves. The Wings are league leaders, which makes life hard on goalies Jimmy Howard and Jonathan Bernier...
Filed in: | Abel to Yzerman | Permalink

12/05/18 at 08:40 PM ET | Comments (1)
from Michael Traikos of the National Post,
This isn't a debate on who is the best player in the world, but rather a reflection of what the salary cap was two years ago ($77 million US) when McDavid signed and what it's projected to be ($83.5-million) when Matthews' entry-level contract expires next year.

That's a $6.5-million increase. And you can bet it's something that will reflect in what Matthews ends up getting.

When McDavid signed an eight-year deal worth $100-million, the annual average of $12.5-million was 16.7% of the total salary cap. If Matthews wants that same percentage, his annual salary will be $13.9-million. And for those suggesting that Matthews would take less for the "good of the team," consider that McDavid's original deal was reportedly $13.25-million (17.2%) — so Matthews could make even more if he wanted.

Still don't think Matthews is worth McDavid money? Well, take a look at their numbers.
read on plus other hockey notes which should draw the interest of hockey fans...
Filed in: NHL Teams, Toronto Maple Leafs, | KK Hockey | Permalink
Tags: auston+matthews
Blog: Abel to Yzerman By Paul
12/05/18 at 01:57 PM ET | Comments (11)
Andreas Athanasiou is up first and below is Gustav Nyquist, Nick Jensen and Jeff Blashill.
Filed in: | Abel to Yzerman | Permalink

12/05/18 at 11:44 AM ET | Comments (0)
from Mike Ozanian and Kurt Badenhausen of Forbes,
The National Hockey League is skating faster than ever due to rising profitability and the prospect of more television money.

By our count, the league's average operating income hit a record $25 million for the 2017-18 season, 39% more than the previous season. The league's current ten-year collective bargaining agreement (both the NHL and the league's players association have the choice to opt out of the deal in the eighth year of the agreement) was ratified in January 2013 and reduced the players' share of hockey-related revenue to a 50-50 split with owners, down from 57-43. Since the 2011-12 season average operating income is up more than threefold.

The current U.S. television deal with NBC pays an average of $187 million a season—the network agreed to pay $2 billion over ten years but handed the league $200 million up front—and is likely to increase more than twofold when the current deal expires after the 2020-21 season. True, regular season viewership was down last season, but ratings were up for the more valuable postseason. A number like $400 million a year is quite possible.
continued with all kinds of league and team numbers...
Filed in: NHL Teams, NHL Talk, | KK Hockey | Permalink

« Previous ‹ First < 6 7 8 9 10 > Last › Next »
About Kukla's Korner
Kukla's Korner is updated around the clock with the work of our own talented bloggers, plus links to the best hockey writing around the internet. We strive to bring you all the breaking hockey news as it happens.
The home page allows you to see the latest postings from every blog on the site. Subscribe here. For general inquiries and more, please contact us anytime.
Most Recent Posts
Most Recent Comments