12/10/18 at 10:04 AM ET | Comments (0)
A bit over six minutes long.
Filed in: NHL Teams, | KK Hockey | Permalink

12/10/18 at 09:46 AM ET | Comments (0)
from Tracey Myers of NHL.com,
Rob Simpson is holding up well.

The 54-year-old sportscaster is going to 31 NHL games in 31 days but looked fairly rested at game No. 24 when the Montreal Canadiens played the Chicago Blackhawks at United Center on Sunday. After game No. 23, a 6-2 win for the Philadelphia Flyers at the Buffalo Sabres on Saturday, Simpson got home to Toronto for a rare good night's sleep.

"I did some laundry, got refreshed and flew into Chicago today," Simpson said. "So that's a highly unusual portion of the schedule to have that luxury."
Filed in: NHL Media, | KK Hockey | Permalink

12/10/18 at 08:25 AM ET | Comments (0)
from Mike Coppinger of the LA Times,
It was the Kyle Palmieri show in the early going.

The New Jersey Devils forward tormented his former squad with two goals in the game's first 11 minutes, bringing his season total to 16. The Ducks could sure use him now. Their 30th-ranked offense features only one player with double-digit goals: Pontus Aberg.

Palmieri was sent packing to New Jersey by general manager Bob Murray in 2015, and he's eclipsed the 20-goal plateau in each of his three seasons since. Luckily, the Ducks didn't need their own offense to grab the victory Sunday. The Devils did most of the work for them.

A head-scratching three own-goals committed by New Jersey allowed the Ducks to erase one-goal deficits on three occasions in a 6-5 shootout victory at Honda Center.

Ducks captain Ryan Getzlaf laughed when asked if he ever witnessed such a thing in his 14 years playing in the NHL. Of course, he hadn't.

"Our guys did a good job sticking with things," said Getzlaf. His shootout goal in Round 3, coupled with Daniel Sprong's earlier success, denied the Devils another opportunity.

"When you get a few of those bounces, it's big. We didn't get any in the first two months of the season. It's nice to get a couple tonight."
Game highlights are below.
added 11:27am, the three own-goals are below...
Filed in: NHL Teams, Anaheim Ducks, New Jersey Devils, | KK Hockey | Permalink

12/10/18 at 08:12 AM ET | Comments (0)
from Mark Spector of Sportsnet,
The day Milan Lucic arrived in Edmonton, as a free agent on July 1, 2016, he stood under a gleaming sun atop a parking garage across from Rogers Place and beamed, "The McDavid factor changes it all. That's why I chose to come here."

He had come to Northern Alberta to ride shotgun for the game's new rising star, with a fat, new seven-year, US$42-million deal in tow.

Fast forward to Sunday night, where Lucic was one of the most impactful players on the ice in a 1-0 win over the Calgary Flames — playing on a line with Kyle Brodziak and Zack Kassian. He's a hard-working checker now, working two lines and a powerplay unit below McDavid these days, simply trying to help settle a flagging franchise into a style that can bring home some wins.

"I'm just embracing the role, having fun playing a certain way with Brods and Kass. We know what's expected of us, and (head coach Ken Hitchcock) counts on us to play the right way and do the right things," said Lucic.

It's not easy to be that guy who makes $6 million on the third line; that guy who now has two goals in his last 76 NHL games. It's hard on the pride — it has to be for a proud man like Lucic.
Filed in: NHL Teams, Edmonton Oilers, | KK Hockey | Permalink
Tags: milan+lucic
Blog: Abel to Yzerman By Paul
12/10/18 at 07:53 AM ET | Comments (10)
Ansar Khan of Mlive answers questions from the fans...
Q: I have to admit this team is better than I thought and actually fun to watch. Love the play of the young guys and the scrappy play. I thought Blashill was going to be fired earlier this season. Now I think he might come back next year. What do you think?

A: I think the organization will evaluate Blashill near the end of the season and make its decision then.

I don't think he needs to reach the playoffs to earn an extension. If the team is competitive on a consistent basis, finishes near .500 and young players continue showing growth, I think Blashill will be back.

One of Blashill's strengths as coach of the Grand Rapids Griffins was player development. That was lacking in Detroit the past two seasons. This year, Dylan Larkin has taken his game to another level. Andreas Athanasiou is competing consistently. Anthony Mantha, following a slow start, was coming on strong before his injury. Tyler Bertuzzi brings it every night. Dennis Cholowski looks good. Michael Rasmussen has gained confidence after a tough start.

This bodes well for Blashill.
more Q & A...
Filed in: | Abel to Yzerman | Permalink

12/10/18 at 07:40 AM ET | Comments (0)
SUNDAY'S RESULTS
Home Team in Caps
Vancouver 6, ST. LOUIS 1
WINNIPEG 7, Philadelphia 1
Boston 2, OTTAWA 1 (OT)
Montreal 3, CHICAGO 2
ANAHEIM 6, New Jersey 5 (SOE
EDMONTON 1, Calgary 0
VEGAS 4, Dallas 2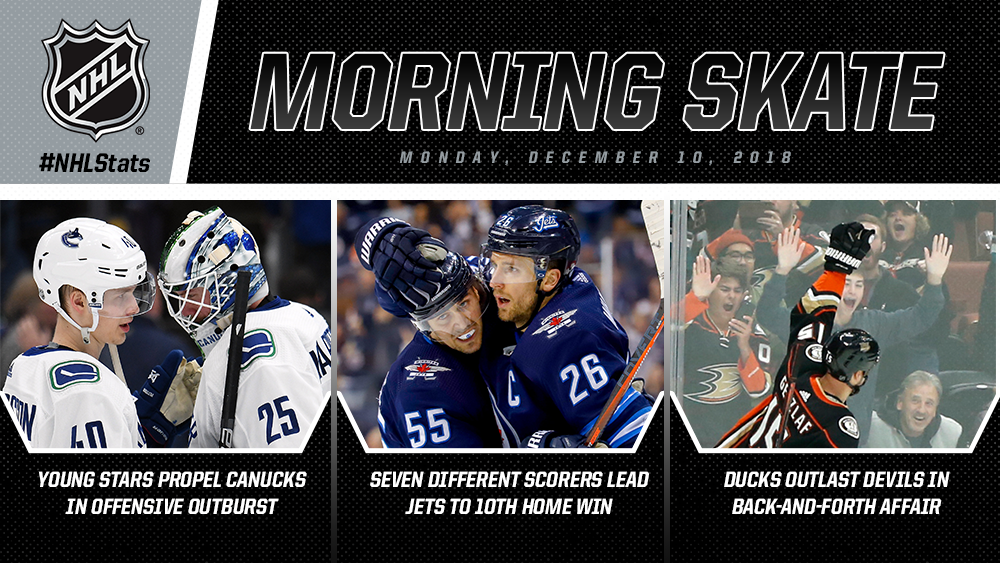 Filed in: NHL Teams, | KK Hockey | Permalink

12/09/18 at 06:40 PM ET | Comments (1)
Here is the interference explanation.
Filed in: NHL Teams, Toronto Maple Leafs, | KK Hockey | Permalink
Tags: zach+hyman
12/09/18 at 06:18 PM ET | Comments (1)
The St. Louis Blues lost to the Vanouver Canucks 6-1 today.
Filed in: NHL Teams, St. Louis Blues, | KK Hockey | Permalink

Blog: Abel to Yzerman By Paul
12/09/18 at 04:31 PM ET | Comments (0)
from Ted Kulfan of the Detroit News,
It was a turn-back-the-clock moment for Niklas Kronwall.
The Red Wings' veteran defenseman has long been known for some devastating open-ice hits....

Until Saturday, when Kronwall leveled New York Islanders forward Anders Lee with a clean hit to Lee's upper body, as Lee was transporting the puck near the Wings' blue line – but with his head down.

That term "Kronwalled" came out of the mothballs.

"The hard part when you're coming north-south is to not touch the head at all," said Kronwall, of his mindset in such situations. "When you're skating, you're in a position where your head is basically the point of your body that is the most forward.

"You try to go through the chest or shoulder. Sometimes you end up catching the head."...

There have been more than just a few highlights this season for Kronwall, who has been one of the Wings' most consistent defensemen since October.
Filed in: | Abel to Yzerman | Permalink

12/09/18 at 01:58 PM ET | Comments (0)
Watch the hit if you missed it earlier.
Filed in: NHL Teams, Toronto Maple Leafs, | KK Hockey | Permalink
Tags: zach+hyman
« Previous ‹ First < 5 6 7 8 9 > Last › Next »
About Kukla's Korner
Kukla's Korner is updated around the clock with the work of our own talented bloggers, plus links to the best hockey writing around the internet. We strive to bring you all the breaking hockey news as it happens.
The home page allows you to see the latest postings from every blog on the site. Subscribe here. For general inquiries and more, please contact us anytime.
Most Recent Posts
Most Recent Comments