01/18/18 at 08:31 AM ET | Comments (1)
from Ken Wiebe of the Winnipeg Sun,
A sizeable portion of available cap space will be eaten up by Hellebuyck and Trouba, even if Morrissey is willing to bank on himself and sign a two-year bridge deal.

Trouba's offensive numbers are down slightly from last season, but he's second on the Jets in ice time and wants to be paid like a No. 1 defenceman, provided he's willing to sign a long-term contract.

After betting on himself and stealing back the starting job from Steve Mason, Hellebuyck figures to cash in on his next contract after taking $2.25 million this summer on a one-year pact to avoid arbitration.

It's not a stretch to think Hellebuyck will double his salary on a longer-term deal.

The work doesn't end there either.

With second-year winger Patrik Laine going into the final year of his entry-level deal next season, a long-term extension figures to be a priority for Cheveldayoff this summer.
Filed in: NHL Teams, Winnipeg Jets, | KK Hockey | Permalink

01/18/18 at 08:06 AM ET | Comments (4)
from Jo He-rim of the Korea Herald,
South Korea's national ice hockey team announced the full roster for the PyeongChang Olympics on Thursday, a day after South and North Korea agreed to field a joint women's ice hockey team.

Sarah Murray, the national team coach, a former Canadian star and daughter of ex-National Hockey League coach Andy Murray, announced her 23-player team with 14 forwards, six blueliners and three goaltenders....

The entry list for the women's team, however, may change as the two Koreas on Wednesday agreed to form a single team. The International Olympic Committee is to determine the size of the roster of the unified group over the weekend in a series of meetings in Lausanne, Switzerland.

The agreement for a unified team, which is being hailed by the liberal Moon Jae-in administration, has met with angry responses here, with those opposed to the decision claiming it is unfair to "sacrifice" players for political reasons.

An ice hockey team fan filed a petition Wednesday against Culture and Sports Minister Do Jong-hwan with the state's human rights committee, to complain that forming a joint inter-Korean team would infringe the rights of South Korea's 23 national players.
Filed in: Non-NHL Hockey, International Hockey, | KK Hockey | Permalink

01/18/18 at 07:49 AM ET | Comments (0)
from Neil Paine of Tuesday's FiveThirtyEight,
The Vegas Golden Knights are only halfway through their inaugural season, and they've already redefined what anyone thought was possible for an NHL expansion franchise. Against all odds, the Knights are currently 29-10-3 with 61 points, good for the best record in the Western Conference — and only 4 points shy of the Tampa Bay Lightning for the best record in the entire league. It's enough to make the Knights hockey's greatest debut team ever, hands down.

But that's not all: Vegas is also lapping the field of expansion teams across every major pro sport. Even after adjusting for the way records are distributed in other sports, no other brand-new club in modern history came close to doing what the Knights have done so far. Expansion teams just aren't supposed to have this kind of success this early.
Filed in: NHL Teams, | KK Hockey | Permalink
Tags: vegas+golden+knights
01/18/18 at 07:37 AM ET | Comments (2)
from Des Bieler of yesterday's Washington Post,
The NHL proudly announced Tuesday its headlining entertainer for the league's All-Star Game, to be played in Tampa on Jan. 28. Apparently, more than a few fans felt that "Only God Knows Why" the league went with Kid Rock.

In other words, plenty of folks were willing to give the NHL "All Summer Long" to come up with a more relevant, less polarizing act. Those have been references to Kid Rock's hit songs, by the way. "Bawitdaba," anyone?...

Nevertheless, the NHL is likely to forge ahead with Kid Rock, even though he was booed at another recent sporting event, the Pistons' first game at their new arena. It's worth noting that the Pistons play in Detroit, where the locally produced, five-time Grammy Award nominee might reasonably have been expected to get a warmer welcome than in, say, Tampa.

Then again, given Tampa's location, it may fit better with an artist whose most recent album was titled "Sweet Southern Sugar" and spawned singles such as "Po-Dunk" and "Tennessee Mountain Top." That said, many NHL fans are wondering why the league thought Kid Rock was a good fit for its 2018 All-Star Game.
more with Twitter reactions...
Filed in: NHL Talk, | KK Hockey | Permalink
Tags: kid+rock
01/18/18 at 07:31 AM ET | Comments (0)
The Boston Bruins welcomed Claude Julien back to Boston.
The Canadiens lost 4-1 to the Bruins, game recap and highlights are below...
Filed in: NHL Teams, Boston Bruins, Montreal Canadiens, | KK Hockey | Permalink
Tags: claude+julien
Blog: The Malik Report By Paul
01/18/18 at 07:29 AM ET | Comments (17)
Yesterday, Helene St. James of the Detroit Free Press answered a few questions from fans...
On the power play...
Neither unit has looked good the past 10 games. Through the first 34 games, the Wings' power play was at 22.6 percent, top 7 in the NHL. Since then, it's operated at 6.1 percent (that's third-worst for the stretch Dec. 21-Jan. 17 — Vegas bottoms out at 3.7 percent). The Wings have two power-play goals the past 10 games, from Anthony Mantha and Justin Abdelkader. I'd like to see Frans Nielsen get a shot on Henrik Zetterberg's power-play unit, either in place of Niklas Kronwall or Gustav Nyquist. Nyquist only has four power-play points, even though he's top three in average power-play time on the team. There really isn't much choice, though, as far as altering personnel.
On trades...
Defenseman Mike Green, 32, will interest teams looking to add offense. He's a pending unrestricted free agent, and I wouldn't be surprised to see him traded and then end up re-signing with the Wings, provided he returns for a contract in the $3.5-million range. He really likes Detroit, and the organization likes him. He's the only source of offense from the back end, and that's not going to change next season unless the Wings win the draft lottery.

Goaltender Petr Mrazek, 25, has looked better his past three starts (2-1, 2.67 goals-against average, .909 save percentage), his pro-rated salary is now less than $2 million, and he's a pending free agent (unrestricted, as no team will qualify him at the $4 million he made this season). But he's two years removed from being elite, and he hurt his reputation last season with his attitude.

Nyquist, 28 is having a good season (14 goals, 23 points) and has a year left on his deal, at $4.75 million. (He has a no-trade clause, but can consent to a trade). I doubt he would fetch much, but then again, Tomas Jurco yielded a third-round pick from Chicago last year, and Jurco hadn't shown anything at the NHL level in two-plus seasons.
more Q & A...
Filed in: | The Malik Report | Permalink

01/18/18 at 07:23 AM ET | Comments (0)
WEDNESDAY'S RESULTS
Home Team in Caps
BOSTON 4, Montreal 1
ANAHEIM 5, Pittsburgh 3

BRUINS WIN TO PUSH NHL-BEST POINT STREAK TO 14 GAMES
Brad Marchand (1-1—2) and Patrice Bergeron (0-2—2) each collected two points as the Bruins (25-10-8, 58 points) scored four unanswered goals to defeat the Canadiens (18-21-6, 42 points) for the second time this week and extend their point streak to 14 contests (10-0-4), the longest such run in the NHL this season. Prior to the streak, the Bruins ranked 20th in the League but have since leapfrogged 14 teams into sixth in the overall standings.

* The Bruins, who are on their best run since a 16-game point streak from Mar. 2-30, 2014 (15-0-1), are responsible for two of six point streaks of 14+ games since the start of 2013-14. The others: Columbus (17-0-1), Anaheim (11-0-3), Washington (12-0-2) all in 2016-17; and Nashville (10-0-4) in 2015-16.

* In fact, this marks the 10th time in the 94-year history of the franchise that the Bruins have recorded a point streak of at least 14 games. Eight of those instances have occurred in the NHL's modern era (since 1943-44):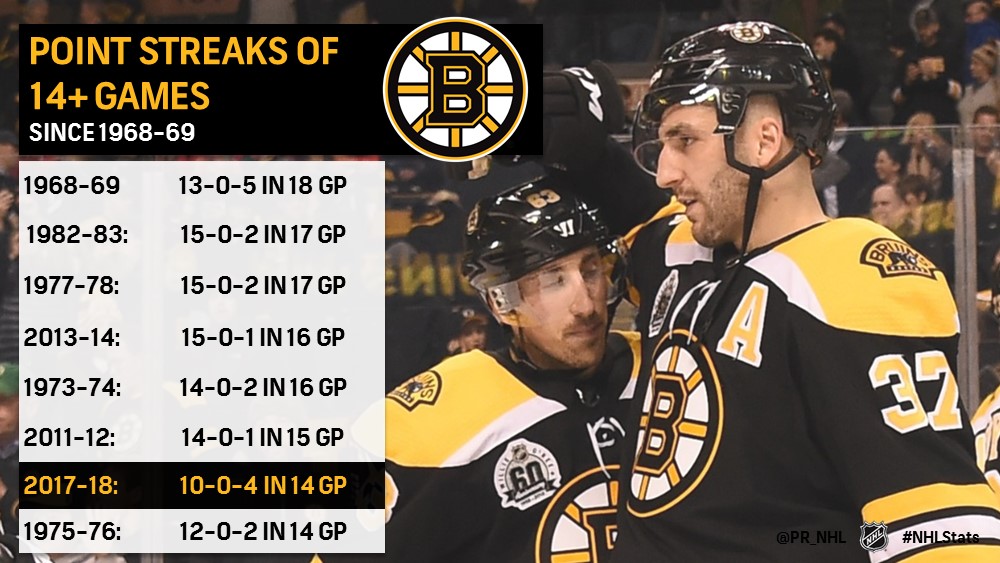 * Tuukka Rask (21 saves) improved to 13-0-2 in his last 15 decisions dating to Nov. 29, besting Andrei Vasilevskiy (13-0-1 from Oct. 9 – Nov. 16) for the longest such run by a goaltender this season.

* Rask's run is the 10th instance in Bruins history of a goaltender recording at least a point in 15+ consecutive decisions and the first since 1982-83 when Pete Peeters went 26-0-5 across 31 decisions (32 GP). The only such run in NHL history longer than Peeters' was also achieved by aBruins goaltender – Gerry Cheevers went 24-0-8 in 32 consecutive decisions in 1971-72 (33 GP).
Filed in: NHL Teams, | KK Hockey | Permalink

01/18/18 at 07:20 AM ET | Comments (4)
I haven't been feeling well the last few days, took some time off to rest up a bit and now feeling I can at least get back at it but slowly.
I will try to do some catch up posts which caught my eye while I was out.
Thanks for the understanding.
Filed in: KK Website Business, | KK Hockey | Permalink

Blog: KK Hockey By George Malik
01/17/18 at 09:08 PM ET | Comments (0)
As Sportsnet illustrates, the Boston Bruins honored Willie O'Ree prior to the Bruins-Canadiens game on Wednesday...
And, per the Associated Press:
Hockey pioneer Willie O'Ree was honored in Boston on Wednesday, the eve of the 60th anniversary of the Bruins forward breaking the NHL's color barrier.

At a news conference at the TD Garden before the Bruins game against the Montreal Canadiens, Mayor Marty Walsh declared Jan. 18, 2018, to be "Willie O'Ree Day". O'Ree made his debut in 1958 during a 3-0 victory against the Canadiens at the Forum in Montreal.
Filed in: | KK Hockey | Permalink
Tags: boston+bruins, willie+o'ree
Blog: KK Hockey By George Malik
01/17/18 at 07:53 PM ET | Comments (0)
From Sportsnet:
Chicago Blackhawks goaltender Corey Crawford is likely suffering from post-concussion syndrome, not vertigo, according to Scotty Bowman, a senior adviser with the club.

On Tuesday multiple reports claimed that the 33-year-old Crawford could miss the remainder of the season with vertigo-like symptoms.

"It's not what they're reporting," Bowman said Wednesday evening during Prime Time Sports on Sportsnet 590 The FAN. "Now, apparently what he really has is post-concussion syndrome."

Crawford was placed on injured reserve Dec. 27 with what the team dubbed an upper-body injury. The goalie suffered a blow to the head during a game in late November when Pittsburgh Penguins forward Evgeni Malkin collided with him. Crawford was assessed before returning in the same game and it's unknown if that incident is related to his current injury.
Filed in: | KK Hockey | Permalink
Tags: chicago+blackhawks, corey+crawford, scotty+bowman
« Previous ‹ First < 3 4 5 6 7 > Last › Next »
About Kukla's Korner
Kukla's Korner is updated around the clock with the work of our own talented bloggers, plus links to the best hockey writing around the internet. We strive to bring you all the breaking hockey news as it happens.
The home page allows you to see the latest postings from every blog on the site. Subscribe here. For general inquiries and more, please contact us anytime.
Most Recent Posts
Most Recent Comments