05/17/19 at 10:34 AM ET | Comments (0)
from Frank Seravalli of TSN,
Penguins GM Jim Rutherford put the NHL on alert when he said in an end-of-season interview that, "there could be changes, big changes," to Pittsburgh's core.

One month after the Penguins' sweep at the hands of the New York Islanders, Phil Kessel is most likely the first player to go if Rutherford is going to blow it up.

That's why two-time Stanley Cup champion Kessel is No. 1 on the first TSN Trade Bait board of the spring.

"Every possibility is on the table right now," Rutherford told reporters....

... this is the final year the Winnipeg Jets have defenceman Jacob Trouba under restricted free agent control, which is why the 50-point defenceman will likely be on the move. The Jets will have a tough time trying to fit him in under their salary cap structure. Would Steve Yzerman and the Detroit Red Wings or the Colorado Avalanche make a play for Trouba?

At No. 3, Ryan Callahan represents one of the salary cap casualties coming in Tampa Bay with Brayden Point up for a new deal. J.T. Miller, Alex Killorn, Ondrej Palat and Tyler Johnson are also candidates to be moved.
more with the top 15 trade bait players...
Filed in: NHL Teams, | KK Hockey | Permalink

05/17/19 at 08:54 AM ET | Comments (0)
from Ben Frederickson of the St. Louis Post-Dispatch,
Before we rank the San Jose Hand of Death up there with the iron claw on the list of most lethal knockout punches, perhaps we should consider the strength of our hometown hockey team's jaw.

By now, the Blues' backs are so comfortable in a corner, their shoulder blades rest naturally at an angle of 90 degrees.

They are not at ease unless considerable pressure is applied.

The harder, the better.

A preponderance of evidence says so.

It is this confounding character trait that has grayed hair and frayed hearts during the Blues' long, strange trip to these Western Conference finals.

We panic.

The Blues just push forward.

Nothing has changed now.

We were too busy lobbing Molotov cocktails on Twitter on Wednesday night to realize the Blues were handling the madness better than anyone else.
Filed in: NHL Teams, San Jose Sharks, St. Louis Blues, | KK Hockey | Permalink

05/17/19 at 08:40 AM ET | Comments (0)
from Luke DeCock of the News & Observer,
It's hard to say this wasn't how it was supposed to end, since they were never supposed to be here in the first place. There was the expected ovation of appreciation from the fans who stuck it out to the end, albeit dampened by the circumstances.

The Carolina Hurricanes' wild month-long ride came to the tamest of ends, a sweep at the hands of a clearly superior opponent, while their captain – maybe at the end of his career, maybe just approaching it – was still in his gear long after his teammates had left the dressing room. Justin Williams took it harder than anyone else, perhaps knowing better than anyone else how rarely these opportunities arise and how few, if any, he may have left at age 37.

It will take a while for this run to find the proper perspective, and no one was in position to do that after a 4-0 loss to complete the Boston Bruins' sweep of the Eastern Conference finals on Thursday, the Prince of Wales Trophy presented on this ice for the third time, only once to the home team.

But in the tears and frustration and disappointment – and rank embarrassment over a rudderless power play that was inadequate all season and proved decidedly crippling in this series – there is at least a lesson in just how much this very young team has to improve to be competitive at this elite level.
Filed in: NHL Teams, Carolina Hurricanes, | KK Hockey | Permalink

05/17/19 at 08:25 AM ET | Comments (0)
from Chris Johnston of Sportsnet,
This is supposed to be a young man's league, but the greybeards have another shot at immortality.

Zdeno Chara. Patrice Bergeron. Brad Marchand. Tuukka Rask. David Krejci.

None of them are under 30 years of age, and each is still playing a prime-time role for the Boston Bruins eight years after first lifting the Stanley Cup in 2011. Together with a special group of young reinforcements, they've earned the opportunity to try and do it again.

"It's very special. It means a lot," said Bergeron. "We kind of grew up together. The core group has been through a lot, I guess. Ups and downs.

"Over the last few years we've built something special with the young guys … they're a big part of this group and this team. They want to get better. They're big-time players and they relish any challenge. It's been a fun ride."
Below, watch the series recap of Bruins/Hurricanes.
Filed in: NHL Teams, Boston Bruins, | KK Hockey | Permalink

05/17/19 at 08:11 AM ET | Comments (0)
Bruins advance to Stanley Cup Final for 20th time in franchise history; Rask records third career series-clinching shutout; Sharks and Blues square off in pivotal Game 4.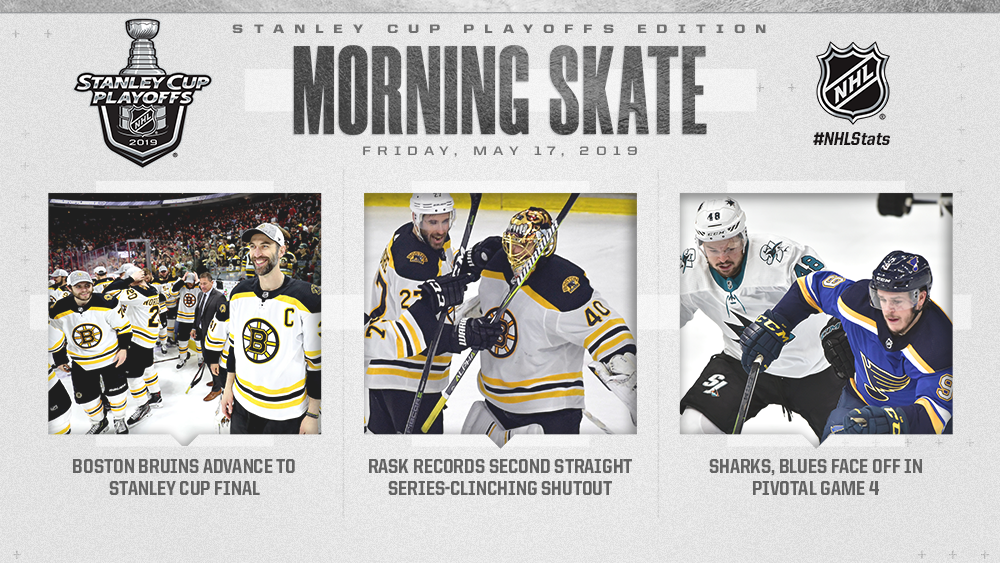 Filed in: NHL Teams, | KK Hockey | Permalink

05/16/19 at 10:43 PM ET | Comments (5)
The Bruins completed the sweep of the Carolina Hurricanes with a 4-0 win tonight.
Boston was the better team throughout the series and earned the outcome.
The earliest end date for the WCF is Sunday, May 19th and the latest it can end is Thursday, May 23rd.
So way too early to say when the SCF will start.
I'll add highlights to this post when available.
added 11:01pm, Handshakes below.
added 11:17pm, Prince of Wales Trophy presentation is below.
added 11:41pm, game highlights below...
Filed in: NHL Teams, Boston Bruins, Carolina Hurricanes, | KK Hockey | Permalink

05/16/19 at 09:26 PM ET | Comments (0)
Tonight's topics of interest- Throwing the puck up the middle is not a good sign for the Canes, the first period of tonight's game, the hand pass, the Blues icing the puck late in the game last night and the Memorial Cup starts tomorrow.
via Sportsnet's YouTube page,
Filed in: | KK Hockey | Permalink

05/16/19 at 08:01 PM ET | Comments (0)
NEW YORK (May 16, 2019) – Doug Armstrong of the St. Louis Blues, Don Sweeney of the Boston Bruins and Don Waddell of the Carolina Hurricanes are the three finalists for the 2018-19 NHL General Manager of the Year Award, the National Hockey League announced today.
Voting for this award was conducted among the NHL general managers and a panel of League executives, print and broadcast media at the conclusion of the Second Round of the 2019 Stanley Cup Playoffs. The winner will be announced Wednesday, June 19, during the 2019 NHL Awards™ presented by Bridgestone at Mandalay Bay Resort and Casino in Las Vegas.
Following are the finalists for the NHL General Manager of the Year Award, in alphabetical order:
Filed in: NHL Teams, | KK Hockey | Permalink

05/16/19 at 07:33 PM ET | Comments (8)
Boston leads the series 3-0 and have been the better team.
Carolina has hope but other than that, it looks like this series is over.
Late news, Chara out tonight, replaced by John Moore.
Filed in: NHL Teams, Boston Bruins, Carolina Hurricanes, | KK Hockey | Permalink

Blog: Abel to Yzerman By Paul
05/16/19 at 05:00 PM ET | Comments (3)
2 1/2 minutes to watch.
Filed in: | Abel to Yzerman | Permalink

« Previous ‹ First < 3 4 5 6 7 > Last › Next »
About Kukla's Korner
Kukla's Korner is updated around the clock with the work of our own talented bloggers, plus links to the best hockey writing around the internet. We strive to bring you all the breaking hockey news as it happens.
The home page allows you to see the latest postings from every blog on the site. Subscribe here. For general inquiries and more, please contact us anytime.
Most Recent Posts
Most Recent Comments