Blog: Abel to Yzerman By Paul
01/15/19 at 02:12 PM ET | Comments (2)
from Ted Kulfan of the Detroit News,
Danny DeKeyser will be back in the Red Wings' lineup Tuesday against Anaheim.

Who, eventually, sits, or maybe gets sent back to Grand Rapids — that would be Filip Hronek, in that likely scenario — remains to be seen.

The Wings bought a bit of time on the entire issue when forward Michael Rasmussen was put on the short-term injured list.

But with DeKeyser — returning after missing six weeks because of a wrist injury — Dennis Cholowski, Jonathan Ericsson, Mike Green, Hronek, Nick Jensen and Niklas Kronwall all available (Trevor Daley (foot) is still a few weeks away), there's a glut of defensemen.

Coach Jeff Blashill wouldn't speculate as to whether he'd dress six or seven defensemen against the Ducks.
Below, watch DeKeyser and Blashill after today's skate and notes from the Anaheim side.
added 5:17pm, Detroit's projected linuep is below.
Filed in: | Abel to Yzerman | Permalink

01/15/19 at 02:08 PM ET | Comments (1)
2 1/2 loing and Sportsnet style.
Filed in: NHL Teams, | KK Hockey | Permalink

01/15/19 at 12:25 PM ET | Comments (0)
from Micael Traikos of the National Post,
The Leafs are still one of the best in the league. But they're not playing like it. Not with Gardiner losing puck battles, the power play seemingly getting worse by the day, and William Nylander looking like he left his hands back in Sweden when he signed that massive contract.

For the first time this season — and really, for the first time since Mike Babcock took over as head coach — the on-ice product is falling short of what's on paper.

It's one thing to beat up on non-playoff teams, such as New Jersey and Vancouver, as Toronto has done recently. But when you lose 4-0 to the Predators, then drop the season series to the Bruins at home, followed by a loss to the slumping Avalanche, then it's natural for the fans to wonder if this team is good enough to take that next step.

Right now, this team doesn't look like a contender. It looks like a team that needs significant changes to its back end and a swift kick in the butt from its head coach.
more including the booing of Jake Gardiner last night...
Filed in: NHL Teams, Toronto Maple Leafs, | KK Hockey | Permalink

Blog: Abel to Yzerman By Paul
01/15/19 at 10:34 AM ET | Comments (10)
Ansar Khan tweet,
Jimmy Howard in starter's net during optional morning skate
As the norm, I will update if needed.
Filed in: | Abel to Yzerman | Permalink

01/15/19 at 09:27 AM ET | Comments (0)
from the CP at Sportsnet,
A biopic tracing the brutal life and extraordinary career of goaltender Terry Sawchuk is hitting the big screen in March.

"Goalie" stars Mark O'Brien as the Winnipeg-born hockey great, whose run through the '50s and '60s established him as one of the winningest goaltenders in the National Hockey League's history.

Kevin Pollak of "The Marvelous Mrs. Maisel" plays general manager Jack Adams while O'Brien's real-life wife Georgina Reilly of "Murdoch Mysteries" plays Sawchuk's wife, Pat. The movie was shot in Sudbury, Ont.

Producers say the film follows Sawchuk from his youth in Winnipeg to Detroit, Boston, Toronto, Los Angeles, and New York between 1950 and 1970. That includes his 103 shutouts, the 400 stitches to his face, and tragic death at age 40 in 1970....

"Goalie" is set to open March 1 in Toronto and Vancouver, before hitting other cities in the spring.
Filed in: Hockey Related Stories, | KK Hockey | Permalink
Tags: terry+sawchuk
01/15/19 at 08:40 AM ET | Comments (0)
from Pierre LeBrun of The Athletic,
You're looking at a guy who still wears the scars of covering a few NHL lockouts in his day.

But I must say, what I'm hearing from both sides these days on the NHL labour front is almost unheard of for this sport.

You're talking about a league that's had three lockouts in 25 years.

But at this hour, for what it's worth in the here and now, we seem to have two sides genuinely hoping to avoid missing games this time around.

Under the auspices of meeting a few times this season to salvage the 2020 World Cup of Hockey, including a positive get-together last week in Las Vegas, there's been spill-over CBA chatter which well, has actually been positive....

"Talking in a substantive and meaningful way this far in advance of contract expiration can only be a good thing," NHL deputy commissioner Bill Daly told The Athletic on Monday.
more ($$$)
Filed in: NHL Talk, NHLPA, | KK Hockey | Permalink

01/15/19 at 08:24 AM ET | Comments (0)
Elliott Teaford of the OC Register answers questions from fans regarding the Anaheim Ducks,
Q: Do you get the sense Carlyle is going to finish out the season before moving to the front office, regardless of losing streak or missing playoffs?

A: That's a very likely scenario.

Q: Any word on who Carlyle's successor might be?

A: Dallas Eakins, the coach of the Ducks' AHL team in San Diego, could be in line for another crack at an NHL gig after a disastrous run a few years back at Edmonton. It also depends upon who is available after the season.

Q: Do you think we'd be in this position if we had Perry and Eaves? A fully healthy roster.

A: Probably not as bad. The first month to six weeks of the season would have been better, that's for sure. Four rookies playing in the defense corps? I don't think I had ever seen three rookies before this season. Amazing it hasn't been worse, really.
Filed in: NHL Teams, Anaheim Ducks, | KK Hockey | Permalink

Blog: Abel to Yzerman By Paul
01/15/19 at 07:48 AM ET | Comments (29)
from John Niyo of the Detroit News,
Howard is well aware the NHL trade deadline is looming in late February and the Red Wings clearly are earmarked as sellers for a third consecutive season. Likewise, general manager Ken Holland knows he'll have some decisions to make in the coming weeks, with a handful of pending free agents — Howard, Gustav Nyquist, Niklas Kronwall, Tomas Vanek and Nick Jensen — and perhaps a few other players (Mike Green, Trevor Daley, Luke Glendening) drawing some interest around the league as well.

Just how much interest remains to be seen in what looks to be a buyer's market. The sort of haul Holland landed from Las Vegas in the Tomas Tatar deadline deal likely won't materialize this time around for Nyquist, though perhaps a team like Colorado or Edmonton will come calling.

And in Howard's case, it may take more than a significant injury elsewhere to create a desperate buyer among the playoff contenders. It might take a significant offer for Holland to pull the trigger, partly because the Wings are interested in bringing him back for more.

"Obviously, it depends what I'm thinking but it also depends on what Jimmy's thinking," Holland told Sirius NHL Radio last week. "But certainly he has played great, so I've got to sit down and talk with him here as we head up toward the trade deadline."
I do hope Niyo realizes the return for trading a pending UFA usually does not get the same type of return when trading a player (Tatar) who is signed through the 2020-21 season.
Filed in: | Abel to Yzerman | Permalink

01/15/19 at 07:27 AM ET | Comments (0)
MONDAY'S RESULTS
Home Team in Caps
Colorado 6, TORONTO 3
NEW JERSEY 8, Chicago 5
PHILADELPHIA 7, Minnesota 4
St. Louis 4, WASHINGTON 1
Montreal 3, BOSTON 2 (OT)
EDMONTON 7, Buffalo 2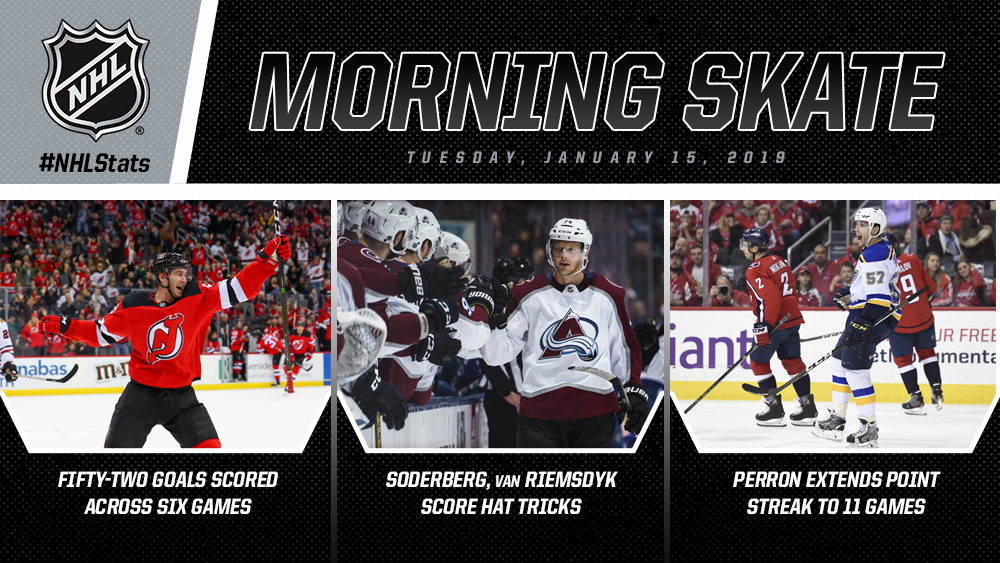 Filed in: NHL Teams, | KK Hockey | Permalink

01/14/19 at 09:32 PM ET | Comments (0)
from Ed Willes of the Vancouver Province,
We're late to this — which is the story of our career — but mid-January is generally the time when grades and awards are passed out for the first half of the NHL season. With that in mind, let's start with the Canucks.

The locals find themselves in 11th place in the West but two points out of the second wild-card spot. For most teams that would be considered a disappointment. For the Canucks it qualifies as a crowning achievement.

Elias Pettersson, of course, is the main reason for that, but there have been encouraging signs elsewhere in the lineup, starting with the goaltending.

Jacob Markstrom isn't exactly front-and-centre in the Vezina conversation, but he's more than held up his end of the bargain. Markstrom is down the list in save percentage and goals-against average, but his 17 wins were as many as Carey Price and Pekka Rinne before Monday night and puts him in the league's top 10.
Filed in: NHL Teams, Vancouver Canucks, | KK Hockey | Permalink

« Previous ‹ First < 2 3 4 5 6 > Last › Next »
About Kukla's Korner
Kukla's Korner is updated around the clock with the work of our own talented bloggers, plus links to the best hockey writing around the internet. We strive to bring you all the breaking hockey news as it happens.
The home page allows you to see the latest postings from every blog on the site. Subscribe here. For general inquiries and more, please contact us anytime.
Most Recent Posts
Most Recent Comments