12/10/19 at 02:58 PM ET | Comments (4)
via Elliotte Friedman tweets,
World Cup for Feb 2021 is off...not enough time to get it done. Commissioner still wants one, but won't be then

Commissioner wouldn't be pinned down on a cap number -- said that will be negotiated with players (he's referring to their right to inflate the ceiling by up to 5 per cent). Current number is $81.5M, there is belief it could get to 84-85 depending on future conversations
added 3:02pm,
Filed in: NHL Talk, | KK Hockey | Permalink

Blog: Abel to Yzerman By Paul
12/10/19 at 02:53 PM ET | Comments (3)
from Helene St. James of the Detroit Free Press,
The Detroit Red Wings demoted Madison Bowey to send a message.

He was assigned to the Grand Rapids Griffins on Tuesday after no NHL team claimed him off waivers. Bowey, 24, was described as a "reclamation project" when he joined the Wings last February as part of a trade package, and his lack of growth made him expendable.

"At the end of the day, he had gotten into a spot where he was out of the lineup," coach Jeff Blashill said Tuesday before the game against the Jets. "It had stagnated a little bit. It was a spot where he had some tough games in a row and so we took him out of the lineup. If he is going to be out of the lineup, he should play hockey.

"This doesn't need to be the end for him by any means. As I said to him, go down and play like you don't belong down there. Then people will be pounding on my door to have him come back up. His play will dictate his opportunities.
Filed in: | Abel to Yzerman | Permalink

Blog: Abel to Yzerman By Paul
12/10/19 at 12:30 PM ET | Comments (4)
If the Wings do have a skate today, it will be added here. added 12:34pm, It is an optional skate for the Wings.
Game time is 9:00pm 8:00pm ET tonight.
Madison Bowey cleared waivers today, Blashill said yesterday he would head to Grand Rapids if he cleared.
Also this..
added 12:36pm,
Filed in: | Abel to Yzerman | Permalink

12/10/19 at 11:30 AM ET | Comments (0)
The Edmonton Oilers are a name venerated in Alberta and are the biggest, most obsessively supported sports team in the city. Stanley Cup champions on five occasions but the last of those coming in 1990, there is a hunger within Edmonton to see their beloved team return to the pinnacle of the game.
Well, the fans may not have to wait too much longer. With a new state-of-the-art arena in place (Rogers Place to be exact) and a team with one of the best players in the league, the Oilers could be close to making a proper run for the Stanley Cup. There are still some question marks but let's assess why there is growing optimism that this team could be about to bring the good times back to Edmonton.
Filed in: | KK Hockey | Permalink

12/10/19 at 10:38 AM ET | Comments (10)
via the Dallas Stars,
Dallas Stars General Manager Jim Nill announced today that Jim Montgomery has been dismissed as the team's Head Coach. Effective immediately, Rick Bowness, who has served as Assistant Coach since June 22, 2018, will assume the role of Interim Head Coach for the team.
Additionally, Derek Laxdal, who was serving as the Head Coach of the Texas Stars, will be added to Bowness' staff as Assistant Coach. Neil Graham has been named Head Coach of the Texas Stars. He was serving as Texas' Assistant Coach.
Statement from Dallas Stars General Manager Jim Nill:
"The Dallas Stars expect all of our employees to act with integrity and exhibit professional behavior while working for and representing our organization. This decision was made due to unprofessional conduct inconsistent with the core values and beliefs of the Dallas Stars and the National Hockey League."
Filed in: NHL Teams, Dallas Stars, | KK Hockey | Permalink
Tags: jim+montgomery
Blog: Abel to Yzerman By Paul
12/10/19 at 09:06 AM ET | Comments (5)
from Craig Custance of The Athletic,
It's a concept that was coined by former Los Angeles GM Dean Lombardi when the Kings were at the peak of their power during the middle of the last decade. He called the trio of Anze Kopitar, Drew Doughty and Jonathan Quick the Kings' microcore. The theory was pretty simple: Teams that build around high-end players at those three positions – No. 1 center, No. 1 defenseman and goaltender – should be in pretty darn good position to challenge for a Stanley Cup....

To get a sense of how each NHL team's microcore stacks up, each team's microcore was identified and presented to a panel from inside the hockey world to rate each one on a scale of 1-100. To provide an analytics balance, we added in ratings from The Athletic's Dom Luszczyszyn as part of the average.

Here was the breakdown of the panel: Two NHL executives, two NHL scouts and an NHL coach, plus Dom....
Tampa is rated first with Brayden Point, Victor Hedman and Andrei Vasilevskiy with an average rating of 90.9.
Detroit is ranked 30th with Dylan Larkin, Filip Hronek and Jimmy Howard and their rating is 63.9
It's been a tough season in Detroit but this exercise is another example of just how badly the franchise needs high-end talent at key positions. The pain right now is necessary for a team that needs a couple more top picks in the system. "I like (Dylan) Larkin. He'd be a really good No. 2 center. Maybe a No. 1 winger," suggested one executive. "(Filip) Hronek is more of a prospect. And you wouldn't want to be a goalie in Detroit right now."

"Hronek is their No. 1 D?" Asked one panelist. "That's a tough depth chart. But I have always liked Hronek because of his compete."
the rest of the teams ($$$)...
added 9:14am, Yesterday The Hockey News wanted to know if the Wings are the worst NHL of the salary cap era. Watch below.
Filed in: | Abel to Yzerman | Permalink

12/10/19 at 08:18 AM ET | Comments (0)
THREE HARD LAPS

* Matthew Tkachuk eclipsed 200 career regular-season points and joined an elite list of U.S.-born players to reach the milestone before turning 22.

* The Islanders required the fewest games in their 47-year franchise history to reach the 20-win mark in a season.

* Jean-Gabriel Pageau, who is averaging 0.65 goals per game since the beginning of November, and Cam Atkinson, who has tallied at least 20 times in each of his last six seasons, continued to find their scoring touch.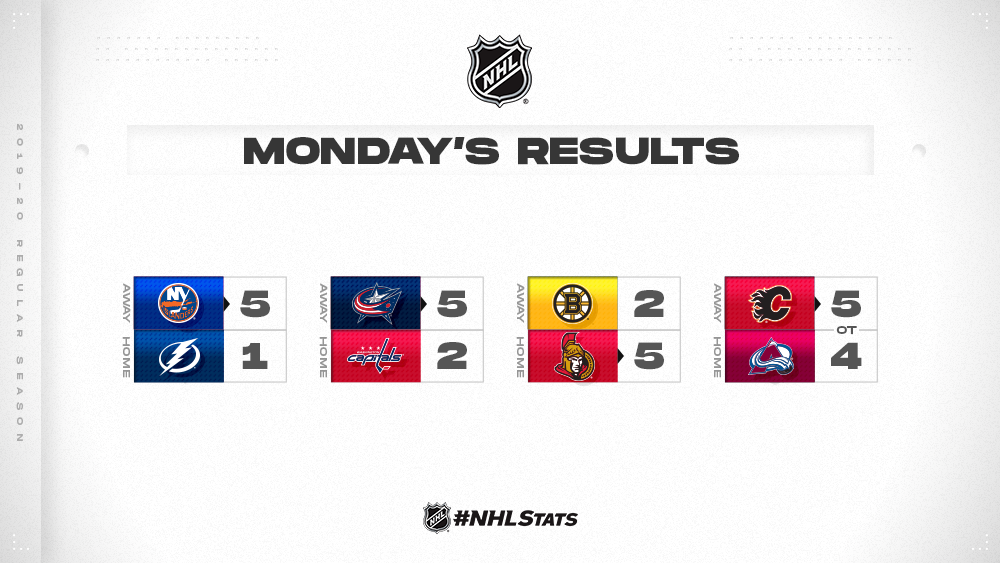 Filed in: NHL Teams, | KK Hockey | Permalink

12/09/19 at 08:51 PM ET | Comments (1)
via Frank Seravalli tweets,
Bettman: "The world is changing for the better. This is a moment for positive change."

commissioner Gary Bettman says "our message is unequivocal. We will not tolerate abuse of any kind."

Bettman says #NHL teams have been "put on notice. We don't like surprises." Says there will be "severe discipline" if either him or Bill Daly are not immediately notified immediately.

Bettman announces a new mandatory annual training program will be required for all head coaches, asst coaches, minor league coaches, GMs, assistant GMs on diversity and inclusion. It will be a program designed by an outside company.

Bettman says inappropriate conduct in the future will be disciplined by the team, league, or both.

Bettman says #NHL will be creating a "hotline" in which inappropriate conduct can be reported anonymously for players, teammates or #NHL team personnel. "I can guarantee we will take them seriously."
added 9:25pm, Gary Bettman statement below.
added 9:50pm, Video of Bettman speaking is below.
Filed in: NHL Teams, NHL Talk, | KK Hockey | Permalink

Blog: Abel to Yzerman By Paul
12/09/19 at 05:55 PM ET | Comments (16)
from Ted Kulfan of the Detroit News,
...here are my top 10 prospects, as things currently stand, for the 2020 NHL Draft.

1. Alexis Lafreniere, left wing, 6-foot-1, 192 pounds (Rimouski, Quebec junior league): Lafreniere generally has been regarded as the best player in this draft class for several years. He's an elite stickhandler who can make the hockey highlights with his wizardy with the puck. Scouts like his competitive edge, but there are some reservations about Lafreniere's skating and speed.

"Lafreniere can finish the plays or he can make the plays," said Craig Button, TSN director of scouting, last month. "He's the best player at this point, but there are five or six guys who could force their way into the discussion."

2. Quinton Byfield, center, 6-foot-4, 214 pounds (Sudbury, OHL): Some scouts, in the early projections, are comparing Byfield to a young Evgeni Malkin. Byfield is a towering, big center who has elite skill and is an outstanding skater for his size. This type of center, with his skills, could anchor an organization for a decade.
8 more names...
Filed in: | Abel to Yzerman | Permalink

12/09/19 at 05:34 PM ET | Comments (0)
via Sportsnet's YouTube channel,
In this week's episode of Healthy Scratch, Danielle Michaud investigates the current conflicts in the NHL, interviews Hometown Hockey / Hockey Night in Canada host Ron MacLean, gives a stick tap to Laila Anderson's hero, and the 'Michplays of the Week'… all in just 9 minutes!
watch below...
Filed in: NHL Teams, NHL Talk, | KK Hockey | Permalink

« Previous ‹ First < 2 3 4 5 6 > Last › Next »
About Kukla's Korner
Kukla's Korner is updated around the clock with the work of our own talented bloggers, plus links to the best hockey writing around the internet. We strive to bring you all the breaking hockey news as it happens.
The home page allows you to see the latest postings from every blog on the site. Subscribe here. For general inquiries and more, please contact us anytime.
Most Recent Posts
Most Recent Comments