05/18/19 at 07:07 PM ET | Comments (0)
from Steve Simmons of the Toronto Sun,
- The Bruins may be on to something with the way in which they managed Tuukka Rask's play during the regular season. Their version of Load Management. Rask started just 45 games, his lowest total in six years. And when you add the 17 playoff starts, that brings his total to 62 games. By comparison, Frederik Andersen started 60 games for the Leafs in the regular season and seven more playoff games. Anderson was brilliant in Game 6 against Boston and just average in Game 7. Rask is the leading contender for the Conn Smythe Trophy.

- If the Sens are interviewing Patrick Roy, what does that say for Marc Crawford, D.J. Smith, Rick Bowness and all the other candidates interviewed?

- It probably makes the Nashville Predators happy that Kyle Turris is captain of Team Canada. Preds want to move Turris, who has $30 million and five years left on a rare bad contract signed by David Poile. Maybe the captaincy ups his value.
a few more hockey topics...
Filed in: NHL Teams, | KK Hockey | Permalink

05/18/19 at 05:26 PM ET | Comments (1)
The answer to this officiating mess that has been a long time coming is not to dramatically expand video review, but to dramatically improve the performance of the referees and linesmen working the games. It is to provide them with better direction, perhaps a new protocol. It is to revamp the officiating department, and that means starting at the top.
-Larry Brooks of the New York Post where you can read more on this topic, plus a few additional notes.
Filed in: NHL Teams, NHL Talk, NHL Officiating, | KK Hockey | Permalink

05/18/19 at 05:20 PM ET | Comments (0)
Tennis ball machines are mechanical devices designed to throw tennis balls automatically. It works by releasing balls at different speeds, intervals, and angles. This device is a training aid to help tennis players enhance their ball hitting technique. It is the best alternative for solo tennis practice since it allows the ball to be short off from realistic hitting angles and positions. It can also be used by coaches to train their players by demonstrating swings, controlling the ball angles, and giving individual training in a group practice. Here's why you should practice with a tennis ball machine:
Filed in: | KK Hockey | Permalink

Blog: Abel to Yzerman By Paul
05/18/19 at 03:29 PM ET | Comments (2)
from Helene St. James of the Detroit Free Press,
F Evgeny Svechnikov Drafted: 19th.

Scouting report: Considered a complete package of size, skill and strength.

Wingspan: It looked promising when Svechnikov notched 20 goals among 51 points in 74 games with the Grand Rapids Griffins as a rookie, and then helped them win the Calder Cup with 12 points in 19 AHL playoffs games. His second pro season, though, started with a slump — Svechnikov had just five points his first 27 games with the Griffins. He righted himself enough to pump 17 points into the next 25 games, and earned an audition with the Wings. Svechnikov scored his NHL goal March 20 and recorded a first multi-point game (goal, assist) on March 29 to finish with two goals and two assists in 14 games.

A knee injury sustained last September led to ACL surgery in October and sidelined Svechnikov the entire season. The Wings made Svechnikov eligible for the 2019 AHL playoffs because at that time (February) there was still hope he'd be able to play by late March, but that plan was scuttled as Svechnikov didn't show enough progress.

At least that decision buys the Wings time — because Svechnikov, 22, was sidelined the entirety of what would have been his third season of pro hockey, his last year of waiver exemption carries over to 2019-20.

D Vili Saarijarvi Drafted: 73rd.

Scouting report: Mobile and smart player.

Post draft: Bounced between the Griffins and the ECHL's Toledo Walleye in his first pro season of 2017-18. Had 16 points in 70 games for the Griffins in 2018-19. Saarijarvi, who turns 23 on May 15, has yet to see NHL action. He had a nice season with the Griffins, but he's been overshadowed by Filip Hronek and Dennis Cholowski, and will soon be dealing with competition from more recent draft picks in Gustav Lindstrom and Jared McIsaac, both of whom are very skilled players, as well as free-agent signee Oliwer Kaski.

Assessment: Has dropped on the depth chart.
more on the above players and other draft picks...
Filed in: | Abel to Yzerman | Permalink

05/18/19 at 12:25 PM ET | Comments (3)
from Bruce Garrioch of the Ottawa Sun,
Talk in league circles Saturday was that legendary NHL goaltender Patrick Roy is expected to be the final interview by Ottawa general manager Pierre Dorion in a thorough search for the vacant post behind the bench.

It's believed the Senators could speak to the 53-year-old Roy next week to discuss the possibility of being a full-time replacement for Guy Boucher, who was fired by the club on March 1. That would make Roy the mystery seventh candidate for the job, with six interviews already completed.

Roy also has a good relationship with Ottawa assistant GM Peter MacTavish, a former agent, who has been conducting the interviews with Dorion.

While Roy is best known for his Hall-of-Fame career with the Montreal Canadiens and the Colorado Avalanche, he has paid his dues as a coach and has had success.
Filed in: NHL Teams, Ottawa Senators, | KK Hockey | Permalink
Tags: patrick+roy
Blog: Abel to Yzerman By Paul
05/18/19 at 11:59 AM ET | Comments (4)
And he just scored another, two for the day, 7 for the tourney
Watch the highlight goal below, two versions.
Filed in: | Abel to Yzerman | Permalink

05/18/19 at 11:04 AM ET | Comments (0)
from Curtis Pashelka of the Mercury News,
Perhaps there was only one sight uglier than the Sharks' start to Game 4 of the Western Conference Final against the St. Louis Blues on Friday.

It was the one of defenseman Erik Karlsson on the Sharks' bench late in the third period, lurched over in obvious discomfort.

Karlsson returned late the third after the Sharks had pulled Martin Jones, attempting to tie the game with the extra attacker on the ice. But the Sharks couldn't beat Blues goalie Jordan Binnington a second time and lost 2-1, setting up a pivotal Game 5 at home on Sunday with the series now tied 2-2.

Sharks coach Pete DeBoer didn't have a health update after the game on Karlsson, who missed a handful of shifts after he left the ice at a stoppage in play with 9:24 left in regulation time. Karlsson came back with just under two minutes left, a good sign for the Sharks that he was able to gut it out for one final push.

Still, for a player who missed 27 of the Sharks' final 33 games due to groin and leg injuries, there has to be some concern for how effective Karlsson might be for the rest of this series.
Filed in: NHL Teams, San Jose Sharks, | KK Hockey | Permalink
Tags: erik+karlsson
05/18/19 at 08:38 AM ET | Comments (1)
from Luke Fox of Sportsnet,
Here, in order of sheer panic, is a look at the seven NHL clubs most in need of solidifying their crease in the 2019 off-season. Let that carousel spin.

Carolina Hurricanes

As remarkable as the Canes' playoff run — three series deep! — was this spring, and as much cap space as budget-conscious Carolina has to manoeuvre (approximately $20 million), next year's roster is going to look much different.

Regulars Sebastian Aho, Justin Williams, Michael Ferland, Brock McGinn and Greg McKegg are all headed to free agency, and the prices at the Jerk store just went up.

Think the forwards are a puzzle? Carolina was the only NHL club operating without a goalie under contract for 2019-20. Scott Darling's future as a professional goalie is in question, and the overachieving tandem of Mrazek and McElhinney — who made a paltry $2.35 million combined — is headed toward the open market and significant pay raises.

Behind them is impressive but unproven 23-year-old prospect Alex Nedeljkovic — and he's an RFA.

We can see Mrazek getting lured by bigger bucks elsewhere, while McElhinney could re-sign short-term for a pay bump.

Columbus Blue Jackets

Did impending UFA Bobrovsky even unstrap his pads before he listed his Columbus condo for sale?

Goalie Bob's weave out of Ohio to become the most desirable netminder on the open market leaves the Jackets without a sure-shot No. 1 for the first time in eight years.

Complicating matters, neither backup — deadline insurance Keith Kinkaid (UFA) and the underwhelming Joonas Korpisalo (RFA) — has put pen to paperwork for 2019-20....
Filed in: NHL Teams, | KK Hockey | Permalink

05/18/19 at 08:13 AM ET | Comments (0)
from Iain MacIntyre of Sportsnet,
The most important coaching Craig Berube did this series wasn't even during a game.

It wasn't finding a way to wring more from Vladimir Tarasenko or changing the St. Louis Blues' power play or tweaking the defence pairings. It was walking into the dressing room late Wednesday to tell his players, emotional and vibrating with anger about a non-call that decided a playoff game against them, that everything was going to be alright.

"He comes in and says: 'Forget about it, move on,'" St. Louis centre Ryan O'Reilly explained Friday. "He said: 'We're going to be alright, we'll respond the right way.' And we did."

"We went home with the right mentality," winger David Perron said. "I really believe it made a difference."

O'Reilly said Berube believed in his players, and on Friday they earned more trust by dominating the San Jose Sharks at the start of Game 4 and hanging on to win 2-1 to even the Western Conference Final at two games apiece.
Watch the game highlights below.
Filed in: NHL Teams, San Jose Sharks, St. Louis Blues, | KK Hockey | Permalink

05/18/19 at 08:04 AM ET | Comments (0)
Blues even Western Conference Final at two games apiece; Rookie Binnington joins rare company with 10th playoff win; Stanley Cup Final to begin on May 27.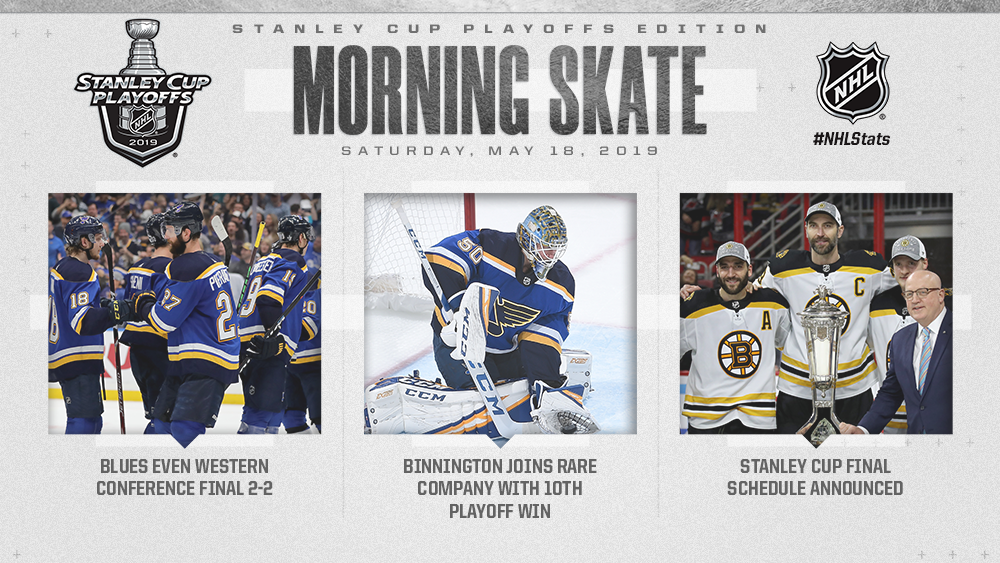 Filed in: NHL Teams, | KK Hockey | Permalink

« Previous < 1 2 3 4 5 > Last › Next »
About Kukla's Korner
Kukla's Korner is updated around the clock with the work of our own talented bloggers, plus links to the best hockey writing around the internet. We strive to bring you all the breaking hockey news as it happens.
The home page allows you to see the latest postings from every blog on the site. Subscribe here. For general inquiries and more, please contact us anytime.
Most Recent Posts
Most Recent Comments