08/08/20 at 05:55 PM ET | Comments (0)
from Larry Brooks of the New York Post,
Let me be the first to observe that there has never been a week like this in NHL history.

The teams that finished 22nd, 23rd and 24th in the overall standings are in the Stanley Cup playoffs ,and a team that finished in the top 10 is alive in the lottery for the first-overall draft pick. The stuff about the bubble, COVID-19 testing and protocols, and no fans in the building(s)? Old news.

At approximately 10:15 Friday night, it was common wisdom that the Maple Leafs were a structural disaster and would obviously have to re-examine the wisdom of devoting $40.5 million of cap space — essentially half of the club's allotment — to four forwards.

Fifteen minutes later, those four forwards — Auston Matthews, John Tavares, Mitch Marner and William Nylander — had been on for the three Toronto goals within the final 3:57 of the third period that erased a 3-0 Columbus lead and created the overtime in which the Leafs completed the most stunning comeback in playoff history to stave off elimination....
more including topics like this...
The Puddy Tats of Florida, now coached by the estimable Joel Quenneville, have not won a playoff round since 1996 and are looking at six more years of Sergei Bobrovsky at $10 million apiece.

Are you really so sure that Aleksander Barkov, 25 in September, is sticking around when his contract expires in two more years?

I've heard it too from a number of sources the last couple of months. The folks at Sixth Avenue are lobbying for Peter Chiarelli to snag another shot as an NHL team's general manager, and I guess I'd have to ask why?
Filed in: NHL Teams, | KK Hockey | Permalink

08/08/20 at 02:45 PM ET | Comments (0)
These round robin games have not gained as much as attention as the qualifying games, but it is still hockey.
Discuss if you wish.
via the NHL PR department,
*The start time of the Round Robin game between the Colorado Avalanche and Vegas Golden Knights is 3 p.m. ET. The game will be televised on NBC in the U.S. In Canada, the game will be on Sportsnet and TVA Sports.
*The start time of the Round Robin game between the Philadelphia Flyers and Tampa Bay Lightning is 8 p.m. ET. The game will be televised on NBC in the U.S. In Canada, the game will be on Sportsnet ONE, Sportsnet 360 and TVA Sports.
Filed in: NHL Teams, | KK Hockey | Permalink

08/08/20 at 01:30 PM ET | Comments (0)
from Matt Porter of the Boston Globe,
Last spring, Orr stuck his left hand in black ink and pressed it on a fine piece of paper, in the Japanese memorabilia tradition, then signed the sheet. Upper Deck surrounded the print with a collage of images from Orr's career. Fifty were made — each selling for a cool $14,999.

"That is our cornerstone piece from Bobby," Phillips said. "No one else does anything like that."
more hockey topics....
Filed in: NHL Teams, Boston Bruins, | KK Hockey | Permalink
Tags: bobby+orr
08/08/20 at 01:18 PM ET | Comments (0)
Week 1 Western Conference is first, Eastern Conference is below.
Filed in: | KK Hockey | Permalink

08/08/20 at 09:52 AM ET | Comments (2)
from Ken Campbell of The Hockey News,
The Predators were an upset casualty in the qualifying round of the playoffs against a team that was 11th in the Western Conference when the NHL paused in March and an organization that was in disarray when they met less than a week ago. When you can't outscore the Arizona Coyotes in three of four games, there's something seriously wrong with your offense. Yes, the Predators went long stretches in the series as the better team and, yes, Arizona goalie Darcy Kuemper was brilliant. And losing Viktor Arvidsson was a devastating blow. But this is a team that does not have a game breaker and really, beyond Paul Kariya, has never had one.

And much of that deficiency falls to the man in charge. Poile has overseen 22 drafts for the Predators and while he has stocked the organization with a treasure trove of elite defensemen and goaltenders, his record for recruiting offensive players, either through the draft or in trades, has been nothing short of abysmal. In Poile's very first draft in 1998, the Predators selected David Legwand with the second overall pick. They found a some decent offensive players in the late rounds with the likes of Arvidsson, Craig Smith, Martin Erat and Patric Hornqvist and unearthed some scoring talent with the likes of Scott Hartnell, Kevin Fiala and Alexander Radulov in the first round. But the fact is Poile has drafted 93 forwards in the past 22 years and only one of them, Legwand, has scored 500 points for the franchise. Good, but not even very good, forget about great.

Lord knows, Poile has tried to make up for that deficiency by making trades. Lots of them. A ton of blockbusters, in fact. But all of those deals were basically a shell game when it came to landing a true No. 1 center. Ryan Johansson, who cost Poile defenseman Seth Jones and a bloated eight-year deal worth $64 million, has never delivered on that front, although he was very good in this series.
Filed in: NHL Teams, Nashville Predators, | KK Hockey | Permalink

08/08/20 at 09:30 AM ET | Comments (3)
Is it just me, or have the Penguins gone from proud champions to embarrassed losers in the blink of an eye?
-Ron Cook of the Pittsburgh Post-Gazette where you can read more on on the Penguins.
Filed in: NHL Teams, Pittsburgh Penguins, | KK Hockey | Permalink

08/08/20 at 09:22 AM ET | Comments (0)
from Jim Matheson of the Edmonton Journal,
One life to live just became no life to live for the Edmonton Oilers.

The 12th-seed Chicago Blackhawks burst the hub city home team's bubble Friday, kicking the malfunctioning Oilers to the Stanley Cup tournament curb with a 3-2 win in Game 4, and really, the Oilers didn't even get to the playoffs which is 16 teams on any other year. Not 24 teams.

The Oilers didn't even last a week; there was no hubba, hubba headline because their overall game was nowhere near as pretty as it looked for much of regular-season.

More commotion than emotion, never a good thing in the playoffs.

Oiler defenceman Darnell Nurse said the Oilers never got the intensity level up to where it was, say, against Calgary in the tournament tune-up. Their battle-level was in and out against a Chicago team that has a toolbox full of skill but isn't big and doesn't play tough, but has Jonathan Toews, Patrick Kane, Duncan Keith and Brandon Saad, who know how to win.
Filed in: NHL Teams, Edmonton Oilers, | KK Hockey | Permalink

08/08/20 at 05:56 AM ET | Comments (0)
from Iain MacIntyre of Sportsnet,
The youngest players on the Vancouver Canucks call defenceman Christopher Tanev "dad," but it only seems like he is old enough to be their father.

The 30-year-old is one of only two Canucks who actually has first-hand memories of the last time the franchise won a National Hockey League playoff round before "dad" drifted an overtime wrist shot past Minnesota Wild goalie Alex Stalock very late Friday to get Vancouver's kids out of the qualifying round of this extraordinary Stanley Cup tournament.

Tanev's goal — nine years after he was a depth player on the Canucks team that went to the 2011 Stanley Cup Final — was scored just 11 seconds into overtime as Vancouver won 5-4 and took the series 3-1 in games.

Rebuilt in the five years since they last made the playoffs, these Canucks feel different than most of the teams that have unsuccessfully chased a Stanley Cup since Vancouver entered the NHL in 1970.

Led by dynamic, young stars Elias Pettersson, Quinn Hughes and Brock Boeser, supported by a few veterans and some key mid-career players still at their peak, anything seems possible for the Canucks.
Below, watch the OT goal from Tanev.
Filed in: NHL Teams, Vancouver Canucks, | KK Hockey | Permalink

08/08/20 at 05:49 AM ET | Comments (0)
THREE HARD LAPS

* Less than 24 hours after surrendering a three-goal lead in their Game 3 loss, Toronto overcame a 3-0 deficit in the final four minutes of regulation and Auston Matthews scored the overtime winner as the Maple Leafs pulled off one the most improbable postseason comebacks in NHL history to avoid elimination.

* The Canucks and Coyotes also earned overtime wins on Friday, with Christopher Tanev tallying the series-clinching goal just 11 seconds into extra time for Vancouver.

* Three other teams advanced from the 2020 qualifying round, including the 12th-seeded Blackhawks and Canadiens.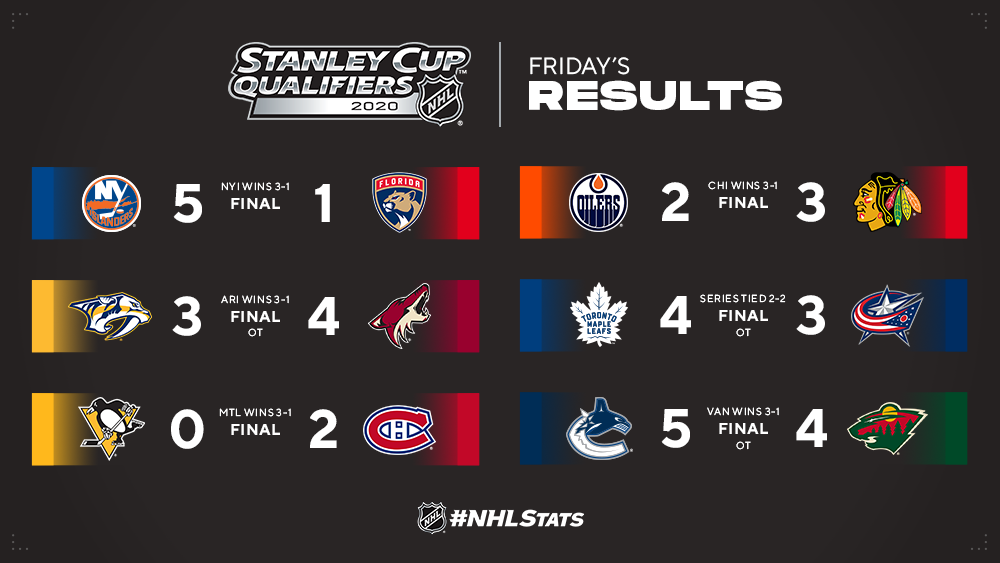 Filed in: NHL Teams, | KK Hockey | Permalink

08/08/20 at 12:12 AM ET | Comments (4)
Filed in: NHL Teams, Columbus Blue Jackets, | KK Hockey | Permalink
Tags: john+tortorella
« Previous < 1 2 3 4 5 > Last › Next »
About Kukla's Korner
Kukla's Korner is updated around the clock with the work of our own talented bloggers, plus links to the best hockey writing around the internet. We strive to bring you all the breaking hockey news as it happens.
The home page allows you to see the latest postings from every blog on the site. Subscribe here. For general inquiries and more, please contact us anytime.
Most Recent Posts
Most Recent Comments