01/18/20 at 07:06 PM ET | Comments (0)
from Peter Botte of the New York Post,
"They're not easy discussions, but Hank and I also have had good conversations regarding the situation we're in," Rangers coach David Quinn said. "It's about players adapting in their careers, and as their careers evolve.

"[Lundqvist] is in a situation where he's obviously not playing the amount he's played in the past. That doesn't mean he's not a really good goalie. We have faith in him. But our organization feels that we're gonna have three goalies here as of right now, and it's just kind of the way it's evolved and the situation we're in."

The Rangers (23-19-4) have won four of their past five games, with Shesterkin and Georgiev notching two wins apiece, sandwiched around a 5-2 loss Jan. 11 in St. Louis in Lundqvist's lone appearance between the pipes during that stretch.

"It's a bit of a challenge, for sure. In the end, you want to play. If you're in this room, you want to play games," said Lundqvist, who has one year remaining on his contract at a $8.5 million cap hit with no indication he'd be willing to waive his full no-trade clause. "I understand the big picture here, and at the same time, [Georgiev and Shesterkin] are playing well, both of them. I'm trying to focus on the things I can control, and that's the way I practice and prepare.

"It's important for me not to overthink it too much, and I'm sure it was the same for [Manning] when he went through it. I know I can play well when I get the next opportunity to play and get my chance."
Filed in: NHL Teams, New York Rangers, | KK Hockey | Permalink
Tags: henrik+lundqvist
Blog: Abel to Yzerman By Kate from PA now in SC-made in Detroit
01/18/20 at 06:45 PM ET | Comments (118)
I think these back to back games are a lot harder on the 19 than they are on the Wings. Just sayin......
It's a Live Blog!
Filed in: | Abel to Yzerman | Permalink

Blog: Abel to Yzerman By Paul
01/18/20 at 05:26 PM ET | Comments (0)
Filed in: | Abel to Yzerman | Permalink

01/18/20 at 04:30 PM ET | Comments (0)
from Steve Simmons of the Toronto Sun,
- If you were a hockey scout and you'd never seen Tyson Barrie play before this season, what would you tell your team about him? And would you recommend signing him? I'm not sure I would … Leafs are still trying to figure Barrie out. He looked lost playing for Mike Babcock, scored three goals in his first three games under Sheldon Keefe, but has just one goal in 22 games since.

- How much will Dougie Hamilton's broken fibula injury hurt the Carolina Hurricanes? He was having a terrific season. Carolina is a tight playoff race. Four teams – Canes, Philadelphia, Florida and Columbus – for two spots and two points behind them all … The West could go down to the final weekend. Right now, it's Arizona and Calgary at 57, Vancouver and Vegas at 56, Edmonton at 55, Winnipeg at 54. It's hockey's version of musical chairs. Six teams, five playoff spots, someone will be left standing … And who do you like in the Atlantic – Boston or Tampa Bay? The Lightning are again playing the best hockey in the league. They have a +38 goal differential. Since December 1st, the Lightning are 17-7-1 and the Bruins are 10-13-7.
Filed in: NHL Teams, | KK Hockey | Permalink

Blog: Abel to Yzerman By Paul
01/18/20 at 01:24 PM ET | Comments (3)
Helene St. James of the Detroit Free Press answers some fan mail.
The first question is regarding the Wings at the trade deadline,
Yzerman has said he wants to add more picks to the eight the Wings hold in the 2020 draft, but he may be hard pressed to do so. Mike Green, Trevor Daley and Jimmy Howard are among veterans on expiring contracts, but they've all struggled this season. Maybe a contender inquires about Green because he has been successful especially on power plays in the past on good teams, but he isn't going to yield much in return. Daley is a mobile puck mover but he has struggled to stay healthy the past two seasons. Howard has struggled too much to draw interest.

More: Detroit Red Wings' Jeff Blashill: NHL coach firings 'a bit crazy in the league'

Forward Andreas Athanasiou scored 30 goals last season, but this season has been dismal — at the time he suffered a lower-body injury Dec. 29, Athanasiou had 5 goals, 14 assists and a minis-35 rating in 36 games. That has tarnished his trade value, and there's no sense in moving a 25-year-old with his skill set — explosive speed, soft hands — unless the return is something that really boosts the rebuild. He should still draw interest, though. Maybe the Penguins consider him, since they lost Jake Guentzel to shoulder surgery on Dec. 31.
more and two more questions...
Filed in: | Abel to Yzerman | Permalink

01/18/20 at 12:16 PM ET | Comments (0)
from Matt Porter of the Boston Globe,
At a hockey game today, everything is under review.

Look no further than a Bruins game at TD Garden. To capture the on-ice action, NESN has access to 17 cameras, shooting different angles. They've got center-ice overheads, wide-angle side views, iso-cams, and ankle cams. There are lenses focused on the stars, the scrubs, the goalies, coaches, and management. If Cam Neely sneezes, it's probably on film.

All this video has seemingly made everyone a little more sincere. If a player dares to skate into the zone a few snowflakes ahead of the puck, the NHL's video review system will catch him.

And anyway, hockey's an honest game, right? All that free-flowing action makes it hard to cheat. It's a game of quick thinking, not sign stealing. A playbook isn't much help when Connor McDavid is racing toward you, or David Pastrnak is lining up a slapper. You can't deflate solid rubber, and if anyone's banging on a trash can, it's an overserved fan.

Honest game, right? Not quite.

"I played with an illegal stick my entire career," offered NESN analyst Andy Brickley....

All in all, fairly benign. But here's the question: Could an NHL team pull off a true cheating scam?
read on plus more topics...
Filed in: NHL Teams, NHL Talk, | KK Hockey | Permalink

01/18/20 at 10:32 AM ET | Comments (0)
from Jack Harris of the LA Times,
"There's this momentum across the league and the hockey industry itself," said Alicia Chin, an NHL senior manager of social impact and growth. "As demographics of North America are changing, we know that we need to be relevant."

The traditional cold-weather sport has never found much of a foothold in Latin America. In many cities across the U.S. Sun Belt states, it still remains mainly a niche activity. Latino players, such as the Kings' Alec Martinez and Toronto Maple Leafs All-Star forward Auston Matthews, have always been in the minority on NHL rosters.

And unlike football and baseball, French is hockey's de facto second language, not Spanish.

The potential, however, is promising. Teams across the league, especially those in the country's southern footprint, are envisioning an increasingly diversified future for their sport.
Filed in: NHL Teams, Los Angeles Kings, NHL Talk, | KK Hockey | Permalink

01/18/20 at 10:03 AM ET | Comments (0)
from Luke DeCock of the News & Observer,
There's no replacing Hamilton, who picked up where he left off last season as an offensive dynamo, not only creating chances for others but finishing them himself, and doing a far more credible job in his own end at the same time. Jaccob Slavin and Brett Pesce were already shouldering a heavy load as part of the defensive foundation with Hamilton; their nights aren't going to get any shorter. Slavin played 25:23, third-most this season, in Friday's 2-1 overtime loss to the Anaheim Ducks. Pesce played 25:34, second-most for him.

That's the new normal for both in the post-Hamilton reality. The Hurricanes are hoping the way they played isn't. Hamilton's absence alone doesn't excuse a dismal performance against a Western Conference bottom-feeder after Sebastian Aho staked the Hurricanes to the lead in the first four minutes.

"That's a huge part of our team missing," Hurricanes coach Rod Brind'Amour said. "But we have a lot of guys in there. I don't think we were sharp. That was clearly evident."

The Hurricanes were in the market for a top-four capable defenseman before Hamilton went down, but that quest was upgraded from "if possible" to "by all means necessary." Unfortunately for them, everyone else in the NHL knows it. Whatever the prices they saw before were, they just went up. Fortunately, they have the salary-cap space to do it, and maybe even add a veteran depth guy as well. Ideally sooner rather than later.
Filed in: NHL Teams, Carolina Hurricanes, | KK Hockey | Permalink

Blog: Abel to Yzerman By Paul
01/18/20 at 09:20 AM ET | Comments (2)
Then...
Mickey Redmond tells us so.
Filed in: | Abel to Yzerman | Permalink

01/18/20 at 12:52 AM ET | Comments (0)
THREE HARD LAPS
* Andrei Vasilevskiy recorded his second double-digit win streak in as many seasons to join elite NHL company and help the Lightning (29-15-4, 62 points) strengthen their grip on second place in the Atlantic Division standings.
* Sidney Crosby scored the overtime winner and is averaging two points per game since returning the Pittsburgh lineup earlier this week.
* Sam Steel also tallied an overtime goal, with the Ducks and Penguins continuing the trend that 60 minutes is not enough in the NHL.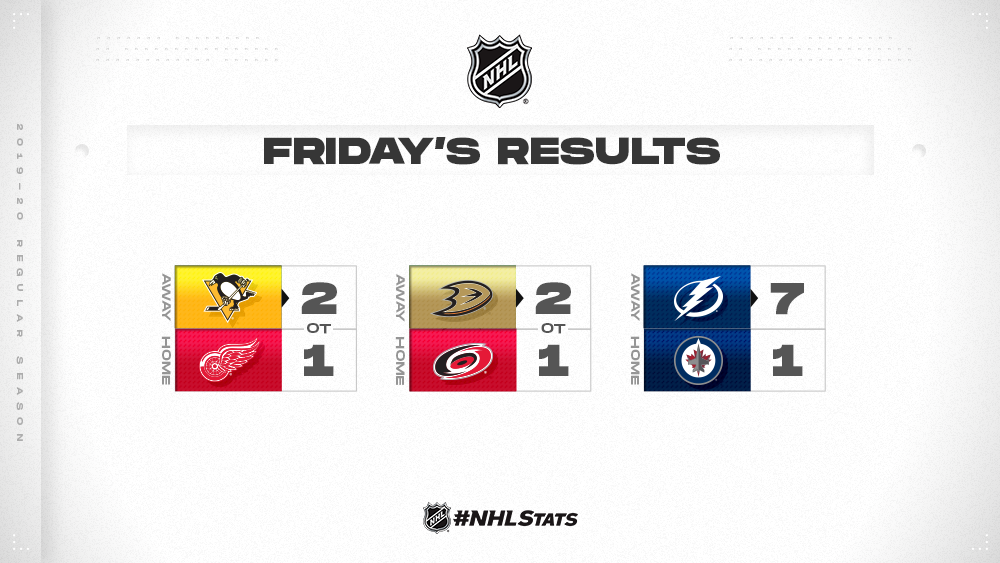 Filed in: | KK Hockey | Permalink

« Previous < 1 2 3 4 5 > Last › Next »
About Kukla's Korner
Kukla's Korner is updated around the clock with the work of our own talented bloggers, plus links to the best hockey writing around the internet. We strive to bring you all the breaking hockey news as it happens.
The home page allows you to see the latest postings from every blog on the site. Subscribe here. For general inquiries and more, please contact us anytime.
Most Recent Posts
Most Recent Comments