Blog: Abel to Yzerman By Paul
11/10/19 at 08:17 PM ET | Comments (1)
First up the game highlights and post game talk will be below when available.
added 8:46pm, Below all in one video, Bernier, Mantha, Bowey and Blashill.
added 8:56pm, Individual videos of Mantha and Blashill below. Bernier too.
added 9:21pm, One last one, below is Mickey Redmond right after the win. added 9:41pm, I lied, watch in the room after the game.
Filed in: | Abel to Yzerman | Permalink

Blog: Abel to Yzerman By Paul
11/10/19 at 07:37 PM ET | Comments (2)
Looking at the shot clock with 12 minutes remaining in the 3rd, Vegas had 12, Detroit 10. At that point Vegas was winning 2-1.
So you know what kind of game it was.
After Detroit killed a Vegas power play, the offensive minded Madison Bowey scored to tie the game.
Then with 30 seconds left in the 3rd, the Big Frenchman put the Wings ahead 3-2.
Final Detroit 3 Vegas 2
Detroit goal and team stats below.
Filed in: | Abel to Yzerman | Permalink

11/10/19 at 06:39 PM ET | Comments (12)
Filed in: NHL Media, Hockey Broadcasting, CBC HNIC, | KK Hockey | Permalink
Tags: ron+maclean
Blog: Abel to Yzerman By Kate from PA now in SC-made in Detroit
11/10/19 at 04:45 PM ET | Comments (70)
Wow! The Wings won a game after a miserable losing streak, and, they won against a formidable opponent to boot. With all that behind us it's important for the 19 to remember to stay on message. The message is, do not trust this team. It's only one win. No matter how good the new additions looked the other night we all know there is no quick fix. Losing is what the fans have been told to expect per the "Yzerplan". Yes, I am as sure as everyone here that Steve Yzerman hates to be on the losing end of things as do we all, but, patience is what is still indicated. So, here we go again....
It's a Live Blog!
Filed in: | Abel to Yzerman | Permalink

Blog: Abel to Yzerman By Paul
11/10/19 at 11:18 AM ET | Comments (1)
Puck drops just after 5:00pm ET today.
VGK have lost their last two games including a 5-2 loss in Washington last night.
Fleury was in goal so there is a chance Subban starts today, but nothing official at this point.
Filed in: | Abel to Yzerman | Permalink

Blog: Abel to Yzerman By Paul
11/10/19 at 09:32 AM ET | Comments (1)
from Helene St. James of the Detroit Free Press,
Darren Helm did not want to verbalize what went through his mind, but it was an explicit version of "oh, shoot."

One of the key areas the Detroit Red Wings are focused on as they try to right their season is special teams. Helm is a veteran penalty killer but hadn't been used in that role until the past two games. Their PK ranks 31st in the NHL, but the Wings earned a shot of confidence heading into Sunday's game against the Vegas Golden Knights after holding off Boston's top-ranked power play on three of four opportunities.

On the one successful conversion, in the second period, the Bruins scored with four seconds left on the power play to cut their deficit to 3-2. Helm had given his stick to defenseman Patrik Nemeth after Nemeth's was broken, and tried hard to still be effective. Helm batted at the puck with his gloves, careful not to risk being assessed a penalty for closing his hand on the puck.
Below, Gordie Howe scores goale #545.
Filed in: | Abel to Yzerman | Permalink

11/10/19 at 09:19 AM ET | Comments (17)
from the CP at CBC,
Don Cherry is in the limelight yet again, this time for complaining that he rarely sees people he believes to be new immigrants wearing poppies ahead of Remembrance Day.

The 85-year-old Hockey Night in Canada personality said on Saturday on his weekly Coach's Corner segment that he's less frequently seeing people wearing poppies anymore to honour fallen Canadian soldiers, and he singled out those he believes are immigrants in Toronto, prompting a swift online backlash.

"You people … you love our way of life, you love our milk and honey, at least you can pay a couple bucks for a poppy or something like that," Cherry said. "These guys paid for your way of life that you enjoy in Canada, these guys paid the biggest price."
added 11:22am, Statement from Sportsnet is below.
added 1:49pm, Statement from the NHL below.
Filed in: NHL Media, Hockey Broadcasting, CBC HNIC, | KK Hockey | Permalink
Tags: don+cherry
11/10/19 at 09:15 AM ET | Comments (0)
from Sportsnet,
In an excerpt from his new book, "Most Valuable," Gare Joyce explains how Sidney Crosby forever changed the way NHLers — particularly generational talents — approach being pros.

Each sport has its own brand of hyperbole, and in hockey the most used, overused, misused and thoroughly abused is a term associated with talented teenagers: "generational talents." The foundation of this term isn't altogether wrong-minded — some of the very elite kids possess talent that doesn't come along every year. Just look back on a few NHL Entry Drafts and you'll find years that don't produce talent that shimmers so brightly (for example, Mario Lemieux was the best player born in 1965 and, arguably, Joe Nieuwendyk in '66 and Brian Leetch in '67 — the latter two being good players, even NHL trophy winners, but a big drop-off from Lemieux). The notion of "generation," though, is seemingly tied to sport's short attention span or, maybe more fairly, short career spans. Lemieux was deemed a generational talent, as was Wayne Gretzky, who was born four years before him. Sometimes the gaps are bigger — after Crosby, who was born in 1987, you might pass over many only excellent players (including Steven Stamkos, John Tavares et al.) before you'd land on Connor McDavid as a '97. Sometimes the gaps are insignificant — Alexander Ovechkin being born less than two full years before Crosby.

Since Jack Hughes, like Crosby, showed up on the hockey industry's radar at 16, he has been a name in the game; if he doesn't enjoy the highest profile among the media and public, then he is certainly universally known in industry circles. And, yes, Hughes has been labelled, for better or worse, a generational talent.

In his underage year, Crosby burst onto the scene at the summer under-18s, effectively a preseason exhibition and a preliminary read of talent for the upcoming draft, but really not much more than that; by contrast, in his underage year, Hughes stepped up to much tougher company when he joined the US team at season's end for the IIHF under-18s.
Filed in: NHL Teams, Pittsburgh Penguins, | KK Hockey | Permalink
Tags: sidney+crosby
11/10/19 at 09:03 AM ET | Comments (5)
No word at this point of any action to be taken by the league.
Pierre-Edouard Bellemare did not return to the game.
added 11:16am,
Filed in: | KK Hockey | Permalink
Tags: nick+foligno
11/10/19 at 08:44 AM ET | Comments (0)
THREE HARD LAPS

* Yanni Gourde scored the game-winning goal for the second time in as many days as the Lightning swept the 2019 NHL Global Series. Tampa Bay's five-goal outing tied the highest total by one team in a regular-season game contested outside North America.

* Colorado's Cale Makar registered his second multi-point outing in as many games to become the fourth defenseman in NHL history to collect at least 17 points through his first 17 career regular-season contests.

* David Perron scored in overtime to lift the Blues to their seventh straight win and become the first player in NHL history to score three overtime goals prior to his team's 20th game.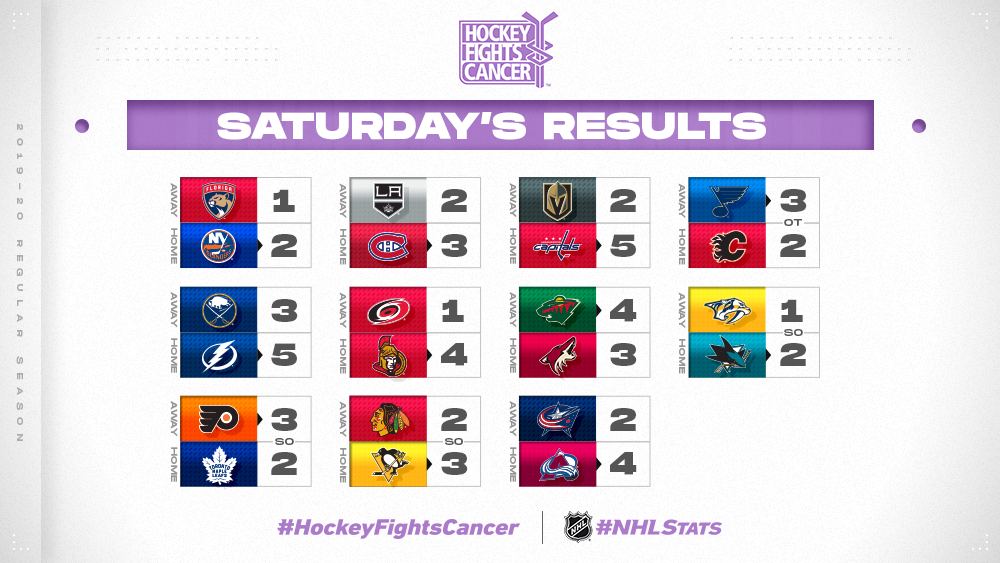 Filed in: NHL Teams, | KK Hockey | Permalink

« Previous < 1 2 3 4 5 > Last › Next »
About Kukla's Korner
Kukla's Korner is updated around the clock with the work of our own talented bloggers, plus links to the best hockey writing around the internet. We strive to bring you all the breaking hockey news as it happens.
The home page allows you to see the latest postings from every blog on the site. Subscribe here. For general inquiries and more, please contact us anytime.
Most Recent Posts
Most Recent Comments