01/16/19 at 08:49 AM ET | Comments (0)
from Isabelle Khurshudyan of the Washington Post,
In one of Washington's worst losses of the season, the Capitals were routed by the Predators, 7-2, to drop their third straight game. Their lead in the Metropolitan Division has evaporated — the Columbus Blue Jackets have pulled into a tie with 59 points — and this can officially be considered a midseason slump. Washington has lost six of its past nine games, and it scored its first five-on-five goal (courtesy of T.J. Oshie) in three games when there was less than four minutes left in the third period. The Capitals already trailed by six at that point.

"When we're on our game, we're one of the best teams in the league," center Lars Eller said. "I'm confident that we can beat any team in the league when we're on our game. Lately, we have not been on our game."

Goaltender Braden Holtby was initially scheduled to start against the Predators, but after a stick got through his mask and clipped him in the left eye Saturday night against the Blue Jackets, the Capitals decided to play it safe with his health. A team spokesman said before the game that Holtby was capable of playing, which is why he was available in a backup capacity for a second straight game, but "the club is being extra cautious with him as he fully recovers with his injury." After the game, Coach Todd Reirden said the team learned just a few hours before puck drop that Holtby "wasn't going to be able to play," and there wasn't time to recall another goaltender.
Game highlights are below.
Filed in: NHL Teams, Washington Capitals, | KK Hockey | Permalink

01/16/19 at 08:31 AM ET | Comments (2)
from Elliott Teaford of the OC Register,
What now? What do the Ducks try now that their franchise-record losing streak was extended to 12 consecutive games with a 3-1 loss to the Detroit Red Wings on Tuesday at Little Caesars Arena? How do they regain their lost confidence and overcome their rising frustration?

The Ducks have held meetings, watched video and worked and worked and worked some more to correct their many mistakes, but they still haven't reversed their course. Soul-searching attempts haven't produced the desired results. A trade couldn't end their skid.

What's next?

Maybe a pizza party instead of a regularly-scheduled practice Wednesday in St. Paul, Minn., the next stop on the Ducks' five-game cross-continent trip? Maybe a bowling or billiards tournament rather than going to the rink as a way of lifting the gloom hanging over the players' heads?

"We've tried to see if we could do something a little different (Wednesday)," Coach Randy Carlyle said. "We have an option to do something, but I'm not sure. I haven't talked to our travel coordinator if that is something we could plan on or not. It's not easy to plan things on 24-hour notice.
Filed in: NHL Teams, Anaheim Ducks, | KK Hockey | Permalink

Blog: Abel to Yzerman By Paul
01/16/19 at 08:23 AM ET | Comments (18)
from Ansar Khan of Mlive,
The Detroit Red Wings wrapped up five days of organizational meetings Monday in Florida, where many areas were covered from amateur to professional ranks.

The most pressing topic: What to do by the Feb. 25 trade deadline.

The Red Wings, 13 points out of the final playoff spot, will be sellers. To what extent remains to be seen. They have some pending unrestricted free agents that would draw interest, namely Gustav Nyquist and Jimmy Howard.

The Red Wings, according to someone with knowledge of the situation, have set a high asking price for each player – a first-round pick. They don't expect to get that for either.

That's why they will try to re-sign Howard and Nyquist.

Nothing is on the front burner, but general manager Ken Holland should begin working the phones in earnest during the team's nine-day hiatus (the All-Star break and their bye week), which follows the upcoming three-game Western Canada trip.
Filed in: | Abel to Yzerman | Permalink

Blog: Abel to Yzerman By Paul
01/16/19 at 08:21 AM ET | Comments (0)
from Ted Kulfan of the Detroit News,
There was sneaking suspicion this game was going to go like this.

The Anaheim Ducks had lost 11 consecutive games, so, they weren't exactly on a wave of momentum.

And, maybe as expected, Detroit put Anaheim in position to finally steal a victory until a big third period carried the Red Wings to a 3-1 victory Tuesday at Little Caesars Arena.

Goals from Anthony Mantha, Gustav Nyquist and Darren Helm, plus 23 saves from goaltender Jimmy Howard, gave the Wings their second consecutive victory and first back-to-back wins since Nov. 28 and Dec. 1 against St. Louis and Boston.

"In the last month we've played good hockey, but at the end of the day this league is about results," said veteran forward Thomas Vanek, who spoke up after two periods in the Wings' locker room. "That was the only message. We haven't played our best, it's 1-0 (the Wings trailing), so let's go out and grab those points.

"It's nice when you don't play your best you want to get results; that's what the league is all about."
Below, all kinds of videos including extended game highlights.
Filed in: | Abel to Yzerman | Permalink

01/16/19 at 08:07 AM ET | Comments (0)
TUESDAY'S RESULTS
Home Team in Caps
NY ISLANDERS 2, St. Louis 1 (OT)
NY RANGERS 6, Carolina 2
COLUMBUS 4, New Jersey 1
MONTREAL 5, Florida 1
DETROIT 3, Anaheim 1
NASHVILLE 7, Washington 2
MINNESOTA 3, Los Angeles 2 (SO)
WINNIPEG 4, Vegas 1
Tampa Bay 2, DALLAS 0
SAN JOSE 5, Pittsburgh 2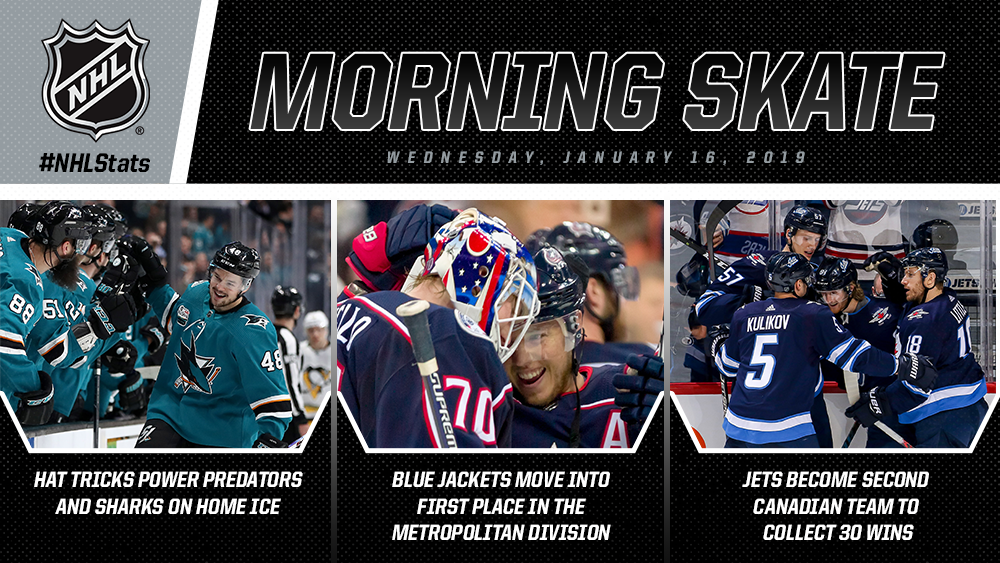 Filed in: NHL Teams, | KK Hockey | Permalink

Blog: Abel to Yzerman By Paul
01/15/19 at 10:10 PM ET | Comments (3)
On a scale from 1-10, the first two periods gets a 2.
The third was much better.
The Ducks looked bad, real bad.
Final score Detroit 3 Anaheim 1.
Goals and stats below.
Filed in: | Abel to Yzerman | Permalink

Blog: Abel to Yzerman By Kate from PA now in SC-made in Detroit
01/15/19 at 07:02 PM ET | Comments (53)
19 fans are expecting a TRAP, and at the same time, hoping for the Wings team that played in Minnesota to show up tonight and make it two W's in a row.
It's a Live Blog!
Filed in: | Abel to Yzerman | Permalink

01/15/19 at 06:11 PM ET | Comments (0)
With the Sergei Bobrovsky saga ongoing, there is word now that Bobrovsky would be willing to waive his no trade clause to facilitate a trade; As well, it looks like Derick Brassard could be traded out of Pittsburgh; And the Leafs are looking to add on the blueline, but what would they be willing to pay? All that and more in this edition of Insider Trading.
Watch at TSN.
Filed in: NHL Teams, | KK Hockey | Permalink

01/15/19 at 03:22 PM ET | Comments (0)
Cogliano was traded yesterday from Anaheim to Dallas.
Filed in: NHL Teams, Anaheim Ducks, Dallas Stars, | KK Hockey | Permalink
Tags: andrew+cogliano
01/15/19 at 02:21 PM ET | Comments (0)
from Craig Button of TSN,
New York Rangers prospect Vitali Kravtsov barely edges out fellow Russian winger Grigori Denisenko of the Florida Panthers to lead the way in the 2019 edition of TSN Hockey's annual list of the Top 50 NHL-affiliated prospects.

Only players considered to have not achieved full-time NHL status are included in the rankings.

Kravtsov, 19, is a highly skilled winger who is an offensive threat with his combination of speed, power, shot and finish. He's expanding his game by playing centre this season for Traktor Chelyabinsk in the KHL. Kravtsov's skill set, along with this adaptability, allows him to impact the game in multiple ways. His style of play is similar to that of the recently retired Rick Nash.

Denisenko, 18, is a dynamic offensive player who has a tremendous level of confidence in his play. Skating for Lokomotiv Yaroslavl in the KHL this season, Denisenko can shoot as well as make a play and has qualities that are reminiscent of Tampa Bay Lightning star Nikita Kucherov.
continued with the list included...
Filed in: NHL Teams, Non-NHL Hockey, | KK Hockey | Permalink

« Previous < 1 2 3 4 5 > Last › Next »
About Kukla's Korner
Kukla's Korner is updated around the clock with the work of our own talented bloggers, plus links to the best hockey writing around the internet. We strive to bring you all the breaking hockey news as it happens.
The home page allows you to see the latest postings from every blog on the site. Subscribe here. For general inquiries and more, please contact us anytime.
Most Recent Posts
Most Recent Comments