02/19/19 at 08:56 AM ET | Comments (0)
from Mark Whicher of the LA Daily News,
Speaking of Anze Kopitar, he was on the ice for Alex Iafallo's third-period goal but remains at 43 points through 58 games. He also has zero power-play goals for the season. There are 333 players in the NHL who came into Monday night with at least one power-play goal. Teammate Matt Luff has a power-play goal. So does the Ducks' Troy Terry, who has played only 12 games.

Last season Kopitar had 92 points. His previous low for a non-lockout season was 52, two years ago, after which General Manager Rob Blake suggested he pick up speed from somewhere.
The Kings need to pick up playmaking from somewhere. Plus-minus is the most deceptive of numbers, but Drew Doughty is minus-23. Carter has 10 goals. Tyler Toffoli has staged a recent spurt to get to 12.

Rookie Austin Wagner has the type of dynamic game that would perfectly supplement a skillful team. Instead, his appearances, on the fourth line, have been a highlight of the evening. That's not how it should be.
more, mostly on Alex Ovechkin who faced the Kings last night...
Filed in: NHL Teams, Los Angeles Kings, | KK Hockey | Permalink

02/19/19 at 08:42 AM ET | Comments (0)
from Todd Spangel of Variety,
Snapchat is adding more action from the ice under a new multiyear deal with the National Hockey League.

The NHL, in association with Disney Streaming Services, is delivering a new weekly highlights show on Snapchat recapping the top 10 plays of the previous week and will produce Curated Our Stories on the platform for select games and marquee events — making the NHL the first pro sports league to use Snap's third-party curation tools. The league's content will be available to Snapchat users worldwide.

The NHL is doubling down on Snapchat because it sees unusually high engagement on the platform, particularly among users under 30.
Filed in: NHL Talk, | KK Hockey | Permalink
Tags: snapchat
02/19/19 at 08:25 AM ET | Comments (0)
MONDAY'S RESULTS
Home Team in Caps
CALGARY 5, Arizona 2
Tampa Bay 5, COLUMBUS 1
CHICAGO 8, Ottawa 7
COLORADO 3, Vegas 0
Boston 6, SAN JOSE 5 (OT)
Washington 3, LOS ANGELES 2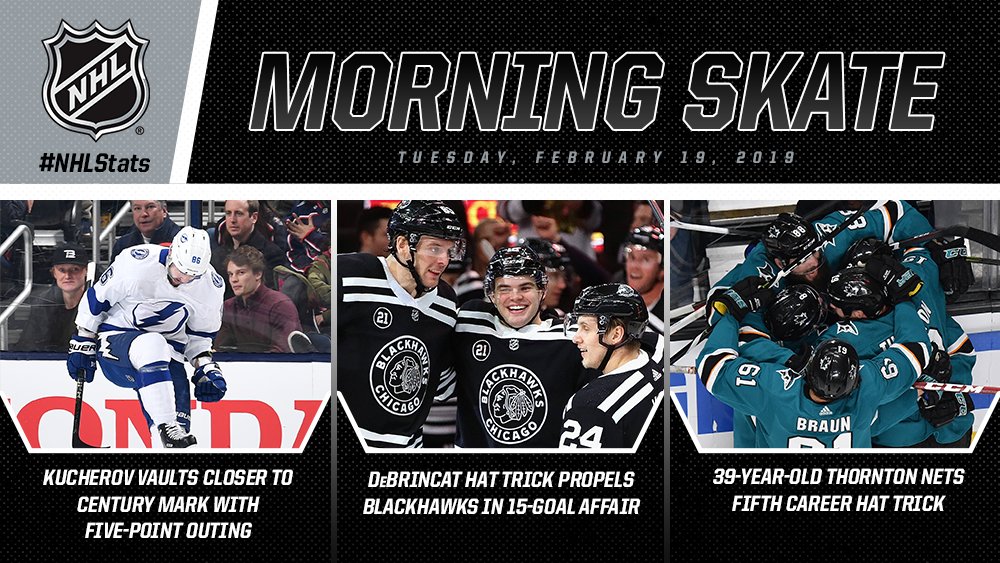 Filed in: NHL Teams, | KK Hockey | Permalink

02/18/19 at 08:23 PM ET | Comments (0)
Thar was close.
added 9:03pm, a little longer version with audio below...
Filed in: NHL Media, , | KK Hockey | Permalink
Tags: pierre+mcguire
02/18/19 at 04:17 PM ET | Comments (0)
from Frank Seravalli of TSN,
With one week to go before the NHL's trade deadline, the TSN Trade Bait Class of 2019 is shaping up to be the best in recent memory.

Rarely has such a prolific pack of players been up for grabs – a group jaw-dropping in both its star power and sheer depth.

Think back to years past and names like Wayne Simmonds (No. 4) or Kevin Hayes (No. 6) likely would have been enough to headline their class.

Three megawatt stars – Artemi Panarin, Matt Duchene and Mark Stone – are all better than point-per-game players in the NHL and all seem more likely than not to be traded over the next week.
Filed in: NHL Teams, | KK Hockey | Permalink

Blog: Abel to Yzerman By Paul
02/18/19 at 02:20 PM ET | Comments (10)
from Ansar Khan of Mlive,
The NHL trade deadline is one week away, and Detroit Red Wings general manager Ken Holland continues to weigh whether to sign some pending free agents or trade them for whatever he can get.

The focus appears to be on three players – goaltender Jimmy Howard, winger Gustav Nyquist and defenseman Nick Jensen.

Holland would like to sign all three, and all have expressed a desire to stay, but a deal must be equitable for both sides.

"I need to weigh which of them we consider re-signing because they can help us in '19-20 and then we maybe need to do something to add to that in the summer of '19 because if you just trade all those players away your team is worse," Holland said. "So now you got to make moves to get back to where you're at and even beyond and that's hard to do in the summer."

Why not trade whoever you can for whatever you can get and then try re-signing them on July 1?
Filed in: | Abel to Yzerman | Permalink

Blog: Abel to Yzerman By Paul
02/18/19 at 12:17 PM ET | Comments (7)
from Carlos Monarrez of the Detroit Free Press,
Four of six Freep writers agreed the Wings would be our city's next champions.

Wings beat writer Helene St. James noted Dylan Larkin being at the front of a solid rebuilding core, with another high-end draft pick expected this summer....

Readers agreed with the four of us. Early online voting at Freep.com also had the Wings winning in a landslide....

They're a young team that has shown resilience this season and everything about that franchise exists to remind its players and its employees of its recent and historic championship pedigree. If Yzerman returns, hopefully by this summer, to serve as general manager or some equivalent, that would be the piece that would put the Wings over the top.
more on all the Detroit teams...
Filed in: | Abel to Yzerman | Permalink

02/18/19 at 12:00 PM ET | Comments (0)
NEW YORK (Feb. 18, 2019) – Tampa Bay Lightning right wing Nikita Kucherov, St. Louis Blues right wing Vladimir Tarasenko and Pittsburgh Penguins center Sidney Crosby have been named the NHL's "Three Stars" for the week ending Feb. 17.
Filed in: NHL Teams, | KK Hockey | Permalink

02/18/19 at 11:48 AM ET | Comments (0)
from Travis Yost of TSN,
One of the fascinating decisions facing sellers as the trade deadline approaches is whether or not to rest a player who is likely to be traded in order to protect their value.

Think about the NHL landscape as we approach Feb. 25.

Columbus' Artemi Panarin and Sergei Bobrovsky are two of the marquee names available, and all reports indicate that they will be with a new franchise in short order. But the team is also in the middle of a playoff race, and trading two of their most skilled players at the deadline would likely sink their postseason chances. Even having the players miss a handful of games to buy insurance against the risk of injury could have an impact on the Jackets' playoff likelihood, which currently sits at around 89 per cent.

Ottawa's situation may be more complex. The Senators have been effectively eliminated from playoff contention and have no first-round draft pick to tank for this season. Moreover, they have two marquee names in Matt Duchene and Mark Stonepotentially on the block and neither has put pen to paper on a contract extension.
Filed in: NHL Teams, | KK Hockey | Permalink

02/18/19 at 10:21 AM ET | Comments (0)
from Mike Harrnington of the Buffalo News,
Unless something wholly unexpected happens in the next few weeks, it's readily apparent this club isn't going to the playoffs for the eighth straight season.

Coach Phil Housley said Friday night his team played "soft" and no one in KeyBank Center would disagree. Called out by their coach after a putrid loss to the New York Rangers, the response the Sabres would offer was the overriding theme of Sunday's game in Prudential Center.

Well, the Sabres made it clear what they're made of.

Sunday's 4-1 loss to the Devils was hardly a disgraceful performance. The Sabres had a 35-24 advantage in shots on goal and had 21 more attempts. They had the puck a lot. They just didn't do enough with it. They didn't defend at key times either.

While the standings show the Sabres are six points out of a playoff spot with 24 games left, the reality paints a much harsher picture. It's widely known that it's two months and counting since the Sabres have won a measly two games in a row.

But get this: Since Jan. 1, the Sabres are 7-10-1 -- and tied with Ottawa for the fewest number of points in the Eastern Conference. Over that stretch, they're 22nd in the NHL in goals for (52) and 23rd in goals against (66).
Filed in: NHL Teams, Buffalo Sabres, | KK Hockey | Permalink

About Kukla's Korner
Kukla's Korner is updated around the clock with the work of our own talented bloggers, plus links to the best hockey writing around the internet. We strive to bring you all the breaking hockey news as it happens.
The home page allows you to see the latest postings from every blog on the site. Subscribe here. For general inquiries and more, please contact us anytime.
Most Recent Posts
Most Recent Comments