Blog: Abel to Yzerman By Paul
11/14/18 at 10:30 AM ET | Comments (0)
from Emily Kaplan of ESPN,
"You see it in guys' contracts, everyone is preparing for a lockout with signing bonus money," Detroit Red Wings center Dylan Larkin said.

Larkin gets a bit fiery when talking about the upcoming labor talks. "As players, I don't think we're really happy with the deal we got," he said. "I know the league is in great shape, but we want to continue to grow the game, and that's what it's about for us players: growing the game internationally and right here in smaller markets, getting on TV more, doing more for social media, and overall making the game bigger."
much more from a roundtable of NHL players on the CBA...
Filed in: | Abel to Yzerman | Permalink

11/14/18 at 10:25 AM ET | Comments (0)
via the Pittsburgh Penguins,
The Pittsburgh Penguins today signed general manager Jim Rutherford to a three-year contract extension through the 2021-22 season.
The deal extends Rutherford's existing contract, which was scheduled to run through the current season.
Rutherford, a 69-year-old native of Beeton, Ontario, is in his 25th year as an NHL general manager and his fifth season with the Penguins. He currently ranks eighth in NHL history among general managers in both career wins (850) and games managed (1,834) according to the NHL Stats team.
Filed in: NHL Teams, Pittsburgh Penguins, | KK Hockey | Permalink
Tags: jim+rutherford
11/14/18 at 08:47 AM ET | Comments (0)
from Jason Mackey of the Pittsburgh Post-Gazette,
After the Penguins' 4-2 loss to the New Jersey Devils at Prudential Center — their sixth in seven games following that terrific Canadian road trip — Malkin preached, above all else, togetherness.

"We understand we're a great team," Malkin said. "We need to be shoulder-to-shoulder with each other. We go back home. We have a couple practices. We just have to keep working."

Malkin has a point.

The Penguins did not lose to the Devils because they're an inferior team. Far from it. They also did not lose to the Devils because they failed to turn in the proper amount of effort. They did, although the consistency could use some work.
The Penguins have scored 9 goals in their past six losses.
Game highlights below.
Filed in: NHL Teams, New Jersey Devils, Pittsburgh Penguins, | KK Hockey | Permalink

11/14/18 at 08:24 AM ET | Comments (0)
from Kevin Paul Dupont of the Boston Globe,
From a distance, all looked dandy on Tuukka Tuuesday.

What we don't know, and may never know, are the details as to why Rask felt things were so problematic at home — as he underscored after practice — that he felt the need to abandon his Black-and-Gold brothers ahead of back-to-back Garden visits by Toronto and Vegas. It didn't take much reading between the lines, as Rask chatted with the media for 5 to 6 minutes, to figure he's had his hands and mind full with issues at home.

"This was a time," said a somber-sounding Rask, who lives with partner Jasmiina Nikkila, his sweetheart since high school, "that deep inside my heart I felt like I needed to take time to be with my family and make things right so I could be back here and focus on my job."

What we also don't know, but will discern in fairly short order, is whether Rask is capable of blocking out issues on the home front and tossing himself — full mask, blocker, and glove — into the arduous task that pays him $7 million a year as the club's franchise goalie.
Filed in: NHL Teams, Boston Bruins, | KK Hockey | Permalink
Tags: tuukka+rask
11/14/18 at 08:02 AM ET | Comments (0)
Well it's been, what? Three, four games now? Willie came in, he's a positive guy, but it's on us. He's not going to step on the ice and make a difference. It's on us to go out there and just make a difference.

Like I said, it's a matter of just putting your mind to it and doing it. Like I said, we've talked about it, we've addressed it many times and we can keep on talking about it, but if we don't do it on the ice there's nobody that can speak to you that can make a difference.

This road trip is crucial for us here. We have to put some points in the bank. There's a couple days of practice time which I think we need and we have to come and be ready to work and get better, bottom line, and get our game in order.
-Anze Kopitar of the LA Kings after a 5-1 home loss to the Toronto Maple Leafs. Jon Rosen of LA Kings Insider has more post-game quotes.
Catch the game highlights below.
Filed in: NHL Teams, Los Angeles Kings, Toronto Maple Leafs, | KK Hockey | Permalink
Tags: anze+kopitar
Blog: Abel to Yzerman By Paul
11/14/18 at 07:09 AM ET | Comments (3)
from Ted Kulfan of the Detroit News,
No need for the Red Wings to rally Tuesday and earn a dramatic come-from-behind victory.

They never had to, in the least.

The Wings had one of the best starts of the season and never let Arizona back in the game, cruising to 6-1 victory at Little Caesars Arena.

Don't look now, but with the victory, the Wings moved to the .500 mark (8-8-2, 18 points). They've now won four consecutive games, and seven of their last eight to erase those memories of an ugly 1-7-2 start.
from Helene St. James of the Detroit Free Press,
Their 6-1 shellacking of the Arizona Coyotes Tuesday at Little Caesars Arena was the Wings' seventh victory in their last eight games, and improved them to .500. Are they a playoff team? Hardly. Will a December that features nine road games including at Boston, Toronto and Pittsburgh bring them back down? Probably. But right now the Wings are a team taking advantage of playing at home, and they are a team that has figured out how to score.

"Oddly enough I think that's how the league works at times," Mike Green said after contributing a goal and two assists as the Wings won their fourth straight game. "You put in the work and you stay consistent with it, and down the road, it does pay off."
Below, Ansar Khan of Mlive, post-game videos and extended game highlights.
Filed in: | Abel to Yzerman | Permalink

11/14/18 at 06:53 AM ET | Comments (0)
TUESDAY'S RESULTS
Home Team in Caps
NEW JERSEY 4, Pittsburgh 2
NY ISLANDERS 5, Vancouver 2
Florida 2, PHILADELPHIA 1
BUFFALO 2, Tampa Bay 1
DETROIT 6, Arizona 1
Washington 5, MINNESOTA 2
EDMONTON 6, Montreal 2
Toronto 5, LOS ANGELES 1
SAN JOSE 5, Nashville 4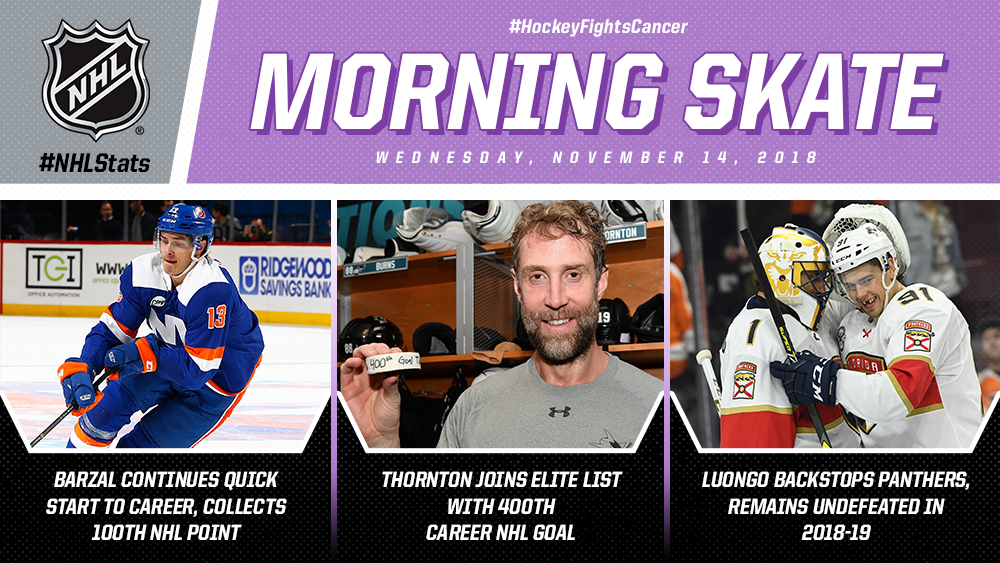 Filed in: NHL Teams, | KK Hockey | Permalink

Blog: Abel to Yzerman By Paul
11/13/18 at 10:22 PM ET | Comments (6)
What the heck? Detroit up 3-0 after the first period and outshot Arizona 11-5.
The youngsters leading the charge.
The lone goal in the second period goes to the Wings, shots through 40 minutes favor Detroit 16-13.
Wings scored twice in the final 20, Coyotes once.
Final score- 6-1.
Goals and Detroit team stats are below and that is it for me tonight.
Will catch up with post-game talk in the morning.
Filed in: | Abel to Yzerman | Permalink

11/13/18 at 09:42 PM ET | Comments (0)
Filed in: NHL Teams, New Jersey Devils, Pittsburgh Penguins, | KK Hockey | Permalink

11/13/18 at 06:28 PM ET | Comments (4)
GLENDALE, ARIZONA - Arizona Coyotes President of Hockey Operations & General Manager John Chayka announced today that the Coyotes have signed defenseman Jakob Chychrun to a six-year contract extension. As per club policy, terms of the contract were not disclosed.

"We are extremely pleased to sign Jakob to a six-year contract extension," said Chayka. "Jakob is a young, highly skilled defenseman with an incredibly bright future. He has battled through some adversity with injuries the last two years, but we remain confident that he has the necessary size, talent and work ethic to be one of our core players for many years to come."
Filed in: NHL Teams, d, | KK Hockey | Permalink
Tags: jakob+chychrun
About Kukla's Korner
Kukla's Korner is updated around the clock with the work of our own talented bloggers, plus links to the best hockey writing around the internet. We strive to bring you all the breaking hockey news as it happens.
The home page allows you to see the latest postings from every blog on the site. Subscribe here. For general inquiries and more, please contact us anytime.
Most Recent Posts
Most Recent Comments