05/23/19 at 09:56 AM ET | Comments (0)
OTTAWA - The Ottawa Senators (@Senators) today announced D.J. Smith would join the club as the teams' new head coach. Smith has agreed to terms on a three-year agreement with the Senators.
Smith, 42, becomes the 14th head coach in the team's history. He has spent the last four seasons as an assistant coach on Mike Babcock's staff with the Toronto Maple Leafs. He joined Toronto in 2015-16 after leading the Ontario Hockey League's Oshawa Generals to the 2015 Memorial Cup title.
Filed in: NHL Teams, Ottawa Senators, | KK Hockey | Permalink
Tags: d.j.+smith
05/23/19 at 08:57 AM ET | Comments (20)
Boston or St. Louis?
Boston has home ice advantage.
How did you do in your conference picks?
note: original post was at 10:15am on 5/22/10
Filed in: NHL Teams, Boston Bruins, St. Louis Blues, | KK Hockey | Permalink

Blog: Abel to Yzerman By Paul
05/23/19 at 08:33 AM ET | Comments (1)
Filed in: | Abel to Yzerman | Permalink

05/23/19 at 08:26 AM ET | Comments (0)
Conference Finals average 6.0 goals/game; Strong starts, finishes key to finalists' success.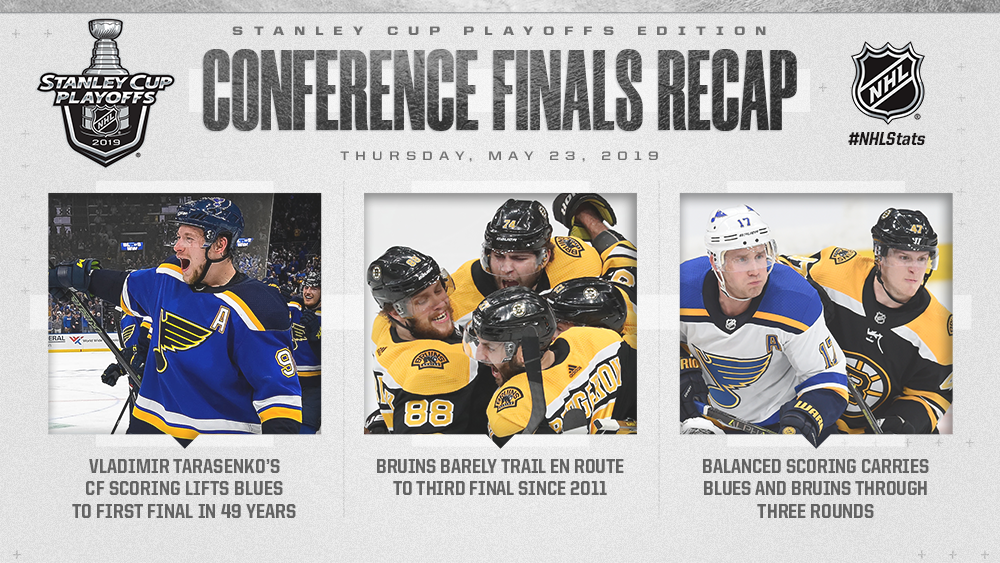 Filed in: NHL Teams, | KK Hockey | Permalink

05/22/19 at 08:06 PM ET | Comments (0)
Filed in: NHL Teams, St. Louis Blues, | KK Hockey | Permalink
Tags: kelly+chase
05/22/19 at 04:46 PM ET | Comments (0)
from Steve Ellis of The Hockey News,
Besides Mitch Marner...
What other wingers will command a big payday on the restricted free agent market this summer? Let's take a look:
Mikko Rantanen, Colorado Avalanche
Rantanen shook off a disappointing rookie campaign in 2016-17 that saw him finish with just 38 points by recording back-to-back 80-plus point campaigns, including 31 goals and 87 points this year. A member of one of the most dominant first lines in the NHL, Rantanen, 22, quickly emerged into one of the NHL's best wingers, regardless of age. Assuming he asks for more than the $6.3 million Nathan MacKinnon is paid, Rantanen is set to become Colorado's highest-paid player, and it wouldn't be crazy to see Rantanen demand $9 million.

Patrik Laine, Winnipeg Jets
It's hard to call a 30-goal season by a kid that didn't turn 21 until the post-season a bad one, but Laine's 50-point campaign was a step down from his 70 the previous year. Still, with his 110 goals putting him behind just four active players among goals by a U-22 player in the first three years of their career, Laine is one of the most dangerous goal-scorers in the NHL. Laine could earn in the $8-million range, using Vladimir Tarasenko's $7.5 million and Leon Draisaitl's $8.5-million deals as a starting point. Laine does have a bit of refining to do in his game, especially when it comes to playmaking, but he is still one of the best players on the Jets and should serve as a long-term fixture with the organization.
Filed in: | KK Hockey | Permalink

05/22/19 at 03:46 PM ET | Comments (1)
from Curtis Pashelka of the Mercury News,
Among the players who may depart are captain Joe Pavelski, defenseman Erik Karlsson and forwards Gus Nyquist and Joonas Donskoi. Soon-to-be RFA's Timo Meier and Kevin Labanc are coming off their entry-level contracts and at least in Meier's case, will likely be due for a significant pay raise.

Pavelski is coming off a 38-goal season, tied for second-most in his 13-year NHL career. He's been the captain for four seasons, as coach Pete DeBoer referred to he and Thornton as the "heartbeat of this team." DeBoer and Wilson both said during the season that Pavelski can be an effective NHL player for years to come.

Thornton, who had 51 points in 73 games this season, will turn 40 on July 2, and Pavelski will turn 35 just nine days later. There has also reportedly been little dialogue between the Sharks and Pavelski's camp regarding a new contract up until this point. The Sharks may want Pavelski back, but the cost, and particularly the term of a new deal, may be sticking points.

A new deal for Karlsson also figures to be complex.

When the Sharks first acquired Karlsson, it almost seemed assured that the two-time Norris Trophy winner's next contract would be in the range of what Los Angeles Kings' defenseman Drew Doughty received — eight years and $88 million. The Sharks, unless they trade exclusive negotiation rights, are the only team that can offer Karlsson an eight-year pact. Other teams, after July 1, can only offer seven-year deals.

But Karlsson's health issues this season could make teams wary about committing that amount of money.
Filed in: NHL Teams, San Jose Sharks, | KK Hockey | Permalink

Blog: Abel to Yzerman By Paul
05/22/19 at 01:48 PM ET | Comments (6)
from Helene St. James of the Detroit Free Press,\
"I'm definitely excited to see what comes about," DeKeyser said. "We have young guys knocking on the door who think they're ready to play and it looks like they are ready to play. So there are probably going to be some tough decisions that are have to be made, maybe more so this year.

"I just hope that our D-corps improves every year, whether it's the same guys we have or if we have new guys."

New general manager Steve Yzerman did not return a message seeking comment. There's been no word yet on what veteran defenseman Niklas Kronwall, 38, will do –he played 79 games last season and looked like he's figured out how to manage the pain of his bad left knee, but people who were in the locker room the night of the Wings' finale, April 6, said he was emotional, as if it might have been his last game.

"I know he's up in the air, from what I've heard," DeKeyser said. "I'm hoping he's coming back. He's a great leader and on the ice he's always cool and confident. If he's gone, I'll definitely miss him. I love Nik."
Filed in: | Abel to Yzerman | Permalink

Blog: Abel to Yzerman By Paul
05/22/19 at 12:37 PM ET | Comments (3)
from Darren Yourk of TSN,
Kaapo Kakko's string of highlight-reel plays at the world hockey championship are generating a lot of buzz, but his strong performance isn't enough to knock American centre Jack Hughes out of the top spot in TSN Director of Scouting Craig Button's latest NHL mock draft at the conclusion of the third round of the playoffs.

The 18-year-old Finnish right winger has six goals through seven preliminary round games at the tournament in Slovakia, lighting up social media with his dazzling puck skills. Hughes is also playing in the tournament, managing just one assist in six games for the Americans before he was a healthy scratch for Tuesday's game against Canada.

"If New Jersey wants a winner, they should pick Kakko," Finnish coach Jukka Jalonen told the New York Times this week. "…Hughes is a great player as well, but in the important games, Kakko has always been better. He is already playing like a man. He could play in the NHL right now, and in a few months, he will be even better. After a few years, he will be one of the best players in the world."

Still, the top of Button's mock draft remains unchanged: Hughes to the New Jersey Devils at No. 1, followed by Kakko to the New York Rangers.
Filed in: | Abel to Yzerman | Permalink

Blog: Abel to Yzerman By Paul
05/22/19 at 12:19 PM ET | Comments (3)
from Adam Steiss of IIHF.com,
The IIHF Disciplinary Panel has issued a one-game suspension to Team Canada forward Anthony Mantha.

Mantha will miss Canada's quarter-final game against Switzerland.

The suspension is due to a violation of IIHF Rule 124-Checking to the Head and Neck. The incident in question occurred on 21 May, at 29:31 in the 2nd period of the game between Canada and USA.

During the play, the puck goes deep into Canada's defensive zone and is played into the right corner by the Canadian goaltender. Mantha and USA forward Colin White then raced towards the puck. Upon reaching the puck, White reaches out with his stick in an attempt to play the puck, at the exact same moment that Mantha prepares to make the check. White's action of reaching for the puck results in him taking a low position.
Watch the hit below.
Filed in: | Abel to Yzerman | Permalink

About Kukla's Korner
Kukla's Korner is updated around the clock with the work of our own talented bloggers, plus links to the best hockey writing around the internet. We strive to bring you all the breaking hockey news as it happens.
The home page allows you to see the latest postings from every blog on the site. Subscribe here. For general inquiries and more, please contact us anytime.
Most Recent Posts
Most Recent Comments