Blog: Abel to Yzerman By Paul
05/14/18 at 08:36 AM ET | Comments (0)
from Ansar Khan of Mlive,
The Red Wings had their amateur scouting meetings last week. There was much debate. Wright indicated they're still formulating their list.

"I don't think it was a unanimous decision going into these meetings," Wright said. "To be honest with you, the decision hasn't been made. We don't spend a lot of time trying to figure out who's taking who. We're trying to identify where we want to go and make sure we have those guys in order....

"You got some really good puck-moving defensemen, you got some smaller offensive dynamic (defensemen), you got some big, powerful wingers, you got some skilled wingers," Wright said. "Up the middle it might not be as deep as in previous years. With that said, there's still good players.

"I think the industry has identified some separation with certain players. Going into last year's draft it was a little harder to evaluate because you could have gone either way and there's guys that emerged late."
Filed in: | Abel to Yzerman | Permalink

05/14/18 at 08:32 AM ET | Comments (4)
from Jack Todd at the Montreal Gazette
- Too bad that two teams with the best stories in the league are going head to head in the battle between the Winnipeg Jets and the Las Vegas Golden Knights. I'm still a little uncomfortable with the breaks the NHL gave Vegas in exchange for a cool $500 million but there's no denying the job done by Gallant and GM George McPhee. That Winnipeg team, on the other hand, is so solidly built that the Jets could dominate for years. …

- Jets' GM Kevin Cheveldayoff was ripped for avoiding free agency but he clearly knew what he was doing. Now that Connor Hellebuyck has emerged as a star goaltender, the Jets are solid from front to back in the way great teams used to be. Remember the 1970s Habs, anyone? …

If Winnipeg's success cools the free agency market, it's the best thing that could happen to hockey. The money is corrosive, solid teams are broken up through the combination of free agency and the salary cap and players (although they will never admit it) often end up in organizations where they're outside their comfort zone and asked to play a role they're not comfortable in. Above all, any contract over five years is absurd: with most players, you don't know where they'll be in two years, much less eight. Don't believe me? Check Carey Price, whose slump kicked in before the big contract even took effect.

- The approach taken by all four semifinals coaches this year should be a repudiation of all the confrontational and abusive tactics in a coach's arsenal. Paul Maurice, Barry Trotz, Jon Cooper and Gallant all believe in handling players with tact and respect. Ridicule and humiliation need not be part of the process. Apply that thought to whom you please.
more notes...
Filed in: NHL Teams, | KK Hockey | Permalink

05/14/18 at 08:17 AM ET | Comments (0)
from Dan Steinberg of D.C. Sports Bog,
So look. What even is going on with the Capitals?

My dudes: I do not know. I do not get it. It is, like, a weird floating sensation, watching these last few games. There isn't a particular lot of stress, really. Neither is there all that much late-game uncertainty. During NHL playoff games, my coldly impartial heart races like a metronome on greenies. My heart during the last five minutes Sunday night was in, like, half-asleep-on-the-couch-covered-with-roasted-jalapeno-pita-chip-dust-while-watching-Guys-Grocery-Games mode. Composting bins race faster than my heart. I've been more stressed out trying to decide which flavor of yogurt to buy. It was Caps hockey, and it was chill.

The huh?

"They found a way to do everything right," said NBC Sports analyst Keith Jones.

"The best way to put it is it's not even close at even strength," said NBC Sports analyst Eddie Olczyk.

And — get this — the team that has been better by a zillion hectares keeps winning. These hockey games. By a lot.
Filed in: NHL Teams, Tampa Bay Lightning, Washington Capitals, | KK Hockey | Permalink

05/14/18 at 07:48 AM ET | Comments (0)
from Jim Matheson of the Edmonton Journal,
Clare Drake, whose voluminous wisdom was gladly and graciously imparted to a legion of young and old coaches who would hang on his every word, passed away Sunday morning.

The long-time University of Alberta Golden Bears head coach, who was inducted in the Hockey Hall of Fame last November in the builder's category, died in his sleep. He was 89.

Coach Drake, who is survived by wife Dolly and two daughters Debbie and Jamie, was a towering figure to long-time National Hockey League coaches Ken Hitchcock, Mike Babcock and Barry Trotz, who all said they wouldn't have made it to the best league in the world without the gentle soul who only put on his game face when the puck was dropped.

The same goes for former bench-bosses Tom Renney, Dave King and George Kingston along with a legion of contemporaries like Billy Moores, part of the all-encompassing Bears' family....

"What Clare said had a profound impact on all of us … I would go back to Edmonton after NHL seasons (coaching) and I would talk to him for hours and hours," said Hitchcock, the third-winningest NHL coach of all-time. "We'd be at symposiums, and we'd be talking so long, we'd miss some of the (other) presentations."
Terry Jones of the Edmonton Sun with his article on Clare Drake.
Filed in: Hockey Related Stories, | KK Hockey | Permalink
Tags: clare+drake
05/14/18 at 07:34 AM ET | Comments (2)
from Roger Mooney of the Tampa Bay Times,
The words "Our Time" were projected onto the Amalie Arena ice before the players left the dressing room early Sunday evening. The reference being, of course, the Lightning was going to take care of business in its own building.

That did not happen.

Again.

The team that finished the regular season with the best record in the Eastern Conference and rolled past the Devils and Bruins in the first two rounds of the playoffs, finds itself in a precarious situation after a 6-2 loss to the Capitals in Game 2.

The series now shifts to Washington, D.C. for Games 3 and 4. The good news is the Capitals are 3-3 on home ice this postseason. The bad news is teams with a 2-0 lead in the Stanley Cup semifinals since 1974-75 are 39-2.
Game highlights are below.
Filed in: NHL Teams, Tampa Bay Lightning, Washington Capitals, | KK Hockey | Permalink

05/14/18 at 07:26 AM ET | Comments (0)
SUNDAY'S RESULT
Alex Ovechkin and Evgeny Kuznetsov both tallied multiple points as the Capitals scored five unanswered goals to rally and defeat the Lightning in Game 2 of the Eastern Conference Final.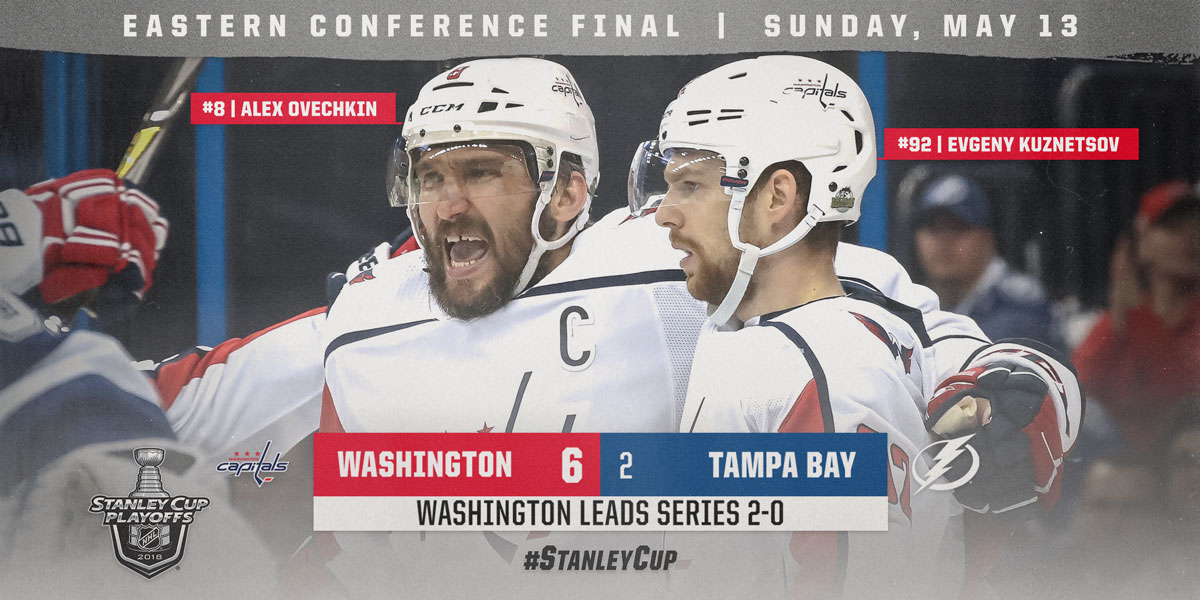 Filed in: NHL Teams, | KK Hockey | Permalink

05/13/18 at 09:02 PM ET | Comments (15)
A lot of talk on Twitter, many want this kind of call reviewable.
Your thoughts?
added 10:46pm, Below, watch the Sportsnet crew discuss this topic.
Filed in: NHL Teams, Tampa Bay Lightning, Washington Capitals, NHL Talk, NHL Officiating, | KK Hockey | Permalink

Blog: Abel to Yzerman By Paul
05/13/18 at 07:59 PM ET | Comments (2)
via the YouTube page of awood40.
Filed in: | Abel to Yzerman | Permalink

05/13/18 at 07:32 PM ET | Comments (0)
Tonight's game starts just after 8:00pm ET in Tampa and is on NBCSN, CBC, SN and TVAS.
The Lightning need a win or else they will be down 0-2 in the series heading to Washington on Tuesday.
The comment section belongs to you.
Filed in: NHL Teams, Tampa Bay Lightning, Washington Capitals, | KK Hockey | Permalink

05/13/18 at 04:51 PM ET | Comments (1)
Filed in: NHL Teams, Winnipeg Jets, | KK Hockey | Permalink
Tags: dustin+byfuglien, ryan+reaves, vegas+golden+knights
« Previous ‹ First < 9 10 11 12 13 > Last › Next »
About Kukla's Korner
Kukla's Korner is updated around the clock with the work of our own talented bloggers, plus links to the best hockey writing around the internet. We strive to bring you all the breaking hockey news as it happens.
The home page allows you to see the latest postings from every blog on the site. Subscribe here. For general inquiries and more, please contact us anytime.
Most Recent Posts
Most Recent Comments