05/21/19 at 09:12 AM ET | Comments (0)
from ESPN,
Will the Sharks come back and win the series?

Greg Wyshynski, senior NHL writer: I'm about 80 percent on the St. Louis Blues closing out the series in six games, and about 20 percent on the Sharks rallying to win it. That 20 percent is based less on logic than it is based on the fact that ... look, I've covered San Jose for three rounds. I've seen stuff you wouldn't believe. A rally from down three games to one. A phantom major penalty in a Game 7 and their power play scoring four times during the ensuing man advantage. An obscurely enforced offside play caught by a coach's challenge, taking away a goal in another Game 7. A blatant hand pass in an overtime before a game-winning goal in this series....

Chris Peters, NHL draft and prospects writer: There is only one way the Sharks can get back into this series, and that is Martin Jones playing out of his mind. As the Sharks' offense stagnates, it's almost entirely on Jones to at least give them a chance. However, if that's San Jose's hope, the odds don't seem to be in their favor. Jones has given up three or more goals in four of the five games so far this series, and hasn't had a level of consistency this season that gives one faith he'll find it now. Jones has a .902 save percentage in these playoffs, by far the lowest mark of his career, and a minus-8.51 goals saved above average. Even with those numbers, he's still a goalie who is capable of flashes of brilliance, and we've seen that at times this postseason....
more from the two above plus others with their answer...
Filed in: NHL Teams, San Jose Sharks, St. Louis Blues, | KK Hockey | Permalink

05/21/19 at 08:42 AM ET | Comments (0)
from Curtis Pashelka of the Mercury News,
The Clarence Campbell Bowl will be inside Enterprise Center on Tuesday when the Sharks face the St. Louis Blues with their season on the line in Game 6 of the Western Conference Final.

The last time the Sharks saw the trophy after a game, they were standing on the ice at SAP Center in 2016, posing for a photo with NHL Deputy Commissioner Bill Daly after dispatching of the Blues in six games to advance to their first Stanley Cup Final.

Considering the list of players that may not be able to dress Tuesday night — and the momentum the Blues have captured with two straight wins to take a 3-2 series lead — keeping the bowl out of public view for at least another game will likely take the Sharks' best effort of the playoffs so far.

Even then, there's no guarantee of a Game 7 on Thursday back in San Jose.

"We've been in this situation before. It's not done yet," said Sharks winger Joonas Donskoi, who was feeling better Monday after he was knocked out of Game 5 for a brief time. "It's one game at a time and we focus on tomorrow's game just like we always do. We are looking forward to bringing it back to Game 7."
Filed in: NHL Teams, San Jose Sharks, St. Louis Blues, | KK Hockey | Permalink

05/21/19 at 08:37 AM ET | Comments (0)
from Ben Frederickson of the St. Louis Post-Dispatch,
The Sharks' list of luck includes a five-minute major penalty in the first round that should not have punished Las Vegas so severely. Joe Pavelski, the player injured by the hit, said so himself. The power play that followed defined that series. Then came the successful offside challenge that nixed Colorado's game-tying goal in Game 7 of the second round, a reversal that still has Avalanche fans studying film beneath tinfoil hats. Both took a backseat to the blatant Timo Meier hand pass officials missed on the Sharks' game-winning overtime goal against the Blues in Game 3.

If that's not a tailwind of good luck, what is?

"It irks me when you use words like that," DeBoer told a reporter who dared to use the L-word after the Sharks won Game 3.

DeBoer could have simply said all champions catch some breaks along the way. Instead he revealed an exposed nerve. More have been popping up ever since.

While it would be fun to suggest the Sharks' denial of their gifts resulted in luck's rejection, that would eliminate the Blues' role in this reversal.

The Sharks didn't lose their luck.

The Blues have simply smothered it. With a smile.
Filed in: NHL Teams, San Jose Sharks, St. Louis Blues, | KK Hockey | Permalink

05/21/19 at 08:18 AM ET | Comments (0)
Blues look to clinch first Final appearance since 1970; Sharks must replicate 2014 Kings to reach Final; Couture, Pietrangelo set sights on franchise records.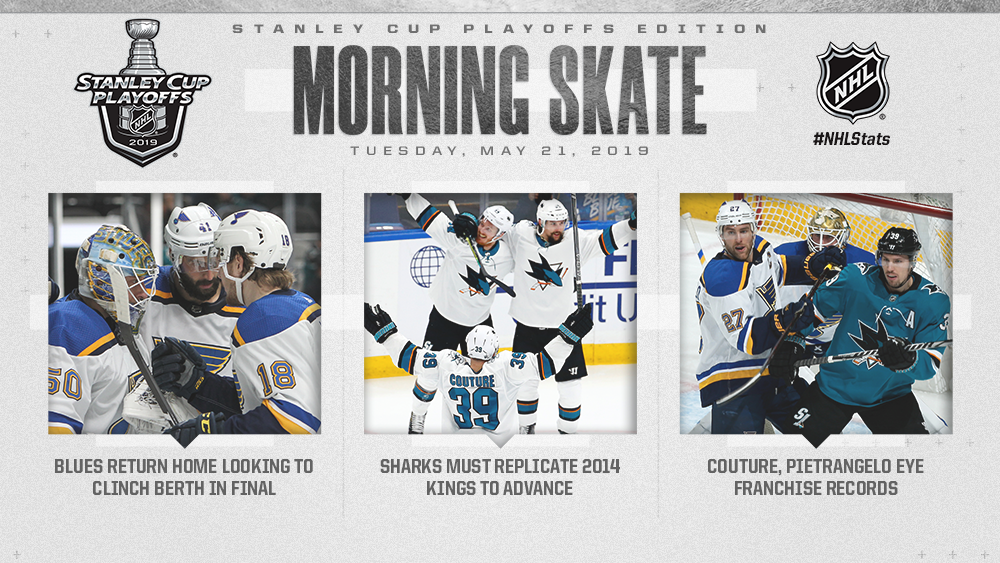 Filed in: NHL Teams, | KK Hockey | Permalink

05/20/19 at 07:33 PM ET | Comments (1)
from Darren Rovell of the Action Network,
In January, Scott Berry found himself in Las Vegas on a business trip, pressed for time.

He usually plays the table games for a couple hundred bucks before making a bet on one of his sports teams, but he was so overworked that he felt like he could only make one bet.

So he headed over to the sportsbook at the Paris Las Vegas Hotel. A big sports fan, but not a big bettor, Berry looked up at the board. His St. Louis Blues were 250-1 ($1 wins $250) to win the Stanley Cup.

The Blues, who have never won the Stanley Cup and are tied with the Maple Leafs for the longest championship drought in the NHL at 51 years, were not good at the time and were famously in last place in the entire NHL on Jan. 2. Still, 250-1 seemed a bit high, so Berry waltzed over to the nearby Bellagio to check the price on the Blues.

They were 150-to-1.

"So I sprinted back to the Paris and put down everything I had planned on spending on gambling — $400," Berry said. "To win $100,000 sounded really good."
Filed in: NHL Teams, St. Louis Blues, | KK Hockey | Permalink

05/20/19 at 07:12 PM ET | Comments (0)
from Shawn P. Roarke of NHL.com,
The St. Louis Blues are on the verge of something that has been dreamed about in this city for nearly 50 years, but the players who can make it happen say they aren't dreaming about it at all.

That, they say, will be the key to prospering in Game 6 of the Western Conference Final against the San Jose Sharks at Enterprise Center on Tuesday (8 p.m. ET, NBCSN, CBC, TVAS).

Win, and the Blues play the Boston Bruins beginning May 27 in their first Stanley Cup Final since losing to the Bruins in 1970. Lose, and there will be a Game 7 at SAP Center on Thursday....

The Sharks are 4-0 in elimination games during the 2019 Stanley Cup Playoffs. The Blues, who have never won the Cup, are 2-0 in games when they can advance. They defeated the Winnipeg Jets 3-2 in Game 6 of the first round and eliminated the Dallas Stars 2-1 in the second overtime of Game 7 in the second round.

"This is a group that treats every game the same way," St. Louis captain Alex Pietrangelo said Monday. "We have done that pretty much for the whole second half of the season leading up to this point. That's why we have been such a resilient group."
Nicholas J. Cotsonika of NHL.com on the Sharks,
Filed in: NHL Teams, San Jose Sharks, St. Louis Blues, | KK Hockey | Permalink

05/20/19 at 04:32 PM ET | Comments (0)
from David Schoen of the Las Vegas Review-Journal,
With the Golden Knights set to shed salary this offseason, it was only a matter of time before other clubs started putting out feelers for potential trades.

One name that continues to be mentioned is Colin Miller.

The defenseman struggled through injuries and multiple stints in coach Gerard Gallant's doghouse this past season and now is on the trading block, according to multiple reports.

"We didn't expect to be having summer this early and it's frustrating, but there's always things you can learn," Miller said during his exit interview with the media last month. "We have the right pieces in place, and hopefully the future's very bright."

Miller led the Knights' defensemen in scoring during the team's inaugural season, but he couldn't match that level of consistency throughout 2018-19.

He never appeared comfortable in the shutdown role alongside Brayden McNabb during the first 20 games while Nate Schmidt was serving his suspension and missed 13 games from Dec. 20 to Jan. 15 with an upper-body injury.

Miller then fell out of favor with Gallant during the second half and was a healthy scratch for two games on two separate occasions.
Filed in: NHL Teams, | KK Hockey | Permalink
Tags: colin+miller, vegas+golden+knights
Blog: Abel to Yzerman By Paul
05/20/19 at 03:30 PM ET | Comments (35)
from Joe Smith of The Athletic,
With the Lightning having $74 million of an expected $83 million salary cap committed to 17 players — and needing to give restricted free agent center Brayden Point a hefty raise — Callahan is expected to be moved this summer. Tampa Bay can try to deal Callahan by the June 21-22 NHL Draft in Vancouver, but they likely would need to sweeten the deal with a pick or prospect. They could also try to buy Callahan out this summer, which would require them to carry some of his $5.8 million cap hit....

With the help of my colleagues at The Athletic, here are five teams that could be potential trading partners with the Lightning in taking on Callahan....

Detroit Red Wings
Red Wings beat writer Max Bultman: The Red Wings are a natural fit for Callahan for several reasons. First, they have the cap space to take on his deal with little to no trouble. Second, their forward situation is such that Callahan would be a legitimate upgrade on their third line and potentially even a natural fit to play opposite rookie Filip Zadina on a line. And, lastly, because they have Steve Yzerman, the GM who brought Callahan to Tampa in the first place and happens to have the most intimate possible knowledge of the Lightning farm system when it comes to picking out an asset as a sweetener.

A Julien BriseBois-Yzerman negotiation over prospects they once oversaw together would be a fascinating process and, considering the number of intriguing players at the AHL level for Tampa Bay, probably ultimately fruitful for both sides. You have to expect BriseBois to draw the line at the some of the top guns like Joseph, Cirelli or even Barre-Boulet, but because Callahan's hit wouldn't be a massive burden on Detroit, someone like Mitchell Stephens, Alexander Volkov, Taylor Raddysh, Boris Katchouk, Carter Verhaeghe or Connor Ingram could still be worthwhile for the Red Wings. Detroit would have to live with clogging up a lineup spot with yet another veteran, but utilizing their available cap space on Callahan would allow them to add a prospect from a system that continues to turn out skilled players. If it ends up making them better next season, too, so much the better.
more ($$$) teams and more on Callahan who is 34 years old...
Filed in: | Abel to Yzerman | Permalink

Blog: Abel to Yzerman By Paul
05/20/19 at 12:17 PM ET | Comments (4)
"He's a guy who is solid in one-on-one situations, very powerful, really good skills, good hands and able to release a good shot. So far his line with Kyle (Turris, of the Predators) and Jared (McCann, of Pittsburgh) has been our most consistent, offensively as much as defensively. They support each other well and in Anthony's case, so far he's been competing with a lot of grit, a lot of intensity, and when you have that talent and that frame, that makes a good hockey player."
Max Bultman of The Athletic (paid subscription) has more on Mantha.
added 2:52pm on 5/21/19, Mantha pic below of a hit he made in the game against Denmark. Thanks to a KK member for the pic.
Filed in: | Abel to Yzerman | Permalink

05/20/19 at 12:01 PM ET | Comments (2)
from Iain MacIntyre of Sportsnet,
...the Sharks have a lot of numbers that mean almost nothing, and certainly less to them than the zero Stanley Cups the franchise has won while winning more games than any NHL team over the last 15 seasons.

In that span, the Sharks have made the playoffs 14 times, and in 10 of these seasons advanced past the first round and into the NHL's final eight. And yet, they've played in only one Stanley Cup Final and lost that one in 2016 to Crosby's Pittsburgh Penguins.

San Jose is 1-3 in Western Conference finals, and the betting favourite is now 1-4 after the Sharks were hammered 5-0 Sunday on home ice by the St. Louis Blues, who took a 3-2 lead in this year's West final.

When the Sharks play Game 6 Tuesday in Missouri, they will surpass the Penguins for the most playoff games since 2004. But Pittsburgh has three Stanley Cups in that time.

Doug Wilson became San Jose's general manager in 2003 and has never had a down cycle, never needed nor wanted to rebuild, never finished with fewer than 89 points in a full season. By almost any measure, this is an incredible, almost unfathomable, run of prolonged success.

But even with a .629 winning percentage the last 15 seasons, the Sharks are known as much for their failure in springtime as their success during winter.
Filed in: NHL Teams, San Jose Sharks, | KK Hockey | Permalink

« Previous < 1 2 3 4 > Last › Next »
About Kukla's Korner
Kukla's Korner is updated around the clock with the work of our own talented bloggers, plus links to the best hockey writing around the internet. We strive to bring you all the breaking hockey news as it happens.
The home page allows you to see the latest postings from every blog on the site. Subscribe here. For general inquiries and more, please contact us anytime.
Most Recent Posts
Most Recent Comments