11/11/19 at 12:02 PM ET | Comments (0)
NEW YORK (Nov. 11, 2019) – Ottawa Senators goaltender Anders Nilsson, Toronto Maple Leafs center Auston Matthews and Colorado Avalanche defenseman Cale Makar have been named the NHL's "Three Stars" for the week ending Nov. 10.
Filed in: NHL Teams, | KK Hockey | Permalink

Blog: Abel to Yzerman By Paul
11/11/19 at 11:24 AM ET | Comments (5)
This will be the practice post too.
No practice updates but we have this, added 12:01pm,
Filed in: | Abel to Yzerman | Permalink

11/11/19 at 09:59 AM ET | Comments (0)
"It was a tough one, but way to battle together and get the two points."
-Robin Lehner, goaltender for the Chicago Blackhawks after making 53 saves in a 5-4 win over the Toronto Maple Leafs. Scott King at NHL.com has more on the game.
Filed in: NHL Teams, Chicago Blackhawks, | KK Hockey | Permalink
Tags: robin+lehner
11/11/19 at 09:35 AM ET | Comments (0)
from Matthew DeFranks of the Dallas Morning News,
Benn and Seguin were scoreless on Sunday, marking the 14th time in 18 games that the franchise cornerstones have not found the back of the net. Benn tied a career-high by extending his goalless drought to 13 games on Sunday, something he hadn't done since his rookie season a decade ago. Seguin has one goal in his last 14 games.

Benn doesn't have a goal at even-strength. Seguin doesn't have one on the power play.

"I don't think they're driving pucks too often," Montgomery said. "In general, our team, not driving pucks to hard areas enough."

While Benn and Seguin were held off the scoreboard again, the Stars now have points in eight of the last nine games, and carry an 8-8-2 record after a horrid 1-7-1 start. Mattias Janmark and Radek Faksa scored for the Stars, as Winnipeg's Mark Scheifele scored the game-winning goal in overtime on a 2-on-1 just 21 seconds into the extra period.
Filed in: NHL Teams, Dallas Stars, | KK Hockey | Permalink

11/11/19 at 09:02 AM ET | Comments (0)
Thank a vet today and every day of the year.
Filed in: | KK Hockey | Permalink

11/11/19 at 08:54 AM ET | Comments (0)
from Robert Tychkowski of the Edmonton Journal,
Dallas Eakins said before Monday's (Sunday's) game that the unpleasant memories he has of his brief stint with the Edmonton Oilers are so long ago he barely remembers them.

Unfortunately for Eakins, the Oilers gave him a fresh batch of misery to digest.

In Eakins' first game against Edmonton since he returned to the NHL coaching ranks in Anaheim, he ran into a buzz-saw of an Oilers team that turned his evening into a 60-minute nightmare, dominating all three facets of the game in a 6-2 beating.

"I thought we were solid all over," said Oilers captain Connor McDavid, who lead the way with a hat-trick. "Our PK was great, the power play scores two, goaltending (Mikko Koskinen) was really good when we needed him. It was a good effort by everyone."


The convincing rout of an Anaheim team that was 6-2-1 at home this year comes on the heels of Friday's 4-0 victory over New Jersey as the Oilers improve to 12-5-2 and appear to have regained the stride that lifted them to a 5-0 start.
Watch the 3 goals from McDavid below.
Filed in: NHL Teams, Anaheim Ducks, Edmonton Oilers, | KK Hockey | Permalink

11/11/19 at 08:40 AM ET | Comments (0)
from Kevin Paul Dupont of the Boston Globe,
The Bruins came out slower than the 8:30 Commuter Rail to Rockport Sunday night and recovered in time — though it took a verrrrry long time — to bank a point in their 3-2 shootout loss to the Flyers at the Garden.

We turned the clocks back a week ago Sunday morning, back in the old golden and glory days when the Bruins were the hottest team in the NHL. Ever since, much like the Commuter Rail, it's gone off the tracks for the Black and Gold.

Have you felt out of synch the last week, lost how to explain gaining an hour on the clock messed up your life? Irritable? Short-tempered? No idea what condition your condition is in from one minute to the next?

Well, call it the Bruin in you.

The sons of Bruce Cassidy cobbled together only 10 shots through the first two periods vs. the Flyers. They finally mounted a push in the third, piled up 17 shots, and cashed in with goals from Danton Heinen and Brad Marchand. The L'il Ball o'Hate summoned his best Joe Sakic imitation on the equalizer, lasering an off-the-back-foot wrister past Carter Hart with 7:38 to go in regulation. A mesmerizing shot, and one of less than a handful of really entertaining, big-league plays the Bruins were able to summon all night.
Catch the game highlights below.
Filed in: NHL Teams, Boston Bruins, Philadelphia Flyers, | KK Hockey | Permalink

Blog: Abel to Yzerman By Paul
11/11/19 at 08:21 AM ET | Comments (2)
from Ted Kulfan of the Detroit News,
Mantha was driving toward the net, alone, after sidestepping Vegas defenseman Brayden McNabb, who made an unsuccessful poke for the puck.

Suddenly, Mantha had the game on his stick with just over 30 seconds left.

Mantha had teammates entering the zone, but he wasn't going to give up the puck.

"My passing was not on point today," Mantha said. "I was shooting 100 percent."

Fortunately for the Wings, Mantha did. He beat goalie Malcolm Subban with the game-winner with just 31 seconds left, giving the Wings a dramatic and exciting 3-2 victory over Vegas on Sunday at Little Caesars Arena.

It was Mantha's 11th goal this season — he also scored the exclamation point empty-net goal Friday against Boston — and capped a successful weekend for the Wings, after a lot of losing.

"It gives us a little bit of confidence," Mantha said of the two victories over elite teams, after having lost 12 of 13 games. "Obviously (goaltender Jonathan) Bernier has been playing real good and we're playing better defensively. That's how we have to play to win these games."
Below, watch the extended game highlights.
Filed in: | Abel to Yzerman | Permalink

11/11/19 at 08:13 AM ET | Comments (0)
THREE HARD LAPS

* Oilers captain Connor McDavid netted his fifth career hat trick and 45th career three-point performance en route to recording his 400th NHL point (139-263—402).

* The Panthers and Blackhawks outlasted the Rangers and Maple Leafs to survive 11 and nine-goal affairs, respectively.

* Flyers rookie defenseman Philippe Myers scored for the third straight game to join select company and help Philadelphia capture its fourth straight win.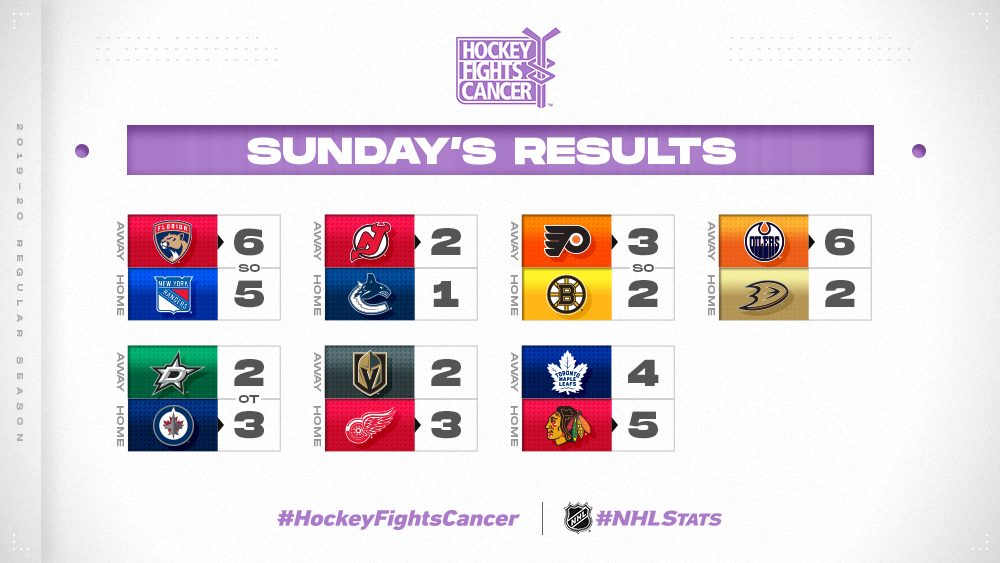 Filed in: | KK Hockey | Permalink

11/10/19 at 09:10 PM ET | Comments (0)
Filed in: NHL Teams, Toronto Maple Leafs, | KK Hockey | Permalink
Tags: mitch+marner
« Previous < 1 2 3 4 > Last › Next »
About Kukla's Korner
Kukla's Korner is updated around the clock with the work of our own talented bloggers, plus links to the best hockey writing around the internet. We strive to bring you all the breaking hockey news as it happens.
The home page allows you to see the latest postings from every blog on the site. Subscribe here. For general inquiries and more, please contact us anytime.
Most Recent Posts
Most Recent Comments