Blog: Abel to Yzerman By Paul
01/26/20 at 09:10 AM ET | Comments (4)
from Carlos Monarrez of the Detroit Free Press,
"I didn't get here by myself," said Givani, who was among a small group of young players who were assigned Thursday to the Grand Rapids Griffins while the Wings are on break for the NHL All-Star game. "I had a lot of people help me get to where I'm at right now. There's so many thanks yous I can give. At the same time, nothing that really repay all the time my dad's put in, my aunt's put in to get me to where I'm at right now."

When he was young, Givani was inspired by watching his dad play hockey. As he got older, he was instilled with wisdom his father dispensed about being a black person and what it meant to deal with racial discrimination in hockey, as well as in life.

'They have to have thick skins'

Gemel Smith, 25, is four years older than Givani. He has played 83 NHL games and is a forward in the Tampa Bay Lightning system with the American Hockey League's Syracuse Crunch. And he's had plenty of racist remarks directed at him by opposing players and their fans.

"I never got the N-word," Gemel said in a phone interview. "But I got stuff pretty similar. Just kind of like 'monkey' and 'you're playing the wrong sport, go play basketball.' Stuff like that."
added 9:14am, Below, watch Tyler Bertuzzi after the All-Star game.
Filed in: | Abel to Yzerman | Permalink

01/26/20 at 01:17 AM ET | Comments (0)
HERTL, DRAISAITL LEAD PACIFIC DIVISION TO ALL-STAR WIN
After each netting a hat trick in their semifinal game against the Central Division, Leon Draisaitl (4-2—6 in 2 GP) and Tomas Hertl (5-0—5 in 2 GP) both scored again in the final to propel the Pacific Division to its third All-Star Game title under the 3-on-3 format – the most of any division.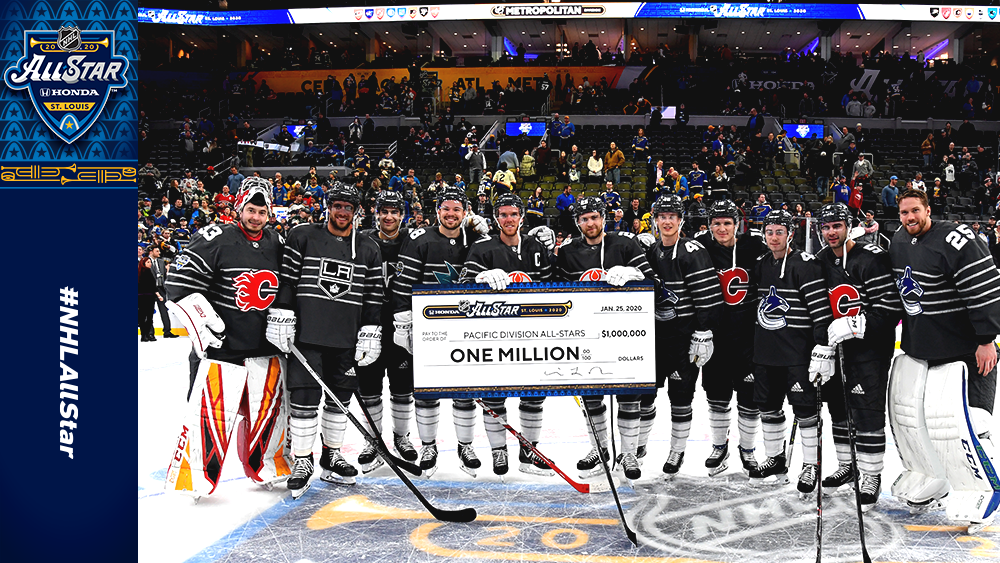 Filed in: NHL Teams, NHL Talk, | KK Hockey | Permalink

01/25/20 at 08:35 PM ET | Comments (1)
Both videos via the YouTube channel of the NHL.
Watch as St. Louis Blues' legend came out of retirement to sing the American National Anthem ahead of the 2020 All-Star Game.
Inspirational Blues fan Laila Anderson introduces the All Stars for the hometown St. Louis Blues at the 2020 Honda NHL All Star Game
Filed in: | KK Hockey | Permalink
Tags: charles+glenn, laila+anderson
01/25/20 at 07:45 PM ET | Comments (3)
Watch on NBC, Sportsnet, CBC or TVA at 8:00pm ET.
via the NHL PR department,
The brightest stars from around the League will hit the ice for the 2020 Honda NHL All-Star Game on Saturday which will see a return of the 3-on-3 tournament format, the same used for each of the past four seasons.
* Each game during Saturday's All-Star tournament will be 20 minutes in length with teams changing ends at the 10-minute mark of each contest. Games that are tied after 20 minutes will be decided in a shootout.
* The winners of each semifinal game will meet in the final to determine the overall tournament champion with a prize pool of $1 million to be paid in its entirety to the tournament's winning team.
* The first semifinal is an Eastern Conference showdown pitting the Atlantic Division, who have more goals in 2019-20 than any of the four teams participating on Saturday led by Boston's David Pastrnak (37 goals) and Buffalo's Jack Eichel (28 goals), against a Metropolitan Division squad that features Washington's John Carlson, who leads all defensemen and ranks 10th overall in League scoring with 13-47—60 this season. Carlson's teammate and St. Louis fan-favorite T.J. Oshie will also represent the Metropolitan Division.
Below, feel free to comment on tonight's action.
Also, NBCSports.com & the NBC Sports app will have a digital-only broadcast with new puck & player tracking technology.
Filed in: NHL Teams, NHL Talk, | KK Hockey | Permalink

01/25/20 at 07:39 PM ET | Comments (0)
via Sportsnet's YouTube page,
Award-winning actor and St. Louis native Jon Hamm explains the mindset of truly exceptional actors and athletes before the 2020 NHL All Star Game.
Filed in: NHL Teams, | KK Hockey | Permalink
Tags: jon+hamm
01/25/20 at 07:02 PM ET | Comments (0)
Mike Babcock has just disappeared, hasn't he? And it is a wonder that the league is still playing games without the input from one of the people who couldn't wait to tell you how he invented it.

Oh, sorry, I might have gotten Babcock mixed up with Dan Bylsma.
-Larry Brooks of the New York Post. Read on for more hockey topics from Brooks.
Filed in: NHL Teams, | KK Hockey | Permalink

01/25/20 at 06:08 PM ET | Comments (3)
from Bruce Garrioch of the Ottawa Sun,
- League executives insist the Ducks, preparing for a full rebuild, want to be busy at the deadline and they're open to just about any possibility, including taking bad contracts in exchange for prospects and picks. The belief is Murray isn't willing to trade just anybody on his roster, but he's certainly open for talks on several fronts.

A look at the roster indicates the options of moving players out may be limited because the Ducks have several with term on their deals. Contenders don't want term at this time of year, which is why unrestricted free agents are attractive options, but if Murray is serious about taking bad contracts for picks, then that's where the Ducks may have leverage.

- There are a lot of teams looking for help up front and the belief is the Boston Bruins would make a hard push for Kreider if the decision is made to deal him. Teams believe this will be a last-minute deal because Gorton isn't in a hurry.

- The Bruins aren't the only team looking for scoring help; the Calgary Flames, Arizona Coyotes and St. Louis Blues would all like to add forward depth before the post-season. One option for all the teams involved would be Los Angeles Kings forward Tyler Toffoli...

- The Kings are looking to move blueliner Alec Martinez. He has one year left with a cap hit of $4 million so that won't be an easy task for GM Rob Blake.
more on most of the above plus additional teams and names...
Filed in: NHL Teams, | KK Hockey | Permalink

01/25/20 at 05:58 PM ET | Comments (0)
from Steve Simmons of the Toronto Sun,
- It's not easy figuring out Matthews. He loves to play the part of celebrity. He thrives to be noticed with his moustache and his distinguished all-star clothing. And yet too often, he treats his daily interview sessions with a somewhat sense of disdain. He's trying to be a personality, but he's just not smooth enough to stay on brand every day.
- Gary Bettman is very comfortable, in his words, not going to the Olympics. Never mind what the fans and his players want. Why would the commissioner care about that?
- If the Leafs miss the playoffs, there will be plenty of blame to pass around, starting with general manager Kyle Dubas, who waited too long before firing Mike Babcock and has yet to provide his team with reasonable backup goaltending. If the Leafs are three to five points out at the end, which isn't impossible, that's points they missed out because of stubbornness re: goaltending and salary-cap mismanagement.
a few more
Filed in: NHL Teams, NHL Talk, | KK Hockey | Permalink

01/25/20 at 12:26 PM ET | Comments (3)
from Kevin Paul Dupont of the Boston Globe,
Katie Guay and Kelly Cooke, a couple of Massachusetts women with their hockey dreams still evolving, both were on the job Friday night, partnering as referees in the 3-on-3 elite women's tournament that was newly incorporated into the NHL's All-Star Weekend in St. Louis.

Guay, 37, and Cooke, 29, also wore the league's shield in September when they were among the first four women ever chosen to officiate at NHL rookie camps. It was a significant step for all of the women, and especially progressive for a league that has yet to follow the lead of the NBA and NFL in handing women a whistle and making them true in-game stakeholders in their sport.

"I think they're definitely looking for the right person to break that barrier," said Cooke, who grew up in Andover and recently became a corporate attorney in Boston. "There's people out there who are coming up and one could be the right person."

Perhaps that woman is Guay, who Cooke considers a friend and mentor. Paul Stewart thinks Guay is the most obvious current candidate. Stewart, 66, was an NHL referee for more than 20 years, and later hired Guay and Cooke to officiate men's Division 1 games during his years assigning ECAC officials....

Stephen Walkom, director of NHL officiating, told nhl.com last fall that women working NHL games "is definitely a possibility."

According to Bill Daly, the NHL's deputy commissioner, Walkom's efforts to make the officiating combine "as inclusive as possible" will pay dividends, making it likely that women will be included in the NHL's officiating ranks.
read on plus more hockey topics...
Filed in: NHL Talk, NHL Officiating, | KK Hockey | Permalink

01/25/20 at 10:59 AM ET | Comments (1)
from Chris Johnston of Sportsnet,
Here are a list of five things we learned from Bettman's media availability:

A decision on the NHL's participation in the 2022 Olympics will be made on a timetable established by the NHL and the NHL alone

Bettman was asked about recent comments from IIHF president Rene Fasel about needing an answer from the NHL by August. The commissioner didn't mince words.

"He also said last summer that he wanted an answer by December, and he didn't get one," said Bettman. "So we're going to have to see. I actually think that the deadline is really more one that we would have to impose in terms of logistics. My guess is if at a point in time we said we wanted to go and we could handle the timing of it, my guess is the IIHF could as well.

"That doesn't mean that I don't take Rene seriously, but he already gave us one deadline that came and went."

So when is the NHL's deadline?

"I don't know. I'll know it when I see it, when we get there," Bettman said....

Puck and player tracking is nearly a reality

The puck and player tracking that you're seeing on Sportsnet and NBC broadcasts from all-star weekend will be up and running by the playoffs, according to Bettman.

The league then intends to have it fully operational for the entire 2020-21 season — giving fans access to a whole treasure trove of information about the sport with the help of chips planted in each player's sweater and the puck.

"It'll be, as a fan and a viewer, what you want it to be," said Bettman. "You'll be able to watch the game as you've always watched it traditionally if that's what you want. There'll be broadcast enhancements that the broadcasters can use either on the primary screen or on secondary screens....
a bit more on each of the above plust three other topics...
Filed in: NHL Talk, | KK Hockey | Permalink
Tags: gary+bettman
« Previous < 1 2 3 4 > Last › Next »
About Kukla's Korner
Kukla's Korner is updated around the clock with the work of our own talented bloggers, plus links to the best hockey writing around the internet. We strive to bring you all the breaking hockey news as it happens.
The home page allows you to see the latest postings from every blog on the site. Subscribe here. For general inquiries and more, please contact us anytime.
Most Recent Posts
Most Recent Comments