08/14/20 at 07:01 AM ET | Comments (0)
"To be honest with you, it doesn't really feel like playoff hockey out there. There are no fans, so it's kind of like playing an exhibition gam. It's definitely not a playoff atmosphere out there. You try and play as hard as you can. When you're playing at a home rink and an away rink and the fans are cheering for and against you, it really creates a buzz for the series.

"There's none of that. So it just feels like dull at times. There are moments when there are scrums and whatnot, and then there will be five minutes when it's coast-to-coast hockey. There's no atmosphere. So it feels like an exhibition game. We're trying our best to ramp and get energized, and make it feel like it's a playoff game."
-Tuukka Rask, goaltender for the Boston Bruins. Joe Haggerty of NBCSports Boston has more on the Bruins and Rask.
Filed in: NHL Teams, Boston Bruins, | KK Hockey | Permalink
Tags: tuukka+rask
08/14/20 at 06:35 AM ET | Comments (0)
THREE HARD LAPS

* The Blue Jackets, Hurricanes and Stars all evened their best-of-seven series at 1-1, while the Golden Knights emerged in overtime to take a 2-0 series lead.

* Miro Heiskanen became the fourth-youngest defenseman in NHL history to score multiple goals in a playoff game, but it was the late-game heroics of teammate Jamie Oleksiak that tied the series for the Stars.

* Robin Lehner remained perfect with the Golden Knights by improving to 2-0 against his former club, while Dougie Hamilton defeated his old team with his first playoff game-winner in more than six years.
Filed in: NHL Teams, | KK Hockey | Permalink

08/13/20 at 03:10 PM ET | Comments (1)
NHL commissioner Gary Bettman was criticized here and elsewhere for taking his sweet time to put a pandemic plan together. Looks now like it was worth the wait.

It looks to me, in fact, like this might be Bettman's finest hour.

It's early yet. Still technically the first round. But I'm blown away by how seamlessly the league has pulled this off, even after leaving Las Vegas at the last minute and making the tournament an All-Canada proposition.

I doubted whether a bubble concept could work. I certainly doubted whether the frantic intensity of playoff hockey would translate to television with no fans in the stands.
-Joe Starkey of the Pittsburgh Post-Gazette where you can read more on this topic.
Filed in: NHL Talk, | KK Hockey | Permalink

08/13/20 at 02:45 PM ET | Comments (2)
Four teams trying to avoid going down 0-2 today.
Discuss the games with other KK members.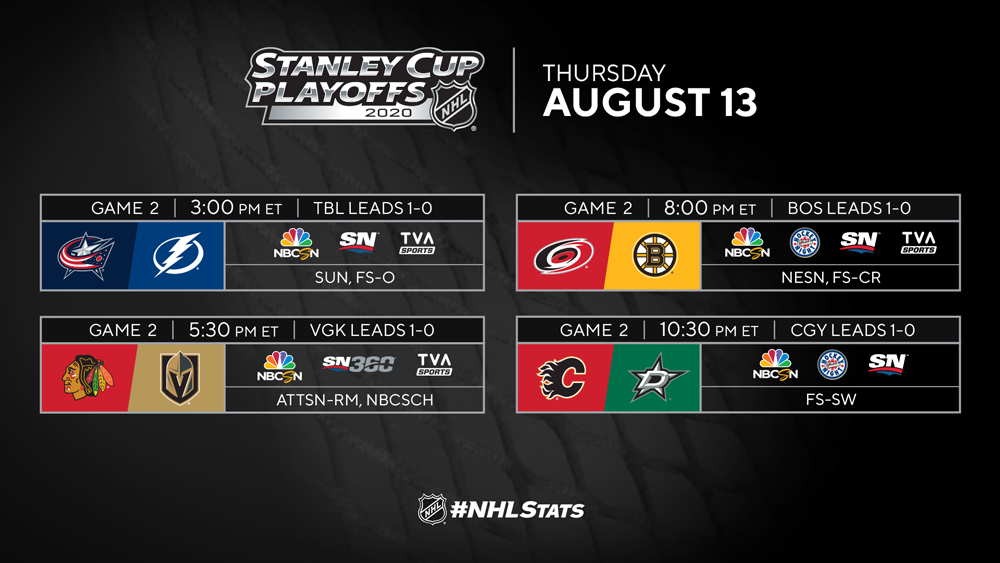 Filed in: | KK Hockey | Permalink

08/13/20 at 02:05 PM ET | Comments (7)
Filed in: | KK Hockey | Permalink
Tags: claude+julien
08/13/20 at 11:44 AM ET | Comments (9)
from Emily Sadler of Sportsnet,
New camera angles, giant screens, fluorescent lighting around the rink framing the main event – hockey's got a new look this summer.

Fans at home have no doubt noticed it sounds a little different, too.

With the COVID-19 pandemic eliminating the possibility of proceeding with fans in attendance, the NHL decided to bring in some help in the form of synthetic audio in an effort to create a more normal atmosphere.

If it feels like the players are living in a real-life video game, you're not far off. All that audio, aside from the organic stuff – skates on ice, pucks on sticks, chirps on opponents – is supplied by EA Sports' NHL division, makers of NHL '20 and the upcoming NHL '21.

"What you're hearing inside the real-life games right now are the exact same sounds that we use in our product," said David Pritchett, presentation designer at EA Sports' NHL franchise headquarters in Vancouver.
Are the NBC cameras too far away?
Filed in: NHL Media, Hockey Broadcasting, | KK Hockey | Permalink

08/13/20 at 11:24 AM ET | Comments (0)
17+ minutes to watch.
Filed in: NHL Teams, | KK Hockey | Permalink

08/13/20 at 08:59 AM ET | Comments (1)
from Iain MacIntyre of Sportsnet,
The St. Louis Blues aren't the Minnesota Wild. But then maybe the Vancouver Canucks aren't the Vancouver Canucks anymore, either.

Validated, educated and emboldened, the Canucks looked Wednesday against the Stanley Cup champion Blues almost nothing like the jittery, uncertain playoff rookies they were just over a week ago against Minnesota.

They handled the powerful Blues' intensity, size and talent and simply pulled the game away from the champions in the third period as the Canucks won 5-2 to begin the Stanley Cup Playoffs' first round.

The Canucks have so many things going for them right now, including the angels on their shoulders. Troy Stecher scored the winning goal Wednesday then looked up to one of them. Stecher's dad, Peter, died suddenly on Father's Day in June.
Watch the game highlights below.
Filed in: NHL Teams, Vancouver Canucks, | KK Hockey | Permalink

08/13/20 at 08:56 AM ET | Comments (0)
from Steve Simmons of the Toronto Sun,
They remain the team that doesn't make sense, roster-wise, financially, economically and heading to a cash crunch with an unmoving salary cap.

They can't play defence, the story goes, but had a decent defensive series against Columbus. They have the highest-paid forwards in the NHL and, after Sheldon Keefe took over as coach, led the league in goal-scoring. Against Columbus, they scored just three even-strength goals in five games.

Dubas insists he believes in the core of this team. But how does he make the team better without moving someone of significance?
Filed in: NHL Teams, Toronto Maple Leafs, | KK Hockey | Permalink

08/13/20 at 05:57 AM ET | Comments (0)
THREE HARD LAPS

* Patrice Bergeron scored the winner for the Bruins in the second game in as many days to require multiple overtimes.

* Quinn Hughes and Carter Hart continued to shine for the Canucks and Flyers, respectively.

* The Avalanche blanked the Coyotes, while the Islanders rallied for another multi-goal comeback win in the postseason over the Capitals.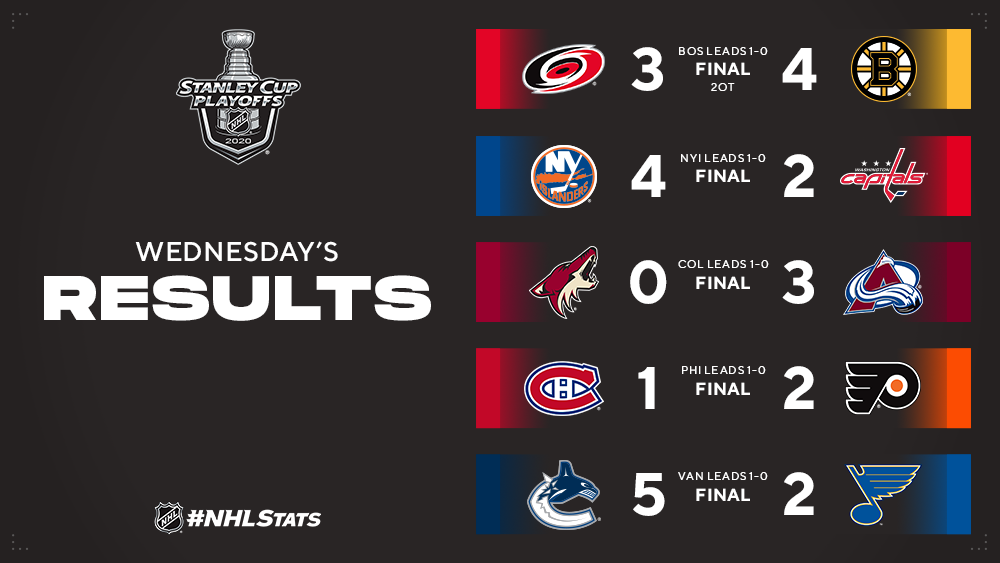 Filed in: NHL Teams, | KK Hockey | Permalink

« Previous < 1 2 3 4 > Last › Next »
About Kukla's Korner
Kukla's Korner is updated around the clock with the work of our own talented bloggers, plus links to the best hockey writing around the internet. We strive to bring you all the breaking hockey news as it happens.
The home page allows you to see the latest postings from every blog on the site. Subscribe here. For general inquiries and more, please contact us anytime.
Most Recent Posts
Most Recent Comments