09/17/20 at 09:06 AM ET | Comments (0)
from TSN,
from TSN,
- The Minnesota Wild continued to be active in the trade market on Wednesday, acquiring Marcus Johansson from the Buffalo Sabres in exchange for veteran centre Eric Staal.

-Speculation, however, continues to swirl around the future of defenceman Matt Dumba, as TSN Hockey Insider Pierre LeBrun said on Insider Trading.

"Well, here's the interesting thing. I can tell you that teams are calling Minnesota on Dumba, already. I heard that from a couple of teams today," LeBrun said. "The Wild would like a top-six centre back. And [that] was before they traded Eric Staal. So that need is pretty pressing now. And the reason why Dumba is potentially in play is because of the expansion draft next year with Seattle. Jonas Brodin's new deal has a no-move clause. Jared Spurgeon has a no-move (clause). Ryan Suter has a no-move (clause). You can do the math. Most teams don't want to protect four defencemen in the expansion draft....

- LeBrun also said on Insider Trading that the latest offer from the St. Louis Blues to Alex Pietrangelo once again fell short of the defenceman's expectations.

Pietrangelo told LeBrun for The Athletic that there "hasn't been much in terms of progress" between the two sides as he prepares to hit the open market on Oct. 9.

"Well, what I'm being told is that there was a new offer made by the St. Louis Blues early last week," LeBrun said. "It's an offer that didn't move the needle from the Pietrangelo camp's perspective. So, told not a whole lot of progress since then. And it's not just about money here. Structure and bonuses are an issue here....
more on each of the above
..
Filed in: NHL Teams, | KK Hockey | Permalink

09/17/20 at 05:24 AM ET | Comments (4)
from Nicholas J. Cotsonika of NHL.com,
The Vegas Golden Knights enter the offseason with questions about the futures of goalies Robin Lehner and Marc-Andre Fleury.

"We don't have those answers for you right now," general manager Kelly McCrimmon said Wednesday. "But [the] first order of business, I think, in many respects, is to sort that out."

Goaltending was not the issue when the Golden Knights lost to the Dallas Stars in the Western Conference Final. Vegas scored eight goals in five games.

But it is a burning issue now because Lehner can become an unrestricted free agent after this season (Oct. 9) and took the starting job from Fleury, who is signed for two more seasons at an average annual value of $7 million. Lehner turned 29 on July 24; Fleury turns 36 on Nov. 28.
Filed in: NHL Teams, | KK Hockey | Permalink
Tags: vegas+golden+knights
09/17/20 at 12:13 AM ET | Comments (0)
THREE HARD LAPS

* After surviving elimination with a double-overtime victory in Game 5, the Islanders look to join the 2000 Devils as the second team in NHL history to win either a Conference Finals or Semifinals series after facing a 3-1 deficit. There have been five instances of a club forcing a Game 7, outlined below.

* The Lightning aim to close out a Conference Finals in Game 6 for the first time. Tampa Bay required a Game 7 in each of its five previous appearances in the series.

* The Stars and head coach Rick Bowness await either the Lightning or Islanders in the Stanley Cup Final.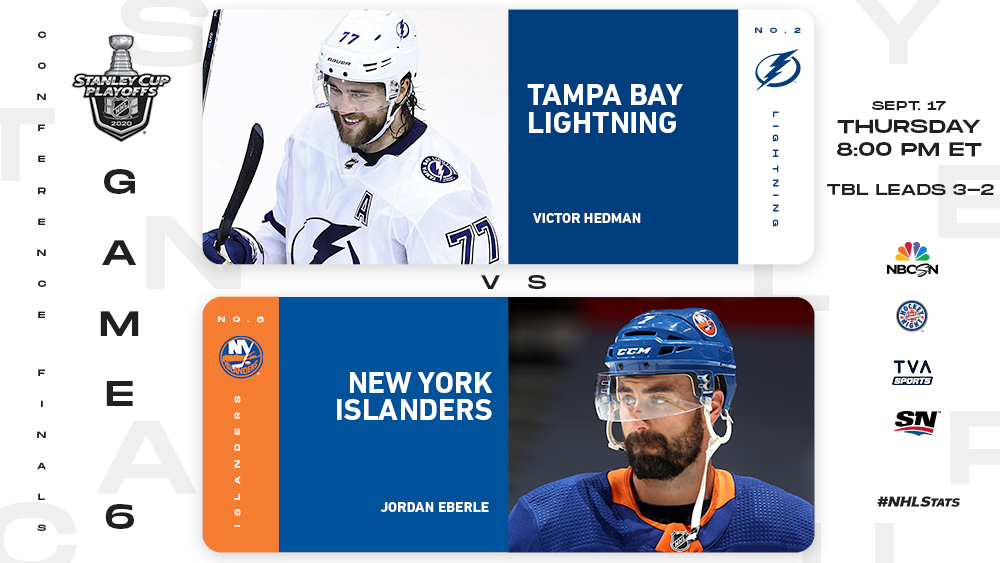 Filed in: NHL Teams, | KK Hockey | Permalink

09/16/20 at 11:13 PM ET | Comments (0)
"There's no question the NHL is making the best of a bad situation here, but it's antiseptic and that's the way it has to be."

"You have a lot of time to think, a lot of time for contemplation. I got out of my room sick of myself. We knew that we needed someone in the bubble to have better access to the players. If we didn't, we'd be stuck with the system the NHL has got going now for other media."
-Scott Oake of HNIC. More from Scott Oake by Mike McIntyre of the Winnipeg Free Press.
Filed in: NHL Media, Hockey Broadcasting, | KK Hockey | Permalink

09/16/20 at 06:33 PM ET | Comments (2)
added 6:39pm, Montreal release is below.
Filed in: NHL Teams, Montreal Canadiens, | KK Hockey | Permalink

09/16/20 at 05:57 PM ET | Comments (3)
added 6:18pm, Minnesota press release is below.
Filed in: NHL Teams, Buffalo Sabres, Minnesota Wild, | KK Hockey | Permalink

09/16/20 at 12:19 PM ET | Comments (36)
added 12:30pm, more below...
Filed in: Hockey Related Stories, | KK Hockey | Permalink

09/16/20 at 10:07 AM ET | Comments (0)
via NHL.com's YouTube page,
Get a behind the scenes look into the life of the NHL players and staff inside both of the NHL bubbles in Toronto and Edmonton during Episode 2 of Inside the Bubble.
Watch the 43 minute feature below.
Filed in: NHL Teams, NHL Talk, | KK Hockey | Permalink

09/16/20 at 10:00 AM ET | Comments (0)
from Terry Jones of the Edmonton Sun,
The wonderful thing about the story the Dallas Stars are writing during this depressing time, making it to the Stanley Cup Final against all odds, is the number of people they appear to be making happy.

And that's really remarkable here in Hub City, considering the number of occasions the Stars eliminated Edmonton in those sensational playoff series a couple of decades ago.

Whether it's individually or collectively, the Dallas Stars are an easy team to embrace and a fun team to follow.

Everybody loves an underdog and they are the ultimate underdog, picked by most to lose every series they've played — as will quite probably be the case with the next one, too.

For one thing, there are few teams to ever bring hockey statisticians such joy.

Monday after the Stars sealed the deal to force the Vegas Golden Knights to check out of the bubble, the fun facts were flying about this Dallas team that was receiving the Rodney Dangerfield get-no-respect treatment since they showed up.
Filed in: NHL Teams, Dallas Stars, | KK Hockey | Permalink

09/16/20 at 07:10 AM ET | Comments (2)
from Larry Brooks of the New York Post,
The Islanders would have played all night and all morning if that's what it took, but they were not going to go away. They were not going to take the skate of shame out of the Edmonton bubble. Not after this night. Not after this game.

Not yet.

So yes, there will be a Game 6 in Edmonton on Thursday and the Islanders will still be one loss away from extinction in the conference finals. That has not changed. But here is what has changed: The Islanders will be two victories away from the Stanley Cup final.

Thursday became necessary when the Islanders recorded a 2-1 victory on Jordan Eberle's goal off Anders Lee's two-on-one feed at 12:30 of the second overtime to narrow Tampa Bay's series lead to 3-2.

It was a victory achieved through a full commitment to playing the full 200×85 from the first moment to the last, one in which the Islanders contained the Lightning as well as they have yet, and one that ended with the Islanders' struggling top line coming through with its first five-on-five goal of the series.
Filed in: NHL Teams, New York Islanders, | KK Hockey | Permalink

« Previous < 1 2 3 4 > Last › Next »
About Kukla's Korner
Kukla's Korner is updated around the clock with the work of our own talented bloggers, plus links to the best hockey writing around the internet. We strive to bring you all the breaking hockey news as it happens.
The home page allows you to see the latest postings from every blog on the site. Subscribe here. For general inquiries and more, please contact us anytime.
Most Recent Posts
Most Recent Comments