Blog: Abel to Yzerman By Paul
11/16/18 at 05:07 AM ET | Comments (1)
from Ted Kulfan of the Detroit News,
This time there was no third-period rally, as there has been often during the recent winning streak.

And the Red Wings paid for it, losing 2-1 to the Ottawa Senators.

The loss ended a 4-game winning streak for the Red Wings, who have won seven of their last nine.

"We weren't good enough to win tonight," defenseman Niklas Kronwall said. "We had opportunities we could have done more with, and that's why we lost."...

"We played good hockey overall," Blashill said. "I talked about being relentless and not taking your foot off the gas, we can be better. We had chances to be better. We have to make sure we're better."
Below, the missed penalty shots, post-game interviews and game highlights.
Filed in: | Abel to Yzerman | Permalink

11/16/18 at 04:46 AM ET | Comments (3)
Tim Peel and #24 Graham Skilliter worked the game in Ottawa last night. #24 talking to Bylsma/Blashill so a simple deduction puts Peel on the microphone.
We all make mistakes and I am sure Gordie Howe would have had a good laugh.
Update: Reports say it was the rink announcer with the call so you decide. Like I said, we all make mistakes.
Filed in: NHL Talk, NHL Officiating, | KK Hockey | Permalink
Tags: tim+peel
11/16/18 at 04:34 AM ET | Comments (0)
THURSDAY'S RESULTS
Home Team in Caps
NY ISLANDERS 7, NY Rangers 5
New Jersey 3, PHILADELPHIA 0
Tampa Bay 4, PITTSBURGH 3
COLUMBUS 7, Florida 3
OTTAWA 2, Detroit 1
MINNESOTA 6, Vancouver 2
Montreal 3, CALGARY 2
ARIZONA 2, Nashville 1
Toronto 5, SAN JOSE 3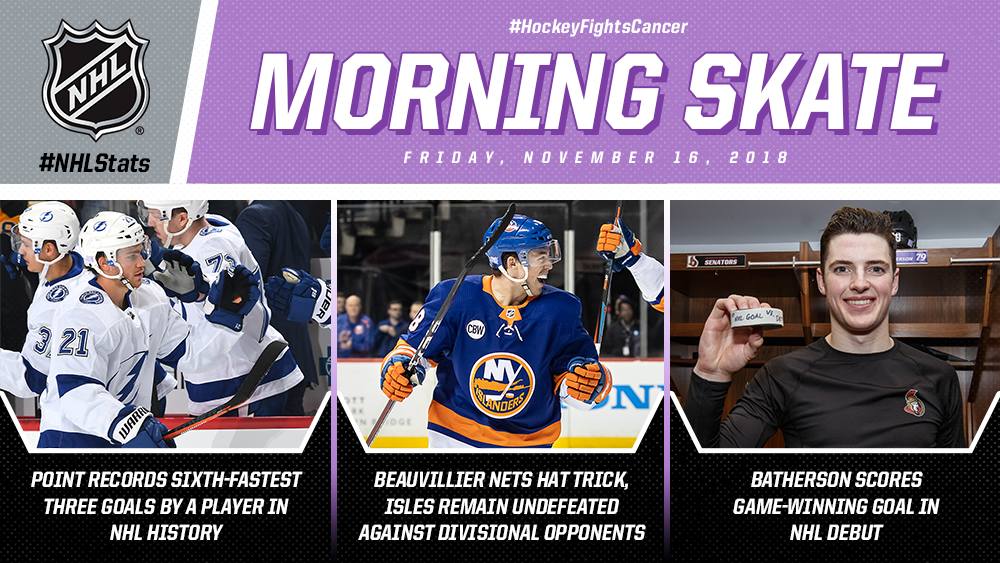 Filed in: NHL Teams, | KK Hockey | Permalink

Blog: Abel to Yzerman By Paul
11/15/18 at 10:20 PM ET | Comments (2)
Final- Ottawa 2 Detroit 1
Wings certainly were not as sharp as their last game but this is expected with a lineup scattered with youngsters.
They didn't quit, they just couldn't click.
They had their chances, especially in the third period (2 stopped penalty shots), but the Sens hung on.
Goals and stats below.
Filed in: | Abel to Yzerman | Permalink

Blog: Abel to Yzerman By Paul
11/15/18 at 07:10 PM ET | Comments (114)
Put another W in the left column before heading to New Jersey for a Saturday matinee.
Let the Goose loose again.
Comment away.
Filed in: | Abel to Yzerman | Permalink

11/15/18 at 07:07 PM ET | Comments (0)
With Auston Matthews making significant progress in his recovery from a shoulder injury, has the timeline on his return changed? William Nylander is also missing from Toronto's high powered offence, what is the most likely outcome of this ongoing saga? Did the Oilers' win over Montreal cool the speculation surrounding Todd McLellan's job security? The TSN Hockey Insiders discuss this and more in Insider Trading.
Watch at TSN, no geo-blocking.
Filed in: NHL Teams, | KK Hockey | Permalink

Blog: Abel to Yzerman By Paul
11/15/18 at 03:16 PM ET | Comments (3)
from Helene St. James of the Detroit Free Press,
The night he was drafted by the Detroit Red Wings, Filip Zadina spoke of how he'd "fill the nets" of teams who passed on him.

One of the teams that did so was the Ottawa Senators, who drafted Brady Tkachuk at fourth overall, two spots before the Wings nabbed Zadina at six. Zadina had been projected to go as high as third, but Montreal picked Jesperi Kotkaniemi at that spot, and Arizona selected Barrett Hayton at fifth.

Zadina has yet to have a chance to make the Senators pay, but he is filling opponents' nets at the AHL level. He just recorded this third two-goal game of the season, his second in four games, to help the Grand Rapids Griffins win for the fourth time in five games Wednesday.

Wings general manager Ken Holland was at the matinee in Grand Rapids, and passed some encouraging information onto Wings coach Jeff Blashill.

"I talked to Ken Holland this morning, he thought it was the best game Zadina had played, so it's a good sign in the right direction," Blashill said Thursday at Canadian Tire Centre, where the Wings have an evening game scheduled against the Senators.
Filed in: | Abel to Yzerman | Permalink

Blog: Abel to Yzerman By Paul
11/15/18 at 02:49 PM ET | Comments (0)
Hear from Kronwall, Helm, Abdelkader and Blashill before the puck drops tonight.
Filed in: | Abel to Yzerman | Permalink

Blog: Abel to Yzerman By Paul
11/15/18 at 01:44 PM ET | Comments (6)
from Callum Fraser at NHL.com,
Players to watch

Red Wings forward Andreas Athanasiou has six points (three goals, three assists) during a three-game, multi-point streak.

Senators forward Mark Stone has 12 points (three goals, nine assists) in his past seven games.

They said it

"[The Senators] are fifth in the league in scoring. I think they lead the league in [defensemen] scoring. [Thomas] Chabot looks like he's playing at a really, really high level. [Maxime] Lajoie, I don't know great, but offensively he looks really good. They're a team that has done a good job at getting pucks to the slot area and lots of goals in the net front, so we're going to have to do a great job with our slot coverage, a great job getting out of our end and do everything we can to make them defend as much as we can." -- Red Wings coach Jeff Blashill
more, Howard starts plus expected line combos included...
Filed in: | Abel to Yzerman | Permalink

Blog: Abel to Yzerman By Paul
11/15/18 at 01:15 PM ET | Comments (4)
from Craig Custance of The Athletic,
So in examining the win streak, let's start there:

1. If you were to hand-pick a couple key necessities going into this season that would make the Red Wings' rebuilding progress tangible, developing a legitimate top-four defenseman from their prospect group would be high up on the list. Yes, there were likable players in the pool, but no locks to emerge. That Dennis Cholowski remains on that trajectory is more important than any winning streak.

During the Red Wings' eight-game run of success, Cholowski is averaging close to 19 minutes of ice time and has three points. That's down slightly from his season totals but it's probably not realistic to think he's going to continue scoring at rate of 0.56 points per game. Still, he's providing more offense than advertised and it's coming from him mixing poise and smart timing on when to push for it....

2. Confidence is a heck of a drug in the NHL. Those Red Wings fans concerned about the success hurting their lottery chances need to weigh that against the positives this uptick provides for the young players, especially at forward. If this season continued down the early path and really went sideways, it surely would have come at a cost to the development of a player like Anthony Mantha. He started slowly and it was even fair to reassess exactly where he fit into the future in Detroit....
more (paid subscription) on the above points plus 3 others...
Filed in: | Abel to Yzerman | Permalink

About Kukla's Korner
Kukla's Korner is updated around the clock with the work of our own talented bloggers, plus links to the best hockey writing around the internet. We strive to bring you all the breaking hockey news as it happens.
The home page allows you to see the latest postings from every blog on the site. Subscribe here. For general inquiries and more, please contact us anytime.
Most Recent Posts
Most Recent Comments