04/24/19 at 08:49 AM ET | Comments (0)
1:05 to watch.
Filed in: NHL Teams, | KK Hockey | Permalink

04/24/19 at 08:46 AM ET | Comments (2)
If you missed the hit in question, watch it below.
Filed in: NHL Teams, San Jose Sharks, | KK Hockey | Permalink
Tags: jonathan+marchessault, vegas+golden+knights
04/24/19 at 08:42 AM ET | Comments (0)
from Ray Ratto, special to the Mercury News,
Until further notice, this is San Jose's Stanley Cup. And further notice begins this weekend against Colorado.

The Sharks, the very definition of Not Good Enough When You Need Them Most, achieved their greatest moment ever as an organized team Tuesday night by beating the Vegas Golden Knights, 5-4 in overtime, to win this Western Conference first round series in the most improbable way ever devised — and if you try to say the 5-0 win over Nashville in 2016 that sent them to the Cup Final against Pittsburgh was bigger, we will respectfully dismiss you as a philistine and an idiot.

Because overtime was the fifth-most important thing about Tuesday. The Sharks finally, after all these years, became made men.

The Fin Of Disappointment, so named because they have largely been about playoff failure, cheated all the deaths Tuesday — all of them. Barclay Goodrow's goal with 1:41 to go completed a comeback that made all other hockey comebacks bend the knee, and yes, that includes The Miracle On Manchester.
Filed in: NHL Teams, San Jose Sharks, | KK Hockey | Permalink

04/24/19 at 08:23 AM ET | Comments (0)
from Luke Fox of Sportsnet,
After watching his players get booted in the opening round for a fifth straight time, and third overseeing the Toronto Maple Leafs, Mike Babcock must have felt the daggers raising from the fists of a city that swore this time things would be different.

Four times the head coach passive-aggressively blamed goaltender Frederik Andersen — arguably the club's most valuable player through 88 games this season, saying some variation of "They threw them at the net, they went in."

He directed fans' attention over here, to Nazem Kadri and how the third-line centre's reckless suspension (again) might have cost the team this series.

"It was unfortunate, the incident with Naz. Obviously, he wasn't available. It was like an injured player in the playoffs, and we thought that was going to give us some depth and would have allowed us to move Willy [Nylander] around a bit, which we were never allowed to do," Babcock said. "As a management team, we'll look at our group and see what we can do to get better."

The optimism was so much higher, the roster so much deeper walking into TD Garden this time, yet the result was infuriatingly, deflatingly familiar.

Another horror-show elimination game in the Maple Leafs' own zone. Another argument for grizzled experience over flashy youth. Another Game 7 victory for the Boston Bruins.
Below, read Bruce Arthur, Steve Simmons and Kristen Shilton.
Filed in: NHL Teams, Toronto Maple Leafs, | KK Hockey | Permalink

Blog: Abel to Yzerman By Paul
04/24/19 at 08:13 AM ET | Comments (0)
video highlights are below
GRAND RAPIDS, Mich. – A two-goal Tuesday by Filip Zadina and Wade Megan and three-point performances from Zadina, Martin Frk and Matt Puempel put the Grand Rapids Griffins within one win of advancing to the second round of the Calder Cup Playoffs for the sixth time in the last seven years.

With a gritty 6-2 victory over the Chicago Wolves at Van Andel Arena – a game that featured a combined 144 penalty minutes and a near hour delay due to ice repairs – Grand Rapids grabbed a 2-1 lead in the best-of-five Central Division Semifinals. The Griffins will have a chance to eliminate the division champions for the second time in three years on Wednesday when they host Game 4 at 7 p.m.
Filed in: | Abel to Yzerman | Permalink

04/24/19 at 07:46 AM ET | Comments (2)
from Nicholas J. Cotsonika of NHL.com,
They play for more than the Stanley Cup. They play for each other.

That was the essence of what will go down as one of the great games in NHL history.

When the San Jose Sharks defeated the Vegas Golden Knights 5-4 in overtime in Game 7 of the Western Conference First Round at SAP Center on Tuesday, they did more than roar back after trailing 3-0 in the third period, more than recover from a late tying goal.

They did more than win a best-of-7 series after trailing 3-1 for the first time in their history, more than advance to play the Colorado Avalanche in the second round starting here Friday.

They rallied for their injured captain, Joe Pavelski.

"The boys, they got together and they said, 'This is for Pav,'" center Joe Thornton said. "So we love him. It was just a matter of will, and we willed that one for him."
Below, catch the game highlights, the OT goal, handshakes, Pavelski injury and coach Gallant post-game.
Filed in: NHL Teams, San Jose Sharks, | KK Hockey | Permalink
Tags: vegas+golden+knights
04/24/19 at 07:35 AM ET | Comments (0)
Goodrow caps Sharks' stunning comeback with overtime winner; Bruins earn another Game 7 win over Maple Leafs; First Round to conclude tonight in D.C..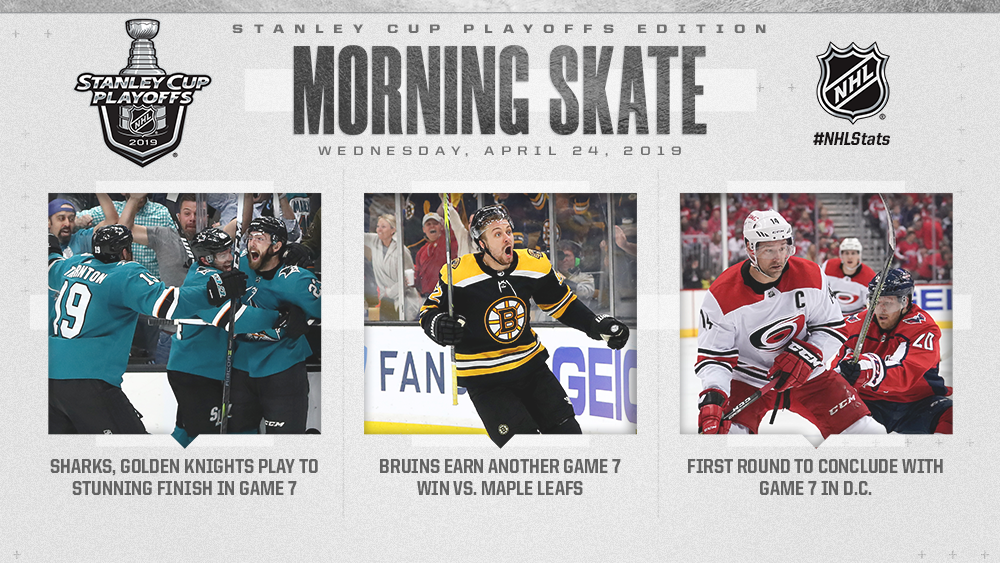 Filed in: NHL Teams, | KK Hockey | Permalink

04/23/19 at 09:44 PM ET | Comments (13)
The Bruins will face the Columbus Blue Jackets in round 2.
Toronto had a good 2nd period but other than that, nada. Boston played their game tonight and deserved the win.
Oh, and another year for no Cup in Canada.
Handshakes can be watched below.
added 10:08pm, Game highlights below.
added 10:18pm, Babcock presser below.
Filed in: NHL Teams, Boston Bruins, Toronto Maple Leafs, | KK Hockey | Permalink

04/23/19 at 08:21 PM ET | Comments (0)
Mr. Cherry and Mr. MacLean discussed The first period of Bruins/Leafs, Marchand in a trance during the anthems, Dougie Hamilton is not afraid of Alex Ovechkin but the Caps will win tomorrow and the play of Jordan Staal.
Also discussed the playoff format and the recent play of Martin Jones and Marc-Andre Fleury and a few more topics including Jamie Benn.
via Sportsnet's YouTube page,
Filed in: NHL Teams, | KK Hockey | Permalink
Tags: don+cherry, ron+maclean
04/23/19 at 06:45 PM ET | Comments (30)
Winners move on, losers are done.
Toronto is in Boston and Vegas in San Jose.
US broadcast crews:
Mike "Doc" Emrick, Mike Milbury, Brian Boucher are in Boston. Gord Miller and Ray Ferraro in San Jose.
Filed in: NHL Teams, | KK Hockey | Permalink

About Kukla's Korner
Kukla's Korner is updated around the clock with the work of our own talented bloggers, plus links to the best hockey writing around the internet. We strive to bring you all the breaking hockey news as it happens.
The home page allows you to see the latest postings from every blog on the site. Subscribe here. For general inquiries and more, please contact us anytime.
Most Recent Posts
Most Recent Comments