Blog: Abel to Yzerman By Paul
12/06/19 at 03:58 PM ET | Comments (0)
from Dana Wakiji of DetroitRedWings.com,
It doesn't seem like it was that long ago that Tyler Bertuzzi was just looking to crack the Red Wings lineup.

Now he's a mainstay on the top line and on the power-play unit that gets the most time.

Bertuzzi, 24, is making the most of his increased role, leading the team with 24 points (10-14-24) in 30 games.

Last season, Bertuzzi had nine goals and seven assists in his first 30 games.

"It's another year of experience, I would say," Bertuzzi said after Friday's practice at the BELFOR Training Center. "We finished the year last year really strong and I think that connection came over to this year. Obviously some games could be a lot better, and some games were really good, so we just gotta be more consistent."

Bertuzzi is averaging 19:35 in ice time this year compared to 16:31 last year....

It's not official, but there's a reasonable chance alternate captain Justin Abdelkader could return to the Wings lineup for Saturday's 7 p.m. tilt versus the Pittsburgh Penguins at Little Caesars Arena.

Abdelkader has missed the Wings' last 11 games with an upper-body injury after blocking a shot in the closing minutes of Detroit's 3-2 victory over the Vegas Golden Knights on Nov.10....

Daley, 36, skated with his teammates during Friday's practice.

"It was good to see Trevor," Blashill said. "Trevor stated to me he feels like he's doing really well but I think he was very, very cautious that the last time he started pushing it, he went backwards. So there's still that opportunity that that could happen but so far he's been making real progress forward.
more...
added 4:22pm, post-practice talk is below...
Filed in: | Abel to Yzerman | Permalink

12/06/19 at 12:33 PM ET | Comments (0)
3 minutes worth of saves.
Filed in: NHL Teams, | KK Hockey | Permalink

12/06/19 at 12:16 PM ET | Comments (0)
I wanted to let everyone know the latest KK Donation Drive was a success.
Donations game from folks on Twitter, KK visitors and of course KK members.
Donations ranged up to $200.
I am sincerely thankful and very moved by the generosity.
Back to work I go.
Filed in: KK Website Business, | KK Hockey | Permalink

Blog: Abel to Yzerman By Paul
12/06/19 at 11:22 AM ET | Comments (3)
added 11:35am, Khan...
Abdelkader is practicing now, rotating in with Perlini on the fourth line.
added 11:53am, Power play units via Khan...
Filed in: | Abel to Yzerman | Permalink

Blog: Abel to Yzerman By Paul
12/06/19 at 10:47 AM ET | Comments (0)
GRAND RAPIDS, Mich. – The Detroit Red Wings have recalled forward Filip Zadina from the Grand Rapids Griffins.

Zadina, 20, ranks among the Griffins' leaders this season with 13 points (3rd), seven goals (3rd), six assists (T7th) and four power play goals (2nd) in 20 games. The 6-foot, 188-pound winger made his NHL season debut on Nov. 24 and has chipped in two assists while averaging 13:55 of ice time in five appearances for Detroit.

Since becoming the 176th Griffins alumnus to play in the NHL when he made his debut with the Red Wings on Feb. 24, 2019 vs. San Jose, Zadina has posted five points (1-4—5) in 14 career games.
Filed in: | Abel to Yzerman | Permalink

12/06/19 at 09:35 AM ET | Comments (0)
from Jack Harris of the LA Times,
EDMONTON, Canada — Cameras and tape recorders crisscrossed the Edmonton Oilers' locker room, cycling from stall to stall to capture the stories of the day. A familiar buzz filled the circular space, questions and conversations between players and reporters floating through the air the morning before a home game.
But the moment Connor McDavid stood up, everything else stopped. The rest of the room fell silent. When the most prominent athlete in Edmonton was ready to speak, all the attention came flocking to him.

"He could run for mayor and win tomorrow," said Tom Gazzola, an Edmonton sports radio host in his 13th season covering the team. "He's basically a god, worshipped for what he does."

McDavid never asked to be the Chosen One in Edmonton, to procure the prophetic pressures placed on him as the Oilers' prodigal son. Had draft lottery luck played out differently when he entered the league as the highest-touted prospect in years back in 2015, he might have ended up in Arizona or Buffalo, Carolina or New Jersey.
Filed in: NHL Teams, Edmonton Oilers, | KK Hockey | Permalink
Tags: connor+mcdavid
12/06/19 at 08:48 AM ET | Comments (0)
from Richard Morin of the Arizona Republic,
The Coyotes captured first place in the Pacific Division with a 3-1 win over the Philadelphia Flyers on Thursday.

With the win, the Coyotes (17-9-4) gained sole possession of first place in the division for the first time since Oct. 26, 2015.

It is the latest in the season atop the Pacific Division standings for the Coyotes since the end of the 2011-12 season, a year that featured both the team's lone divisional crown and most-recent playoff berth.

The Coyotes were held to anemic 18 shots but still managed more finishes than the Flyers, who suffered just their second regulation loss at home this season.
continue for the game recap...
Filed in: NHL Teams, d, | KK Hockey | Permalink

12/06/19 at 08:42 AM ET | Comments (0)
from Neil Greenberg of The Washington Post,
... That start includes a 21-4-5 record with an NHL-high 47 points in 30 games, making Carlson the best player on the best team with a case for the Hart Trophy, awarded annually to the league's MVP.

Forwards have dominated the award. Montreal Canadiens goalie Carey Price won it in 2015, and the last defenseman to win it was Chris Pronger in 2000. Before that, it was Orr in 1972. Nicklas Lidstrom, a seven-time Norris winner and four-time Stanley Cup winner widely considered to be one of the best defensemen ever, never finished higher than fourth on MVP ballots.

Despite those odds, Carlson is making a strong case.

Let's start with the last two defensemen to win the award, Pronger and Orr. Differences in season lengths, roster sizes and scoring environments make it difficult to compare season-long stats, but two advanced metrics, goals created and point shares, make era adjustments, allowing a more direct assessment of their respective performances. Goals created accounts for assists and adjusts them to the team level. Point shares is an adaptation of the win shares metric Bill James created in 2002 for baseball. In hockey, point shares estimate the number of standing points (two points for a win in regulation, overtime or a shootout and one point for an overtime or shootout loss) each player is responsible for. The higher the number, the more that player contributing to winning.
Filed in: NHL Teams, Washington Capitals, | KK Hockey | Permalink
Tags: john+carlson
12/06/19 at 07:03 AM ET | Comments (2)
Longer video is below but the first video is more zoomed in.
Filed in: NHL Teams, Colorado Avalanche, Montreal Canadiens, | KK Hockey | Permalink
Tags: jesperi+kotkaniemi, nikita+zadorov
12/06/19 at 05:30 AM ET | Comments (0)
THREE HARD LAPS

* Offseason acquisitions helped the Coyotes and Wild continue recent strings of success.

* A familiar face scored the game-winning goal in his return to Columbus, which also welcomed back its former president of hockey operations.

* Eight of nine games contested Thursday were decided by a one-goal margin, including four which required overtime.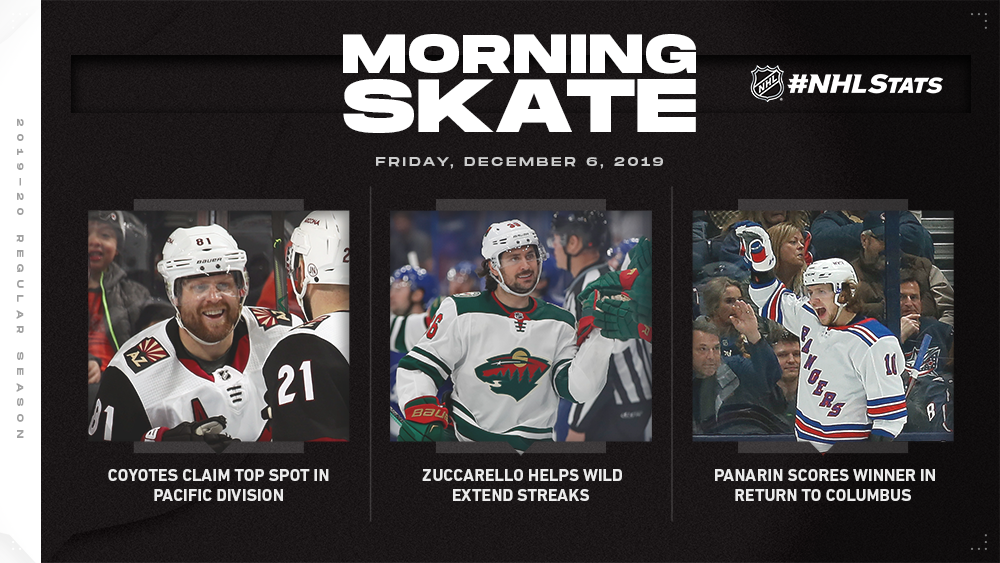 Filed in: NHL Teams, | KK Hockey | Permalink

About Kukla's Korner
Kukla's Korner is updated around the clock with the work of our own talented bloggers, plus links to the best hockey writing around the internet. We strive to bring you all the breaking hockey news as it happens.
The home page allows you to see the latest postings from every blog on the site. Subscribe here. For general inquiries and more, please contact us anytime.
Most Recent Posts
Most Recent Comments